There's a secret when it comes to this ridiculously good Chocolate Pumpkin pie: it's pretty darn easy. I might have had a huge potluck dinner to go to last Saturday night, and maybe signed up for dessert, and let's just pretend that I forgot about it entirely until late afternoon, day of the party. It's times like this that I wished I had some grab bags like these Thanksgiving treats, but I was all out. This pie, however, made with a graham cracker crust and basic ingredients, came in clutch. All said and done, this Chocolate Pumpkin pie looked festive on my friend's dessert table and was seasonally appropriate. Cindy: 1, Thanksgiving: 0.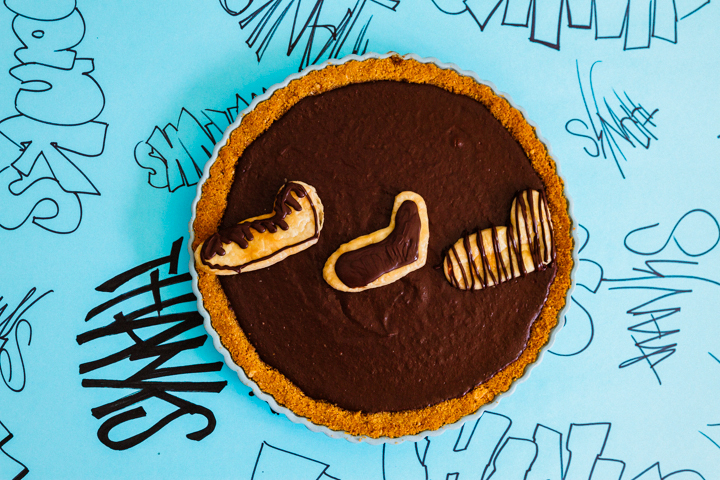 THE GRAHAM CRACKER CRUST
Nothing is better than a good graham cracker crust. It doesn't work with all fillings but it 100% works with this pumpkin and chocolate mix. Of course, the super shortcut is to purchase the crust from the frozen aisle at the grocery (where you can also find pre-made puff pastry dough). Classic Sweet Nerd style, I'll walk you through making it from scratch. First, preheat the oven to 350 degrees.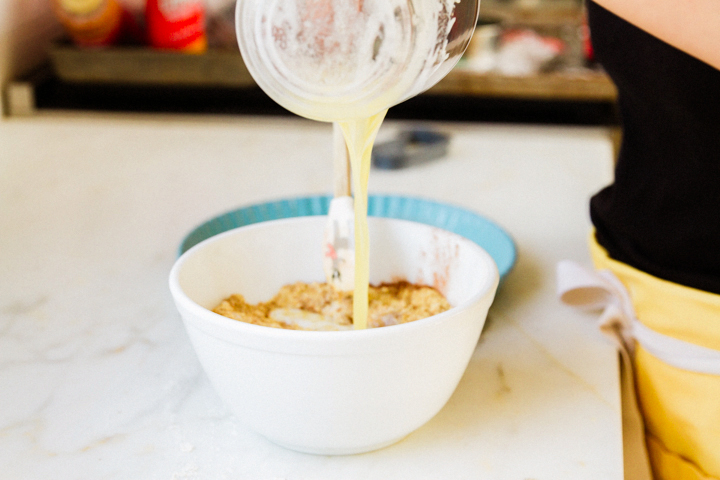 Crush your graham crackers – I used Honey Maid, an American classic – and crushed into a fine crumb. No big chunks, you need this finely ground. A food processor can help immensely here. Or, you can also find graham crackers crushed in the baking aisle. Genius, I tell ya.  Combine graham cracker crumbs, butter, sugars, salt and cinnamon in a bowl.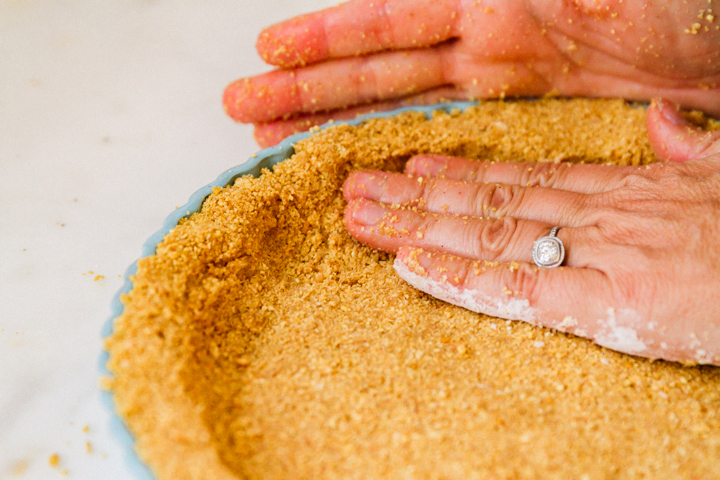 Firmly press the mixture into the bottom and up the sides of a deep 9 1/2-inch pie dish. Bake for about 8 to 10 minutes, until firm.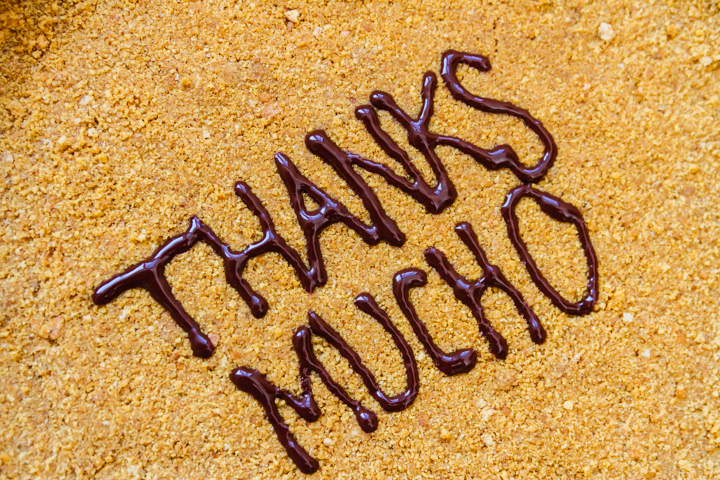 Prep a bit of melted chocolate over a baine-marie, which is a double boiler or a water bath.  When the graham cracker crust has baked and cooled for 10 minutes,  pour in the melted high quality bittersweet chocolate chunks like Scharffen Berger over the bottom of the crust. Naturally, I played with the melted chocolate and wrote out thanks mucho before covering completely with chocolate. Let cool on a wire rack and make this easy filling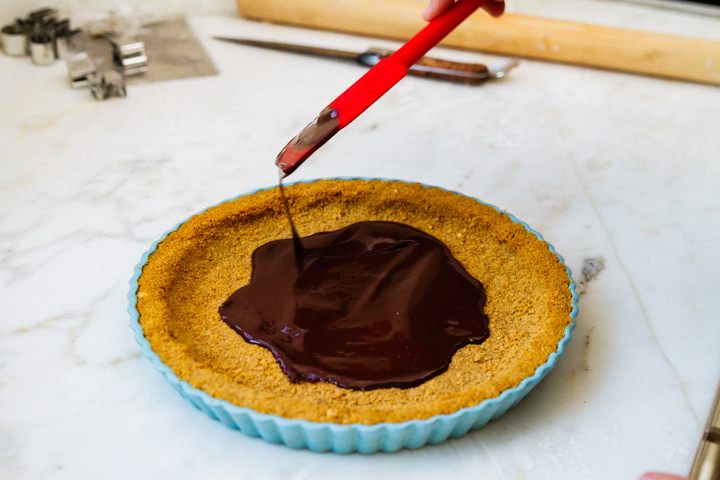 THE CHOCOLATE PUMPKIN FILLING
In a large heatproof bowl set over a pot of simmering water, melt high quality semi-sweet chocolate chips (I used
Scharffen Berger
) and butter, and stir until smooth. Once well-mixed, remove from heat.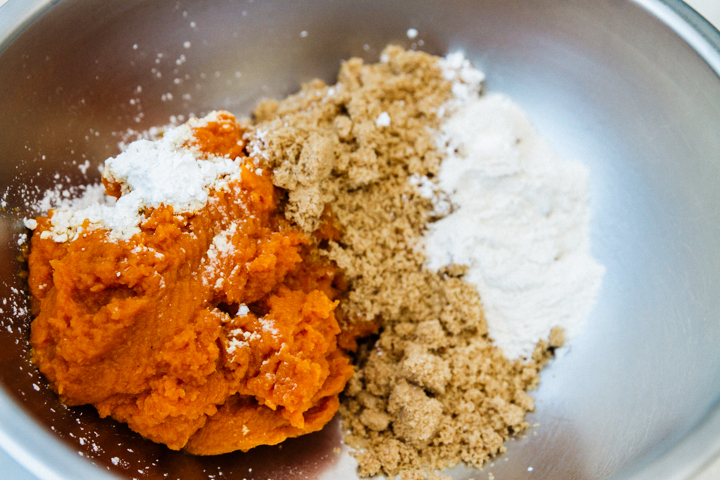 Next, mix the pumpkin, milk, brown sugar, eggs, cornstarch, vanilla, salt, cinnamon, ginger, nutmeg, dry malt powder (if you don't have this on hand, don't sweat it, just skip) and a pinch of cloves head into a medium bowl.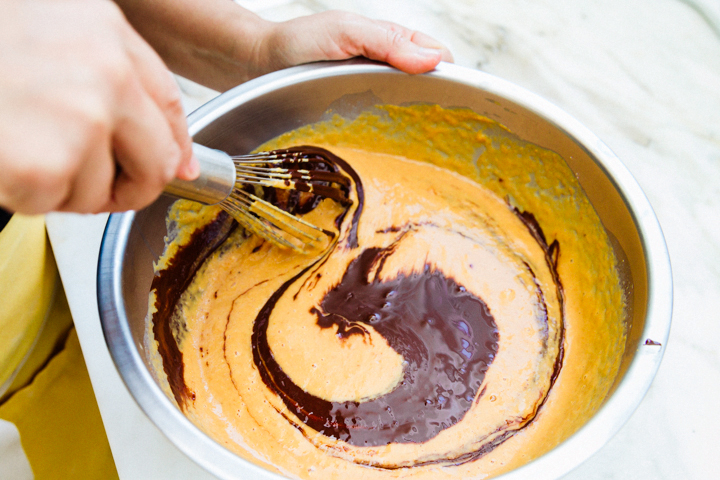 Whisk 1/3 pumpkin mixture into the melted chocolate and butter. Then, add in remaining pumpkin mixture until completely incorporated.
Transfer pie dish to a rimmed baking sheet and pour pumpkin mixture into crust. Bake until center is set though still a bit wobbly at the knees, about 55 to 60 minutes. Let cool in pie dish on a wire rack. Stick it in the refrigerator until well-chilled, at least 8 hours. Sometimes when you remove a pie that has been sitting overnight, it might 'sweat' a bit.  That just means there are little beads of water that will form on the surface.  Not to worry, you can easily blot those away with a paper towel before you serve this beauty!
DECORATING THE CHOCOLATE PUMPKIN PIE
This is where you can add your own personal flair, or copy mine (by all means)! I found these sweet lopsided hearts by
3-d cookie cutter on Etsy
and fit three per pie. First, roll out the puff pastry dough and cut out your shapes. Bake as directed on the package.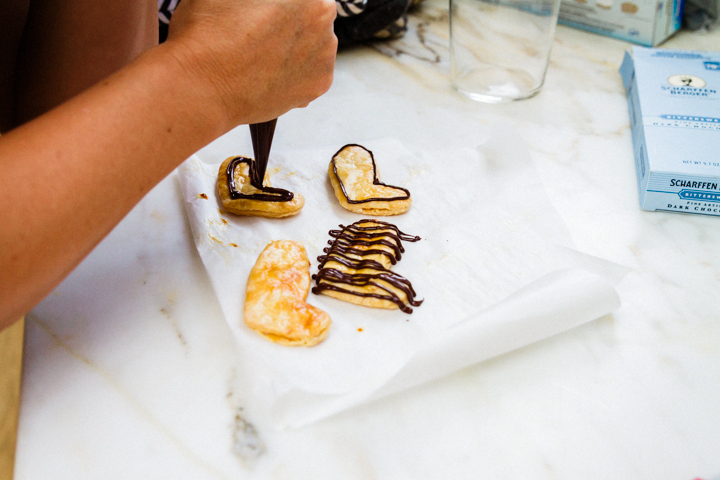 Add the baked decorations on the top of the pie, and remember – be creative! Drizzle and draw chocolate on the shapes on the top of the pie.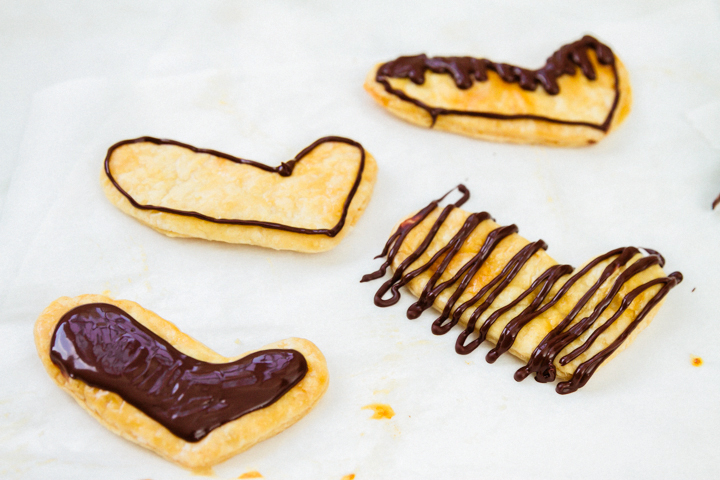 This Chocolate Pumpkin Pie is ready for consumption! Enjoy having it on display on the Thanksgiving table, or bring it over to a friend's for a cute and delish dessert. And I know from experience – it's perfect for last minute!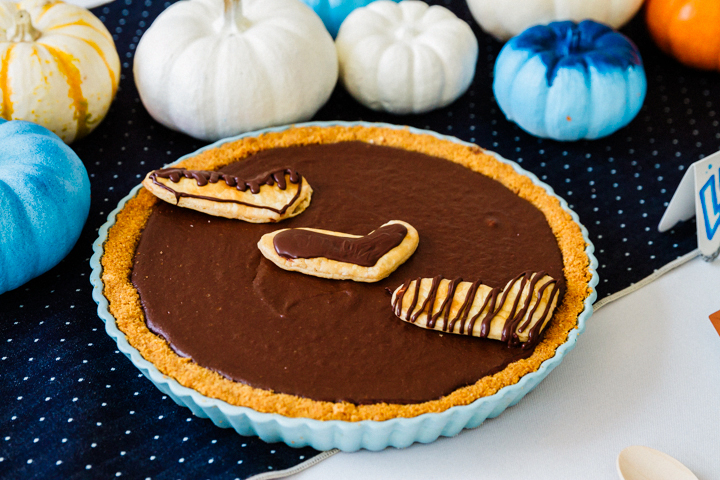 OUR FAVES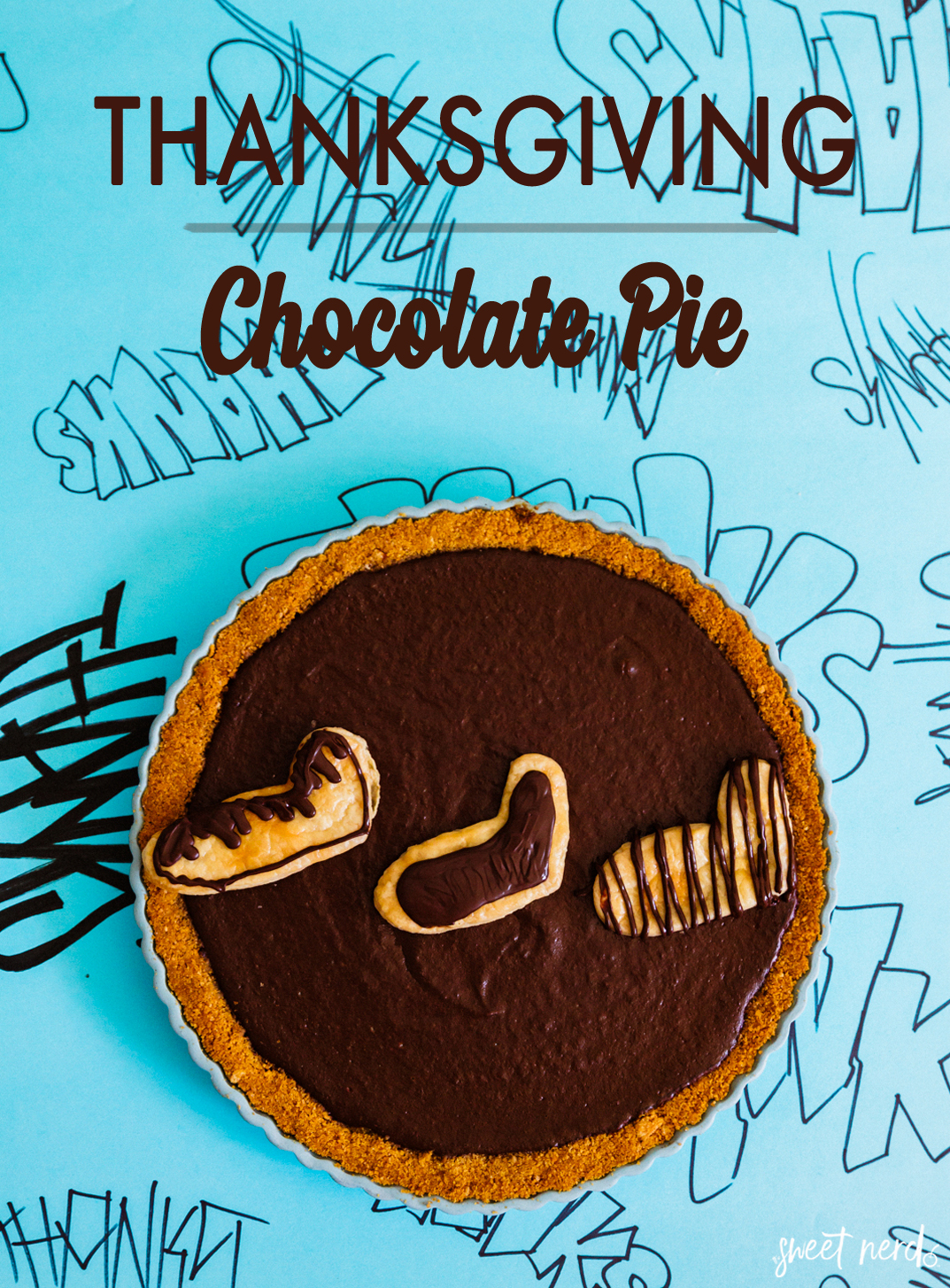 Photos by: Maria Hedrick Photography