I gotta throw back to my last Thanksgiving because it was so unique. Check out how I gave my Thanksgiving dessert table a festive, seasonal, and alternative look – blue elements paired with flecks of gold and orange. That's right, blue. I went rogue. I do love the orange and creams, but I was ready for a break. For this spectacular spread, I added my other twists on classics: instead of plain pumpkin pie I made a Chocolate Pumpkin pie, and in place of apple pie I whipped up my caramel apple Hand Pies. I added a simple runner and wrote out place cards in the same shades of blue, and paired them with a geometric plate and fun flatware. Although I do love a traditional look, it felt good to tweak it and add a dash of my own urban, glam style to tradition. Fresh.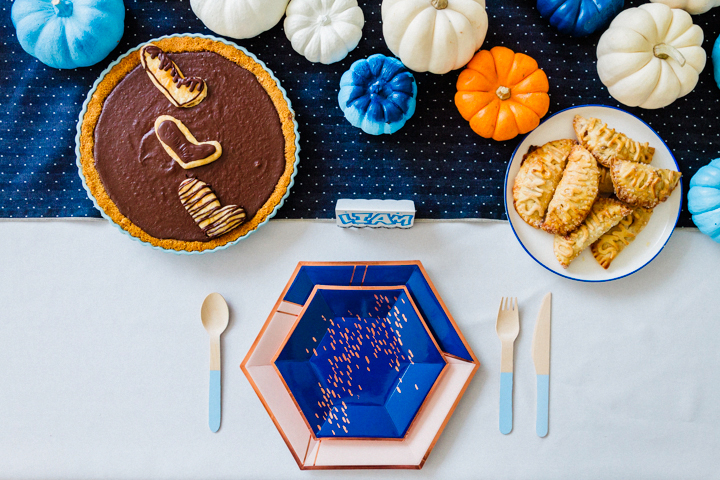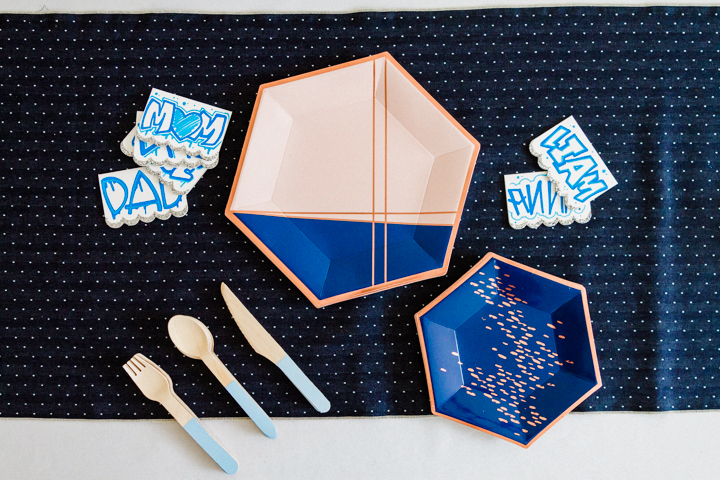 THE PLACE SETTING
First, let's start with the place setting. I found this beautiful runner from Hedley & Bennett. This company, mostly known for their handcrafted aprons, are all about top grade fabric. American canvas, raw Japanese salvage denim, and European linens are the materials they work with. Of course, the shade of blue was what caught my eye with this runner, plus its durability feels right for the season.
The place cards and flatware are from Meri Meri, one of my favorite brands for the table top. I couldn't resist giving the font on the place cards a little street-style feel when I scrawled out the family names. The cool geometric plates, which the eye is really drawn to because of the blue and flecks of gold, are from another favorite store: Bonjour Fete.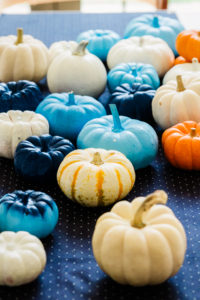 DIY BLUE PUMPKINS
For these small pumpkins I found at my local Vons grocery store, I decided they needed shades of blue and white. I used spray paint, and I can't stress enough how important it is to wrap your shoes with plastic. I had to learn the hard way when I first started, and my white converse were unintentionally splattered with paint. Ugh! Also, drop a background on the table, a plain canvas or layered newspaper before you spray the pumpkins. You can see some of the pumpkins turned out two toned, which I love.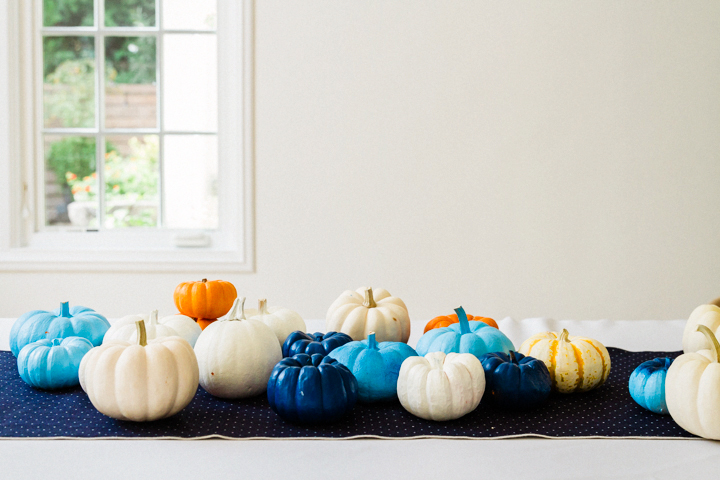 THANKSGIVING DESSERT TABLE
To add some natural colors to offset the blue, I added my Chocolate Pumpkin Pie Made with Love and Hand Pies with Gratitude (and Caramel!) to the table. That's not the only reason I chose those two particular desserts though, they also stray slightly from the norm, and both proudly display a little street art style.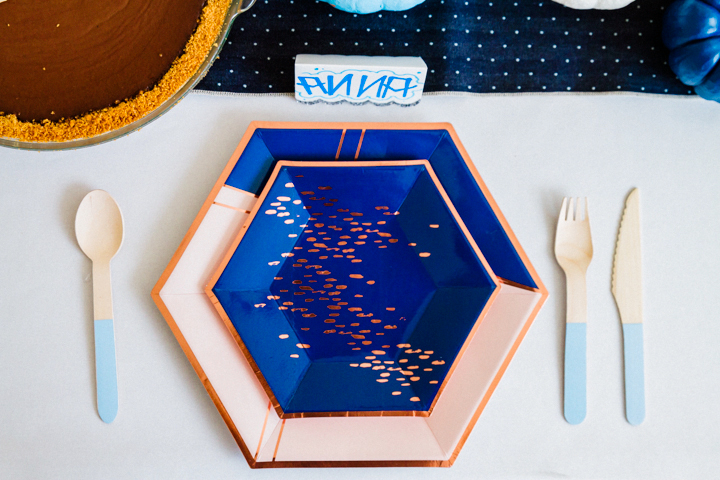 I like to think of this Thanksgiving dessert table as having grace and style, while also trying not to offend those who still honor a traditional table. This doesn't have to only apply to the dessert table, this could be the look of the dinner table, complete with the turkey and mashed potatoes. But sometimes it's easier to start small and work your own style in a little at a time.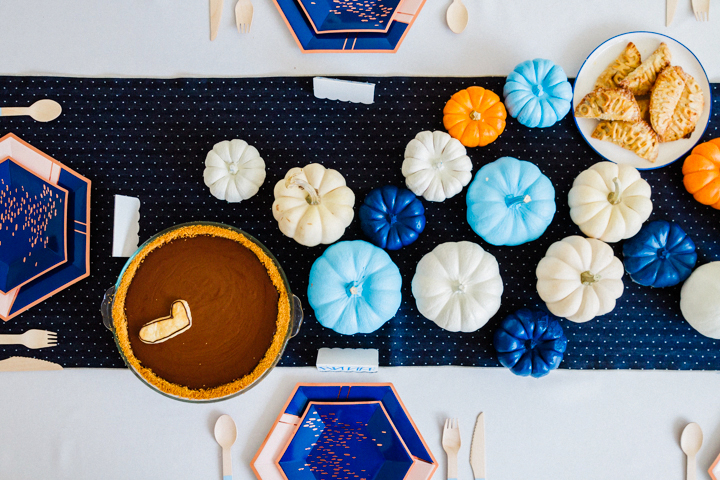 The truth is, this beautiful table would be nothing without the friends and family who joined us. I'm grateful for my family, for their health, and for this weekend of spending time together. Happy Thanksgiving!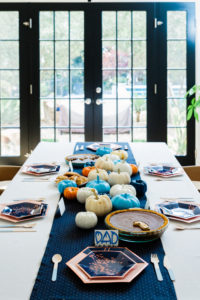 OUR FAVES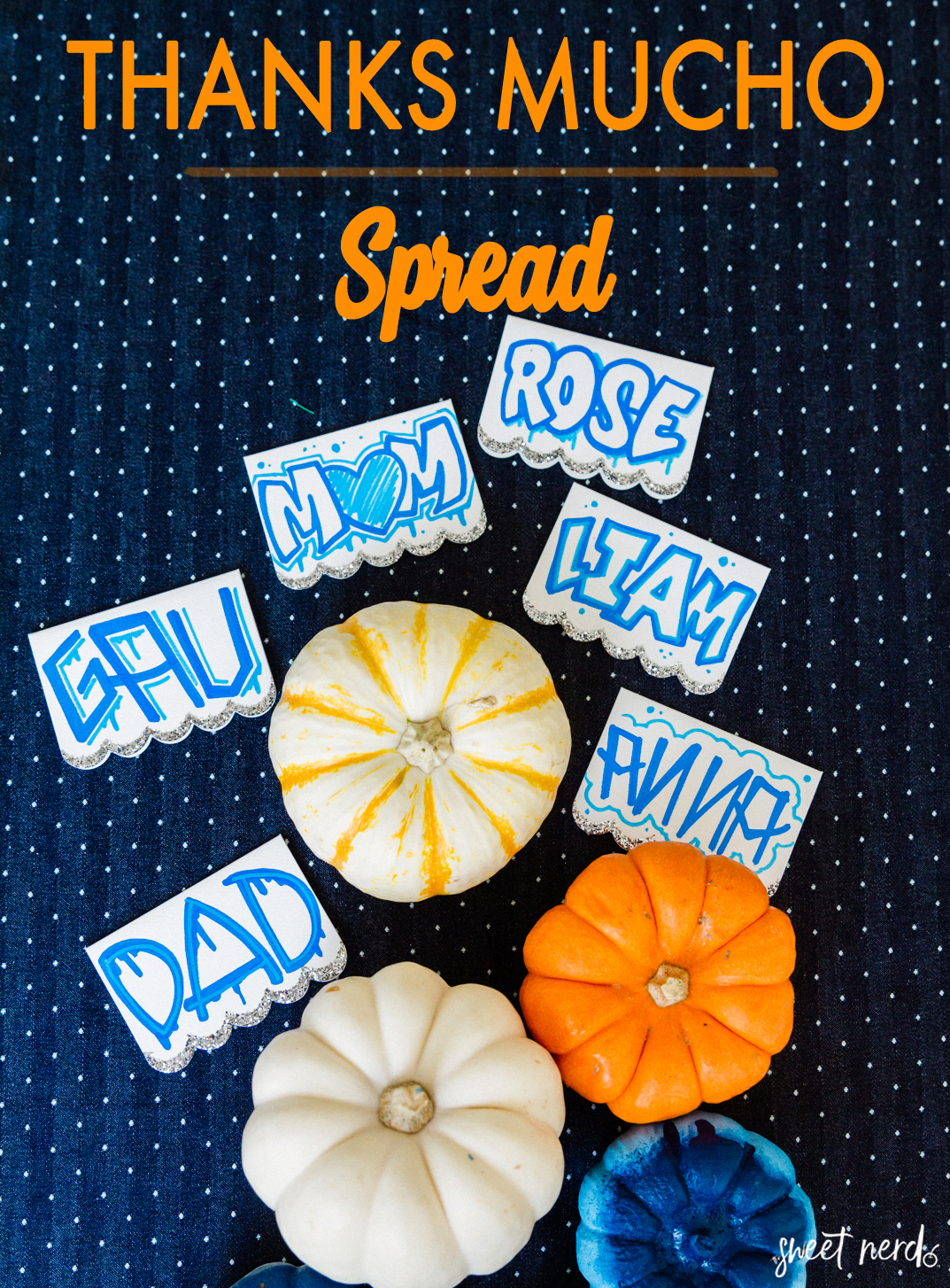 Photos by: Maria Hedrick Photography