Let it snow!  Let it snow! Let it snow! Ah, the glorious winter season in Los Angeles is so bright, snowy, and blistering cold.  Errr…not!  I will try not to really complain, but every once in a while I feel a tinge of jealousy when I picture those cold season cities full of snowflakes, kids and families wearing warm jackets, and lots of hot cocoa consumption. For now, I'm trading in the dream of that epic winter experience for the warm coziness of our home kitchen. My own little nerds and I made simple and easy, winter wonderland cupcakes. And, I have to say, Liam and Gav nailed it!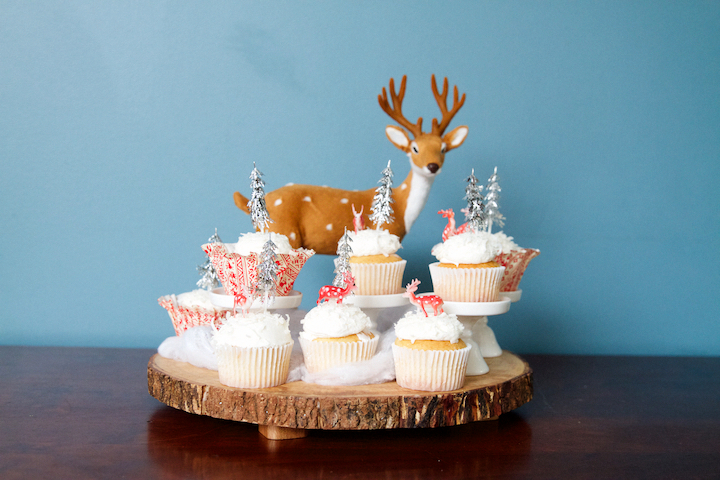 Ok, moms, let's do this!  First lesson – let your kids play with those little cupcake toppers, fighting it is just futile. Liam was grinning from ear-to-ear when I let him loose to play with the miniature animals.  You would've thought it was a matchbox car the way he slid it across the granite island.  As the playing died down, we switched into serious little nerds baking mode.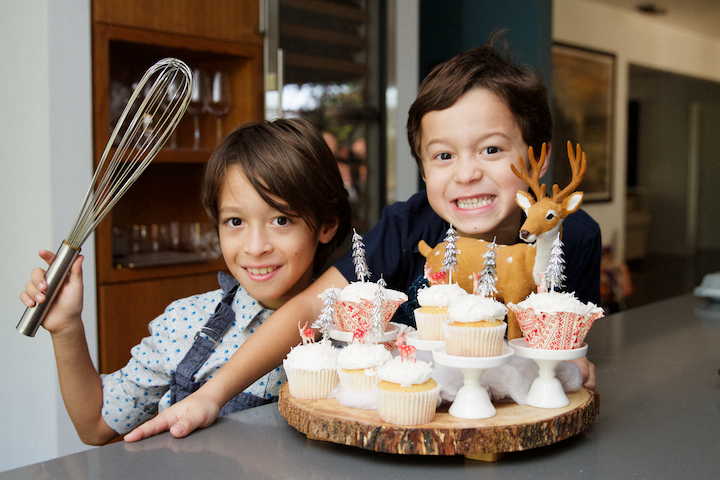 Where does one get these super adorable deer?  There are quite a few options available on the internet, but I always have a great experience with this vendor, Layer Cake Shop.  They do a great job curating some of the most adorable baking supplies and they're always well displayed on their website. To the point where it makes me want to climb into their creative spreads and start eating everything (and playing, too).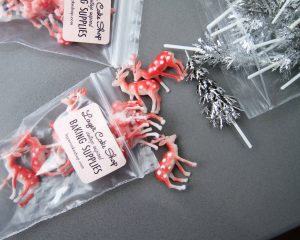 It warmed this Sweet Nerd's heart to watch the boys baking together.  They both always want to be master sous chefs, vying for this coveted baking position. When I heard the "no fair!" objections between the two, I'd shoot them my side-eye Cruella de Vil look that I've mastered from my many years of teaching in the classroom. It usually does the trick.
When the bickering subsides and I see these two finally working happily together, it makes me one proud mama.  And, can I say, this recipe just flowed easily! They were both so eager to get to the end part of decorating the cupcake that they were rolling with the punches, so to speak.
This recipe starts with the dries, then you add the butter.  Next, come the wet ingredients. Step by step, this recipe produces a beautiful moist vanilla cupcake.
Gavin and Liam had their own ideas about the rights of a sous chef.  See the shocked look on my face?!?  That was Liam sharing tip number two below.
Sous Chef Rite of Passage:
Licking fingers is cool.
Making minor fart sounds is perfectly acceptable chef behavior.
Watching a spoon fall into batter like quicksand is pure fun.  Then, picking it up to use it again is fair game.
I can't help but run a Q&A while we are baking. It is in my nerdy blood line coming from a family of teachers.  I am sure you might be rolling your eyes, I even want to, but Liam loves this mini interrogation and still raises his hand to tell me the right answer. Gavin thinks its lame, clearly from his 4th grade expression.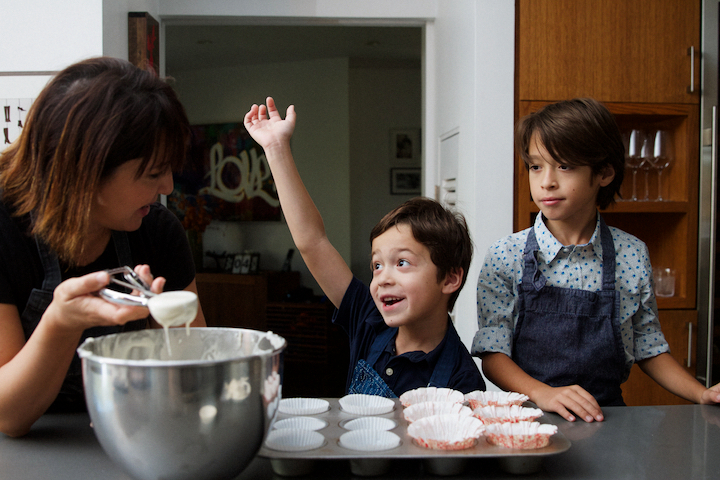 Liam owns this!  He loved filling the cupcake liners and it's so easy-peasie for little ones.  Sometimes it's tough to give up the control of being a neat freak in the kitchen. Ok, not sometimes, that really is the toughest part for me but how could you say no to that face! The memories we were making in that moment were so worth the quick clean up.  You fellow type A's out there, just breathe, smile, and enjoy those little nerds.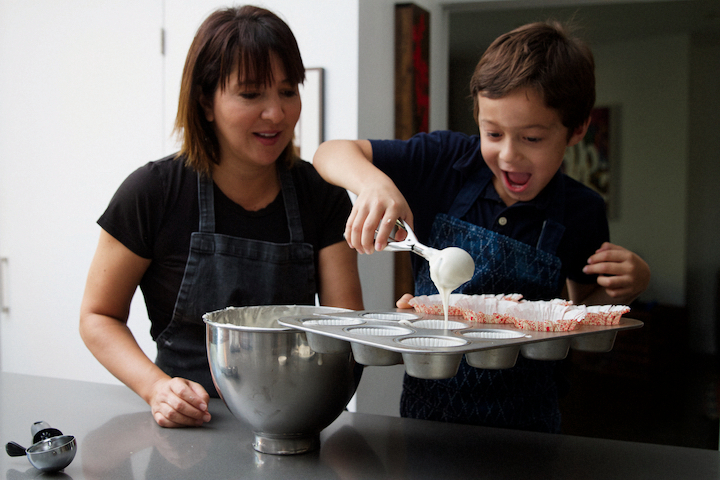 Gavin and Liam were great about cleaning up their mess, too. The apple doesn't fall far from the tree! We talked about what would happen if we didn't clean up those itty bitty drops of cupcakes on the tin if they stayed there. Liam knew where I was headed with this line of questioning (little bugger), and he wondered if they might turn into little bitty cupcakes for itty bitty babies.  HA!  He is a quick one, and loves a good banter.
But let's be real, clean up is just part of the job. Good? Bad? Not sure, but I figured if I really want to cultivate little chefs in the kitchen, then they have to learn about cleanliness in the kitchen.  Good habits start pronto.
I love how fluffy and beautiful these vanilla bean cupcakes look and taste.  DEE-LISH!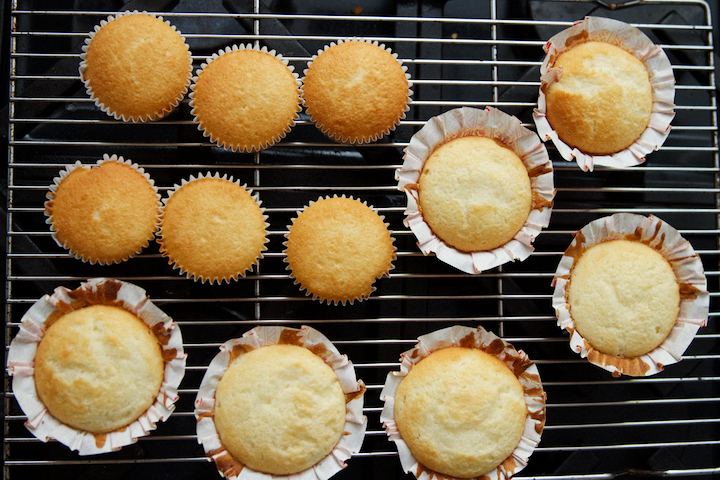 Once the cupcakes are ready for decorating, get your materials lined up and start piping that sweet billowy buttercream on top.  I tried to demo it a few times for them, but the truth is that they won't learn until they do it themselves.  Liam loved the look of what he described as white 'doo-doo'. Aw, keep smiling mommas, we're almost there!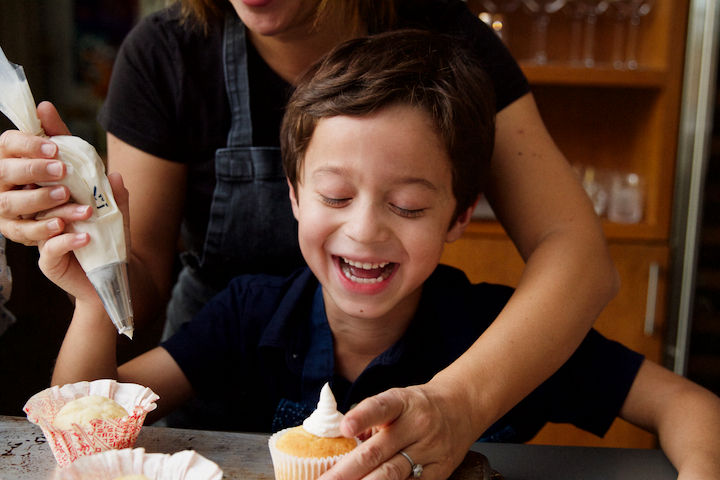 We piped the icing together to help him get a feel of how to top off the cupcake!  It was so fun.  Hand on hand, and we were both loving the connection.  Can I just freeze time?  It can only be a mom's wish that he continues to have birthday parties, but never gets a year old. Sigh, yea, it's just a dream.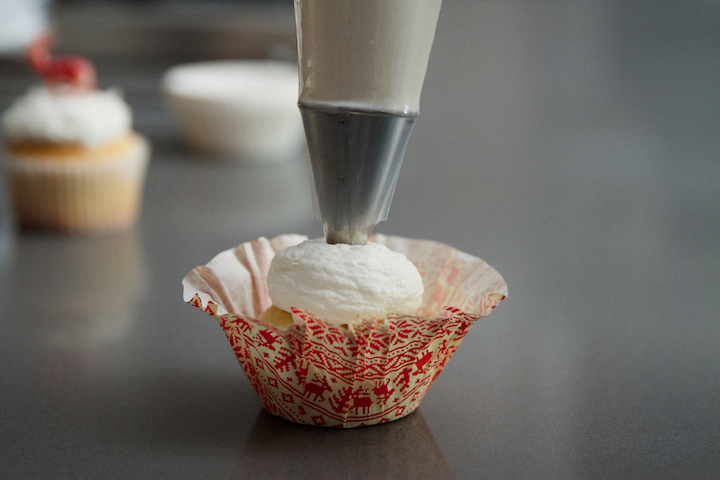 After we piped the buttercream, we plopped it in the refrigerator for a few minutes.  Then voila, onto dipping these sweet, winter wonderland cupcakes into some fluffy coconut snow.  Dip, roll, and press slightly…let the good times roll.
Finally, (drum roll here), they get to put in those cute little spotted deer and place a few silver trees to inspire a natural (or not so natural) looking habitat.  The shimmer and shine of the trees captivated them and we had fun making a variety of snowy combinations.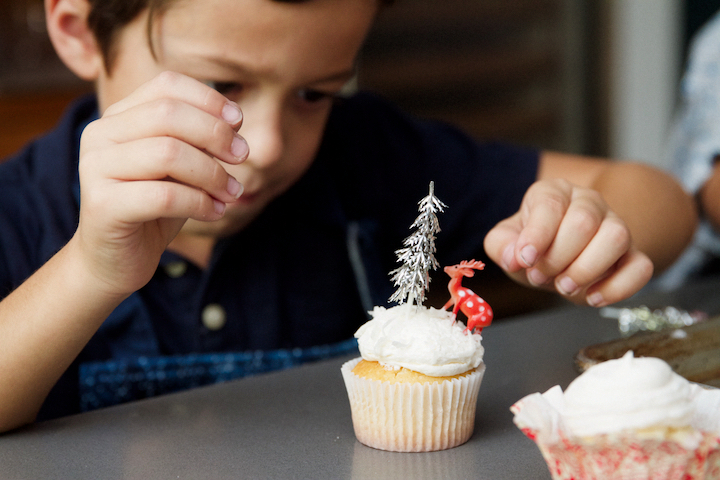 So let it snow mommas, whether you're on the west or east coast, this recipe is sure to bring winter wonderland fun into your sweet home kitchen.
Photos by: Maria Hedrick Photography