When I was a kid, I used to love a good candied apple on a stick. The adult version that I've come up with is much simpler where I dip an apple slice into a cup of melted caramel. Crunchy, sweet, and gooey! For this recipe, I wanted to take it to the next level and wrap that perfect pairing of apple and caramel into a pie shell. It's almost like a mini apple pie, which is practically synonymous with Thanksgiving. I personalized these darlings by slapping some letters on the top making these the perfect mini hand pies that everyone can be thankful for. Serve 'em up for dessert or an appetizer, or save them for a fun way to say muchos gracias.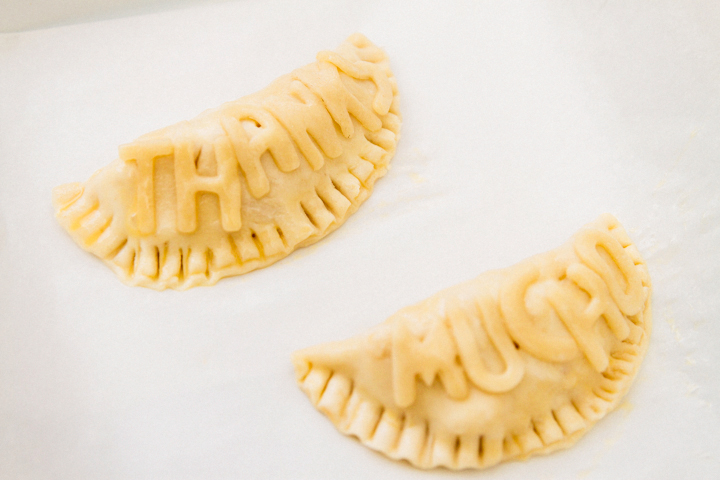 FILLING FIRST
'Tis the season for apples! I love the apple varieties available this time of year, even in LA. Pink Lady, Gala, Delicious, Granny Smith. For this recipe, I chose Gala apples. You'll want to use three of them for this recipe, peeled and chopped into quarters. I'm a fan of the apple slicer tool (splurge on a nicer brand like OXO since the cheaper ones have dull, flimsy blades). Add some cinnamon, lemon juice, dash of high quality store-bought caramel (keep it easy for yourself), light brown sugar, and cornstarch. Set aside to begin working on the dough.
DOUGH 101
Most importantly, you're going to want to make sure your dough is chilled at least a few hours before you assemble. The refrigerator is your friend!  It needs to be chilled and firm or you've got nothing to work with. Form the dough into a square, wrap in plastic, and then place in the refrigerator (your new-found friend) for at least a few hours. You can also choose to make it up to 3 days ahead and keep it in the fridge. When you're ready to roll, sprinkle some flour on the surface, and work quickly!  That luscious butter in the dough gets 'sticky and melty' to work with once it gets to room temperature.  Go speedy go!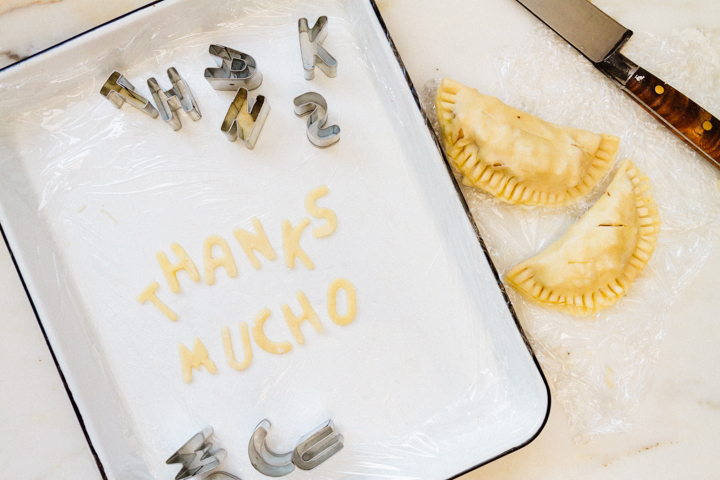 HAND PIES ASSEMBLY
For the letters: Take about 1/4 of your total dough, roll it out, and cut your letters. I use Ateco letter cutters. Set letters on plastic wrap, and toss 'em back in the fridge for 10 minutes (ok, don't really toss them!). The letters are completely optional. Yes, they're festive, and they're not too hard to fit on the top of the pie. But they do take a little extra time.
For the mini pie shells: Roll out the dough, cut out 4″ circles and carefully place in the fridge for 15 minutes.  This just chills them enough for the final step.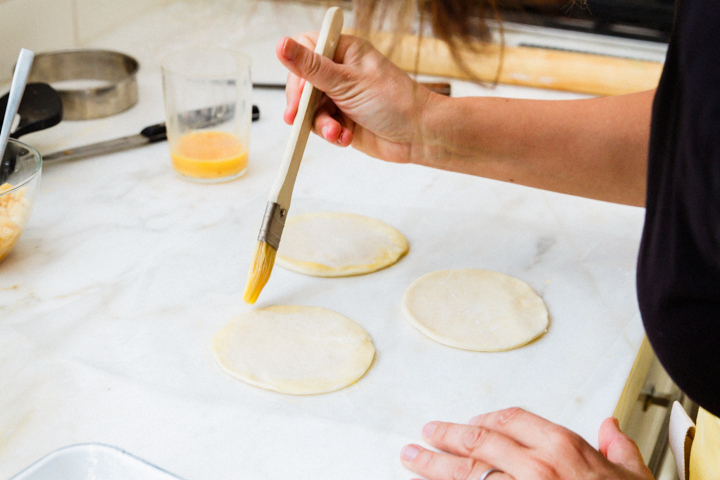 Take the egg wash and brush around the perimeter of the 4″ circles of dough.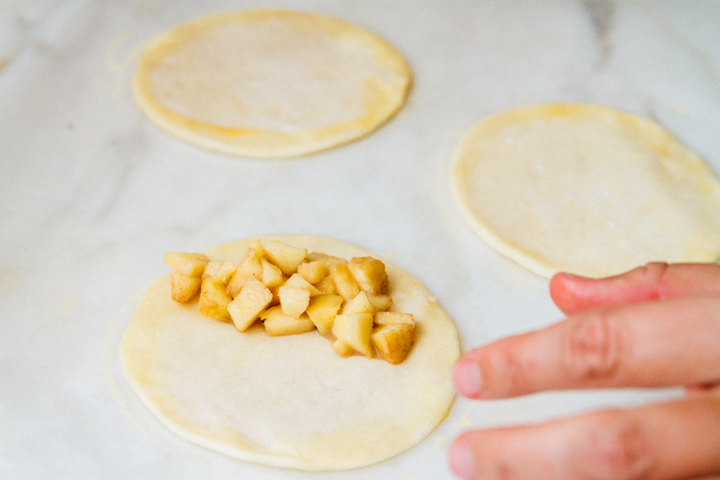 HAND PIES FILLING
Add a dollop of yummy apple filling in the center of the egg washed circles of dough.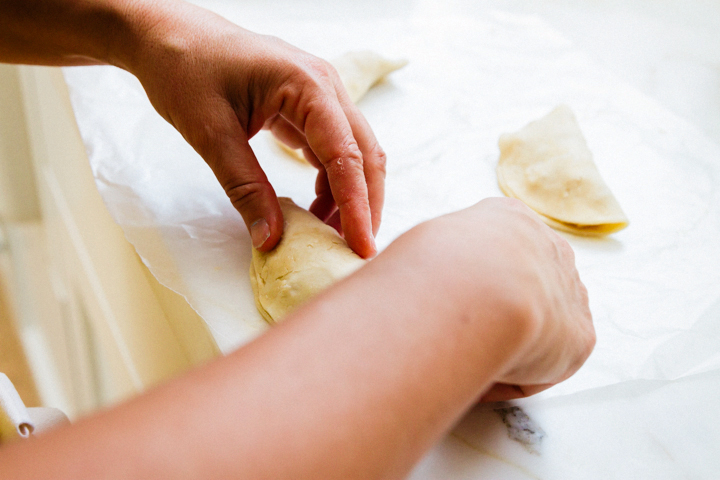 Fold and crimp with a fork to seal the hand pie. Don't forget to poke 3 holes on the top with a knife. It's muy importante to add a release for the air.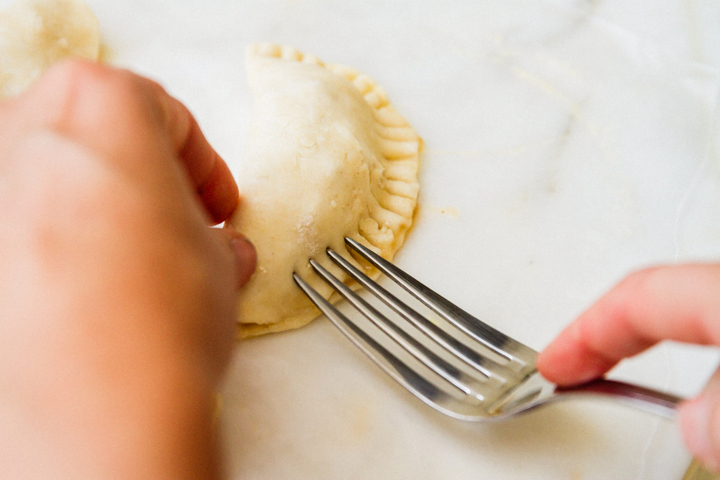 ADD YOUR WORDS OF THANKS
If you're going for it, the words that is, first make sure you egg wash the outside of the dough. Adhere the letters to the top of the hand pies. After you've got your word complete, egg wash the letters again and dust with sanding sugar.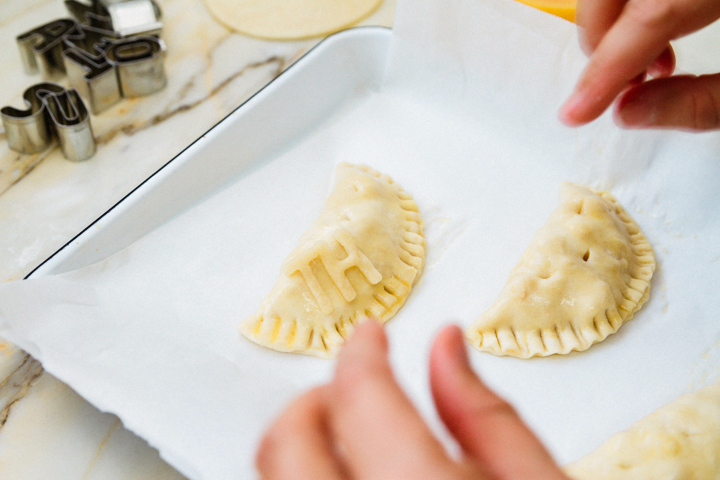 Bake at 350 degrees for 25 to 30 minutes. I would love to see what words people come up with. You have about 6 letters max with the 4″ rounds of dough. This could translate for Valentine's Day with LOVE on top, or 2018 for a New Year's party, or names would be fun, too. CINDY would fit! Just have fun with it!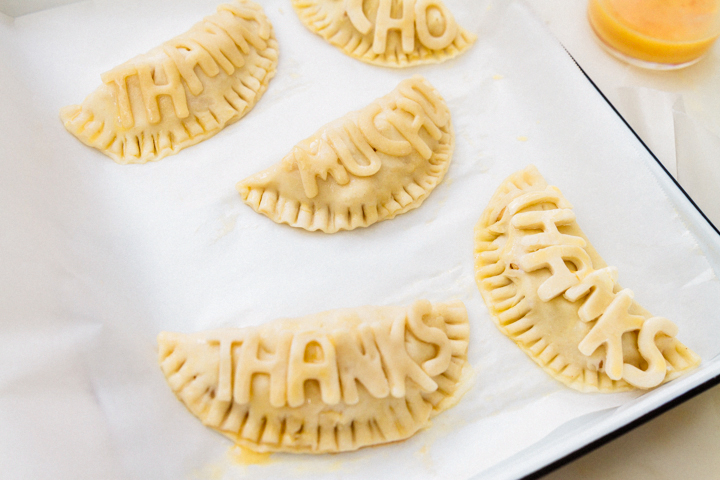 OUR FAVES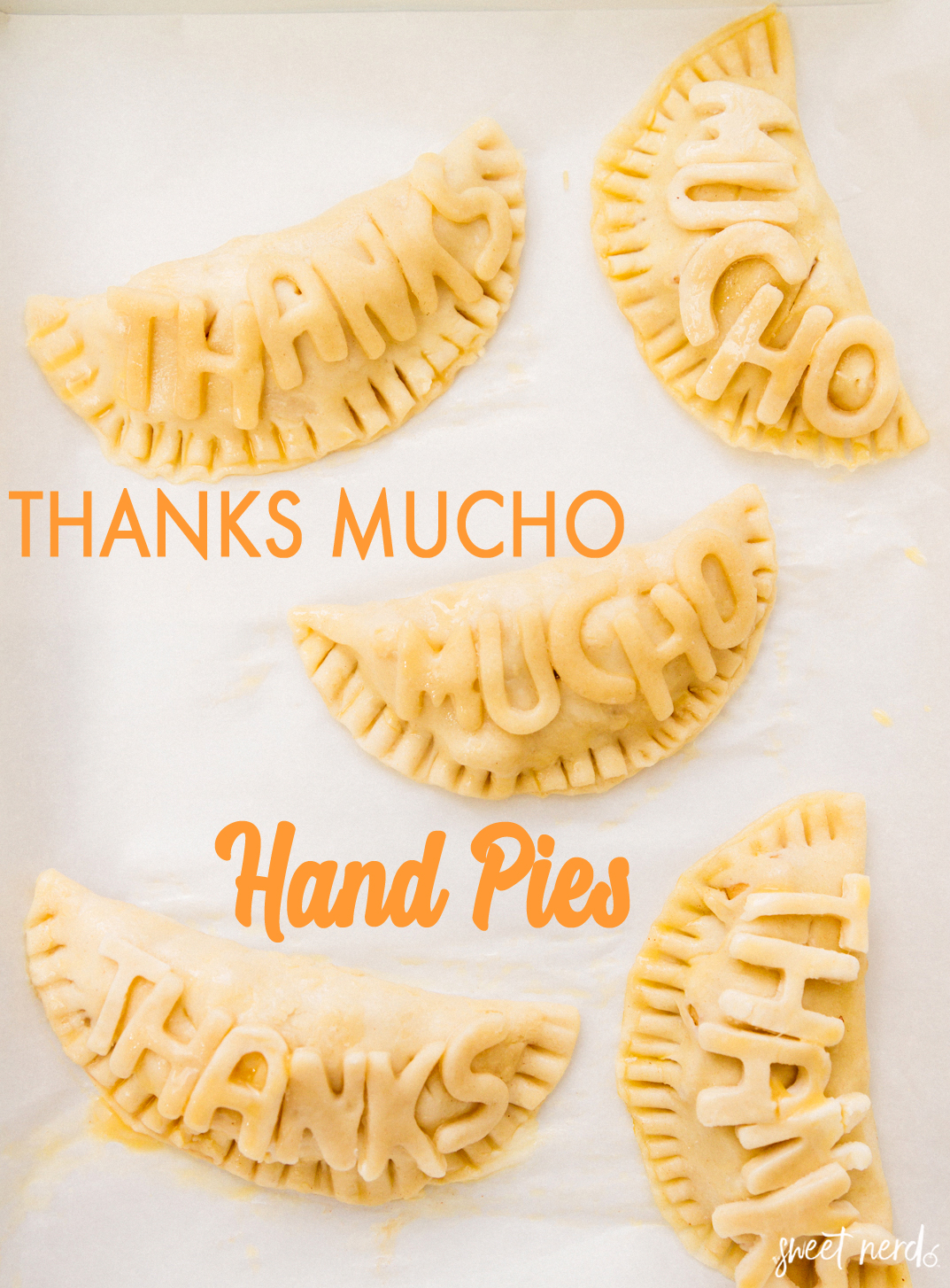 Photos by: Maria Hedrick Photography