Same yummy cupcake, two different toppings. And darn cute ones if I do say so myself. Half pumpkin and half chocolate, the cupcake itself is so freakin' good it almost needs nothing else. But yes, I had to holiday them up and I turned half the batch into colorful turkeys with chocolate frosting and candies, and topped the other half with a chocolate ganache and piped on messages of gratitude. Gobble!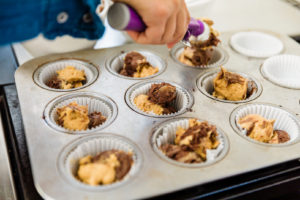 THE PUMPKIN AND CHOCOLATE CUPCAKE
This batter is unbelievable, just to give myself a shout out. I made two separate batches of batter: one with pumpkin puree and walnuts, and the other with chocolate and peanut butter. Um ya, I told you these suckers are delicious! Add a scoop of each into a lined 12-cupcake tin and bake.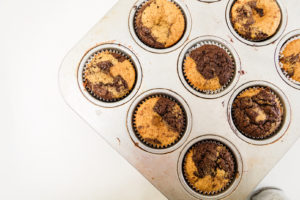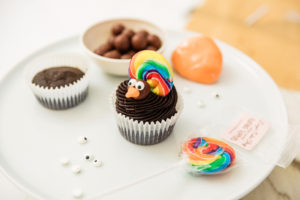 DECORATING WITH CHOCOLATE FROSTING
Here's the first of two ways to decorate those cupcakes. The plan is to pipe chocolate frosting in a swirl for the turkey's body, and then add a maltball head, candy eyeballs, a fondant beak, and a lollipop for the tail feathers.
I didn't have any orange fondant on hand so I dyed Satin Ice White Fondant with Americolor orange soft gel paste. Add a few drops and knead — gloves will save your hands from an unwanted dye job.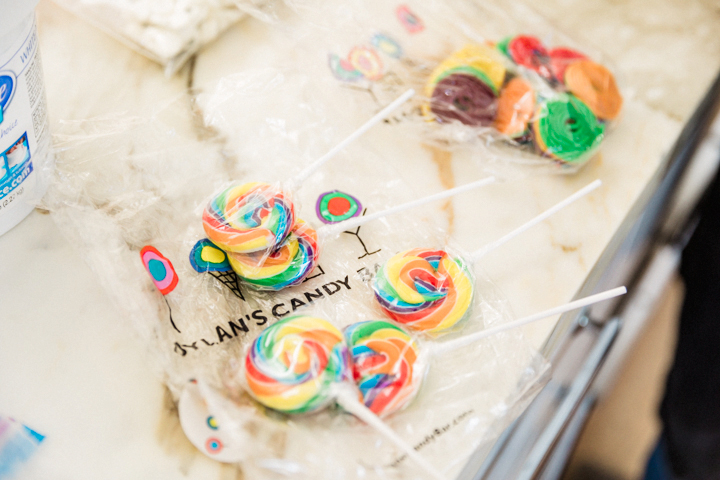 I made a trip to Dylan's Candy Bar for tons of great options for the tail feathers like candy tape, ropes or different types of chewy candy.
Start with piping on the chocolate frosting in a swirl. Hack tip: buy Duncan Hines ready-made frosting off the shelf. Or you can use the recipe I've included in the post. Start with the maltball (mmmm Whoppers). Use a dab of frosting to add a triangle of the fondant for the beak, and another bit of frosting for the eyeballs. Lastly, for the tail feathers use a lollipop with the stick cut off so it will easily insert into the cupcake.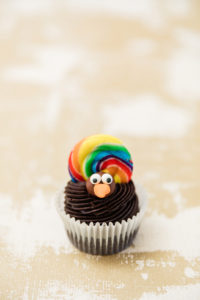 Gobble gobble!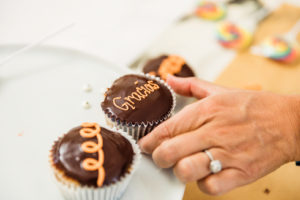 DECORATING WITH GANACHE
This ganache is so rich, it pairs perfectly with the pumpkin chocolate cupcake base. Ganache is so easy to make! Just three ingredients: semisweet chocolate chips, heavy cream and confectioner's sugar.
On top of the ganache, I used frosting with orange coloring to pipe on a Ding Dong design, and added other messages of gratitude.
I'll have these on my Thanksgiving dessert table, I'm sure they'll be a hit with my own little turkeys.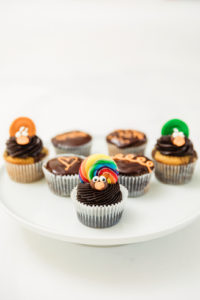 OUR FAVES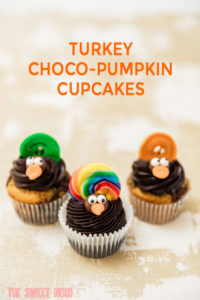 Photos by: Maria Hedrick Photography