Yo.  L1? What is that?  Superbowl L1 that is…..I thought that 'L1' was one of the bones that I hurt in my back a few years back. Turns out it is the call sign for this year's Superbowl 51.  Well, I guess I should be tuning into the game play rather than loading up recipe counts.  Truth is, nerds always prevail, even on Superbowl L1.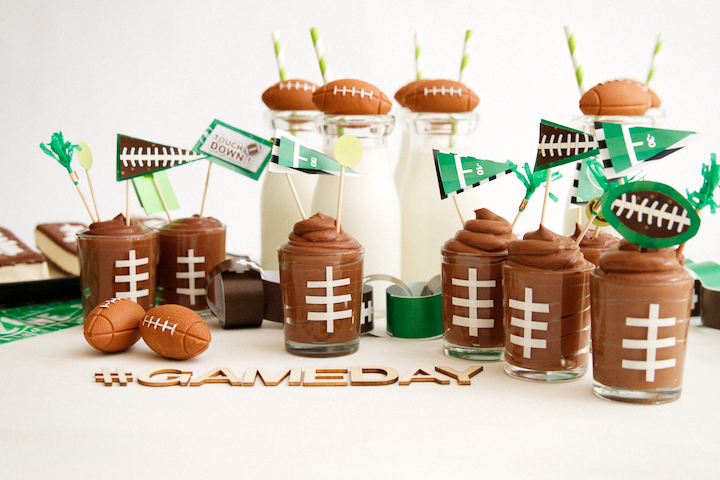 In a few days, family and friends will cram into our cozy living room, stacking extra chairs and crowding in around the couch. Standing room only.  There will be kids tearing through the house, pounding our wood floors and running outside to play quarterback. Super Bowl Sunday is hectic around here, so I like to make sure we have tons and tons of food on hand. For desserts this year, I went with these amazingly easy, 10-minute Super Bowl desserts.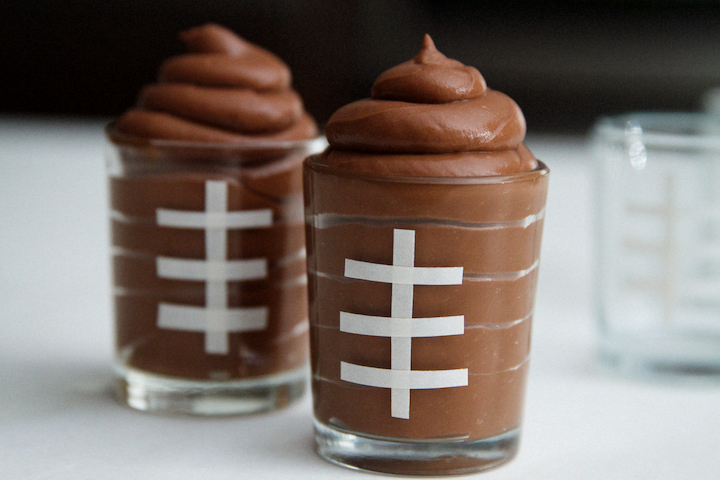 In addition to our annual pulled pork sandwiches and queso fundido, I always try to offer a dessert that satisfies the big kids as well as the little ones.  This year, I am busting out with an easy-peasy chocolate pudding and an ice cream sandwich hack on the side.  The ice cream sandwich doesn't require any baking at all, so if time is short, go for the ice cream sandwich, but if you have even a few minutes, you can whip up this pudding no problem!  It was one of the first things I learned while I was in pastry school at The New School of Cooking.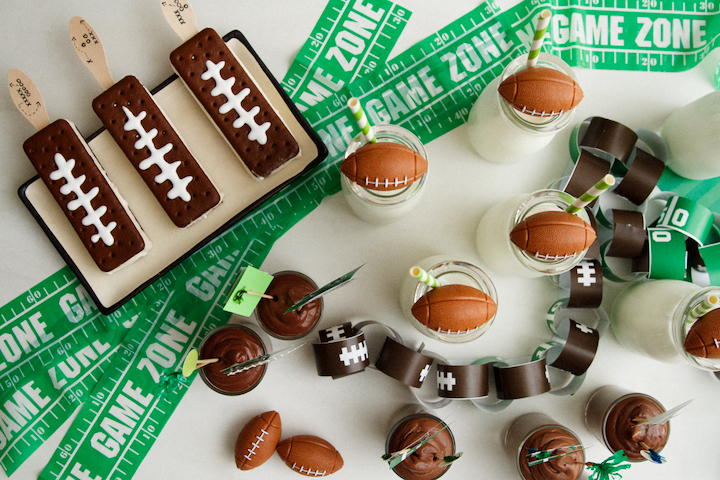 To make short-work of this chocolate pudding, separate your ingredients into 3 groups:
Saucepan Liquids (milk/sugar/chocolate)
Mixing Bowl Ingredients (eggs/cornstarch/cream)
Finishing Ingredients (butter/vanilla)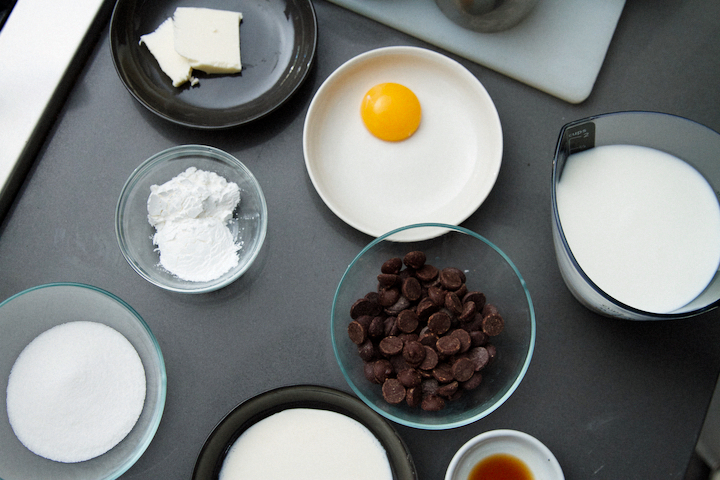 In the saucepan, gently heat the milk and sugar in a non-reactive pot until warm.  Then, add chocolate and melt into the milk until scalding.
In a separate mixing bowl, whisk the eggs, cream, and cornstarch to a smooth consistency.
Add the scalded chocolate milk to your eggs/cream/cornstarch mixture a little bit at a time. If you add it too quickly, the hot chocolate will cook your eggs and give your pudding a funny consistency, so take your time. The goal is to raise the temperature of the eggs without actually cooking them.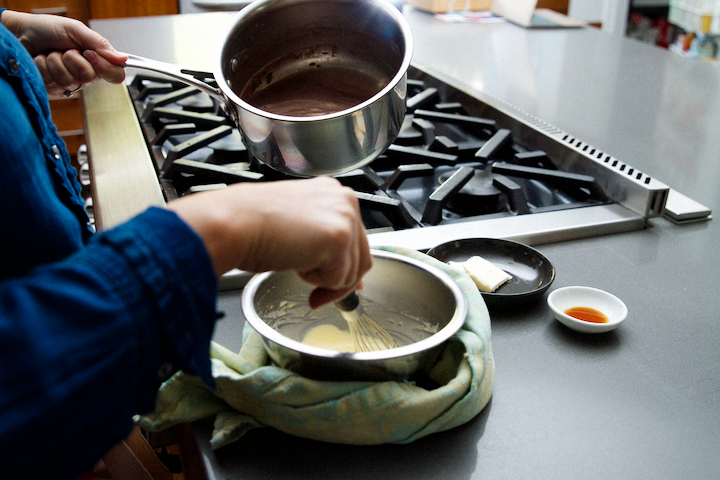 Once you've got it all mixed up, pour the whole batch back into the saucepan and continue to cook it on the stovetop, stirring constantly.
You'll know you're just about done when you get these luscious bubbles.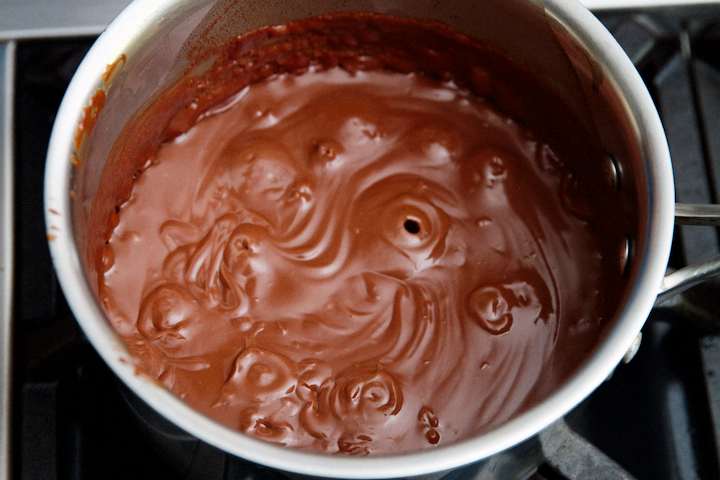 Add in the butter and vanilla to finish, give it a few final stirs, and remove from the stovetop.  Voila!
While it's still piping hot, cover it with saran wrap, making sure that the plastic is touching the pudding so that you don't get a skin, and then place it in the refrigerator until chilled.
To get that Super Bowl look, prep a bunch of votive glasses with white tape and pipe in the pudding using a piping bag or a ziplock.
Top them off with some fun paper pennants.  I made these ones myself  using templates from some of my favorite bloggers: Game Day Paper Chain (The Centsible Life), and Cupcake Toppers How To, (Sarah Hearts). Kelly at the Centsible Life helps women live happier, healthier, and wealthier lives. Sarah from SarahHearts helps women be creative with awesome DIY ideas including a sampling of how to build easy cupcake toppers.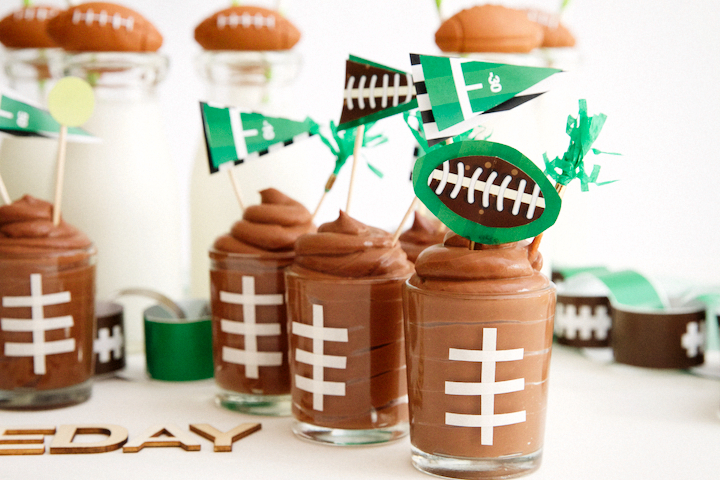 Love these game day pudding winners!  I bought some of these fun props such as the milk bottles at Sweet Lulu, an incredible online baking store and those fun footballs at Party City.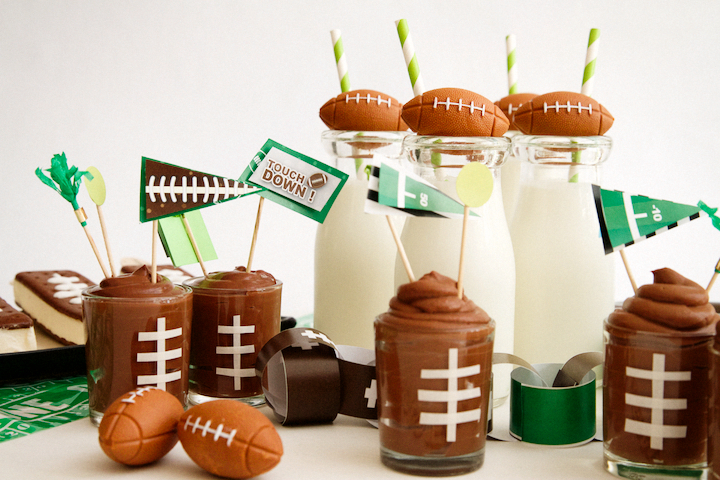 Second in our 10-Minute Super Bowl Desserts line-up is this football ice cream sandwich. Too cute! Right?  And so easy too.  You can buy white frosting or make your own royal icing.  Just follow these step-by-step photos, and you'll be all set for some game day fun.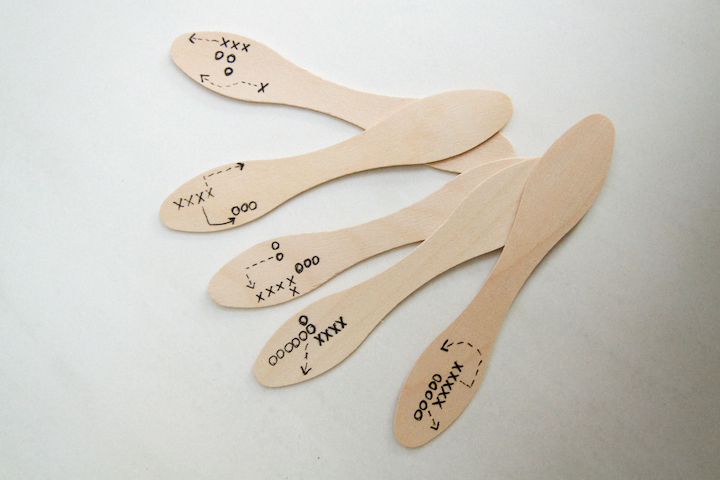 Start by drawing some game plays onto your ice cream sticks.  I wanted to add hearts, but my husband insisted that the NFL doesn't use hearts in their game day attack. Fine.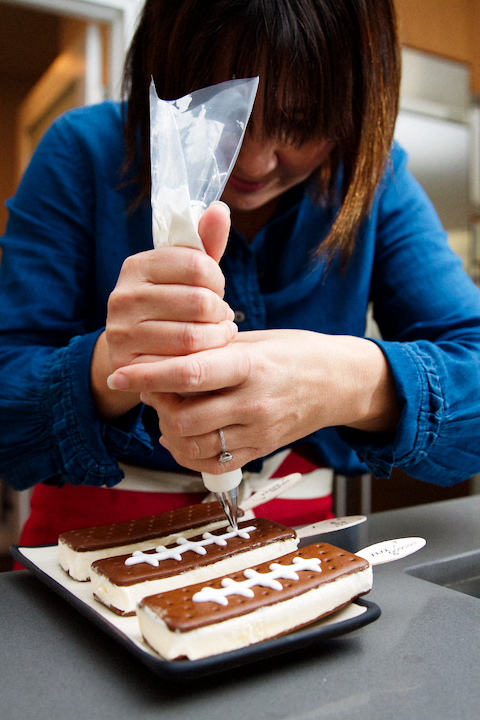 I used a Whole Foods 365 Ice Cream Sandwich Bar. I'm sure the available brands will vary, depending on where you're shopping, but if you're not sure which to buy, check out this post by TheKitchn where they compared 7 different brands. Lots of choices people!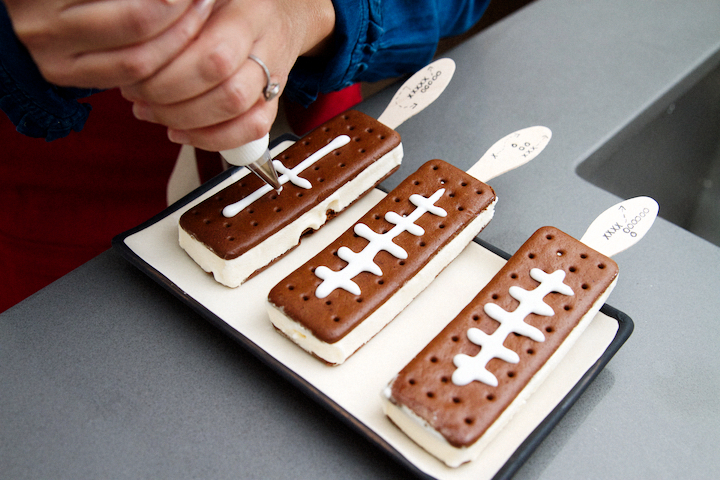 It's not a party without decorations.
To save a bit of money, I went DIY on this one, and I couldn't have been happier with the results!  A few bright green paper chains and game day pennants really made the house feel festive. Game on!
Here's a behind-the-scenes look at how it all come together.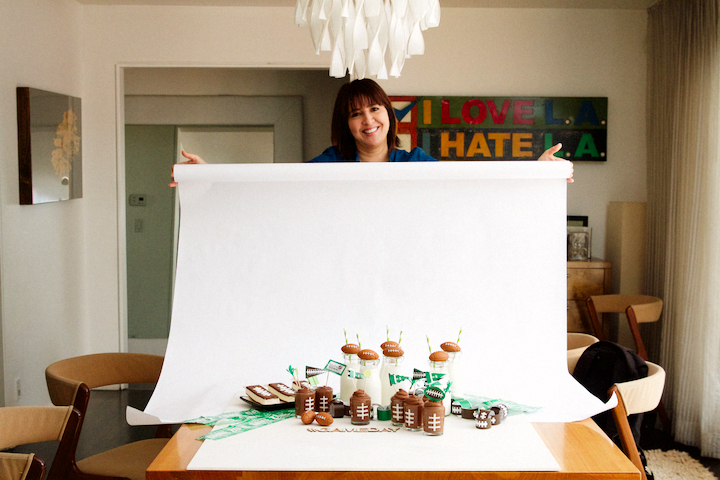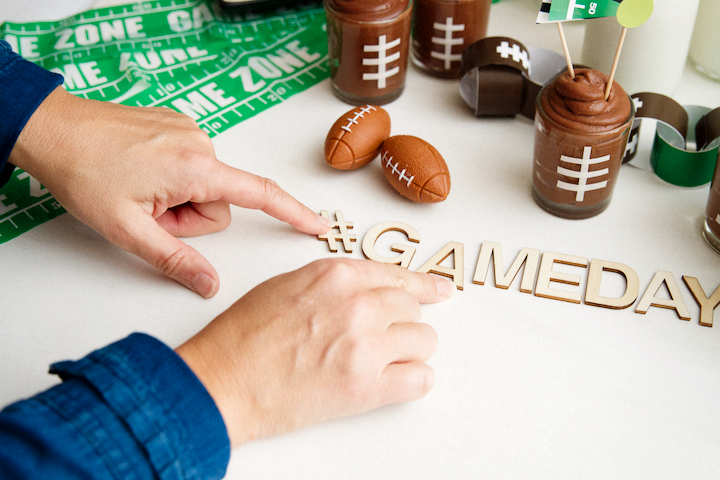 Photos by: Maria Hedrick Photography