Intimate and quaint is the best way to describe the sweet sheep baby shower we pulled together for Taco (aka Paige).  She was given the psuedo name of 'T-A-C-O" during her months in Ericka's belly because her husband initially thought she was bringing home tacos and not a blue pregnancy stick confirming "YES!" Wowza, was he surprised when she called for him to come and get his much-anticipated Mexican dinner and instead got the surprise of his life.  A baby was on its way!  THREE CHEERS FOR TACO!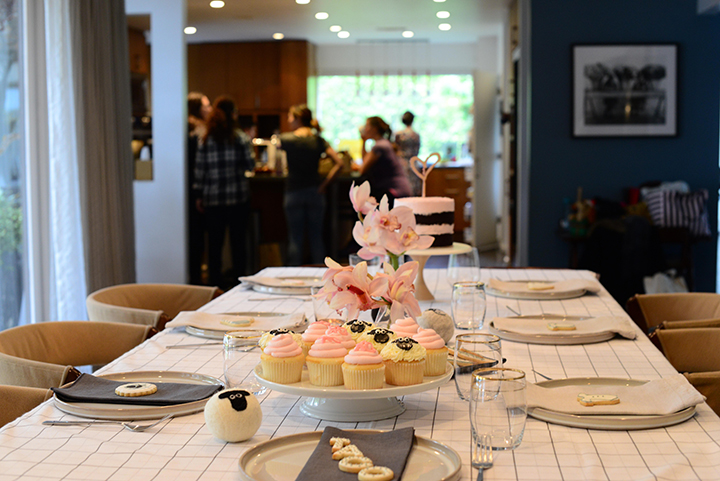 As I mentioned, Ericka has played a special role in our lives for a few years now as an amazing running trainer. Our Sunday morning running group ran extra long that Sunday so we could consume extra sweet calories that day at her shower and planning the party was a cinch especially for this no-fuss trainer and dear friend of ours.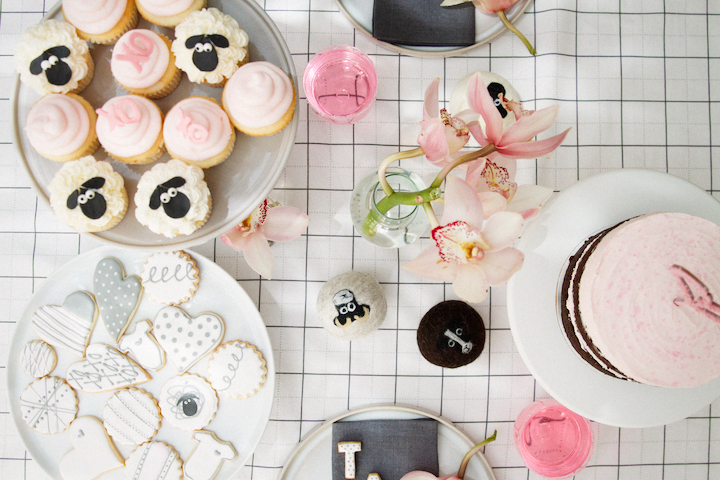 Before I planned the sweets, we decided on a theme.  We focused on a few feature pieces to help create a modern baby shower.
Color Scheme: Greys / Pinks / Black / White
Little Beau Sheep Theme: Purchased from Etsy store, Little Beau Sheep, a few adorable wool dryer balls shaped like sheep that are chemical-free and natural fabric softeners from Sarah Turner.   these, don't you?
Easy orchid florals that were simple and beautiful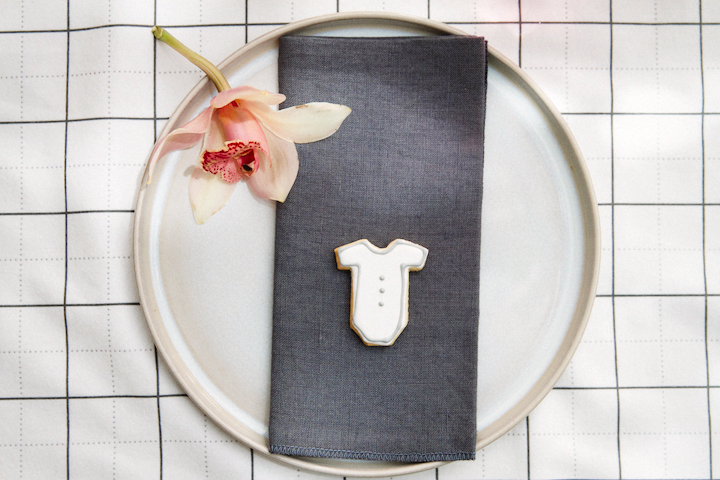 Now for the desserts:
Sugar Cookies – the fun pattern play and soft colors helped create an easy theme.  For each table setting, I placed a single sugar cookie on top of a folded napkin.  Of course, Ericka's place setting was adorned with her sweet baby psuedo name, TACO.
Cupcakes – I focused on the sheep cupcakes in the previous post, but I mixed and matched the cupcake options with some bright fun XO cupcakes.  Check out this post, XO Smooches Cupcakes, to find out how to make these if you want to create some variety!
Cake – this showstopper combines cream cheese frosting with a lovely Miette chocolate cake. Check out this Double Chocolate Naked Cake recipe and enjoy this beautifully moist treat.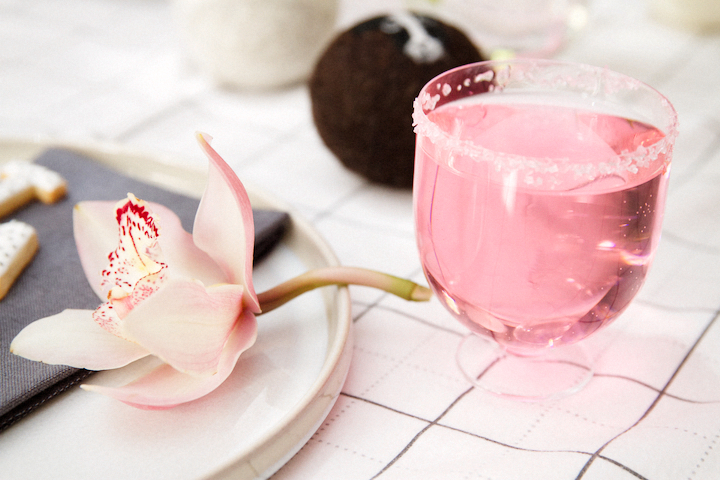 For the brunch, our team potlucked it a bit making some slow-cooked french goat cheese eggs, bacon, potatoes, flavored seltzers, and toast.  We had so much fun cooking in the kitchen, then moving the party to the table and enjoying great company with food and dessert.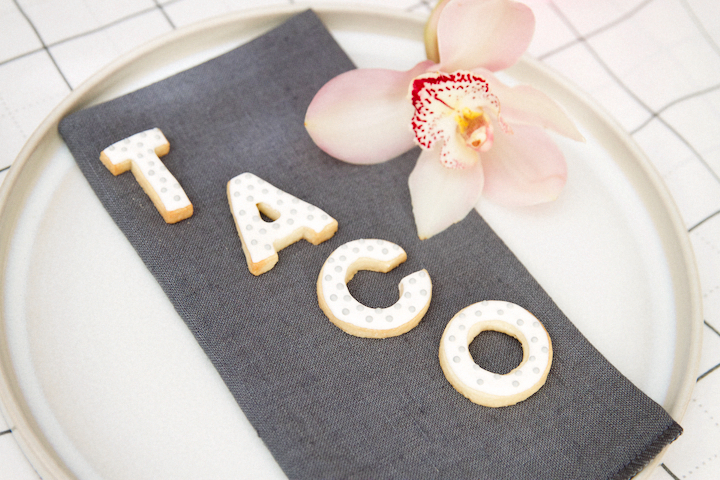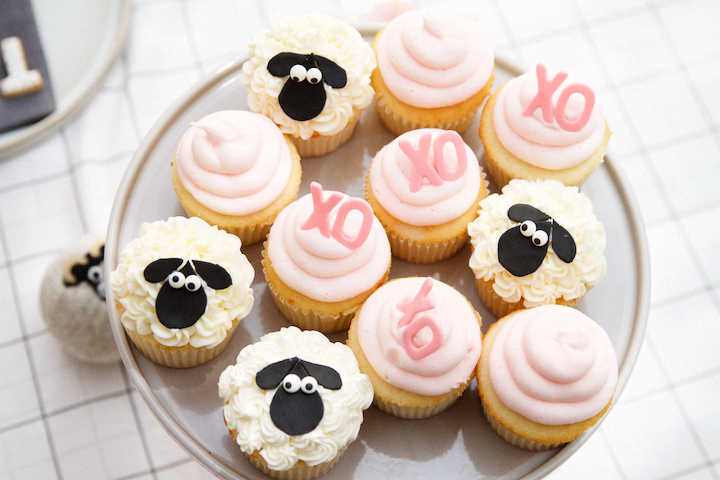 Having a wee one is such a incredible journey.  Sooooo many stories of our kids are shared with Ericka, both good and bad, on the trails of Griffith Park where we trained.  I know she will be a special mom who'll keep her mom compass always pointed in the direction of 'love.'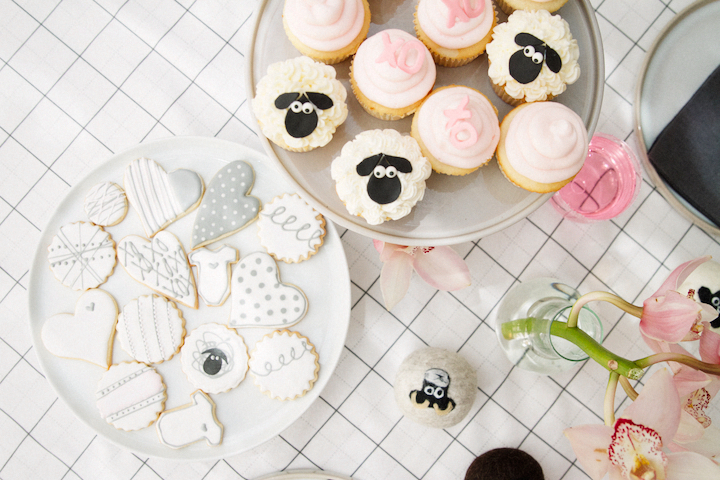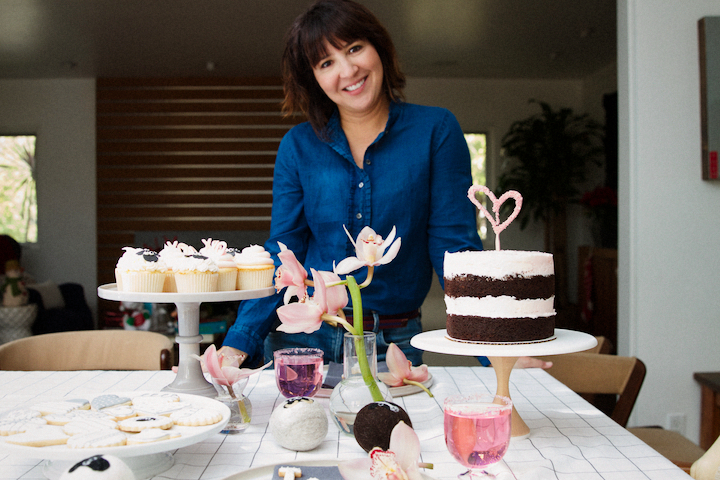 Can't wait to hit the trails with you again soon, Ericka.  Ewe are one special gal.  XOXOXOX, Cindy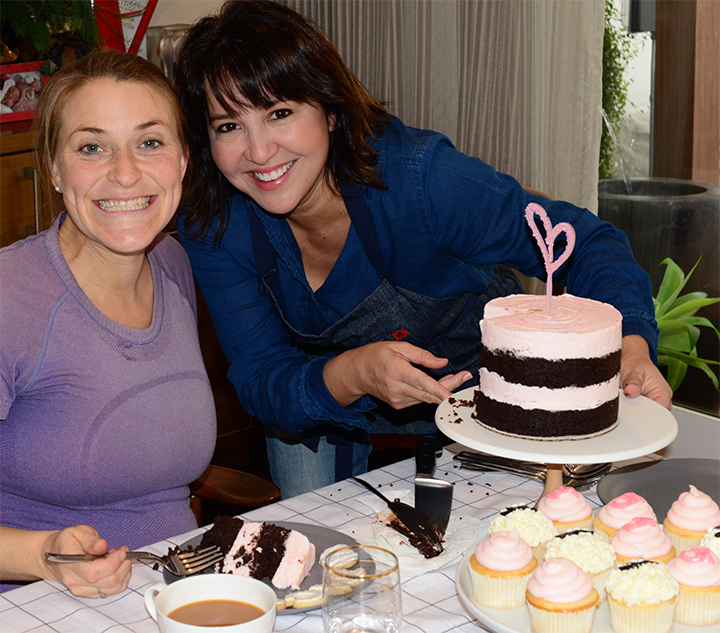 Photos by: Maria Hedrick Photography