I my dad to the Luna and back. Henry Luna Arnold, that is. There's just no other father quite like him!  Now that I'm a mom, I appreciate that role even more in my life. I remember being a young kid and leaping onto the couch to catch a glimpse of my dad's yellow Datsun work truck (often you could hear it before you saw it!). Everyday, en route home, he would pick up a little surprise for us at the local market. It wasn't anything big, it was a pixy stick or a slice of gum, but it was remarkable for us kids! He's the most generous man I know to this day and I want to give back some time and love to him in the form of this special Father's Day Short Ribs dish.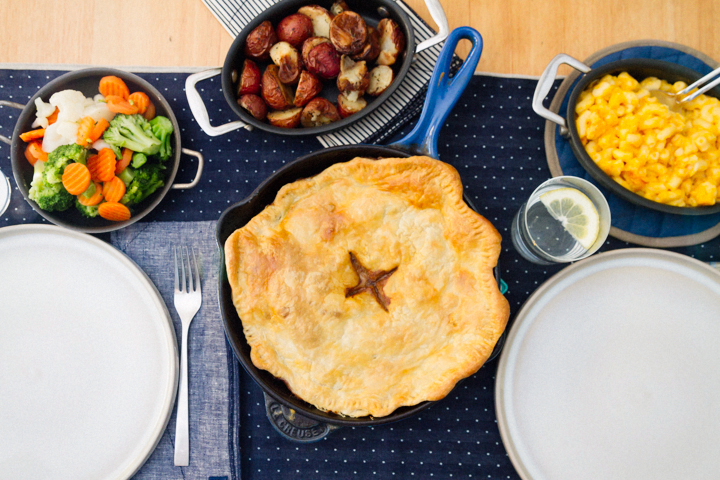 My dad is a big "salts" guy. My poor mom has to watch every calorie she eats, but my dad on the other hand is healthy as an ox at 87 years old. I mean, this guy can eat anything under the sun. Peanuts, chicharrones, beef jerky to name a few, so I decided to switch gears from the sweets and go savory for him this year.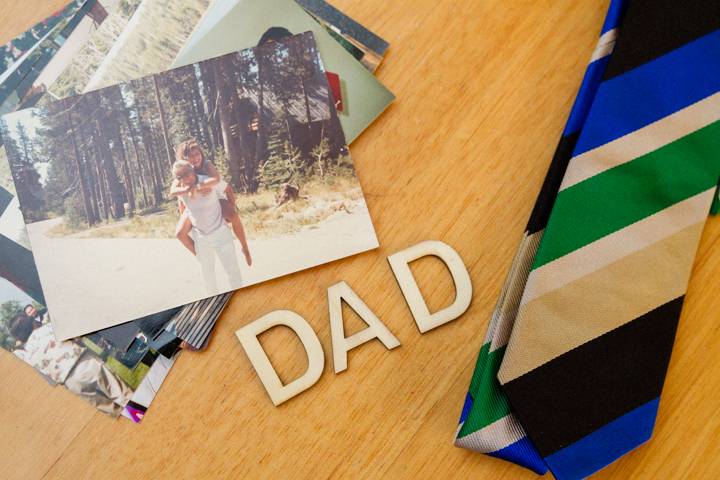 One of the strongest senses that bring back a flood of memories is the sense of smell. Old Spice cologne, freshly-brewed coffee, and charred jalapenos are at the top of my list for Daddio. This year, I decided to combine a little bit of this and that to make a Ancho Chili Coffee Short Rib Dish Pie (aka Father's Day Short Ribs!). Yeah, I love him a lot! So much so that I dove into this recipe with some major gusto. Let's do this!
Three Main Steps:
Chile Prep
Short Rib Assembly (Dredging + Searing + Assembly)
Pie Dough Making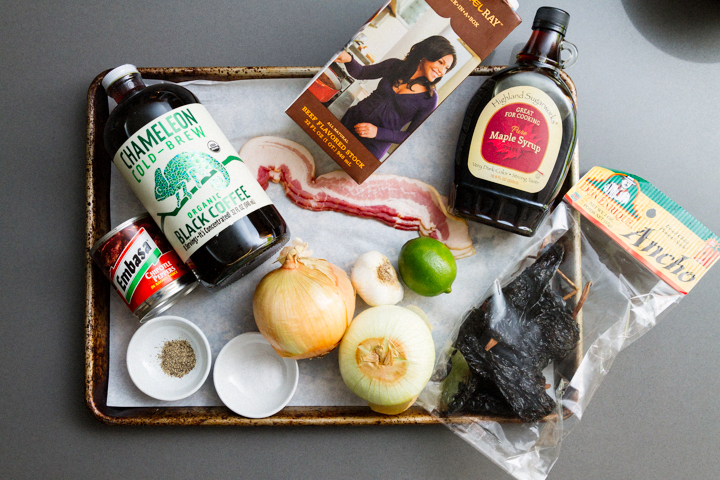 Ingredient Showstoppers:
Short Ribs – try to get your hands on the best ribs you can with marbling fat
Coffee – use some high quality coffee so the flavor pops, yet blends with the chile balance
Bacon – go for the thick bacon slices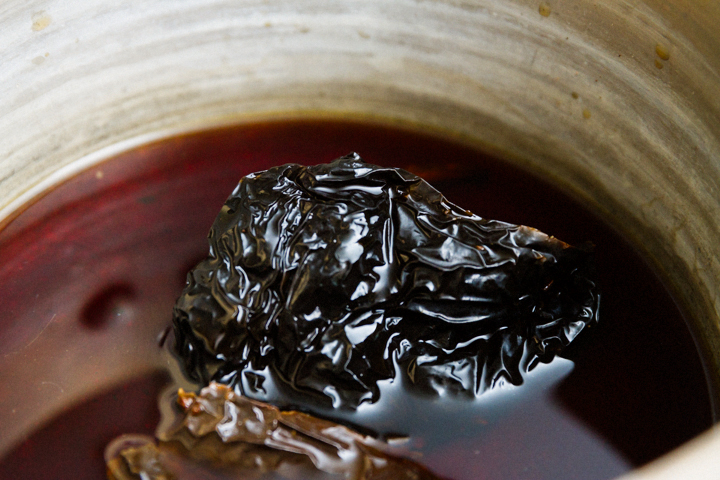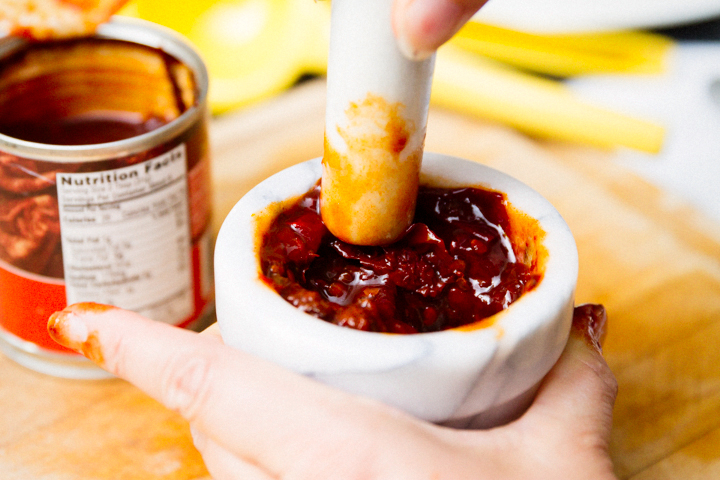 Soak and blend is the secret behind this sauce. You can buy ancho chilis in the dried spice section of your supermarket. (Tip: you have to soak the chilis in hot water to rehydrate them.)
Blend the chili with a few ingredients to give it that whopper garlicky-chipotle-ancho-maple wonderful taste.
Dredging
To dredge the ribs means you need to first dry them off with a paper towel and toss them lightly in flour.  The key with dredging is to make sure the coating of the flour is light and barely there.  I usually clap the floured short ribs in my hand to help ensure a light covering.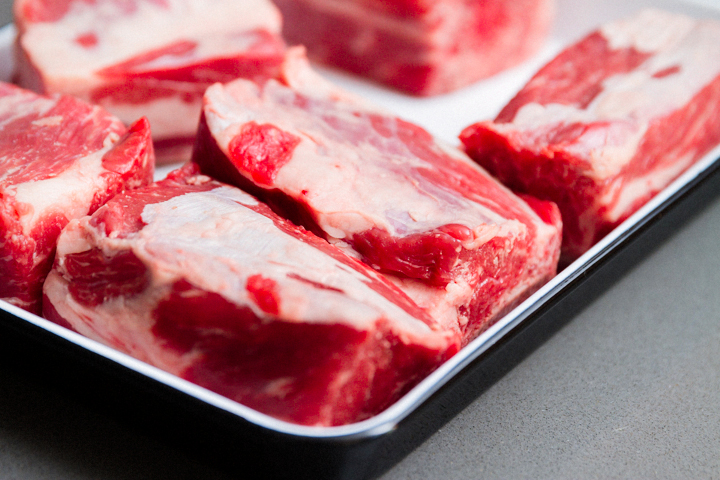 Next, cook some bacon! This is the part where I have to control myself because I can seriously go on a bacon diet right about now. Reserve the oil and chop the bacon. Set aside until we start to assemble the short rib recipe.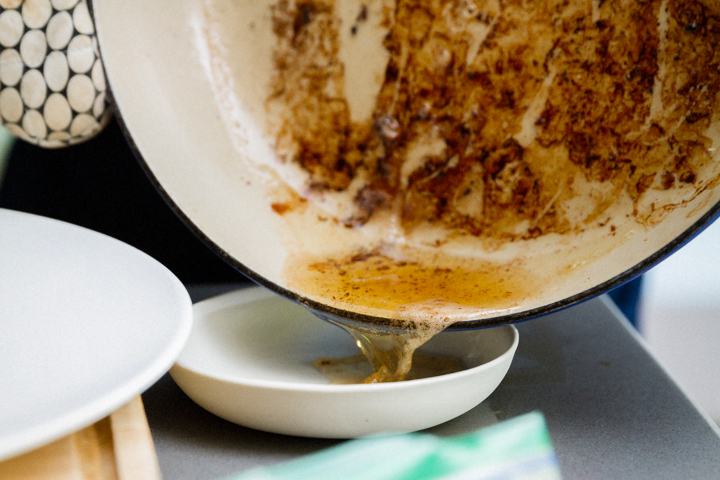 Searing – It's 100% About Flavor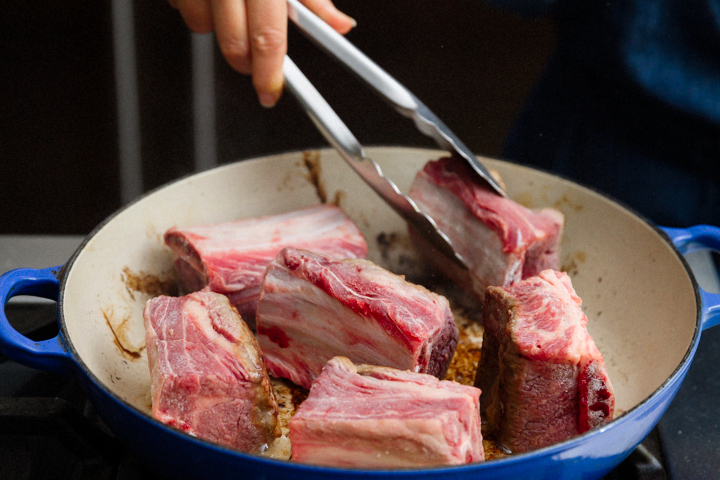 Get your oven flame as high as it will go and heat up your pot. Remember, you cleared out the bacon fat, so it should just be all that wonderful brown bacon residue on the bottom of the pot. Searing is all about amping up the flavor and building a perfect brown crust. I love this video by Real Simple that shows how to perfectly sear meat, in case you need a reference. Remove the meat once you're done searing and now let's head to the last step of building out this decadent short rib recipe.
There are two steps here to assemble: chili cooking and deglazing. Use some of the reserved bacon fat to cook the chili on a low heat. Next is deglazing. This is the process of adding liquid to the bottom of the pan and all the brown bits get soaked into the cooking liquid. We will use some high quality coffee such as Chameleon.  I want the coffee flavor to be strong to balance out the chile.  It is near magic how it smells and tastes!
Low and slow is the key to cooking these short ribs to perfection.  After you see it come to a rolling boil, adjust the heat to the lowest simmer possible. While braising, add salt (and pepper) to adjust flavor to your liking.  I cooked until nearly done (it will finish cooking as it bakes with the pie topping), then turned off the burner.  I let it cool slightly while I prepped the pie dough. I put the pie dough in the freezer for about 20 minutes until it was chilled enough for me to roll out. Then, I transferred the short ribs to a pie-baking pan or dish.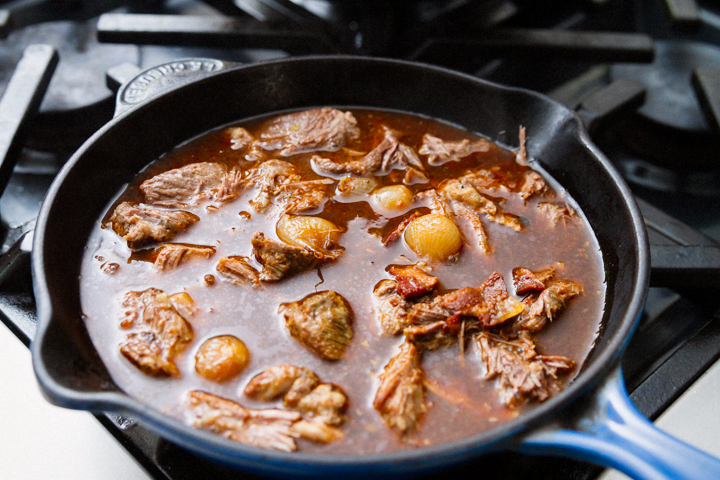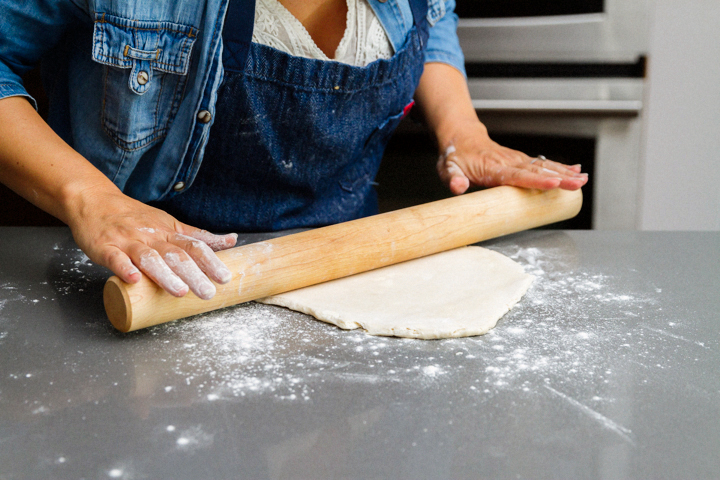 Roll out your pie dough to be about 1 1/2″ larger than your cooking pan or pie dish. I used a La Creuset, but as an alternative you can use a smaller baking vessel!  The trick to rolling out the dough is to make sure it's chilled. You'll need to work fast with the cold dough, rolling it out onto a surface with a sprinkling of flour.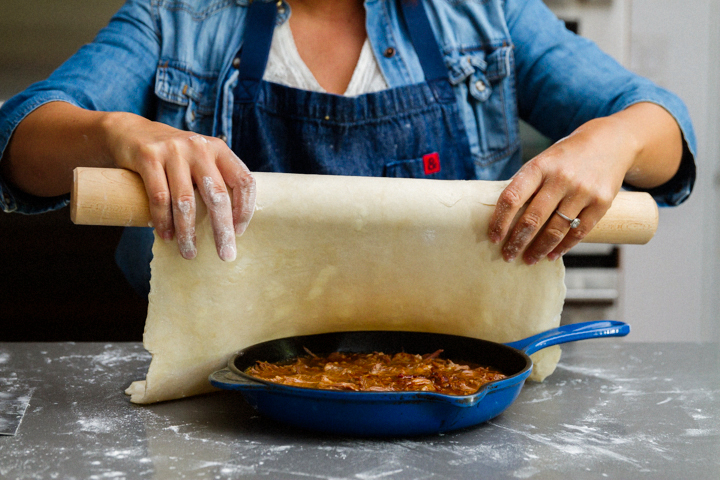 Lay the dough over the short rib pie dish.  Cut the pie dough to be about 1″ from the edge and tuck under.
Put a slit in the center of the pie dough to release the steam while baking and give it a quick egg wash (egg white and water).  Bake for 35 to 45 minutes and enjoy this wonderfully rich Father's Day short ribs with ancho chili coffee flavors.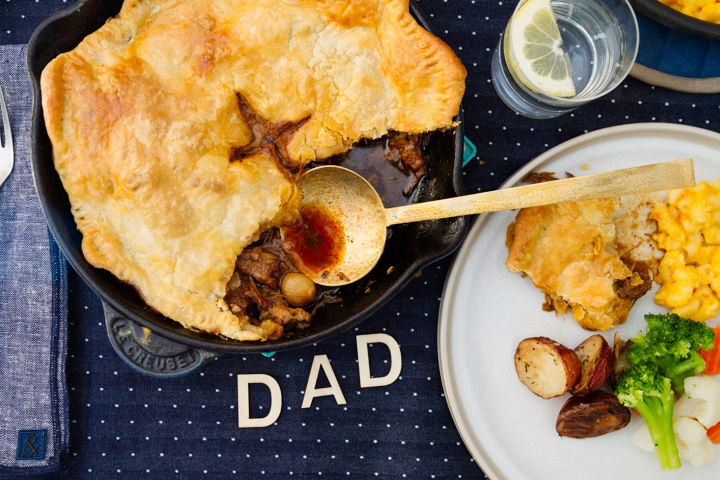 Photos by: Maria Hedrick Photography