I'm having a Rocky Balboa moment.  I'm envisioning myself racing by snow-capped Patagonian mountains with the sounds of a crowd cheering me on as I finish the final descent to the finish Line. Steves is by my side, and Gavin and Liam are running up to me screaming 'you won, you won.' Jumps. Hugs. Medals. High-fives.
So, what does this have to do with Butterscotch and Grilled Pineapple Flatbread?  Well, actually nothing but also everything.  Maybe it is 'dessert-guilt' driving me to think about running this International 10k race because I can't stop eating this delectable combination.  Even before I consume the calories of this decadent dessert, I am already dreaming of ways to take them off.   The promise of this recipe is that when you try one, you will eat a dozen.  I am so serious!  Butterscotch + Grilled Pineapple + Nutty Coconut + Peppered Honey + Flatbread = pure Sweet Nerd bliss.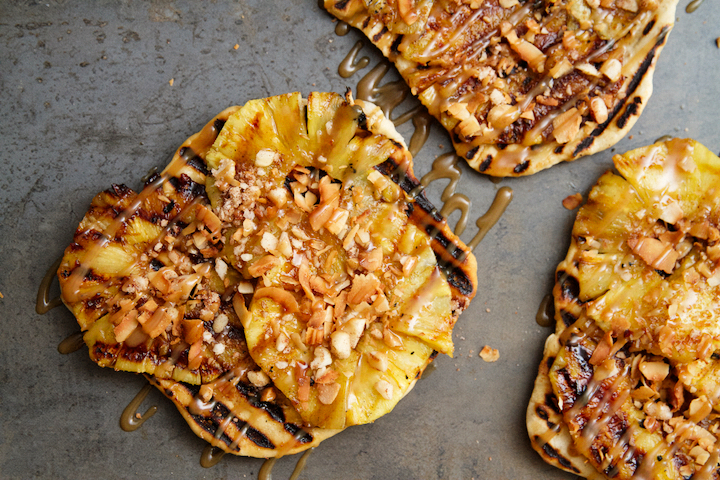 If you're like me, your eyes were obsessively glued to the TV watching the Olympics. It was so inspiring! I only wish that it was on more than once every four years. My adrenaline was pumping each time an athlete competed making me feel as if I could climb Mount Everest after watching each event.
There is no doubt that the Olympics have given me a false sense of inner-superwoman.  The International Patagonia Race has been on the bucket list now for two years and I intend to do it someday.  The race itself is a road running event that takes place in Chilean Patagonia in the area surrounding the Torres del Paine National Park. It is pretty much a runner's dream on steroids with a bunch of cool international people competing.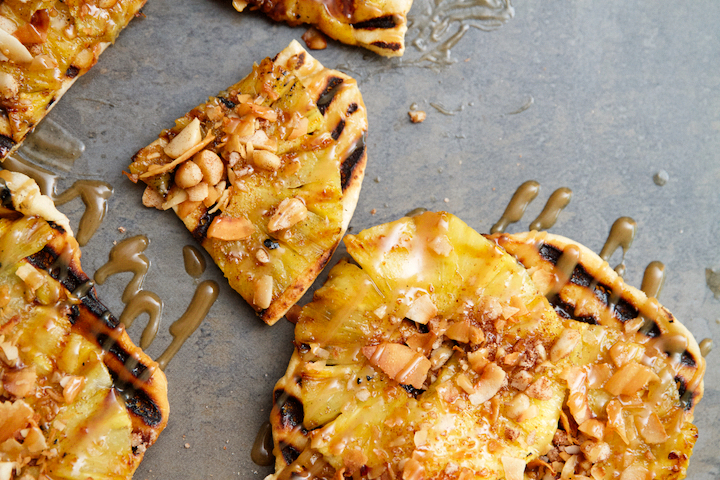 Ahhh, I digress. Back to this deliciously sinful recipe which is without a doubt, a winning combination of grilled fruit perfection that includes a golden buttery sauce, crunchy coconut cinnamon topping atop a seared, grilled flatbread.  She is a beauty and a keeper!  Don't worry – if you are freaked out by making bread, then skip it and lay these grilled pineapple babes smothered in butterscotch on store-bought bread of your liking.  Or, try it as a topping over ice cream. But, if you are feeling your inner Olympian, let me give you some pointers for the bread making.
Here's the deal with the dough. I follow this dude from down under called the Aussie Griller.  He is a master at grilling and breaking recipes into simple directions. Basically, you start with warm water and instant yeast, and let it sit.  Then, you add the other dry and wet ingredients, knead it, and let it double.
Once it proofs, you can break it apart into 3 ounce balls and begin to shape them.  Now it's time to get everything prepped. Turn on your grill to get it nice and hot.  You'll want to get the rest of the ingredients ready so when the bread comes off the grill, you are ready to assemble.
Slice some fresh pineapple super thin and set aside.  Toast your macadamia nuts and unsweetened coconut, chop them up and give them a little toss in cinnamon.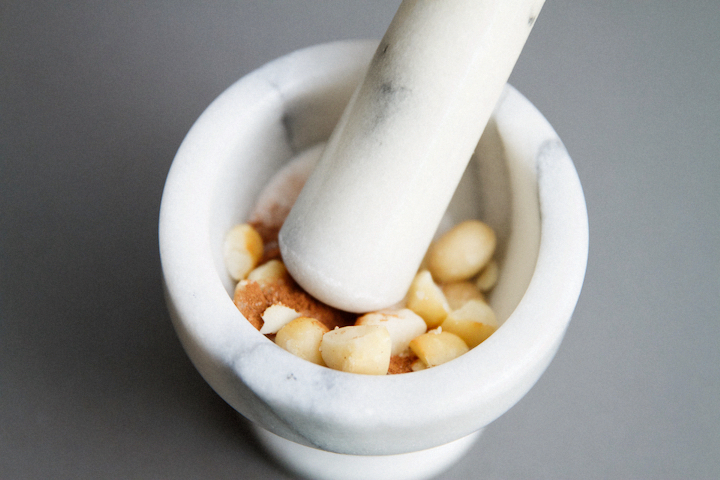 I prepped some butterscotch sauce (click for recipe) for a light finishing drizzle.  I used my favorite recipe from Mindy Segal's Cookie Love Cookbook. You can also use your favorite artisanal caramel or butterscotch sauce for that final touch.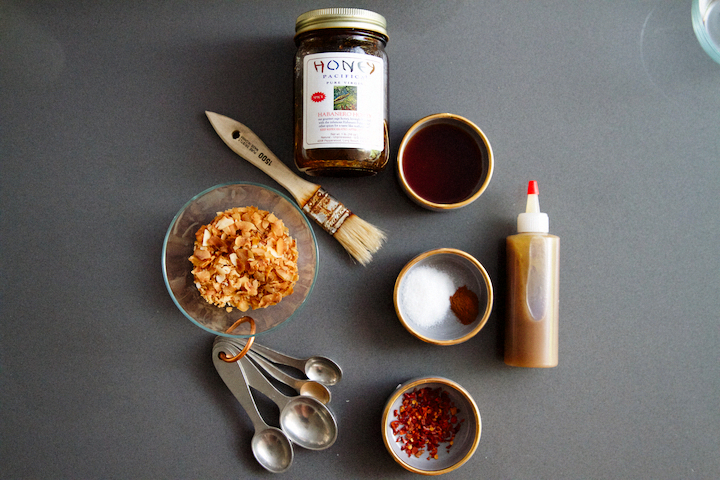 I love to spice up my desserts by adding that special secret ingredient.  In this case, I used a chili flavored (habanero) honey by Pacifica Honey. Don't be afraid to add a little heat, as it is nicely counterbalanced by the sweetness in the grilled pineapple and the butterscotch drizzle.  Yep, I even added a few beautiful red pepper flakes to amp up the color and kick the flavor up a notch.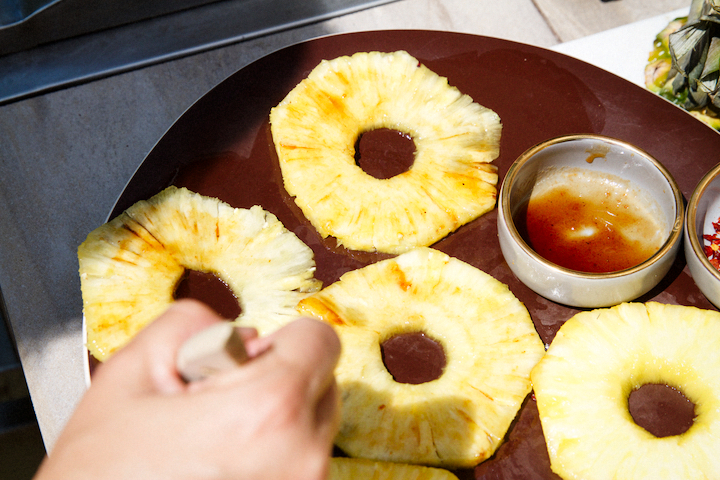 Sear time!  Now that the grill is super hot, it's time to grab those pineapple slices. Tip: remember you are searing it meaning don't step away for a few minutes thinking you can multi-task.  The hotter the grill the better, as you are searing for less than one minute on each side to lock in that lovely flavored honey.  When you're all done, set aside your grilled pineapple slices and start on the bread.
Place the bread on the hot grill.  It will grill up fast, so again, not the time for multi-tasking. Stay put as they'll quickly start bubbling up.  Once you see that happening, then it's time to flip them over.  When you're done grilling up the bread, give it some love by spreading a little butter on the top surface.  Now you are ready to assemble.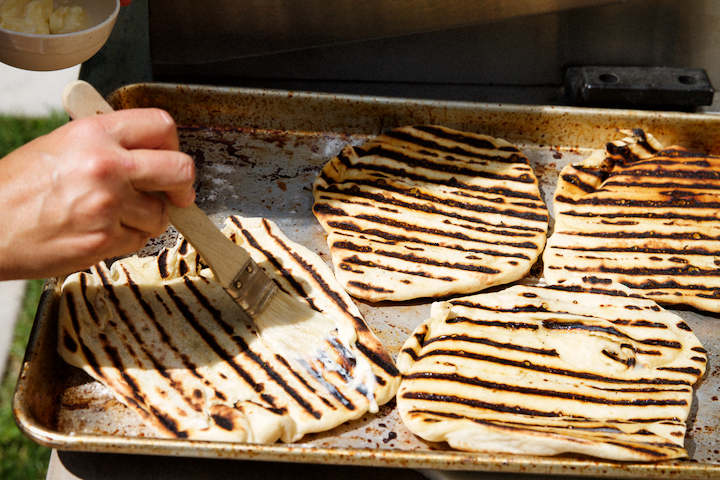 Add the grilled pineapple slices and nut concoction on top of the grilled flatbreads, then drizzle with butterscotch. Yep, you can now officially dig in.  Be warned, you won't be able to stop.  It is a gold-medal winner.
So there you have it – the reason I want to run off a few of these grilled pineapple and seared bread desserts. I tend to inhale them in one sitting, errr, with some Little Nerds help.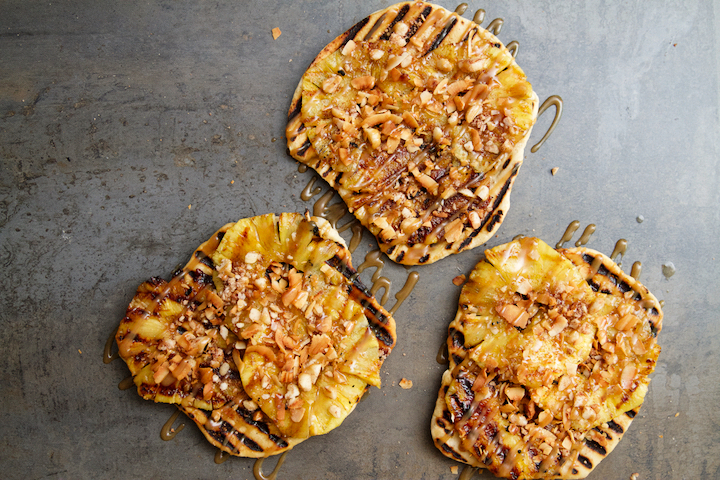 Photos by: Maria Hedrick Photography