Mini or 'Mammoth' Peach Rum Galettes?  They're mini galettes that I made on a recent trip to Mammoth Lakes where all of the Arnolds (my whole entire family of 5 siblings) recently vacationed together. You got it, all 20 of us when you count all the kids.  We sort of fall back in line when all the siblings are together (I assume my position as the baby sister) and gear up for incessant teasing, laughing, and cooking.
In our family, it's tradition to alternate hosting feasts by family and since I am one of five of siblings (who love to eat), every year we gush over cocktails, new wines, and of course, our latest food concoctions.  We are all slightly competitive (who, me?!?) so woven in between the main meals are beef jerky showdowns and dessert dreaming.
Being The Sweet Nerd that I am, I volunteered to host each evening's desserts.  Just imagine a warm summer evening, sitting on the deck, taking in the pine-scented breeze and the most delicious peachy pie ever!
It was stress free baking for me as I pre-made the dough a few days prior to leaving on our trip.  I popped the dough in an ice chest and off we all went to Mammoth.  It's an easy defrost in the refrigerator the day you serve it and was perfect for a family meal on the last night.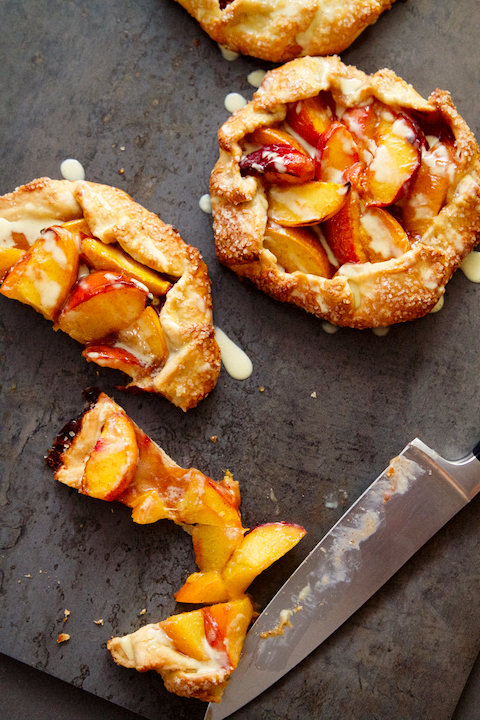 Forming the galette is easy!  If you have some hungry stragglers hanging around the kitchen, put them to work slicing those luscious peaches while you work on the warm vanilla sauce.  Once the peaches are sliced, gently toss them in the spice and bitters mixture.
Roll out your galette dough. I divided my dough into equal parts and rolled it out to a 1/4 inch thickness in a circular fashion.  Now, this is a rustic dessert, so if the circle is uneven, even better! Leave yourself with a one-inch border (or a little more) to fold in the sides.
The folds are easy enough, just overlap them a bit and pinch.  Pinching the dough is important otherwise it may open up while it's baking and we don't want that to happen. After you've shaped your peach rum galettes, pop them in the refrigerator to 'set' and let the dough rest before baking.
Once it's 'set', brush the crust with egg wash and sprinkle with sanding sugar. (Sanding sugar is another large crystal sugar somewhere between white granulated and coarse sugar in size.)  It is my favorite sparkly sugar and looks beautiful with a finished pie or galette!  Now, plop it into the oven and bake at 350F for 45 minutes to an hour depending on your oven.
Time saving tip:  If you are pinched for time, skip the sauce.  But, if you have the time (because your extended family is entertaining your kids), go for the gold!  It is ridiculously delicious, and I promise you that it will not disappoint.  It's a stovetop sauce and relatively simple.
The trick with this warm vanilla is the lovely Madagascar Bourbon Pure Vanilla from Nielsen-Massey that I got as a gift in this beautiful set of three from Williams and Sonoma.  I love the quality!
Put the brakes on when you make this sauce and keep your flame low and slow.  You don't want to rush it over a medium to high flame or it will overcook the egg.  Once it coats the back of a spoon, you're done. Add your finishing ingredients and let it cool for a few minutes.  Next, pour it into a bowl, then apply some plastic wrap to the top — right on the surface to prevent a skin from forming on the sauce.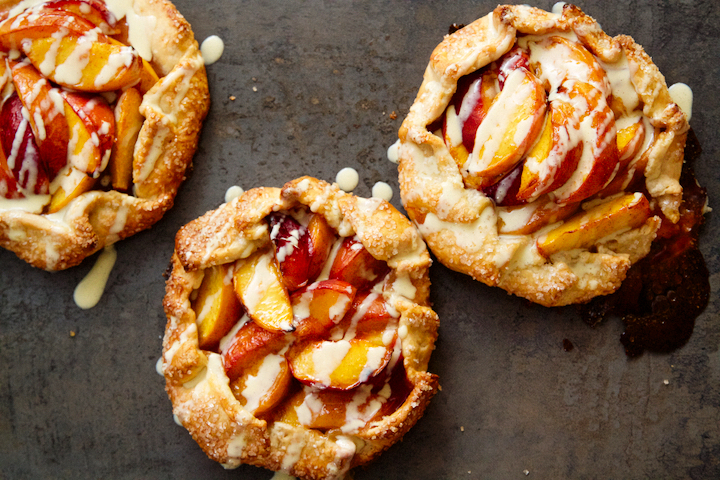 Once your peach rum galettes are done baking, remove them from the oven and glaze them with an apricot or peach jam.  You can easily skip this step if you're running out of time as it is just for presentation purposes but it does add a bit of shimmer to your fruit.
Community assembly is a must on this one!  Gather your family and friends around to cut their own warm galette slices and top it with the rum sauce.  Baking Tip: I poured the warm vanilla sauce into a squeeze bottle and let the adults serve themselves.  Another option is to use a ladle to drizzle the sauce over the top.  Either way, get everyone involved and etch this dessert into their memories forever.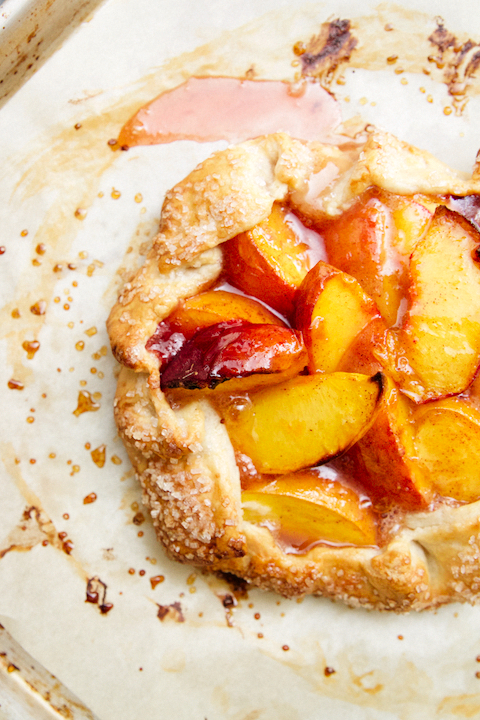 Savor those special moments with your family and friends and let these perfect peach rum galettes do the talking!
Photos by: Maria Hedrick Photography