Daring. Delicious. And Dripping With Love.  It's an odd combination, I realize, but I can't help creating a mash-up of Grandma's Sweet Cookies with the edgy splattering and streaking of urban XO lettering and hand drawn hearts.  Please allow me my moment of creative obsession…with the combination of these simple light cookies juxtaposed with the DIY aspect of working with a real graffiti artist.  A big thanks to artists Karlos Bumps and Prime for an awesome night of summer love grafookies (graffiti + cookies).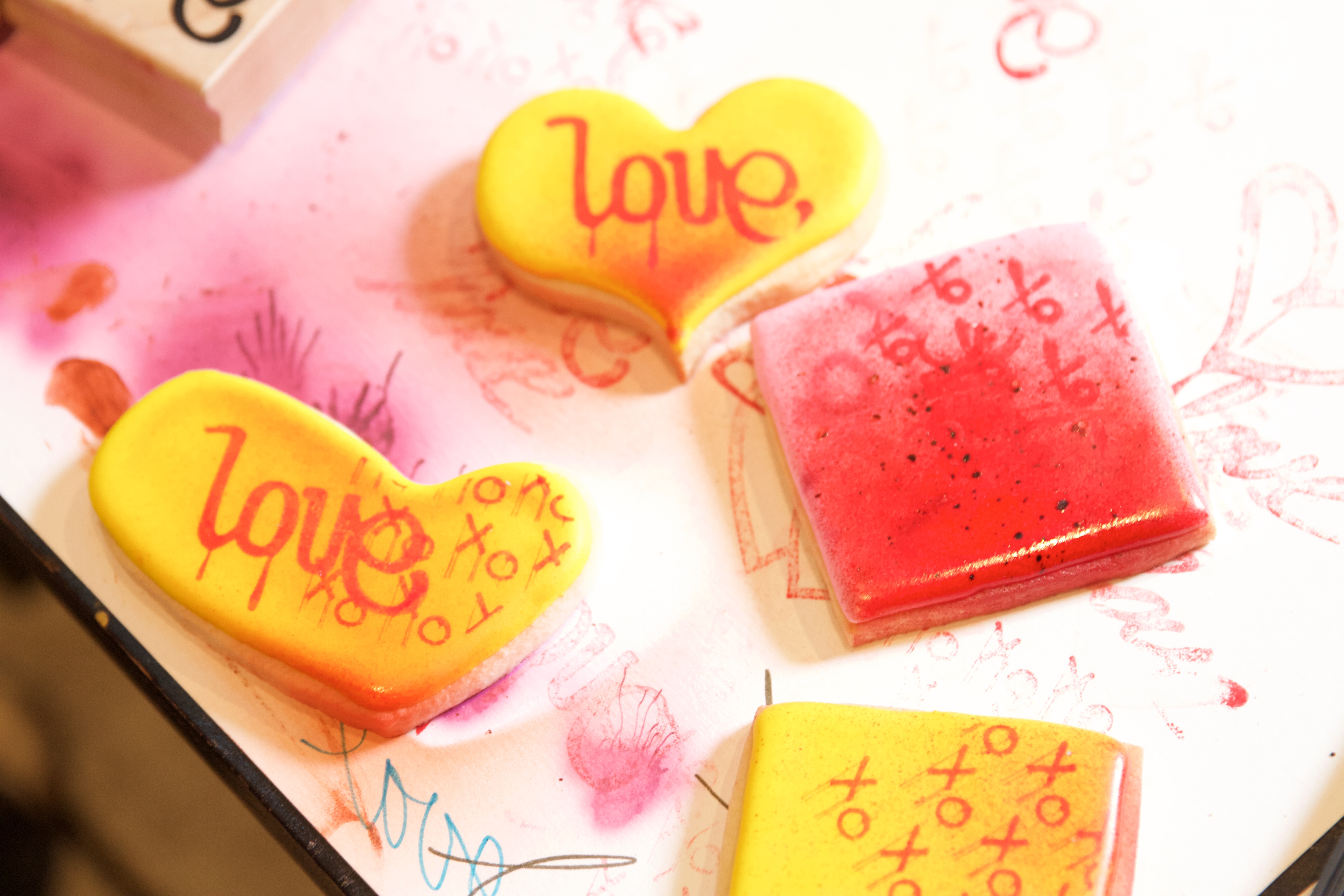 Expressing 'love' has endless possibilities when working with these simple blank palettes.  This sweet cookie connotes hints of cardamom and vanilla.  So heavenly! For the royal icing, I used icing techniques such as: outline, flooding, and wet on wet which can be found on my royal icing post.  Now…it's artistic expression time!  The DIY'er (aka Sweet Nerd) in me loves layering and mixing decorating mediums like stamps and edible markers then finishing off with highlights from an airbrush.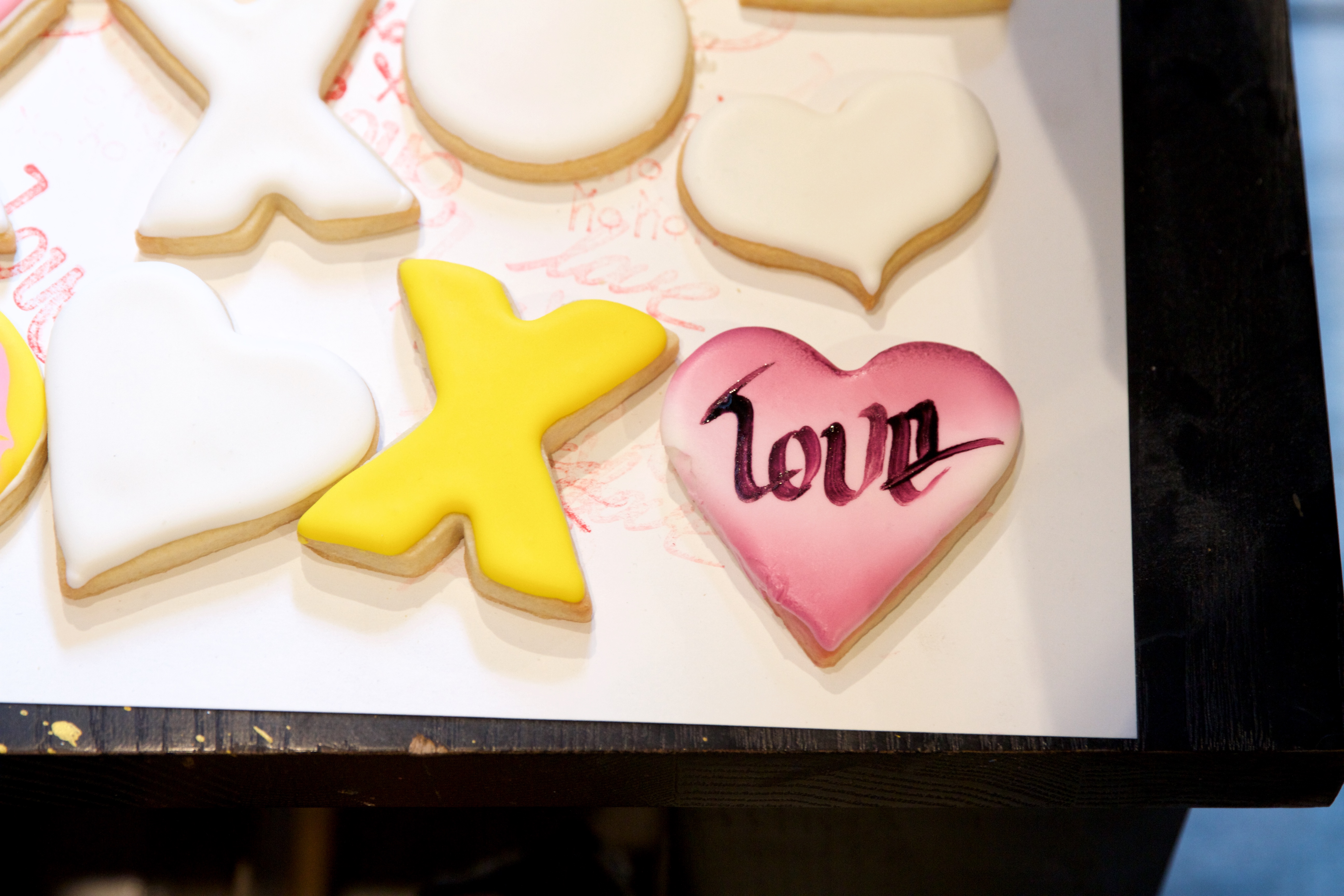 Karlos shared with me a few really cool books filled with ideas for font techniques and urban lettering. He agreed to cover the art of brushing and I managed the stamping (yep, moms do that well!).   Ok, it's showtime!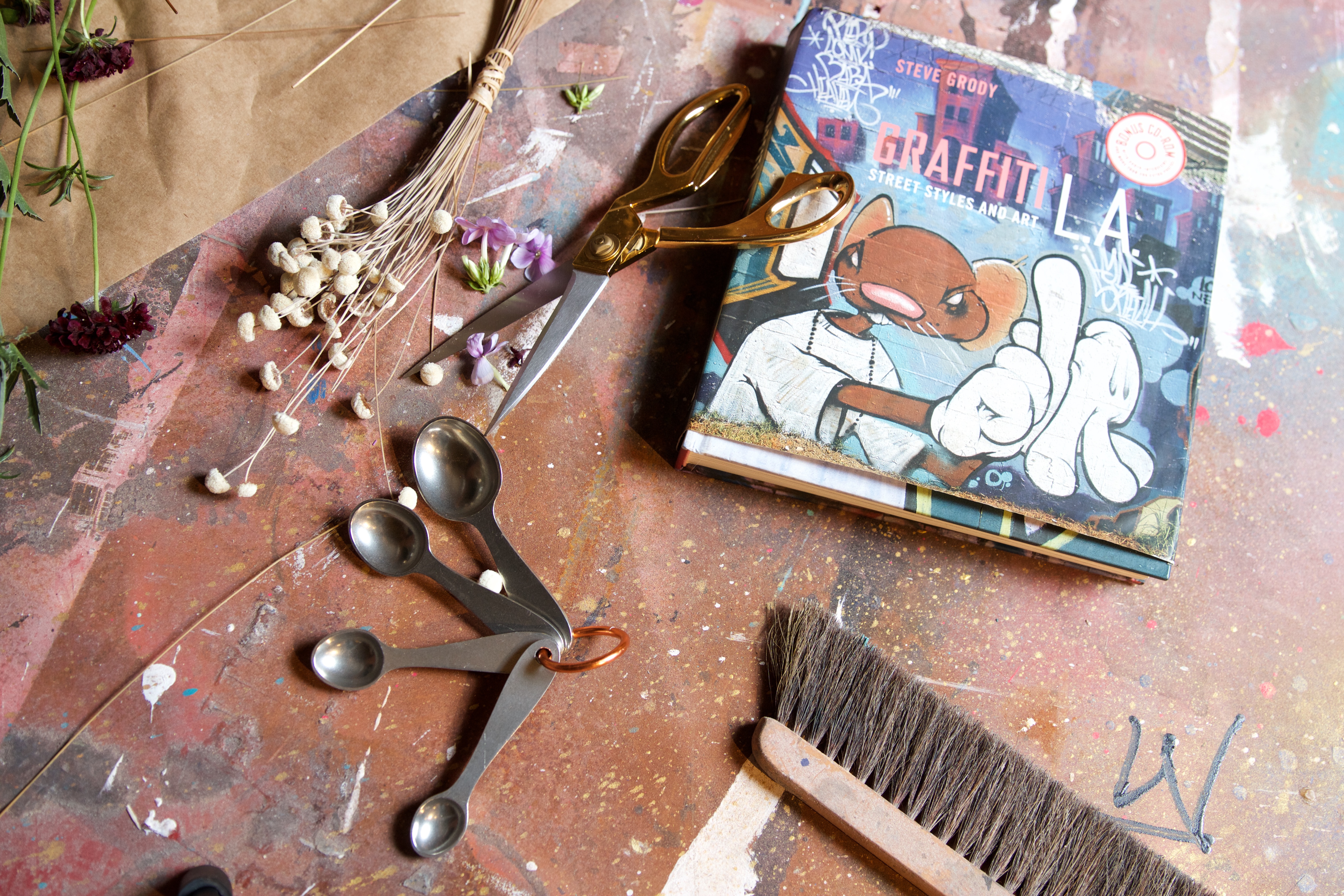 As you can see, we used a variety of techniques. Check them out:
Cookie Stamping – this is where you literally soak a food grade ink pad with Americolor dye and then 'stamp' the cookie with a food grade rubber stamp.
Airbrush Technique – where you highlight a certain area or create an ombre-washed effect.
Calligraphy Writing – write with various styled brushes allowing you to create that urban-style font.
Cookie Stamping & Airbrushing
One of my favorite techniques is stamping. Check out what I did here. I layered multiple stamps on one cookie, then added depth by airbrushing the cookie!
Also, if you opt for a more elegant look, just decorate with stand alone airbrushing – just know that this technique requires a bit of practice.  Of course, Karlos has mastered this craft and I'm always impressed by the precision he uses to form letters, strokes, and also splashing highlights on the cookies.
Calligraphy 
Using cool words such as amor or besos on each cookie creates such a unique and special look.  You can make thick lettering by applying full steady brush pressure, or learn calligraphy techniques for a more technical, defined look.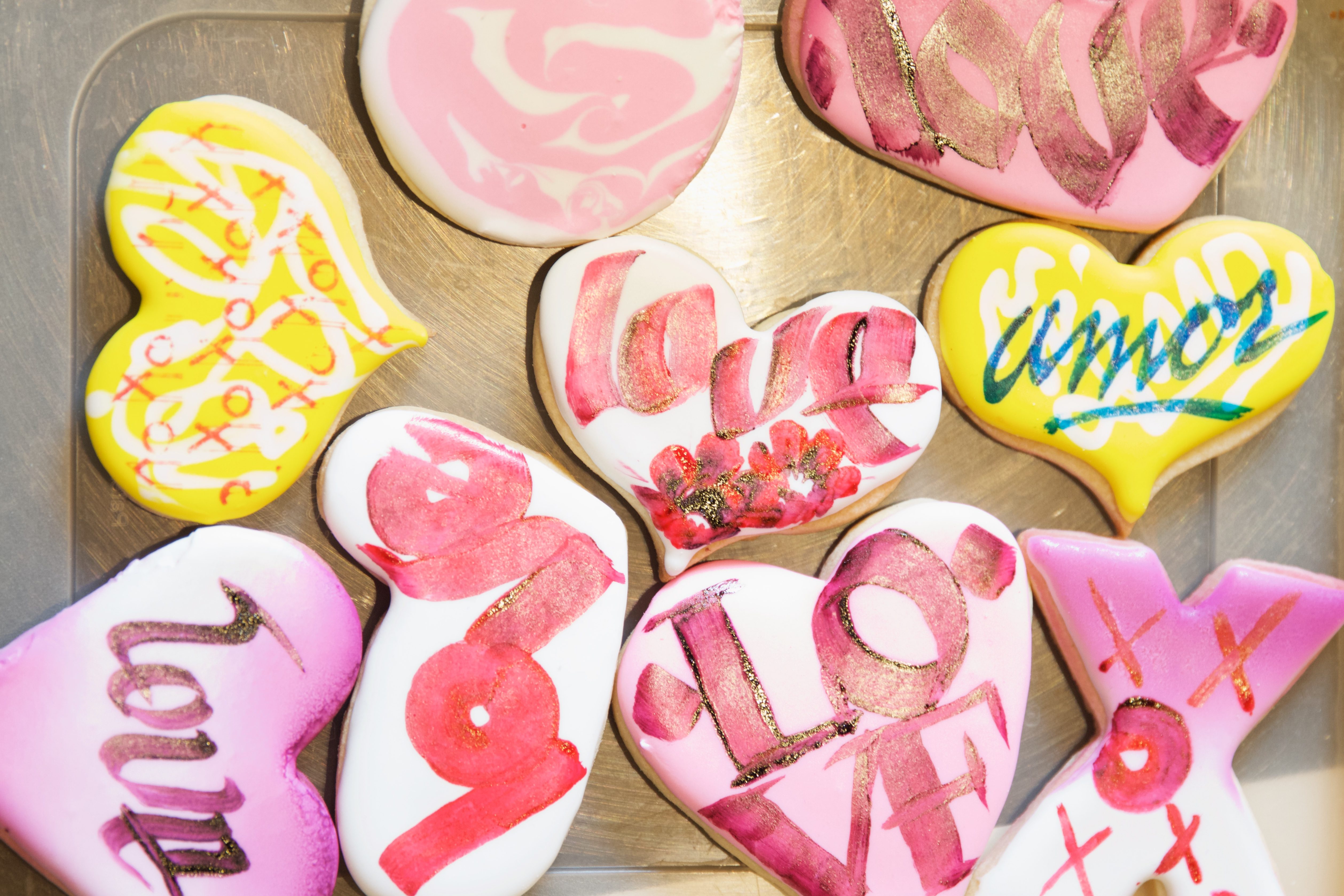 Let me tell you – the night we decorated was one of those sweltering, LA summer nights.  But, it was so much fun amidst the steaming hot oven.  We melted into the moment filling it with much fun and graffiti lovin'.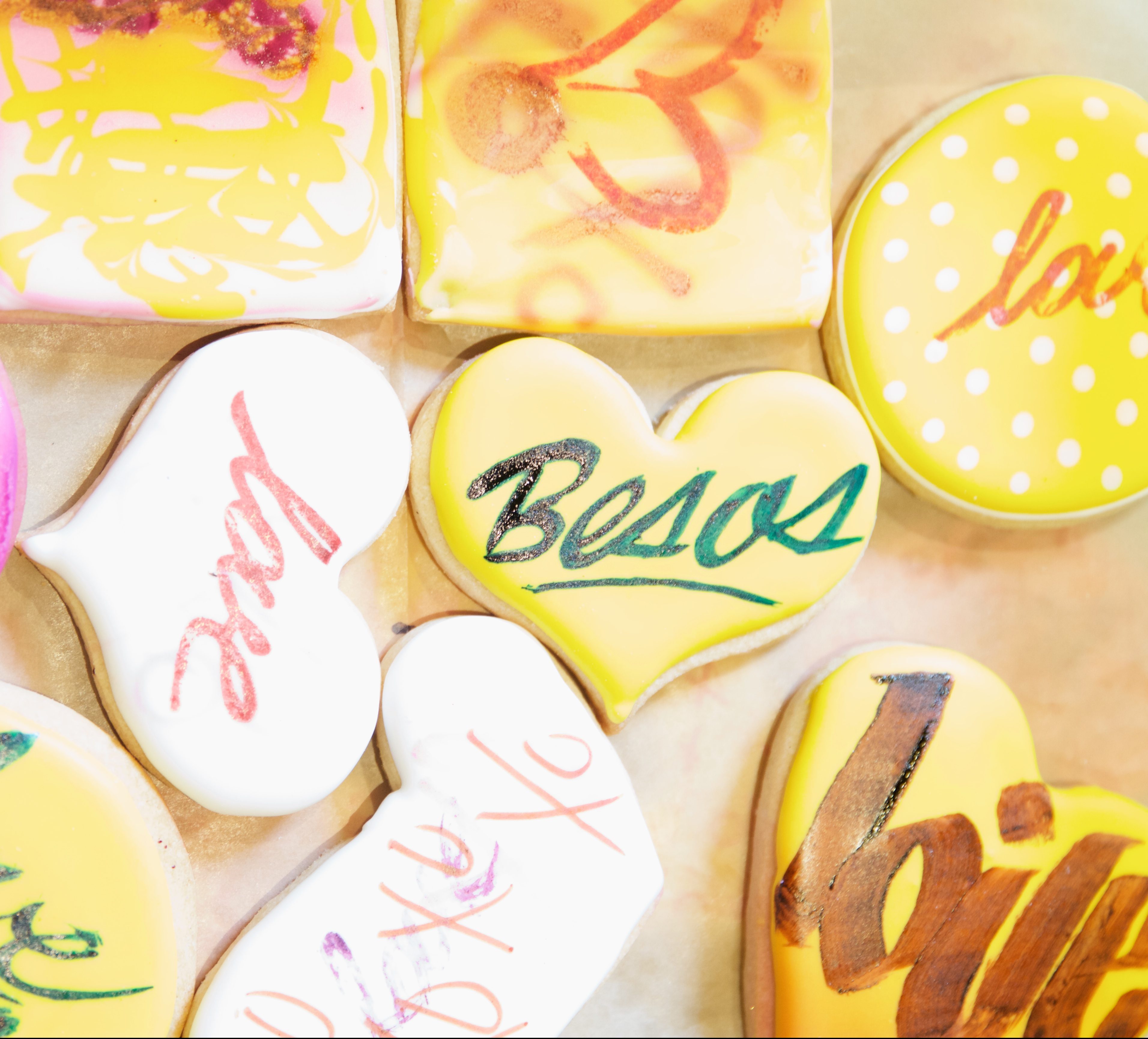 Photos by: Maria Hedrick Photography