Need a party theme? Allow me to introduce you to Amy Murphy of Parties, Petals, and Paper who has taught (and continues to teach) this Sweet Nerd a thing or two about hosting.  Her style is all about mixing and matching, a blend of urban denim with pops of purple and vibrant berries to make this summer theme shine in all its glory.  For this backyard gathering I baked up some nectarine blueberry pies.  As you'll see, Amy contrasts the food details perfectly with plates, napkins, linens, and florals.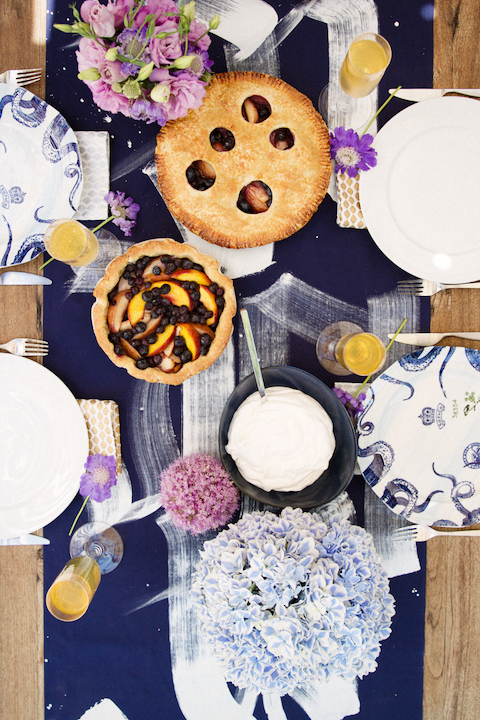 This is Amy!  She is the brains behind this operation.  This gal knows how to put it all together.  With a great smile and a lovely spirit, it's no wonder she's a master at crafting parties.  Putting a twist on this urban theme and feminizing it with unique florals and contrasting patterns is her specialty.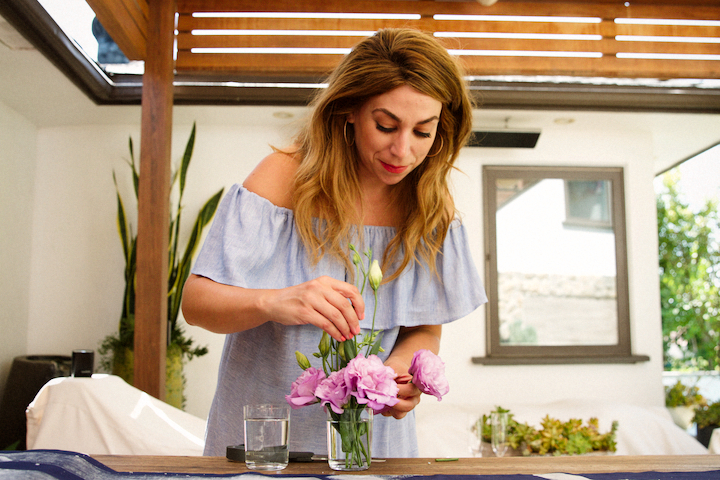 Wowsy on the petals!  These gorgeous blossom selections includes Allum (aka ball flower), Lisianthus, Scabiosas, and Hydrangeas.  Don't ask me which is which, but I know the furball below is called Allum.  I  this one!
For colors, we focused on deep blues and purples with shimmering silver, gold, and white to balance this urban chic arrangement.  Karlos Marquez and Joe PrimeK2S mashed up a "street art" runner to give our table setting more of a Graffiti & Grace aesthetic.  Prime's font style is unmistakable and the metallic silver sings its artistic 'story' with every stroke.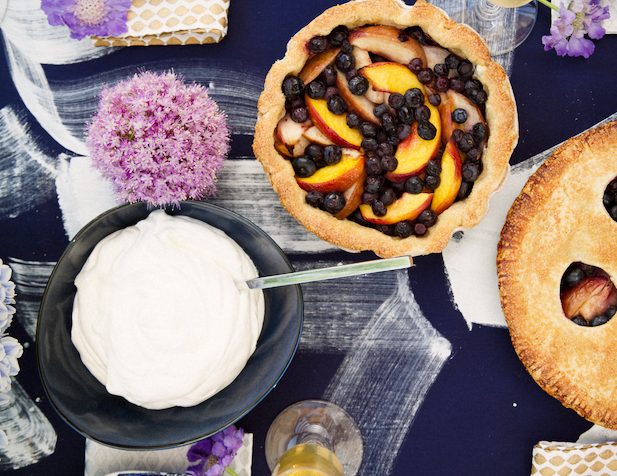 Now…on to the food!
For this party, I created two nectarine blueberry pies from one recipe. Sneaky, I know. When you're expecting a crowd of 10-12, it's hard to celebrate with only one pie.  But equally challenging is creating two pies for one sitting.  I opted to keep one pie open-faced and the other with a peek-a-boo crust.  Genius, right?  It's like killing two birds with one sweet stone. And the topping of vanilla whipped cream makes all of life's worries disappear in an instant.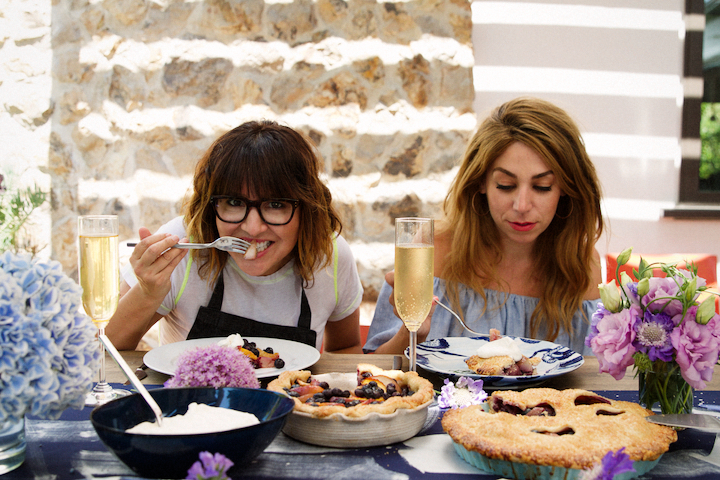 Oh why, oh why am I such a Sweet Nerd?  (Don't answer that!) Let's get on with making these twin pies, ok?  Start with an easy fruit compilation.  Dig in and don't be afraid to get your hands dirty as you give all the ingredients a gentle mix.
As for the dough, the open face pie (single crust) is easy.  Roll out the dough (baking tip: sprinkle the surface of the dough lightly with flour as you're rolling), lay the dough into a pie dish, trim (about an extra 1″ overhang), then tuck under.  Fill the pie dish with the fruit filling mixture.  Set the pie in the fridge for 30 minutes.  And lastly, give the edges an easy egg wash-n-sugar sprinkling, then bake.
For the double pie, do the same as the single crust, but don't tuck it in yet.  Just let it overhang until you place the top pie crust.  The top pie crust gets some fun decorating.  Be creative for your peek-a-boo pie by using either circles, geometric shapes, or heart cookie cutters.  If the crust starts to get too soft, then plop it in fridge for 10 minutes and it will help stiffen the dough.  Once you make your cut-outs, lay the top peek-a-boo layer on top of the nectarine blueberry filling and trim (about an extra 1″ overhang). Then pinch both crusts together slightly and tuck.
Almost there!  Pop it back into the fridge for 30 minutes to an hour to help set the pie, brush egg wash on the top, then sprinkle with demerara sugar and bake.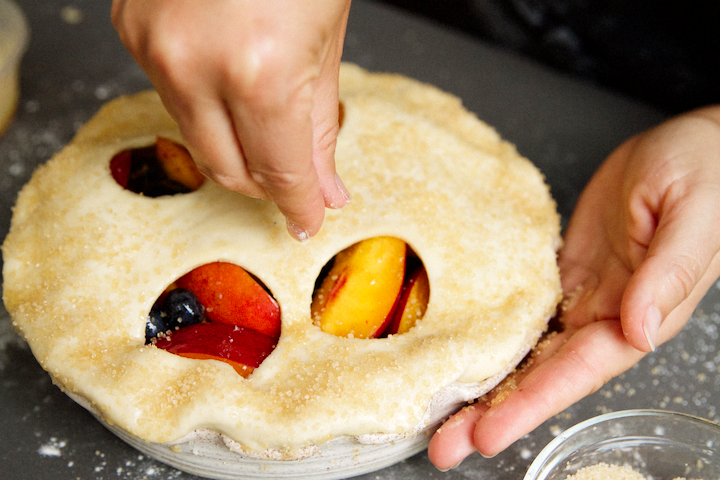 Bake the pie for 40-50 minutes or until golden brown on top. You'll be in awe when you see this wonderful fruit bake bubble. Once it's ready to come out of the oven, immediately brush the fruit with apricot jam to get that shimmer and shine.  And…voila!
Take these nectarine blueberry beauties table side and do your cutting.  It's really as easy as pie! (OK, maybe not at first, but once you get the hang of working with pie dough, it will be a breeze, I promise.)
Credits: Four and Twenty Blackbirds Pie Book Modified Recipe
Tablescape Designer: Amy Murphy, Parties, Petals, And Paper
Runner Designer: Prime Reza & Karlos Marquez
Plate Wear: Anthropology
Photos by: Maria Hedrick Photography