Introducing…waffle dudes (aka, Stick Men)!
These treats are tons of fun to make, and everyone in the family can be apart of the creation process.  My youngest, Liam, is in love with anything waffles. He has been requesting this 'Stick-man' waffle maker ever since we watched the play, "Stick Man" (part of the Gruffalo series).  I knew the kids would love impersonating the incredible world of make-believe, so we spent a morning creating Waffle Dudes, Waffle Ladies, and of course, their Waffle Stick Children.  What better way to spend a morning than creating an entire stick family?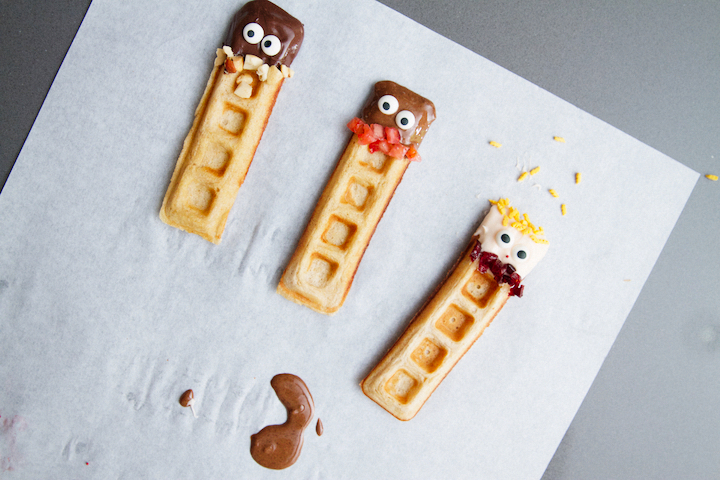 Prep.  Dip.  Decorate.  The process should be easy, and most importantly, fun!  Little hands make for precise decorating work; just look at this red-headed Stick Man with a cranberry-do!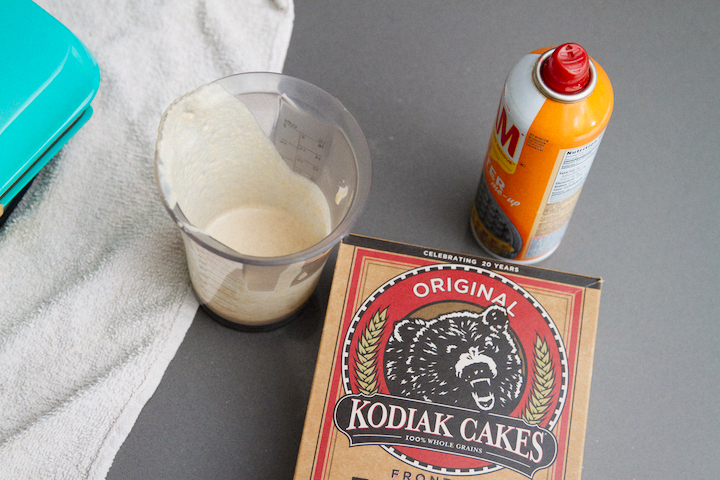 Creating the waffles is simple enough. I used a store bought waffle mix by Kodiak Cakes.  The waffle maker is by BabyCakes – purchased from Amazon for under 20 dollars!  Both were easy finds, and the mix is pretty delicious.  A few tips with using a waffle maker: try your best to ensure all the steam is gone before using it.  If you want your stick family with a bigger "crunch", put them in a 350F oven for a few minutes, directly on the metal racks of the oven (not on a sheet pan). The rack helps the steam to release, and prevents your "family" from becoming too chewy.
We wanted our waffle dudes, women, and children to be dressed with a combination of fruit, nuts, peanut butter, and chocolate.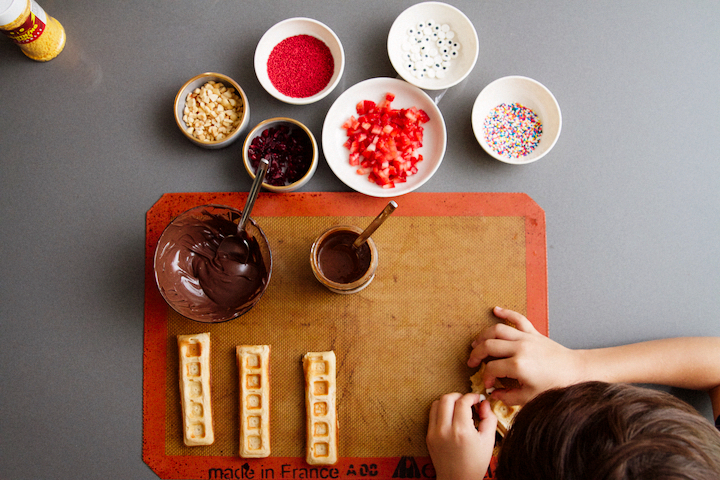 Our list-of-toppings:
Fresh Fruit (diced strawberries) + Dried Fruit (like cranberries, diced)
Sprinkles
Nuts (chopped)
Peanut Butter (Solstice Canyon is great for dipping)
Melted colored chocolates
Candy Eyeballs Decorations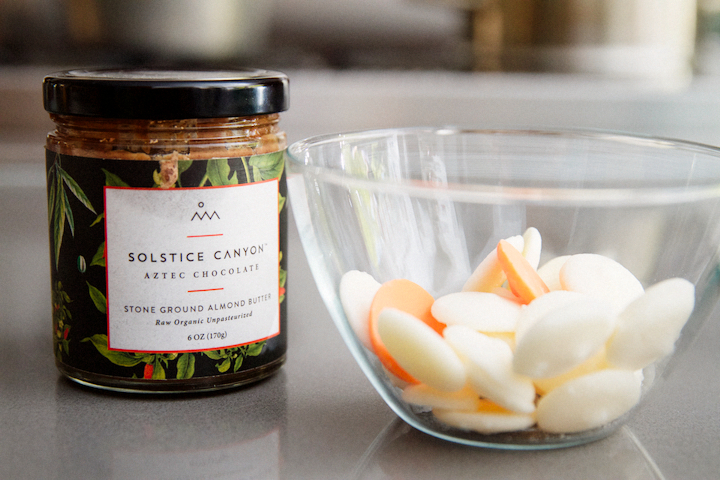 Showstopper: Solstice Canyon Almond Butter. One of my favorite ingredients, this almond butter is definitely a splurge, but well worth it.  My kids love it for the combo of chocolate and peanut butter, but I enjoy it for the rich spice exposure of cardamom and clove.  For the 'face' colors, I used a combination of melting chocolate that can result in a few various shades of skin colors. Just plan to experiment with orange, brown, and white chocolates.
Liam and I have this part of our baking down to a science.  I melt the chocolate in the microwave, while Liam stirs (and taste-tests, of course). All in a day's work, eh?
Fingers crossed no stick men fatalities…and it's time to dunk those dudes!
Here comes the fun part. Kids will get such immense satisfaction by dropping those eyeballs on and bringing your waffle dudes to life! Heck, I found myself smiling too, but mostly because my kids were in full-fledged artist mode.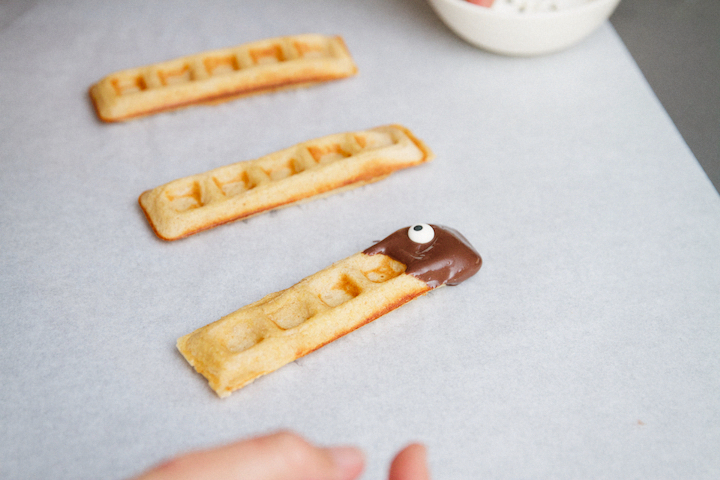 By the end of the decorating, everyone should be laughing – there is no doubt those eyeballs are irregular, crooked, and perfectly imperfect.  (OK… So I obviously tried to make mine perfect, sorry I couldn't help it!)
EAT YOUR RESULTS (Don't forget that detail!)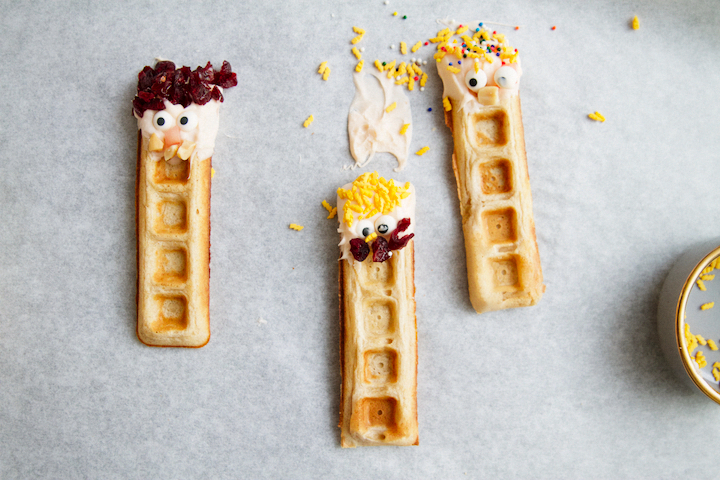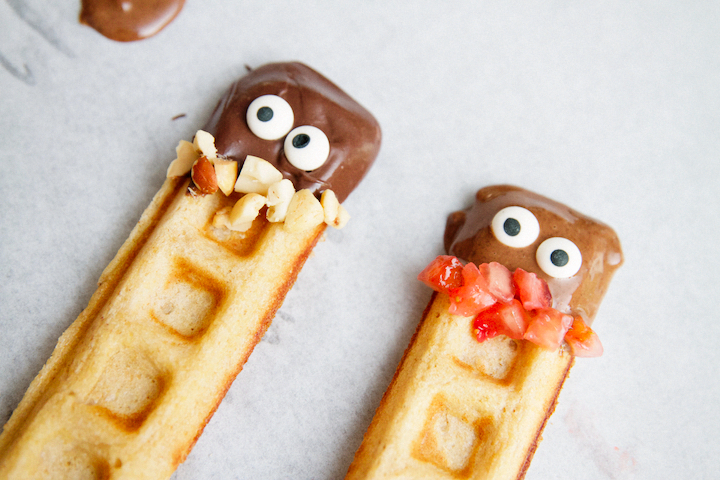 Photos by: Maria Hedrick Photography