During our summer visit to Germany, my eldest son Gavin proudly walked about in his Gryffindor robes. In the middle of August.
For those who aren't familiar – 'Gryffindor' is a house from the mythical world of Harry Potter, a series that has a serious fan base within the Arnold family. Ryan – Gavin's older cousin – is obsessed with everything Harry too. From the moment these two get together, Albus impersonations start rolling, wands are unleashed, and discussions of Bertie Botts Every-Flavour Bean ensue (Ryan's least favorite – earwax. Gavin will avoid toothpaste at all costs).
My husband and I tend to fuel the fire: holding family Harry Potter readings, encouraging the most eccentric of magical costumes, and now…Harry Potter Lollipops. I guess you can quite literally say we eat, sleep, and dream Harry Potter over here at The Sweet Nerd.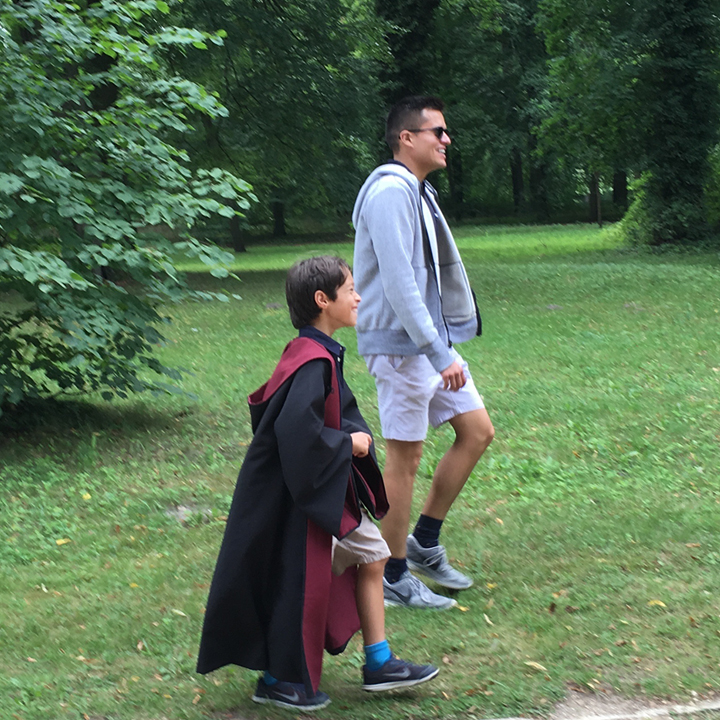 Strolling around the grounds of Fredrick The Great and his splendid summer castle was right up "Harry's" alley.  These massive Germanic castles were about the closest thing to Hogwarts that Gavin was going to experience; he was relishing each and every moment. Watching him wave here and nod there to all the tourists gawking at him for wearing a full-length Harry Potter robe in the middle of August created a moment in time that little Gavino will never forget. We couldn't understand a lick of German (or Japanese, Dutch, Mandarin, or any other language of the passing tourists), but the one part we could pick-up were the repeated murmurs of "Harry Potter." It brought smiles to all of our faces.
As the Harry Potter conversations continued on the trip, the idea of a Harry Potter Baking Day came to fruition.  Gavin's obsession and my confectionery expertise joined forces, and the result? Harry Potter chocolate lollipops.
Hunting down the perfect molds and colors for these easy chocolate lollipops was half the fun: the ever-magical 'world wide web' made it incredibly simple and surprisingly affordable.  I bought these Harry Potter chocolate frog mold kits from Chica and Jo on Amazon.  They included lollipop sticks and plastic covers for wrapping them as favors or gifts.
For the chocolate goods themselves – I purchased Wilton Melts in a variety of colors including red, white, yellow, black, and dark chocolate.  I first prepped the chocolate by melting each color in the microwave in 15-second intervals, then plopped them into a plastic piping bag.  The boys did the piping, and got a huge kick out of being able to choose from a familiar palate of Harry Potter colors, and even more familiar cereal toppings.
Once your little nerds squeeze the chocolate (gently!) into the mold, tap the plastic mold down on a hard surface to release all of the air bubbles.  Next, plop in the lollipop sticks, and have fun decorating.
The chocolate frogs were my favorite and in the wizarding world, these are considered a delicacy as much as a collectible.  Once you fill your lollipop molds, they can sit at room temperature to set and solidify.  (If you want to speed up the process, feel free to pop them in the refrigerator).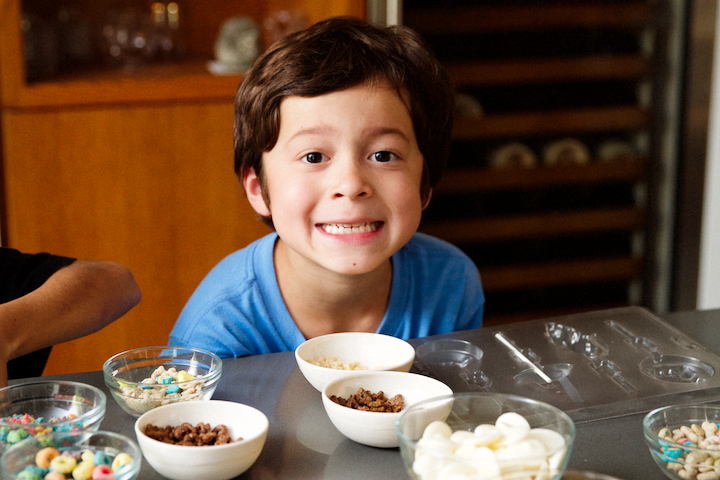 Photos by: Maria Hedrick Photography