Popcorn 3 Ways! This week I'm up to my eyeballs in popcorn. Forget expensive movie theater butter and salt or those boring yeast toppings. I'm talking chocolate, pink marshmallow, and Tajin seasoning with lime. Bring on the Netflix.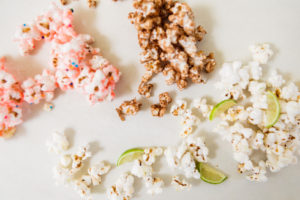 POPCORN 3 WAYS
You know I love the no bake recipes, especially on these super hot LA summer days. You probably have most, if not all, ingredients in your pantry. A huge shout out to Donna Hay for the inspiration!  My Aussie girlfriend gifted me her incredible cookbook, and she featured some lovely popcorn ideas.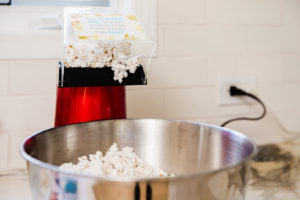 I love this popcorn maker because it's air popped, and not covered in heavy oils. My fave popcorn is Bob's Red Mill white popcorn; easy to find at your local grocery (or you can get a pack of 4 on Amazon).  Really, any popcorn will do, but just wanted to share my go-to!  Be careful not to overload the popcorn maker, or it will do a little smoke job on ya – Liam and I found this out the hard way.  Learn from my rookie moves.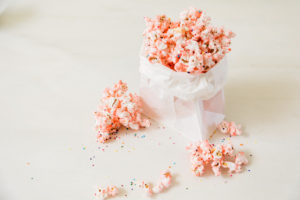 PINK MARSHMALLOW POPCORN
This popcorn flavor is great for the kiddies, chock full of marshmallow and sprinkles. Very reminiscent of a Rice Krispie treat with its melted butter and marshmallow gooeyness.  The pink liquid goodness will dull in color a bit when you spread it on the popcorn, so don't be afraid to go one level deeper for your desired pink shade.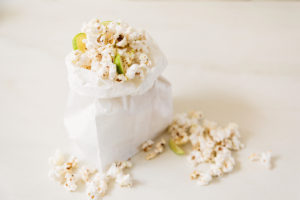 LIME & TAJIN POPCORN
This flavor combination makes a great appetizer – and pairs well with a margarita! Not familiar with Tajin seasoning? It's a Mexican seasoning mix of lime, chili peppers and salt.  I think it's super addictive and hard to stop shoveling in your mouth once you start. #goodluck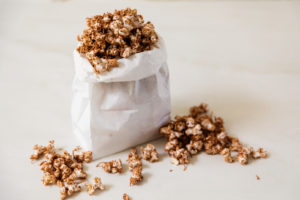 CHOCOLATE POPCORN
This flavor is a great snack at any time of day – and kids and adults will love it. The recipe calls for a coconut and chocolate base and reminds me of one of my favorites as a kid: Almond Joy.  (Honestly, still my favorite candy bar as an adult).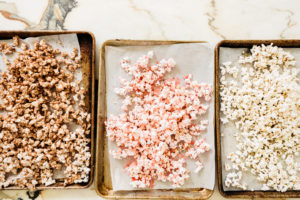 Before you smother the popcorn in the flavoring, line the cookie sheet with parchment paper. Pop your popcorn 3 ways into white lunch bags and serve 'em up!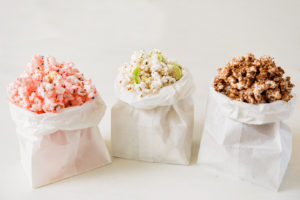 OUR FAVES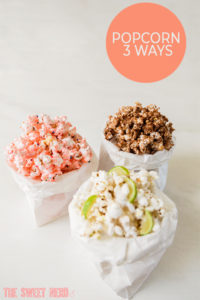 Photos by: Maria Hedrick Photography