Pie challenged? I got you. No seriously, I got you in two words: mini galettes. Dough, cherries and a little thickener of your choice. Assemble, giving it a rustic, imperfect look and voila (er, that's the extent of my French). The showpiece is the fruit – deliciously ripe sweet cherries in season. It's an easy summer dessert, especially with a dollop of vanilla ice cream.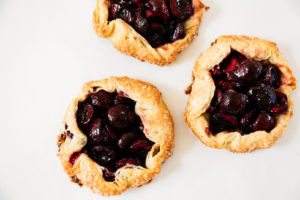 THE DOUGH
The dough recipe yields about 4 mini galettes. Divide evenly. Press into 4 disks, cover in plastic wrap, and refrigerate for 60 minutes (or overnight) before rolling out.
THE FILLING
Mix the cherries with either  cornstarch or tapioca flour so that the cherries thicken into a filler. You can add optional sugar, a dash of salt, and cinnamon. Add the filling to the center of each quarter of dough, leaving a 1-inch border. Fold over the dough, and pinch to give it that rustic, uneven look. Dab on an egg wash (egg white and water) and sprinkle on turbinado sugar. Use plain clear crystals or colored sugar crystals for fun.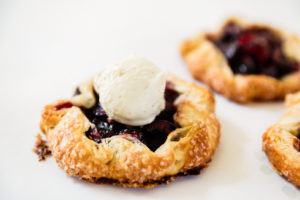 It's really important to chill in the fridge or freezer right away until firm- this is to create a cup before baking so the filling doesn't spill out. Bake 30 minutes. Serve at room temperature or warm with ice cream and of course, put a cherry on top.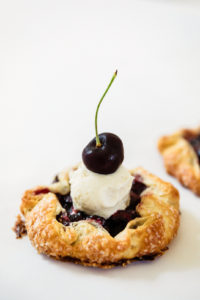 OUR FAVES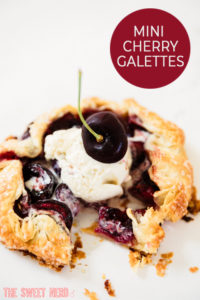 Photos by: Maria Hedrick Photography