This recipe is an ode to my son Gavin. He loves these Peppermint Chocolate Bundts. Why? a.) Gav loves Christmas and these mint sensations scream Christmas, b.) Gav loves to be able to grab it right off the plate, no flatware necessary, and c.) Gav loves cream cheese frosting. He also loves chocolate, candy canes, and….well, he's just a lover of it all, ok? But honestly, these bundts are easy to serve at parties because they can be passed around or held easily with a napkin. If you prefer to make one big dessert, this totally works as a single large bundt cake, too. Oh, and because I love them all equally, I'll tell you that my husband's favorite recipe of the season is the Coffee Flour Mistletoe Cookies, and Liam's is my version of holiday S'mores. What's your fave?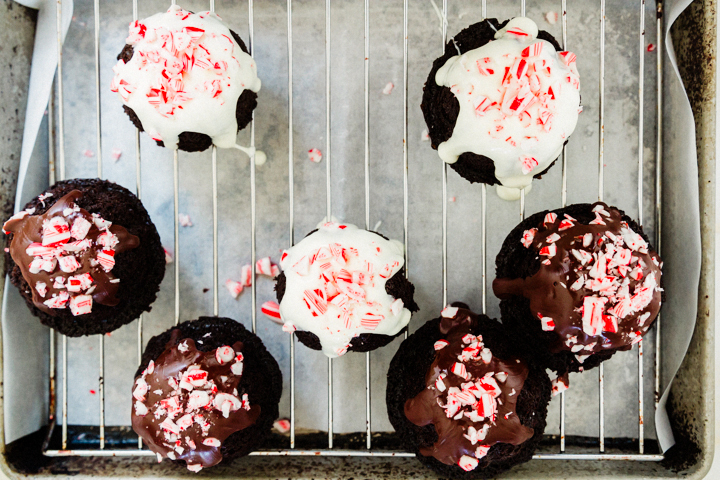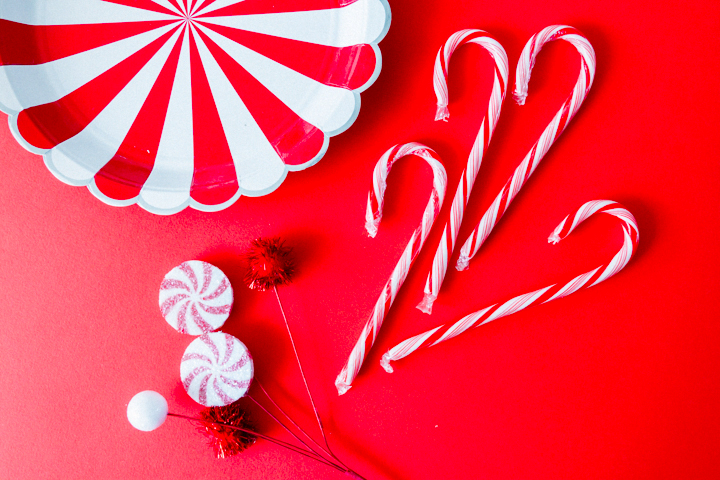 THE BUNDT: BATTER, CREAM CHEESE, BATTER, BAKE!
Whisk the dry ingredients and wet ingredients separately. Totally optional, but the recipe calls for espresso powder for a little extra zing (maybe that's why Gavin loves it so much!). Combine the wet and dry ingredients, add the boiling water, and whisk or beat it all until the batter is completely combined. Tip: Make sure the water is hot-hot-hot since that's what really makes these peppermint chocolate bundts moist.
Pour half of the chocolate batter evenly into the prepared bundt pan. Take the prepared cream cheese frosting and spoon it on top of each bundt. It'll be thick but do try to spread it around without touching the sides of the pan. It's a party trick for sure.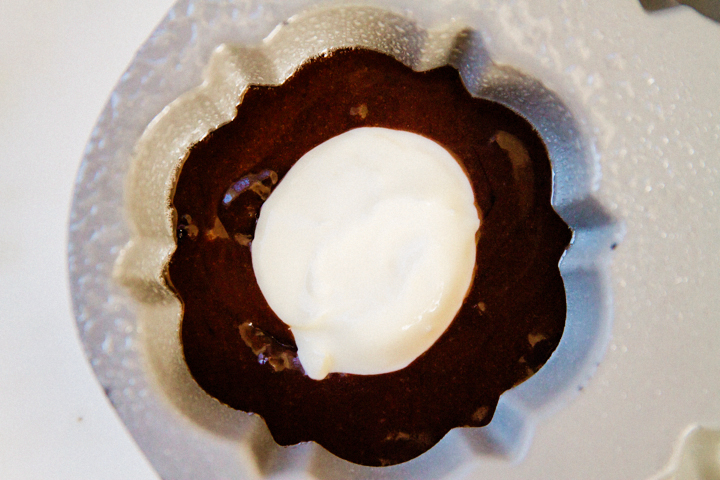 Then, add the last half of the batter. Make sure the bundt only comes to about 3/4 of the way to the top of the pan. If you go mini-me bundt pans, then bake for 25 minutes or so.  But, if you are opting for a standard size bundt pan, bake for 55-65 minutes. Once done, cool until you can handle the pan, then pop out of the cake pan on a cooling rack.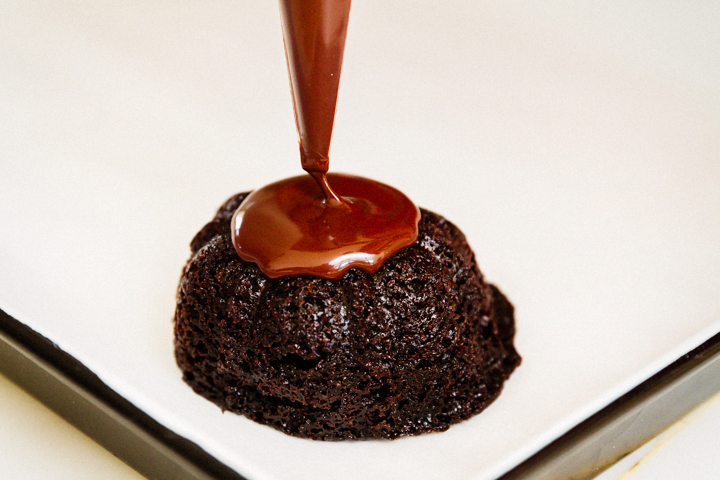 THE TOPPIN'S
Follow the recipe for the ganache which is SOOOOOO easy. Have fun smothering melted chocolate on these delicious fluffy cakes.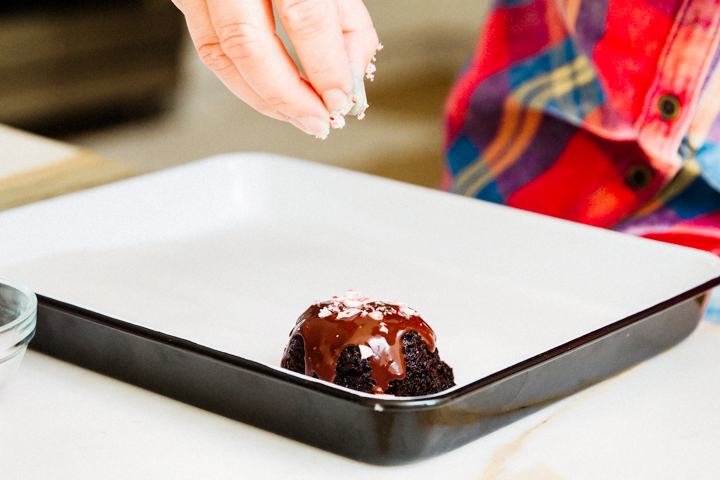 I like to use candy canes better than candy rounds because they seem to crush better. Rope in your favorite little person (in this case: Gav) and place the candy canes in a ziplock on a cutting board under a dish towel. Use a meat mallet or a hammer and start crushin' it. Have fun sprinkling your new crumbles on top of the peppermint chocolate bundts.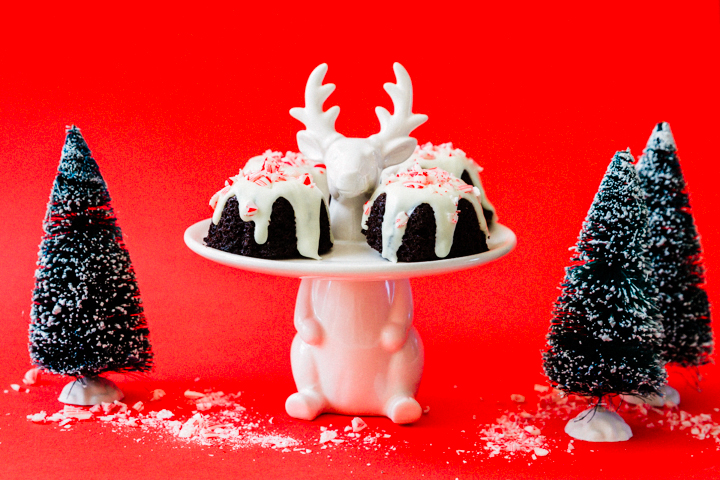 PRESENTING…PEPPERMINT CHOCOLATE BUNDTS
I love this elk with his head on a platter. Add some trees like these from Joann's, and you can even sprinkle any extra candy canes on the tabletop for a snowy effect. Get cozy and enjoy these Peppermint Chocolate Bundts – I know Gavin will!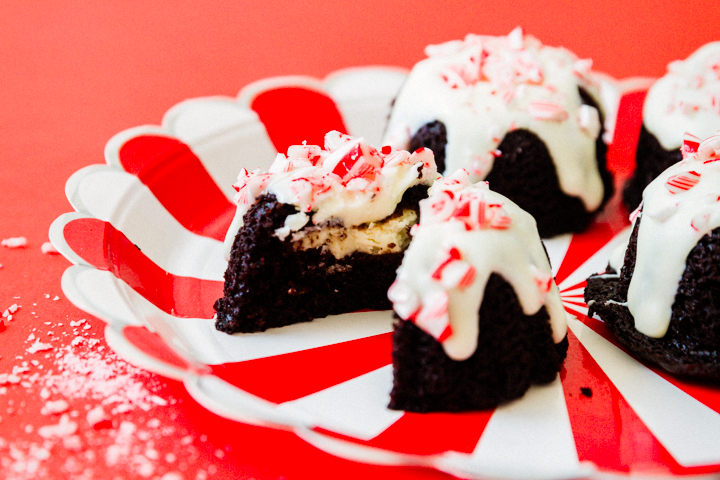 OUR FAVES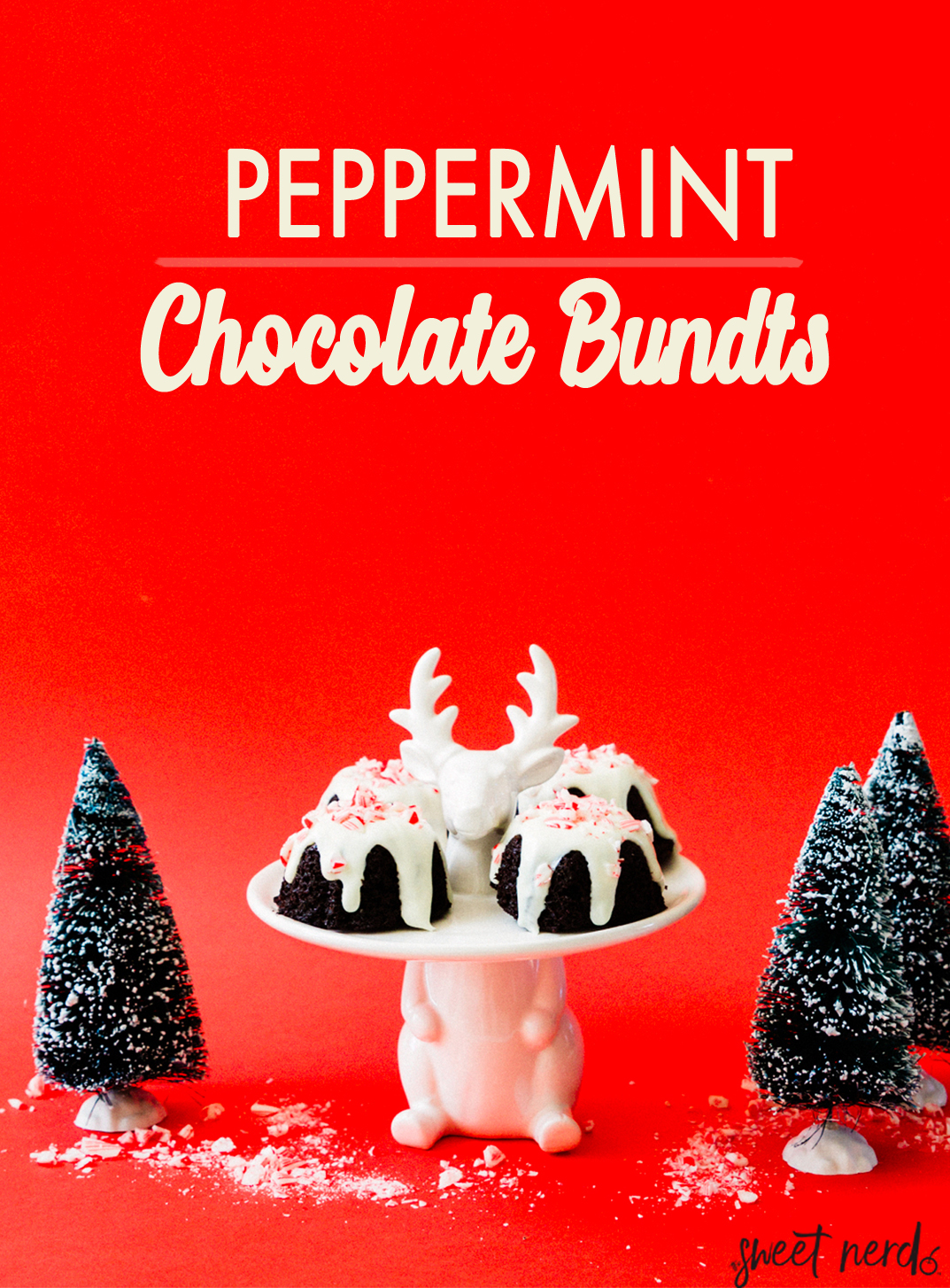 Photos by: Maria Hedrick Photography