The real Christmas Cactus blooms in the midst of the holiday season, and my version – these Cali Christmas Cactus Cupcakes – do too. But instead of flowering with purple or red blooms, my mini Saguaros and cacti are decorated with royal icing and rainbow sprinkles. Stick these cactus cookies in a bed of chocolatey desert sands and you'll have a festive, unique gift. Want more baking gift ideas? Try these super easy Gingerbread Rice Krispies or my sweet lil' Rudolph Cake Pops.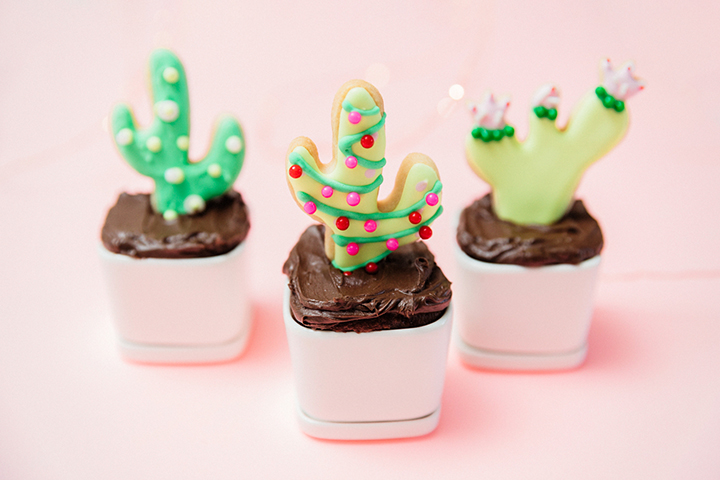 Two easy steps: first, cut out and bake the cookies, and second, make the cupcakes. First, let's talk cacti cookies. Whip up a batch of sugar cookie dough, and roll out. Cut out the cactus shapes. The cactus cookie cutters from the Holiday Lights and Llamas post will work, too.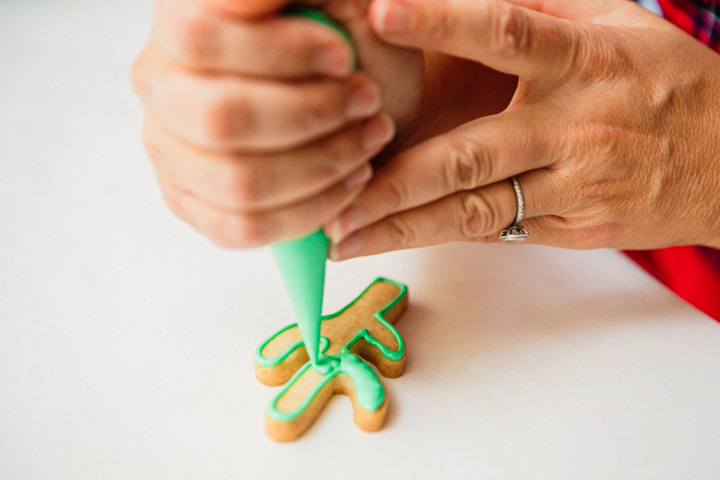 After the cookies have cooled, prepare a batch of royal icing and color it green. I guess I was feeling the need for brightness because I chose electric green for the cacti, and electric pink for the cactus flowers.  Everyday I pass a cactus painted electrical box on Sunset and Vermont. It pretty much sings, "Eastside livin."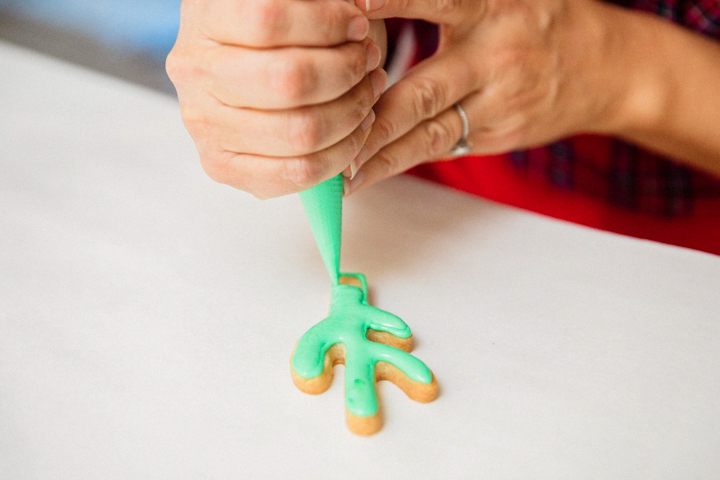 Flood the cookies and let dry completely. I use a dehydrator to speed up the process. Yes, you read correctly, a dehydrator. Did I mention what a darn nerd I am.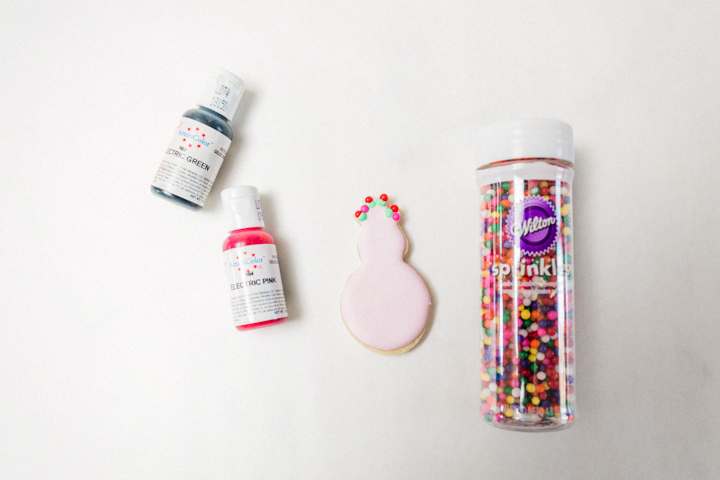 Once the royal icing has dried completely, it's time to decorate. Use the royal icing to adhere the decorations. Have fun! Give the cacti a colorful string of lights or bright Christmas flowers.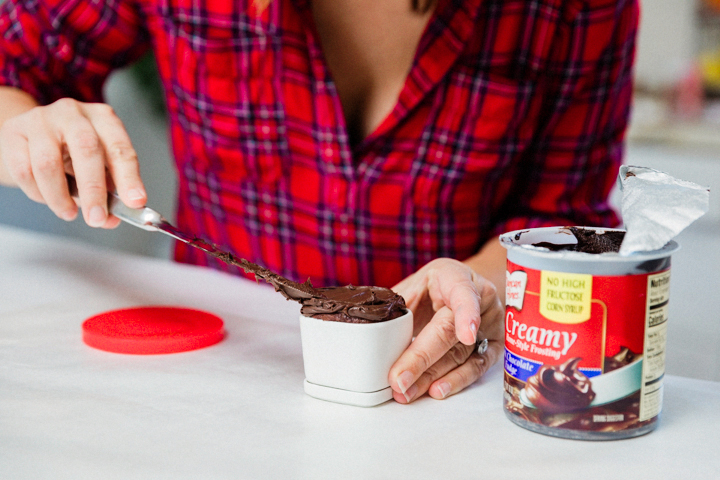 I found a set of 2-inch square, cupcake-sized planters online. For a quick hack, buy a box of  chocolate cake mix. Bake as cupcakes and fit each cupcake into a washed and dried planter. This is a legit planter, so I actually had to put a small piece of parchment paper at the bottom so the cake batter wouldn't ooze out the water hole! Last, frost with homemade frosting or off-the-shelf frosting. You do you! I love the Duncan Hines Chocolate Fudge Frosting. It is honestly super yummy.  Sometimes I add a tablespoon of milk to make it a bit creamier if you like that texture.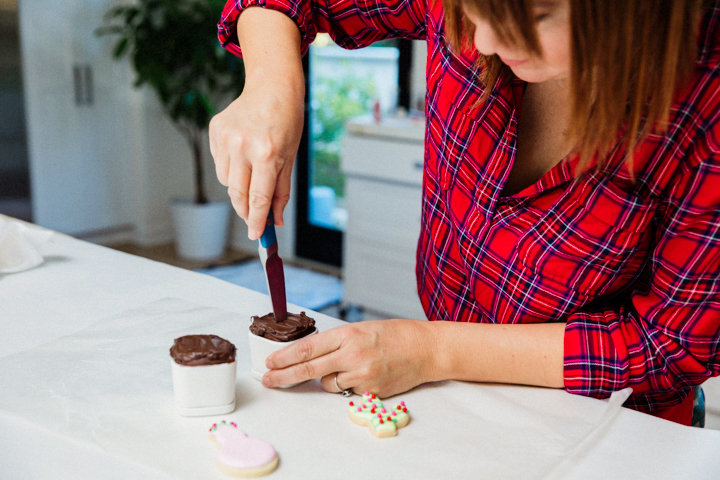 Using a dry knife, make an incision in the cupcake for the decorated Cali Cacti Cookies. Don't be shy here… give it a good little stick in the mud.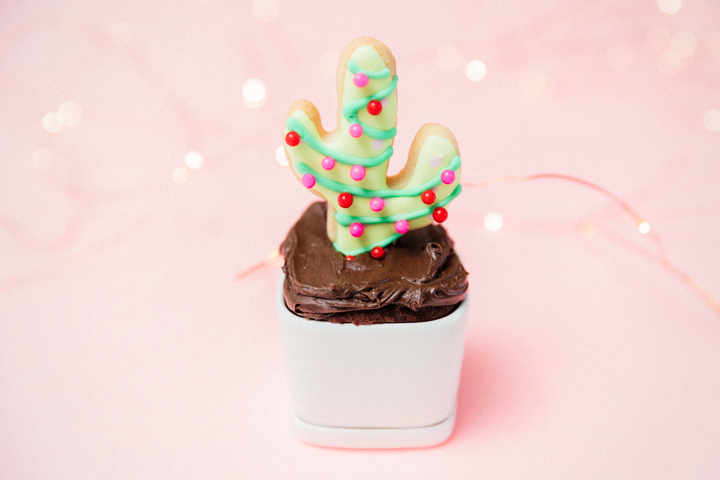 I used a variety of sprinkles and jimmies, and the extra royal icing when needed. You really can't go wrong with decorating these cacti. Let 'em bloom.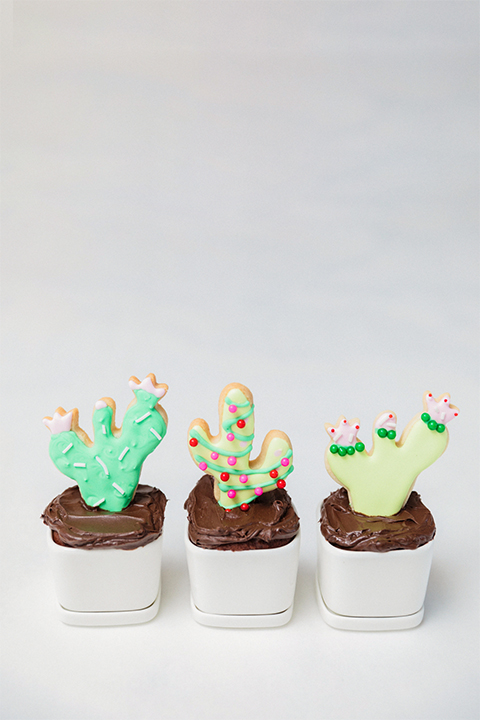 OUR FAVES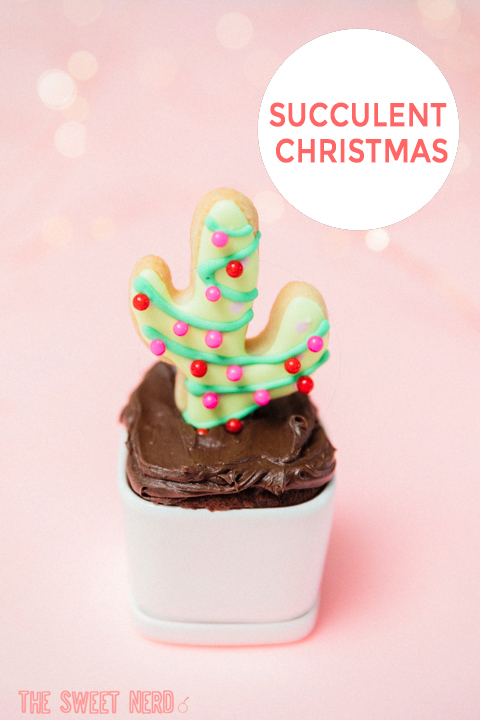 Photos by: Maria Hedrick Photography