Are you a peanut butter cookie sleuth like me?  I love a classic peanut butter cookie – fork marks and all, but what sends me over the moon is a cookie combo of crunchy on top and chewy on the inside. Toss in some brittle bliss and you get peanut butter brittle cookies – it's like falling in love all over again.  Best nut-brittle secret – Pepitas (aka pumpkin seeds)! Yes, by adding pepitas to your brittle, this makes for the most amazing topping and you still get to enjoy the rich, creamy inside of a good old-fashioned creamy peanut butter cookie.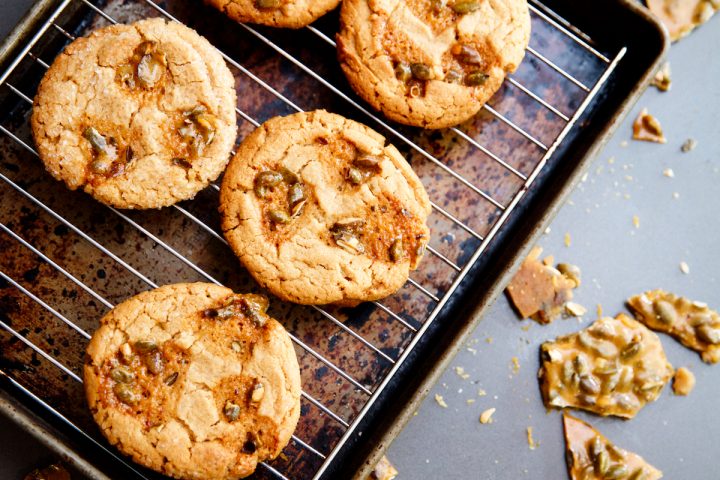 In a nutshell, these cookies are a two-step process: quick brittle making on the stove and a rich dough. It's only natural to think brittle can be daunting but trust me, it's simple and you don't even need a thermometer (just a good pair of glasses in my case!). Just prep the dough and scoop.  Then, lightly sprinkle those dough balls in some demerara sugar (light brown sugar).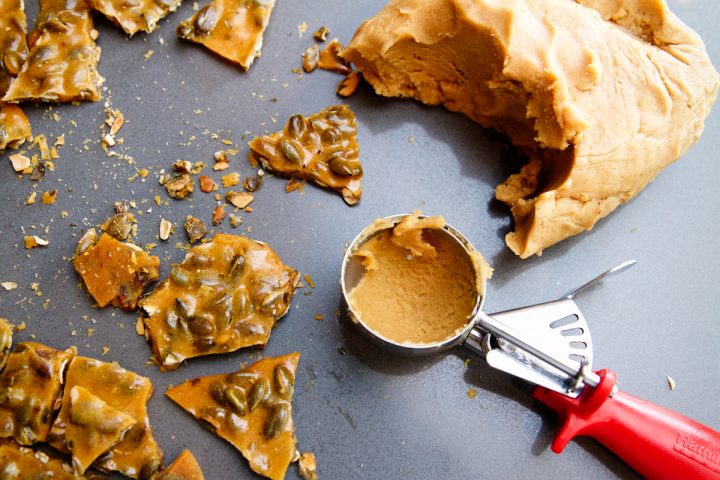 Stovetop brittle is easy!  My two favorite ingredients for making this hard candy are Pepitas and Aleppo Pepper. Pepitas have an incredibly deep green color and are loaded with beta carotene, Omega 3, and Vitamin K. After making brittle for years, I discovered that when I wanted to kick it up a notch, I added in Aleppo Pepper (also known as turkish chili flakes). The spice factor for Aleppo Pepper is strong, but don't worry, the heat is not overwhelming.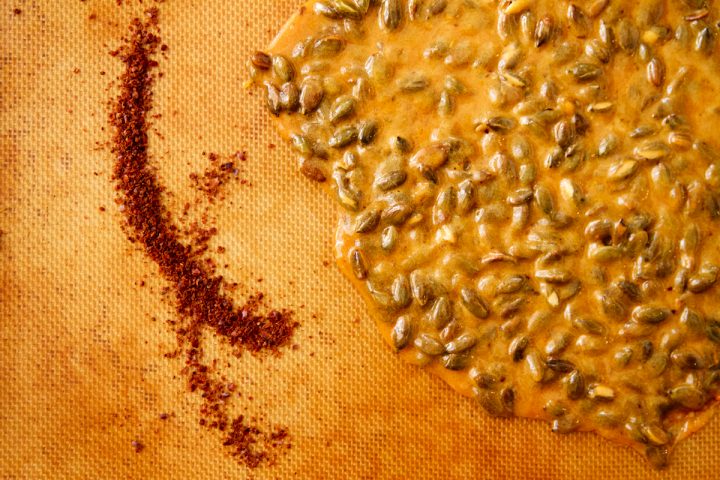 Once the brittle is ready, crack it into uneven small shards for your topping.  The next part is my fave. It's the sweet union of placing those cut up pieces of shard atop your cookie balls. (Tip: place 2-3 shards per cookie)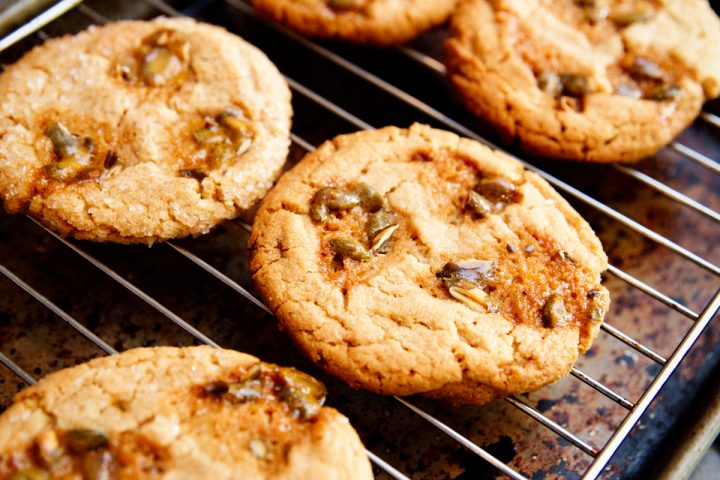 I literally watch these peanut butter brittle cookies bake in the oven as if I'm watching my favorite telenovela. I am in a trance!  And as a proper baking nerd, my heart fills with sugary love from the combination of that candy imperfection atop an incredibly delicious cookie.  Bon Appetit!
Credits: Modified recipe from Mindy Segal, Cookie Love
Photos by: Maria Hedrick Photography