Have you ever kissed a goddess?  Neither have I, but these Chocolate Espresso Thumbprints are the next best thing to locking lips with a sweet deity.  It takes a bit of time poking, prodding, and filling in these little guys but in the end, this chocolate espresso delight is one of those delectables that you'll never forget eating.  They fancy up any white plate or dish and just look at them – they're absolutely gorgeous!  A friend of mine told me once that eating this cookie made them feel like they'd just stepped into a chocolate spa. Can you even imagine that?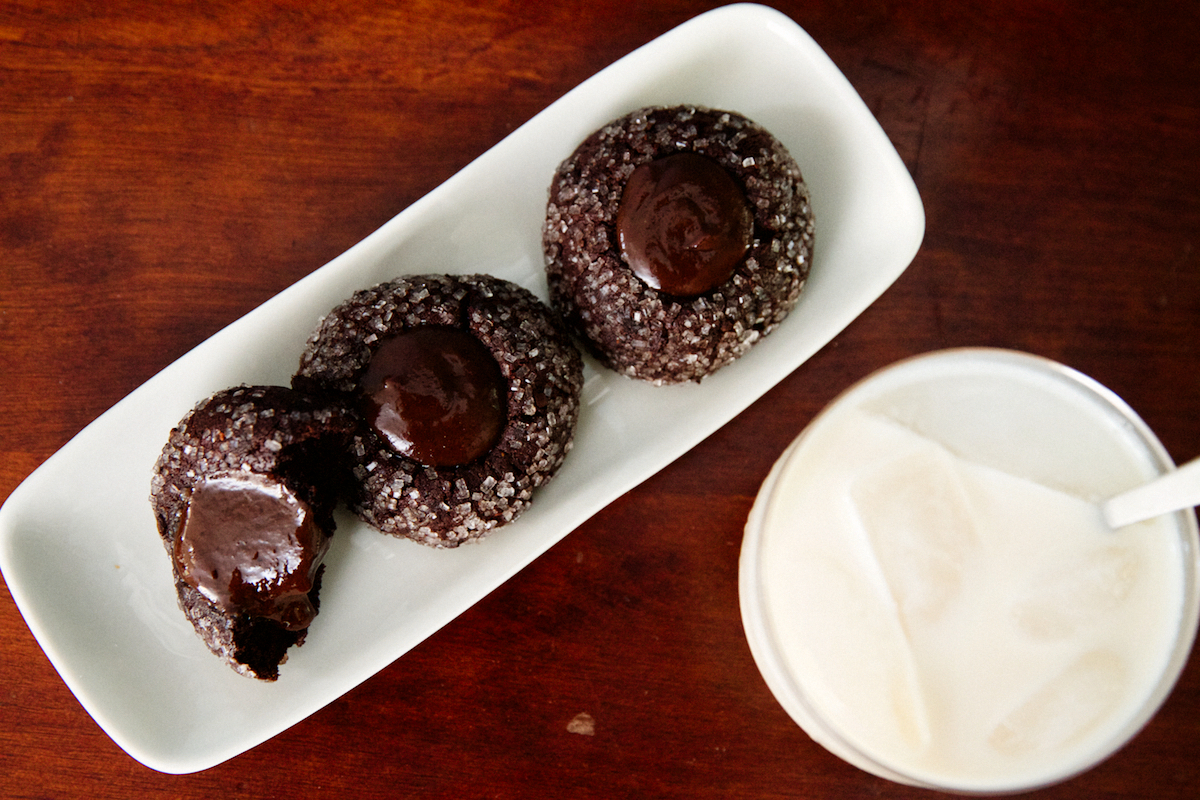 I am a tried-and-true coffee lover. If you've ever met me early in the morning, you will know that unless I get my coffee first thing, then we have nothing to talk about. So it seemed perfectly fitting that this cookie would hit all of the right notes of chewy coffee goodness – in my book. This chocolate fudge creaminess paired up with a glass of iced coffee will take you to java nirvana. We're talking next-level coffee fix!
Start off by making up a fun, sweet concoction of ground coffee (I used Intelligentsia Black Cat Espresso). After you've chilled the dough, grab an ice cream scooper. This is where the down-and-dirty part begins! Roll the dark chocolate dough into perfectly even balls. Yes, your hands, counter, kitchen tools – everything will get a bit messy but it's so worth it.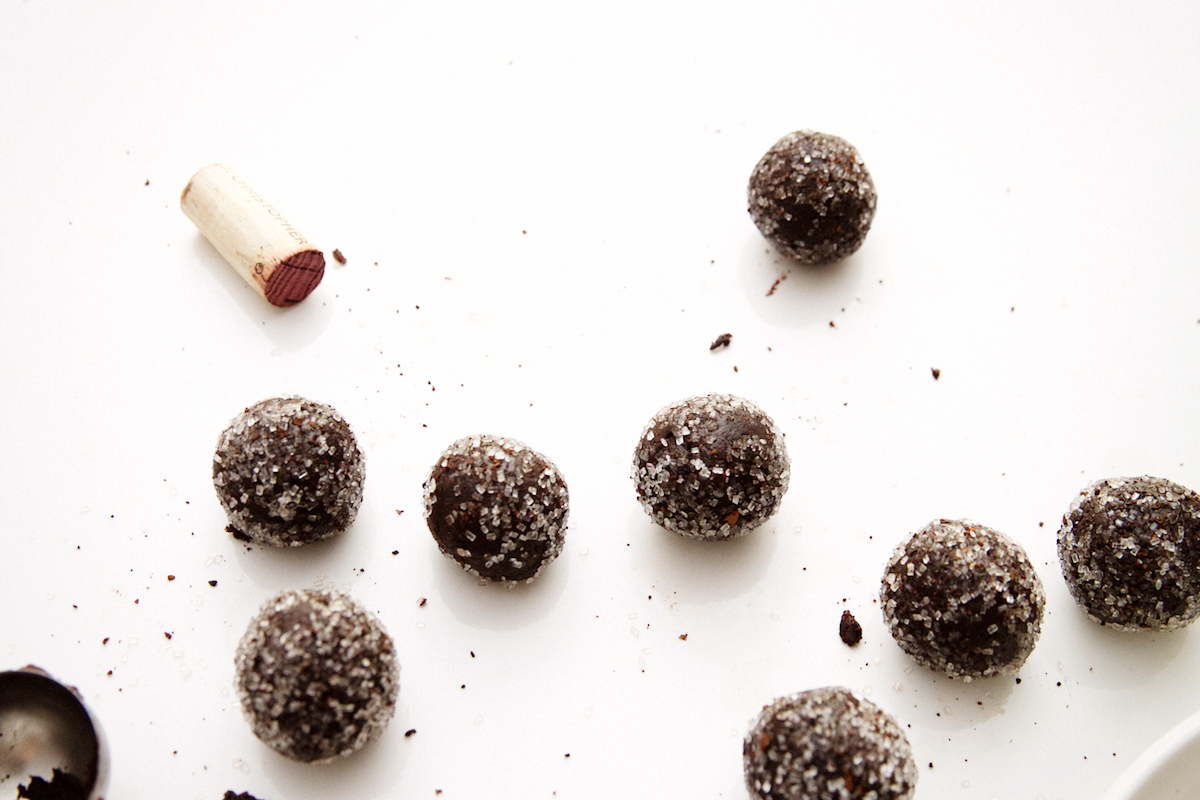 ALRIGHT NOW…STOP!  Do not eat the dough yet. I know it's hard but you can do it. There are only a couple of steps left. To integrate the choco "fix," grab a wine cork (I know, another addiction, right?) and gently press it into the center of the ball to create a perfect, cozy home for your fudge.
Once your hot fudge is ready, let it cool for a few minutes and it's…filling time!  Grab a ziploc bag or a piping bag (if you have one on hand) and load in your gooey fudge.  Cut off one corner of your bag, and get going.  Start filling up each cookie to the brim. And remember – anything that drips outside of the cookie is fair game to eat.  
Once they're all filled up, put these babies in the refrigerator fast as the chocolate needs to set.  I promise you are almost there. Soon enough you will be able to consume as many chocolate espresso cookies as you desire.
I upped the ante and paired these cookies with an iced coffee.  You may now take this moment to embrace your inner goddess and experience a chocolate paradise in your mouth.  (Iced Coffee Tip: I used Dave's Mocha Coffee Syrup over ice cold milk with a few ice cubes.) Cheers to full chocolate bliss…!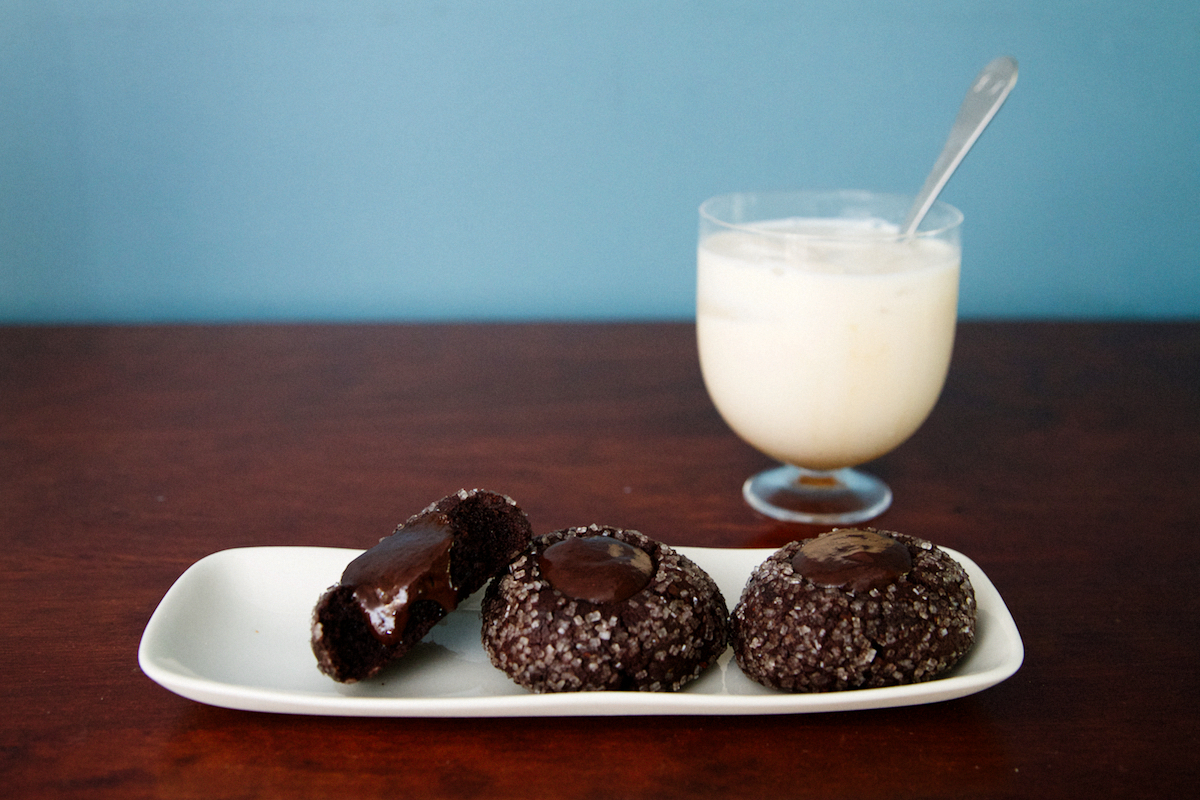 Credits: Adapted from Cookie Love, Mindy Segal
Photos by: Maria Hedrick Photography