As the rabbits say in France, "Bunny Appetit"!  You must check out these perfectly-portioned, blissfully-balanced, Easter bunny bento breakfast boxes of goodness.  (We realize that was – quite literally – a mouthful).  You can be creative with any citrus your little ones will eat, smoked ham or turkey, green juice and vitamins, shaped toast, and of course the shaping of the hard boiled egg.
Admittedly, this recipe requires a little time, and some major attention to detail. Especially when it comes to placing sesame eyeballs on a hard-boiled egg…but just know that when any kid sees this, their eyes will light up, and an audible gasp is almost guaranteed.
These adorable bento boxes were purchased at one of my favorite party on-line stores called Shop Sweet Lulu. They sell some amazingly cute products and I purchased those fun colored forks at Meri Meri.   Here are the staple ingredients:
Orange / Rosemary (Stems) / Strawberry Yogurt
Ham / Shaped Cutters
Juice / Vitamin Bears
Two Hard Boiled Eggs / 2 Sesame Seeds (Eyes) / Carrot Slice (Nose) / 4-6 Rosemary (Whiskers)
One Toast / Bunny Shaped Cutter / Raspberry Jam / Raspberry
Step 1 – Make The Citrus Carrots: Start by de-pithing, a fancy term that translates to "removing all of the white stuff"!  If you this is a first-time for you, check out thekitchn.com for a fun step-by-step tutorial.  Once you have your sliced oranges and rosemary stems, you're able to scoop a dollop of strawberry yogurt, and top with the carrot looking citrus.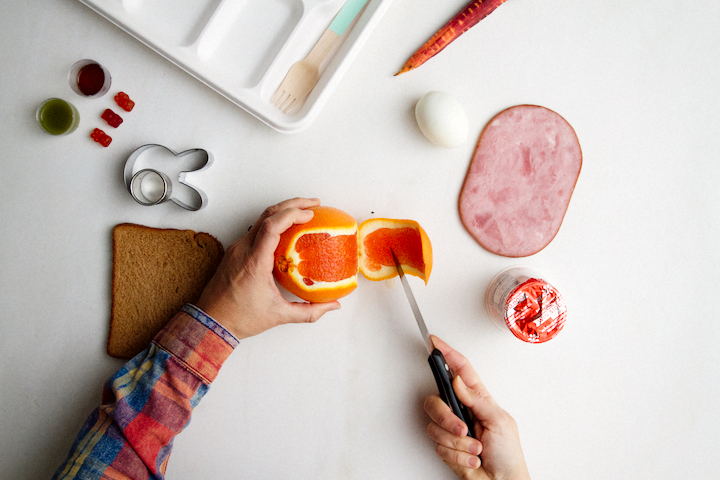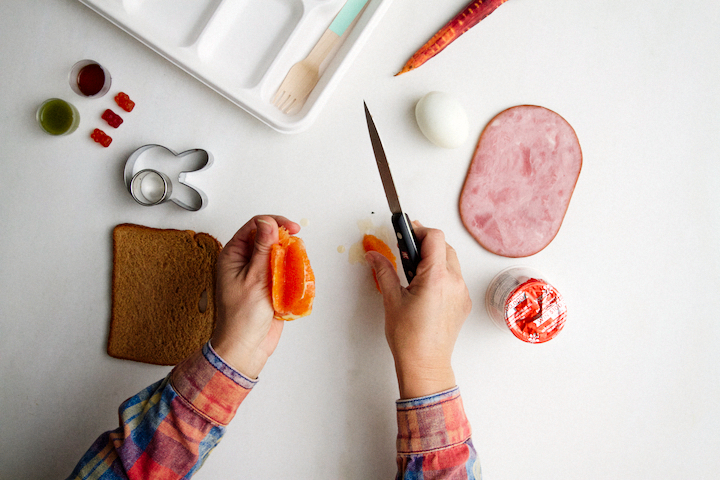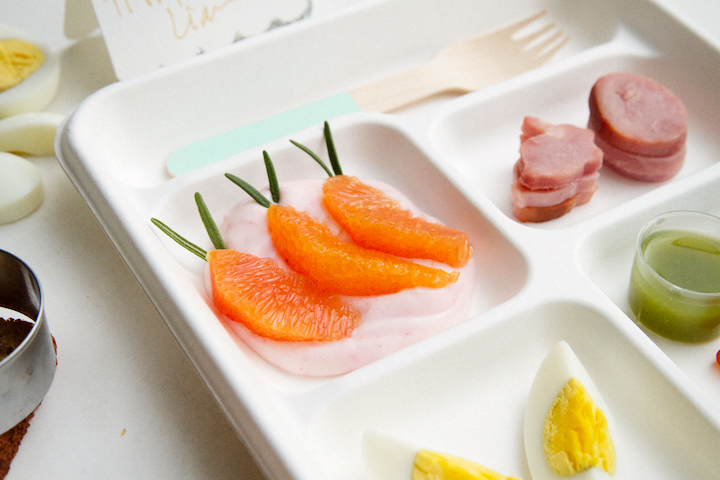 Step 2 – Cut The Ham Into Fun Shapes: 
Use any fun, festive Easter cutters you have for the sliced ham.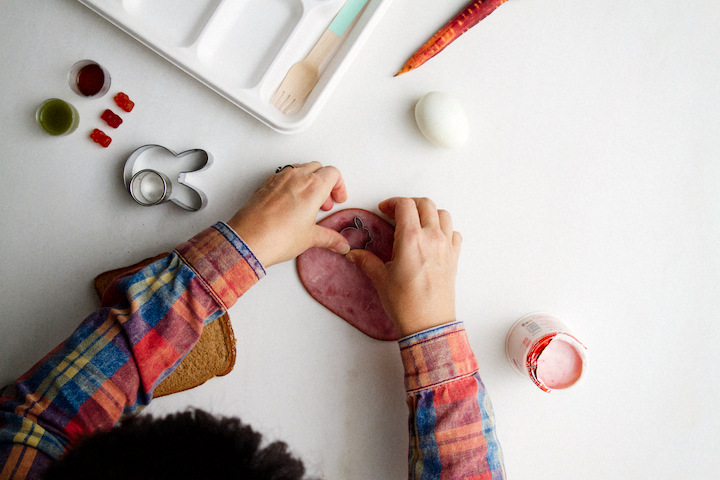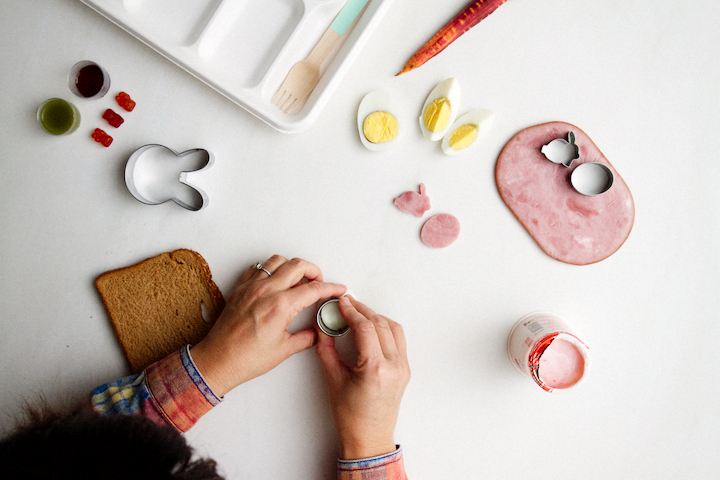 Step 3 – Wellness Drinks: 
Bear with me here. I combined some green juice, wellness shot, and some gummy vitamins for the healthy section.  My kids sort of groaned at this part, but they are used to it, so the groans passed quickly.  Perhaps throw in some other fun drinks like cranberry or orange juice, milk, etc to make the flavor more kid-friendly!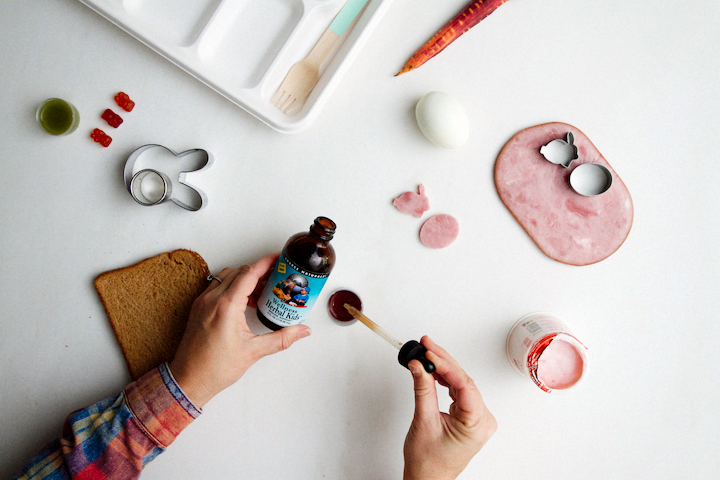 Step 4 – Hard Boiled Egg For The Bunny:
I fell in love with a spot that I saw on CBC Radio with some adorable hard-boiled eggs.  Use two hard boiled eggs to create a pair of ears, a head, body, set of feet, and tail.  I added a little mint to help the feet pop!  I then placed two sesame eyes, and cut a little mouth from a sliver of carrot, and lastly add in those adorable rosemary whiskers.  FUN!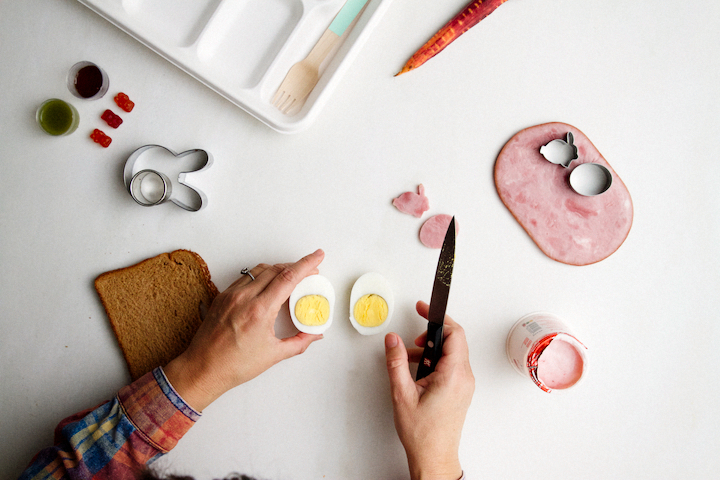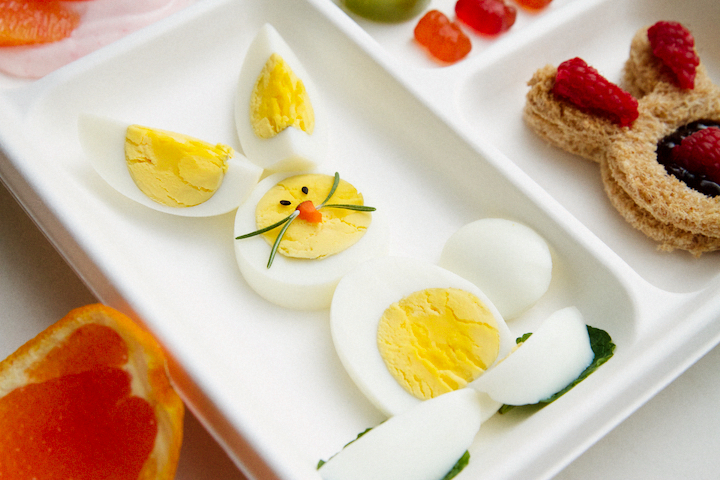 Step 5 – Bunny Toast With Jam + Raspberries
Cut out two pieces of toast in the shape of a bunny, and use one as the base and lay a dollop of jam in the center section.  On the other piece of toast, use a round cutter to make a section for the jam and lay atop the other piece of toast.  Top with fresh raspberries.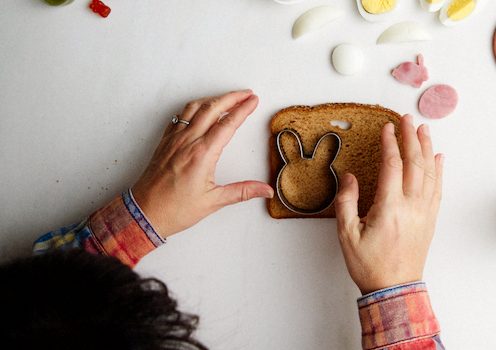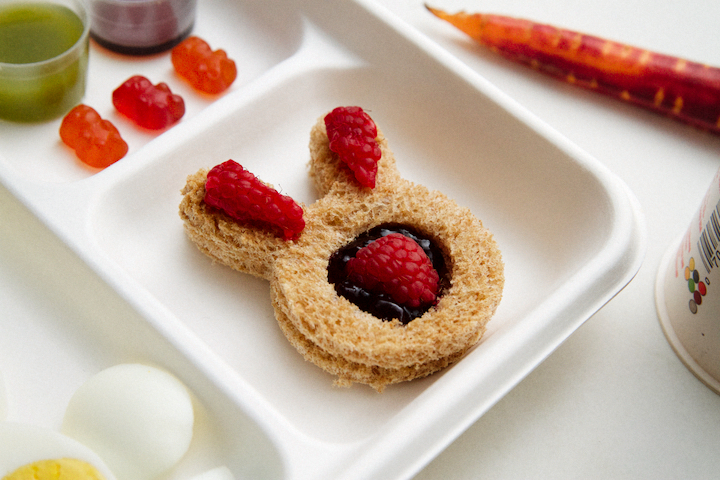 Put it all together and served to your sweet loved ones! Again, gasps are guaranteed.
Bunny Appetit!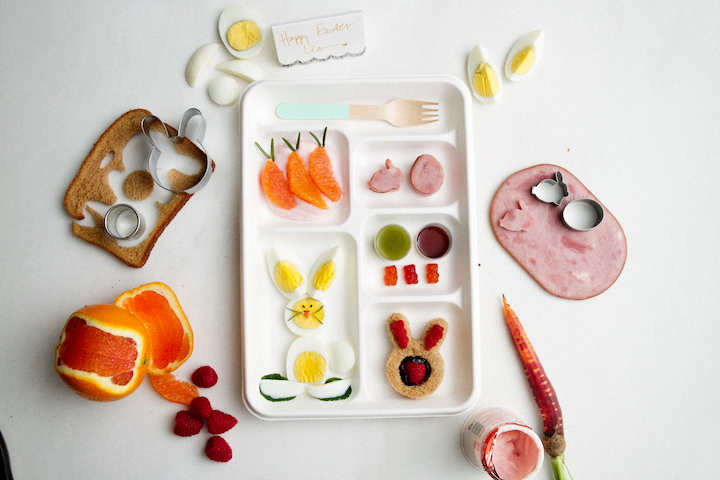 Photos by: Maria Hedrick Photography