These Easter Basket Cupcakes are almost too much fun. Seriously! And it's hard to believe that every single thing that you see here is edible! Even down to the "dirt".  This one takes a little bit of an artsy eye but once you get to splattering chocolate onto those candy eggs, you'll feel like the Easter Bunny himself.  And speaking of hoppin' into sweet goodness, today we are featuring some uh-mazing virtual bloggers making sweet and savory Easter greats.  Earn some serious bunny points, and try these irresistible recipes.

Now, here's how to create these super sweet and fun cupcakes.
You'll need to buy some mini candy eggs for this one. Get a big bag, because, trust me, at least a few will be sacrificed in the name of quality control.  You have a few options for the mini eggs and coloring them: either use cocoa powder, black dutch cocoa powder or brown food coloring with a dab of vanilla extract.  All of these combinations will do the trick.  I used The Cocoa Trader, Black Dutched Cocoa Powder.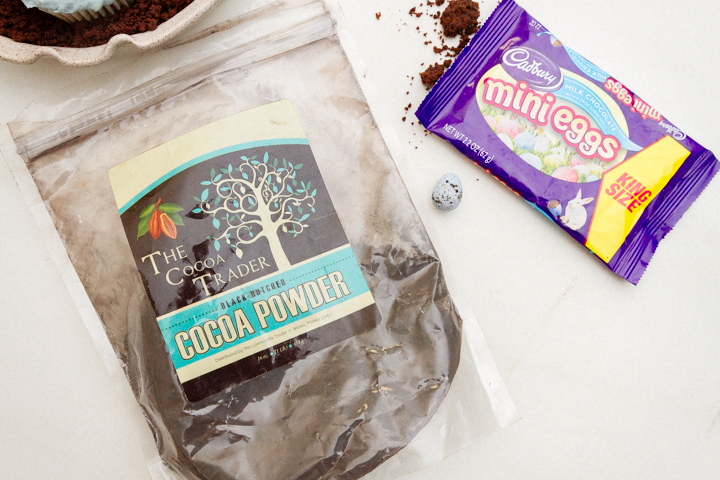 Amp up your game with some chocolate chip cupcakes from Christina Tosi's Milk Bar Bakery in New York. This gal really inspires me! She keeps it so real and puts sentiment and down-home baking above Escoffier and tradition. These cupcakes boast just enough chip to get you some serious brownie points with chocolate chip cookie dough lovers as it claims the classic chip'n'vanilla combo.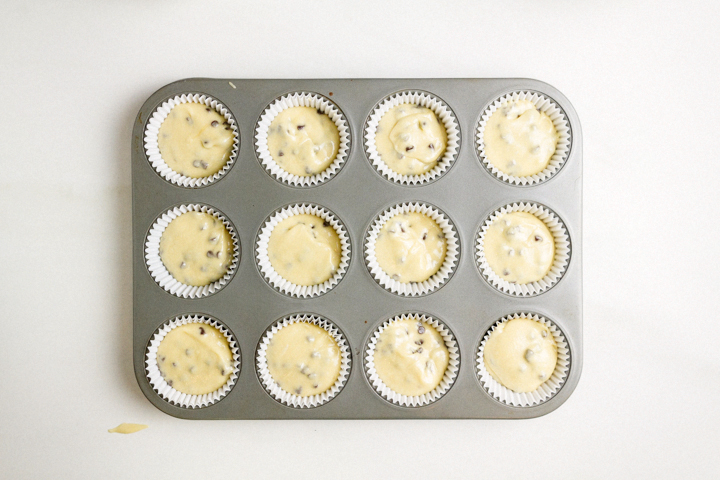 To give these easter basket cupcakes that speckled look, mix a little vanilla with your cocoa powder to create a chocolate "paint." Then, brushing the concoction against your finger, you can flick the chocolate a la Jackson Pollock so that it splatters onto the candy.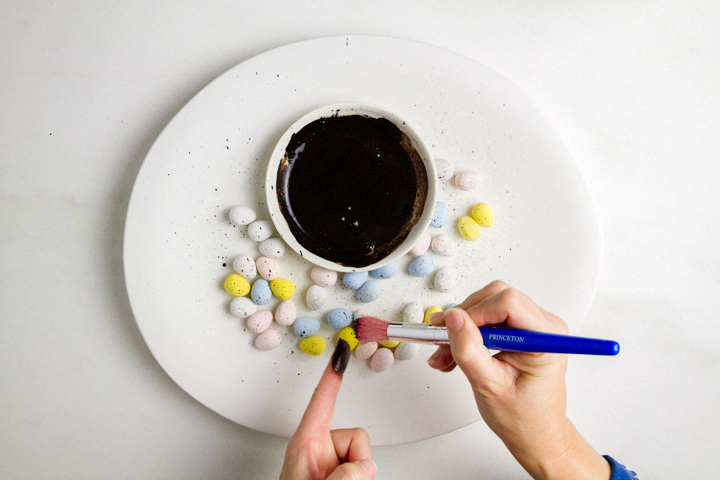 I went with pastel blue for my easter baskets, but you can just easily go with pink or green – whichever your little bunnies will enjoy the most.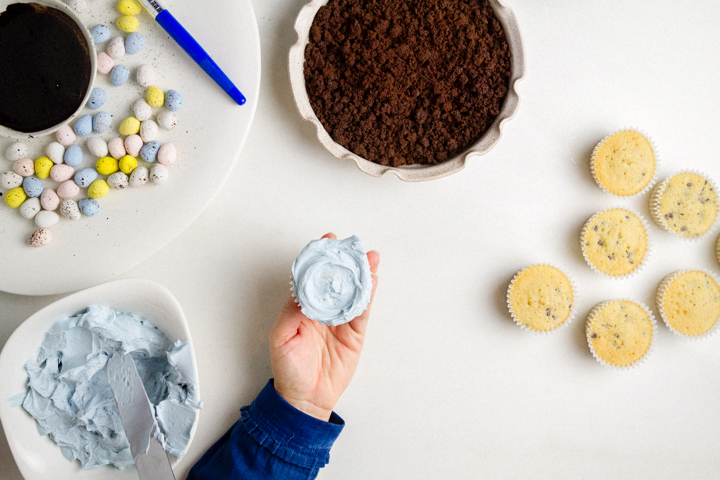 With your off-set spatula, make a little indent in the center of your frosting so you can drop in a little "dirt." This cocoa crumb reminds me of brownie bits that are buttery and delicious.  It is essentially cocoa powder, flour, and butter that get baked together to make chocolate crumbs. Dee-lish, right?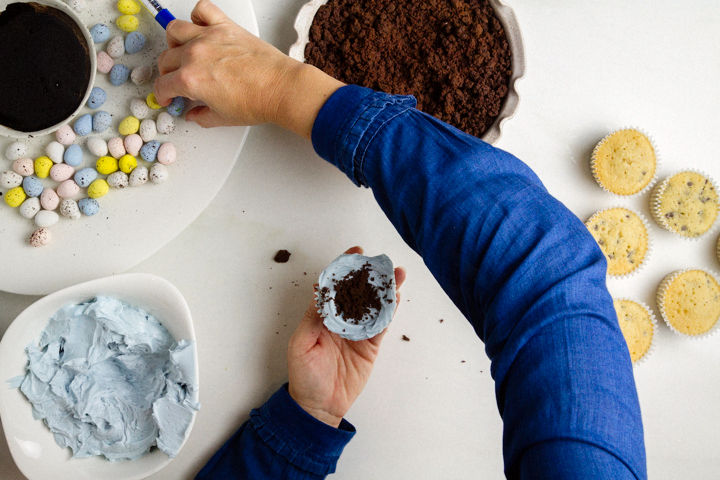 Then top each one with a few of your artfully decorated little easter eggs.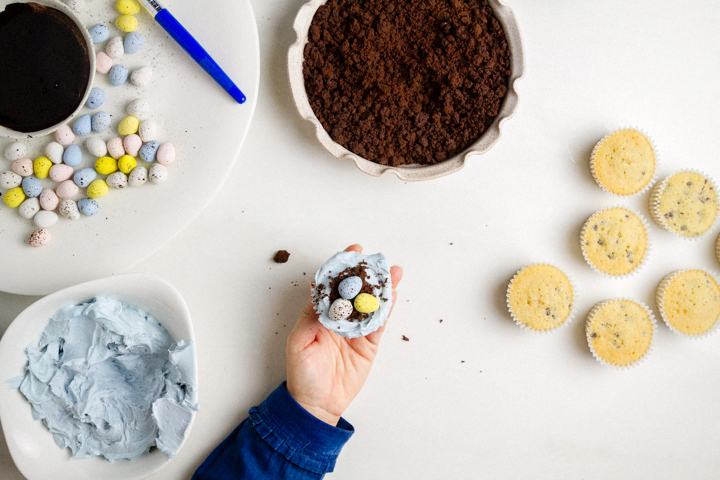 I kept some without the dirt and speckled the frosting instead.  My youngest, Liam, is a purist and wants the frosting plain as day.  I guarantee he will omit the eggs, but can't blame a mom for gussying up the baskets, right?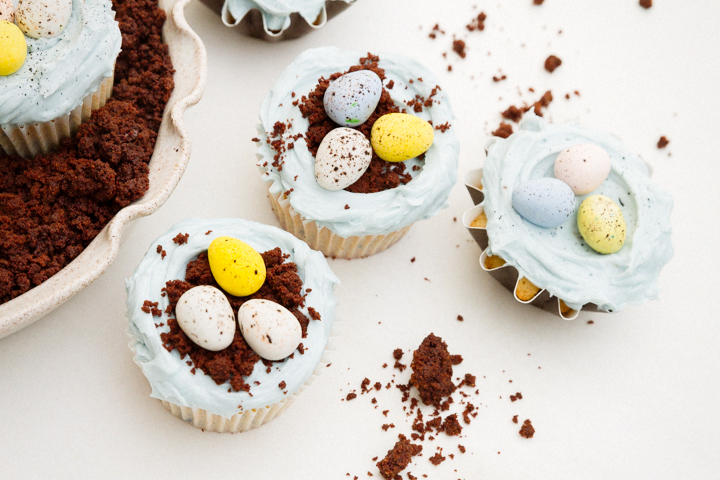 These Easter Basket Cupcakes are a guaranteed hit. Kids (of any age!) will love them and you'll look like the super mom that you are. Happy Easter!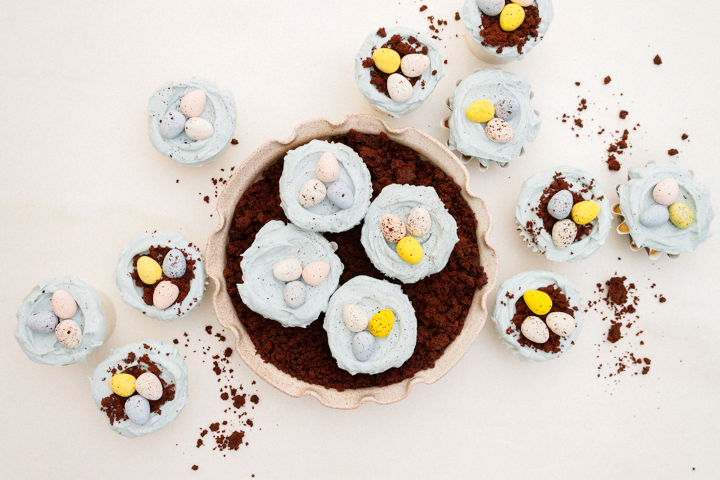 Virtual Blogger List:
The Road to Honey, Chocolate Mini Easter Egg Brownies
http://www.theroadtohoney.com/
Instagram: @the_road_to_honey
Beyond Mere Sustenance, Maple Bacon Deviled Eggs
http://beyondmeresustenance.com/maple-bacon-deviled-eggs
Instagram: @beyondmeresustenance
Girl Heart Food, Mini Egg Chocolate Bundt Cake 
girlheartfood.com/recipe/mini-egg-chocolate-bundt-cake
Instagram: @dawn.girlheartfood
No Spoon Necessary, Spring Roasted Carrot Noodle Salad with Thyme Vinaigrette
http://www.nospoonnecessary.com/spring-roasted-carrot-noodle-salad-with-thyme-vinaigrette/
Instagram: @nospoonnecessary
Seasons and Suppers, Lemon Curd Pavlova 
https://www.seasonsandsuppers.ca/lemon-curd-pavolova/
Instagram: @seasonsandsuppers
Beer Girl Cooks, Blood Orange Wheat Ale Pound Cake with Blood Orange Glaze
http://beergirlcooks.com/blood-orange-wheat-ale-pound-cake-with-blood-orange-glaze
Instagram: @beergirlcooks
Salt & Lavender, Easter Mini Egg Cookie Bars
http://www.saltandlavender.com/easter-mini-egg-cookie-bars/
Instagram: @saltandlavender 
Keviniscooking, Ham and Cheese Scones
http://keviniscooking.com/ham-and-cheese-scones/
Instagram: @keviniscooking
Sugarhero, Marbled Easter Egg Truffles
http://www.sugarhero.com/marbled-easter-egg-truffles/
Instagram: @elabau
Seasonal Cravings, Spring Green Salad with Asparagus
https://www.seasonalcravings.com/spring-green-salad-with-asparagus/
Instagram: @seasonal_cravings 
Meg is Well, Angel Food Cupcakes with Compote Filling
http://www.megiswell.com/angel-food-cupcakes-compote-filling/
Instagram: @megiswell
From Scratch Mostly, Easter Hazelnut Meringue Layer Cake 
http://www.fromscratchmostly.com/easter-hazelnut-meringue-layer-cake
Instagram: @fromscratch_mostly 
Contemplating Sweets, Cookie Cutter Chocolates 
http://www.contemplatingsweets.com/cookie-cutter-chocolates/
Instagram: @contemplatingsweets
Photos by: Maria Hedrick Photography