Snap. Silence. Stash.  Those are the sounds you'll hear you're done making these irresistible, thin, Chocolate Peppermint Cookies (which are destined to put those Girl Scout cookies to shame!).
The 'snap' happens in that instance when you take your first bite.  The crisp white chocolate cracks apart and the cookie inside literally 'snaps' in half.  Next comes the silence as you're tip-toeing away, trying to hide these cookies from your family and keep them all for yourself.  And of course, a private mom-only stash of these babies is the only wise way to handle the stresses of this holiday season.

Nom nom!  Ok, I ate my stash, now onto the business of making these rad cookies.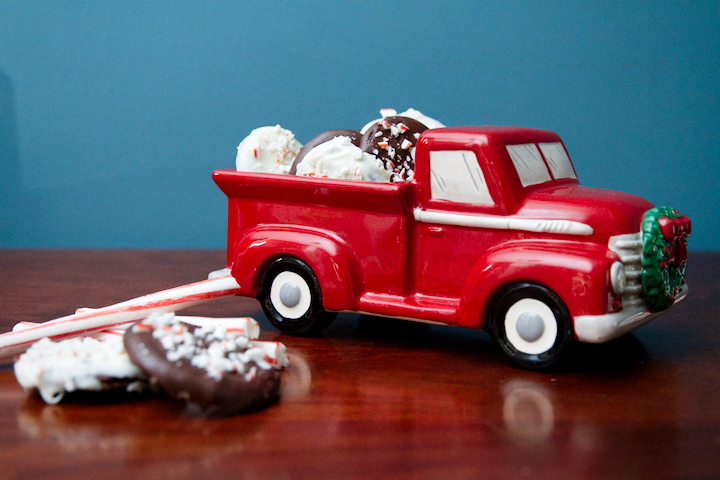 I love alternating white and dark for these chocolate peppermint cookies.  You can use any peppermint stick or candy that strikes your fancy.  These were the ones I had on hand!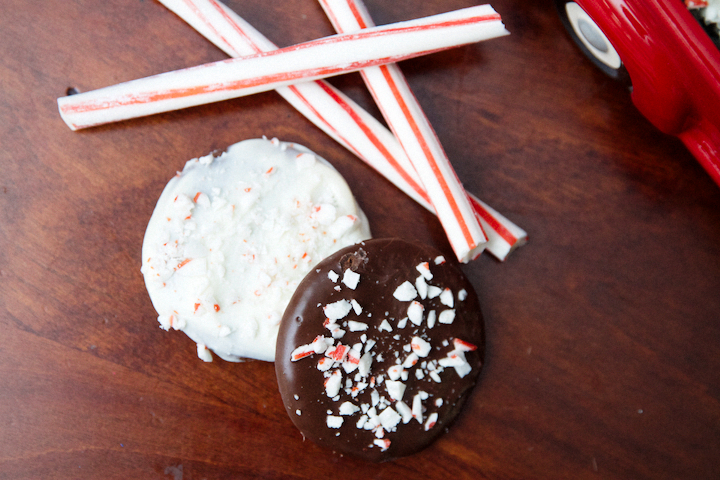 The dough itself is straight forward, nothing fancy. Just put it together and keep it in the refrigerator. It is a bit sticky, so I suggest rolling the dough in plastic wrap to save yourself some trouble.  I usually dust with flour, get the roll going, then stick it between two pieces of plastic wrap.  Then I pop it in the freezer for five minutes to harden slightly before I cut these cute little circles.
I used both 1.5″ and 2″ cutters.  I always love to offer a variety.  If you don't have those sizes, look around in your stash of goodies, usually something round and sharp enough will turn up. Then after I cut the cookies, I pop them in the freezer once again for five minutes and then bake.  You can omit this last step, it just helps with keeping the cookie tight and not over-expanding while baking.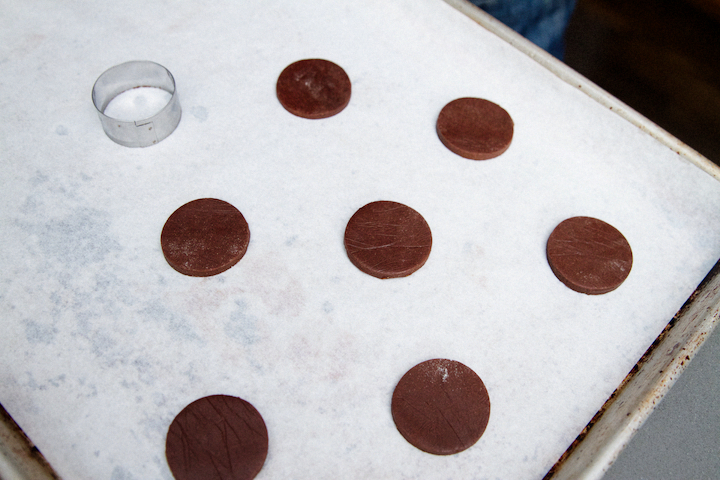 Be sure to buy high-quality peppermint extract.  I used Nielsen Massey peppermint flavor.  Also, be conservative when you use it in the dough and the sauce.  I am guilty of being a little heavy-handed, as I often think this will increase the wow factor, however in this case, my kids said it tasted like a giant mint leaf. Eeeek, not the desired effect that I'd planned. So, just don't go crazy with the peppermint, ok?
Next comes the most satisfying part of making this recipe.  Hammering!  Yes, grab those peppermint canes and throw them in a ziploc. Whenever that stressful moment of the week hits you, start hammering away.  I tell you, I feel slightly guilty with how cathartic this experience can be.  Don't worry, I don't do this often!  But if you want to, why not?
Once you have all of your chocolate melted (Wilton or Chocoley are my favorites), your candy crushed, and your cookies baked, you can dip and dot with candy decoration!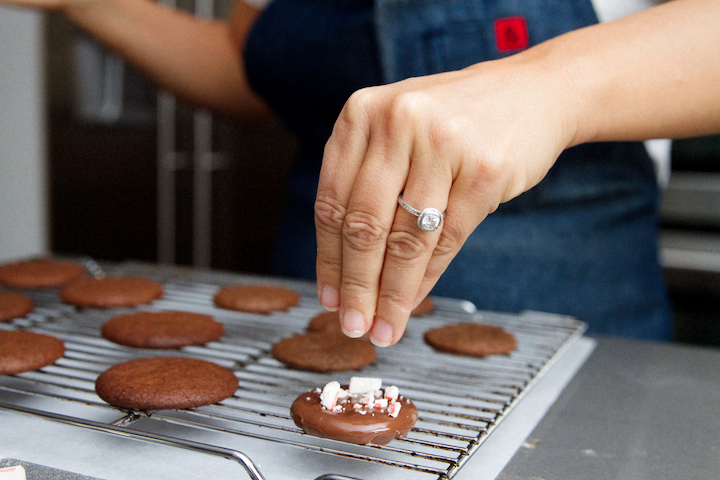 I dip it, shake it out a bit against the side of the glass, and then top it with candy.  It's so satisfying when the peppermint crush covers the cookie!  YUM.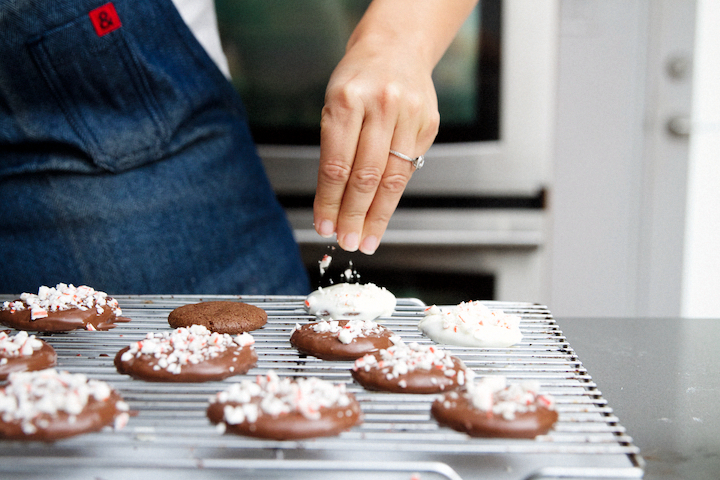 Prepare yourself because this one can be quite messy.  Don't worry if the coverage on the cookie from the dipping is not perfect (I know, I know, but really, it's ok!). The candy will cover any imperfections and you won't be able to tell at all!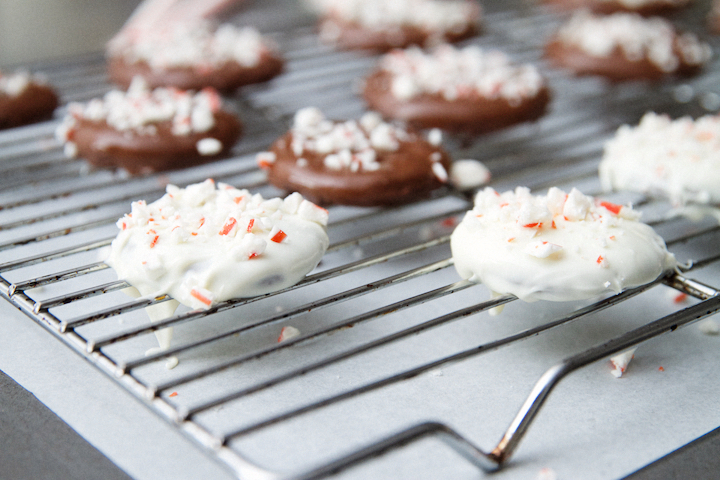 So, where are you going to hide your stash?  I actually like to put my stash back in the freezer.  No one's looking in there plus the little ones are still too short to see up that high. And it really is kind of a baker's secret to enhance that snap in the cookie by keeping it cold and frozen!  You might find a better place, and if you do…let me know, ok?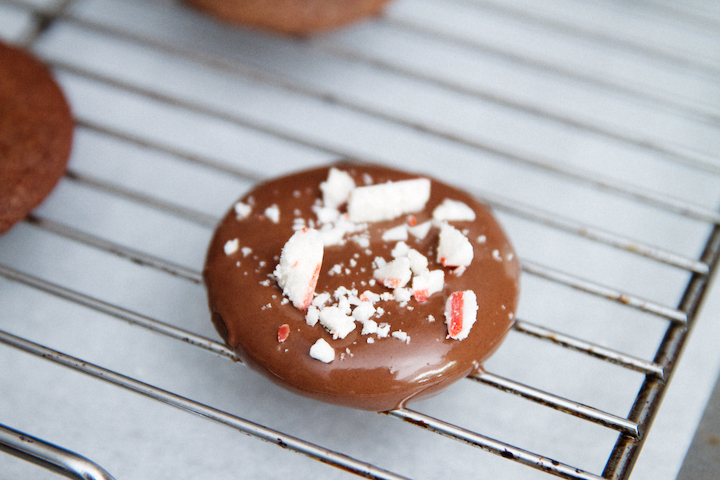 Lastly, we all have kids trucks, cars, or some type of contraption that carried mud or sand at one point in its lifespan.  Clean it out, put some winter greens in there, and load in some of these fun, chocolate peppermint cookies for the kids.  They will love the idea of participating in either making the cookie or rolling the toy right out onto the Christmas party table.  I used one I bought at Roger's Garden in Orange County.  Cheers moms!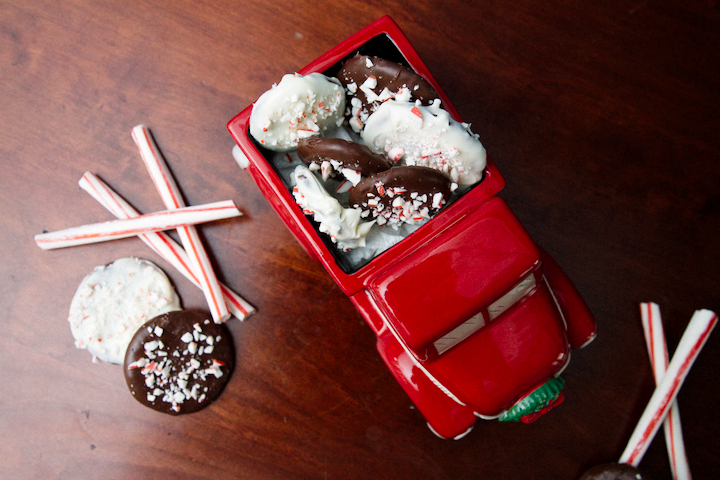 Photos by: Maria Hedrick Photography