'Tis the season for the dead, and nobody does it up quite like us Angelenos. Here, Halloween rolls right into Día de los Muertos (Day of the Dead) with an explosion of marigolds, costumes, and vibrantly colored sweets. Joining in the celebration this year, we tracked down one of our favorite street artists,  Juan Barajas, to help me create some amazing Día de los Muertos sugar cookie skulls.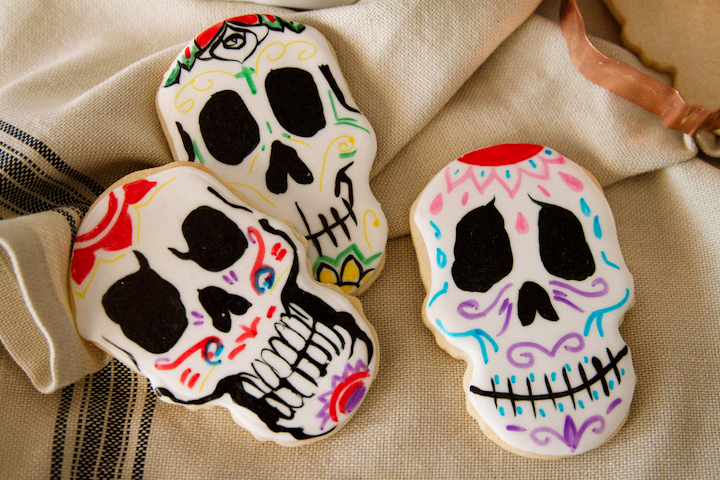 Día de los Muertos is a way for the living to honor and remember loved ones who have passed on to another world.  It's celebrated on November 1st and 2nd on the minor Catholic Holidays of All Saints and All Souls Day.  It is super popular here in Los Angeles. People adorn the headstones of deceased family members, bringing food, and sitting vigil. The sweet, decorated sugar skull is an iconic part of the tradition. This year I decided to get in on the action in my own Sweet Nerd way.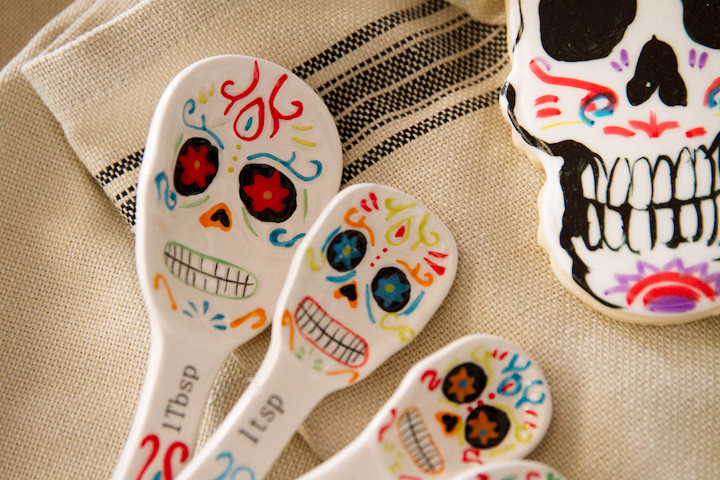 At the Hollywood Cemetery Celebration, thousands of people come dressed in festive wear to honor their loved ones. You can see authentic Aztec dancers, participate in costume contests for best dressed skeletons (Calacas), and check out the amazing alter creations.  The event listing goes on and on! For our part, Juan and I nerded out in my kitchen, to pay homage with Día de los Muertos Sugar Cookie Skulls.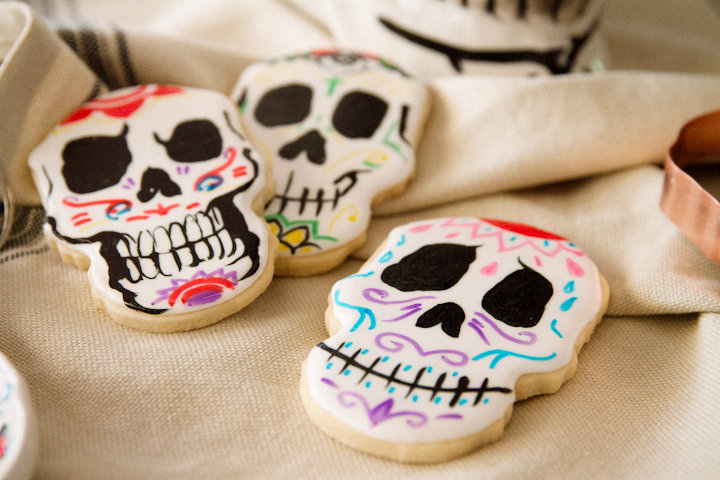 Getting personal, I wanted to beautify these skull cookies to honor my vivacious Grandma Tory. She loved to bake, and I was always inspired by the range of sweets that she made for her grandchildren. She spoiled us rotten! I would love to offer something back to her to show her how deeply she impacted my choices without even trying!
Sugar skulls (Calavera) are a traditional part of the Día de los Muertos celebration. They are decorated, edible skulls used as offerings (and for eating).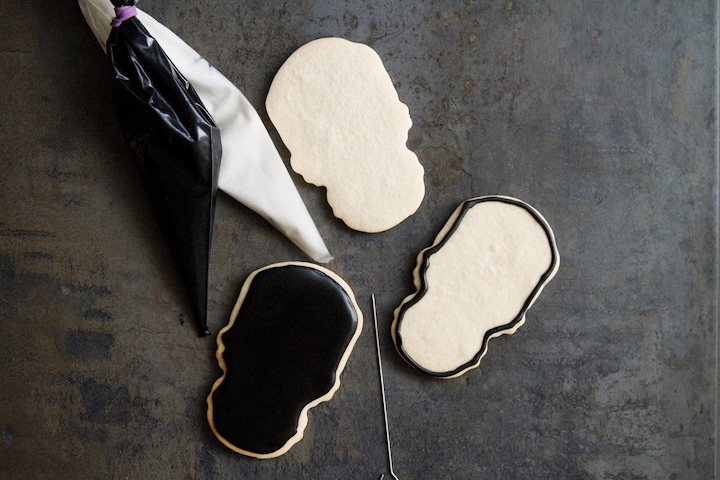 There are many cookie cutters on the market, but I love this Boney Anatomical Spooky Halloween Skull Cookie Cutter from Fussy Pop.  It's made from copper and it serves as a great Day of the Dead skull. It is 3″ x 4.5″ which is the perfect-sized palette to do some serious honoring!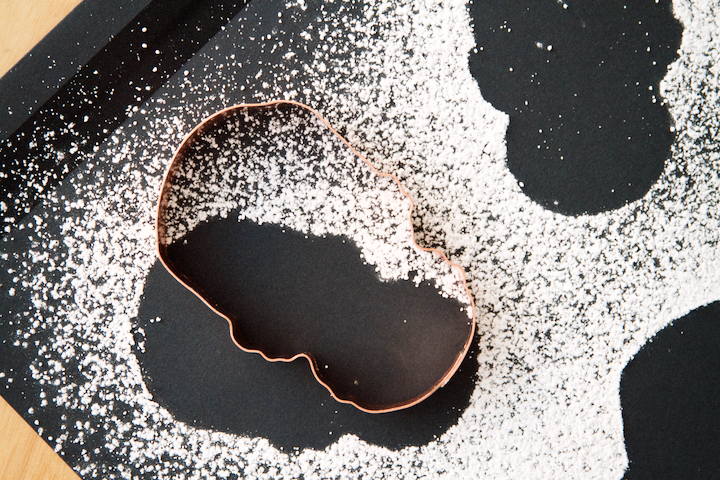 Try our fave sugar cookie recipe.  It's simple and a classic!  You can spice up the cookie, if you would like, with cardamom or citrus zest.
And for the icing, try The Sweet Nerd's favorite, royal icing recipe.  There is a 10-second rule I like to use when trying to figure out the consistency for 'filling' your cookies.  Try this 10 second rule.
The secret here is balancing droplets of water and the thickness of your icing.  Check by dragging the tip of a spoon or knife through the icing (1″ deep) and count to 10.  If the surface smoothes out when you get to 10, you are golden.  If it takes too long, add a tad bit more water and re-test. If it stirs too quickly, add a bit more sifted icing sugar to thicken it.  Once you've passed the text, it's time to prep the bag with an Ateco#2 or #3 tip, and put the icing in a piping bag.  Tip: while I'm frosting the cookies, I keep my icing bags covered with a wet paper towel so the tip won't dry out. Once decorated, let your cookies dry well for a few hours or overnight.
Ready to be a creative genius?  Get your inner artist to decorate some gorgeous colorful faces.  We used Edible Markers and Americolor Food Coloring and Edible Metallic to brighten the white.  Add bright colors, whimsical patterns, and some royal headdresses.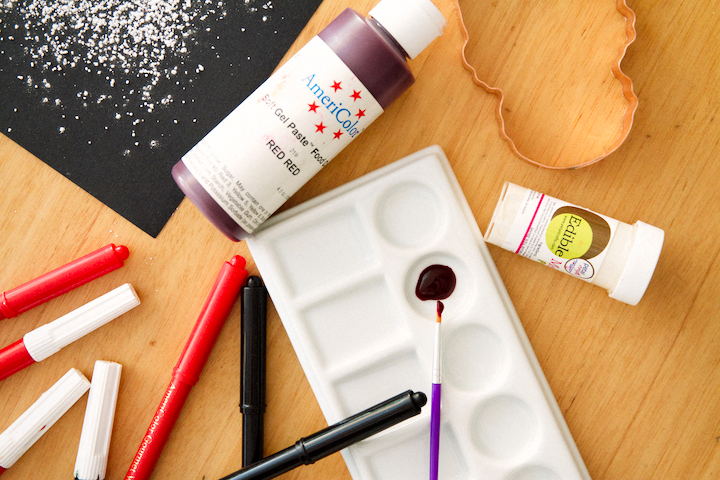 It was a blast watching these beautiful sugar skull cookies come to life (or death).
Happy Día de los Muertos!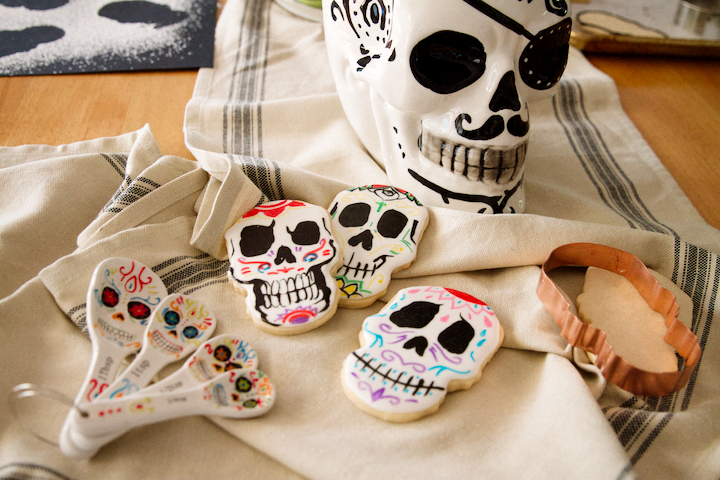 Photos by: Maria Hedrick Photography