No joke, I'm a dog person. I didn't realize this until I fell in love with Bailey. Yes, I grew up with Raisin, our family dog. And yes, I've always loved my sister's Golden, Daisy. But man, Bailey just gets me. He's my buddy while the boys are away at school, he's my hiking pal, and he's there snoozing on his pillow while I'm baking. Dare I say he's my muse? For these Paws, Bones and Dog Cookies he definitely was!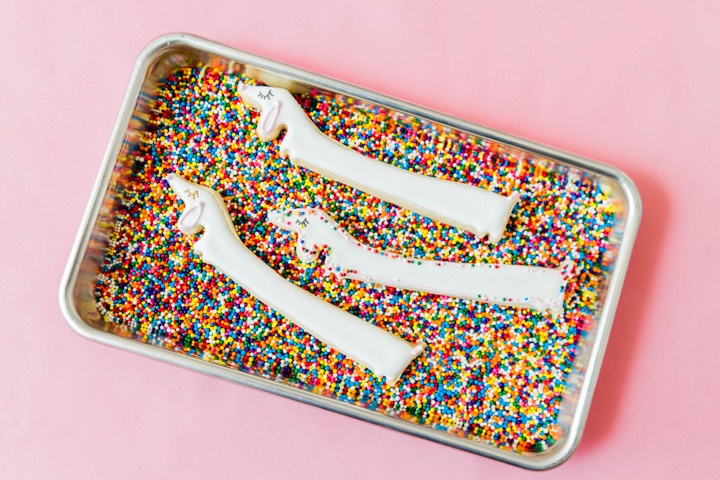 MY DAWG
Bailey inspired three versions of the sugar cookie for this post:
Animal Cookies – but forget zoo animals; these are all canine shapes.
Bone Cookies – easy to make, and easy to disappear.
Sausage Dog Cookies – a tad more complex well worth it.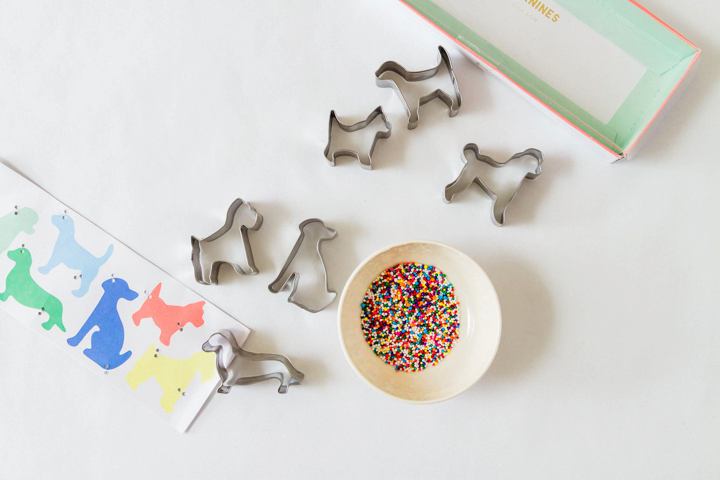 ANIMAL COOKIES
These canine cutters were just too great to pass up – they made a great animal cookie. After cutting out the shapes and baking the cookie, separately melt white and pink chocolate melts. Make sure you do this over parchment or wax paper to prevent too much dripping, or the cookie sticking to a surface. Add rainbow sprinkles before the chocolate dries.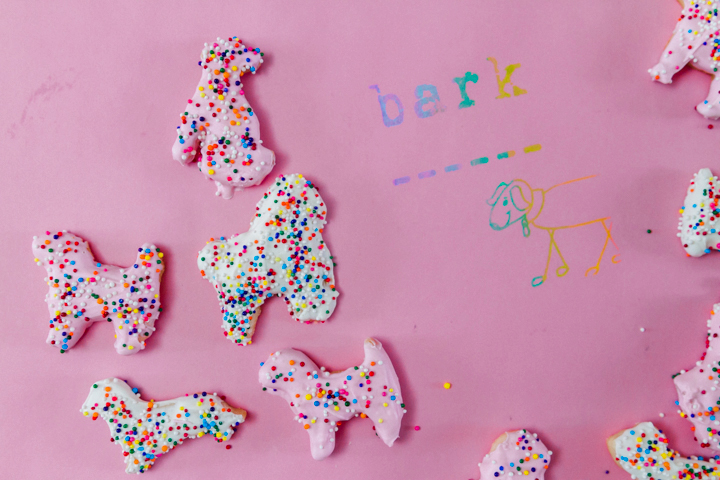 SAUSAGE DOGS WITH SPRINKLES
I love it when Bailey and I are out hiking and another dog walks by – he simply sits and waits for the dog to approach him to say hello. He's a gentleman like that. While we haven't encountered any Dachshunds recently, these sausage dog cutters crack me up.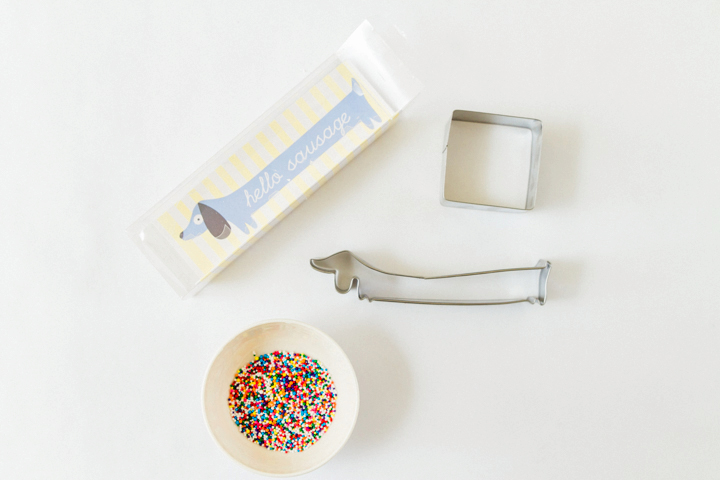 These cookies are a little more advanced than the other two cookies because they require piping and flooding. After you've baked the sugar cookie, let them cool completely before piping the royal icing onto the top of the cookie. Flood, and let dry.
Use edible markers to draw on eyes – open and alert! or closed and passive – and add more icing depending on how you want to top with rainbow sprinkles.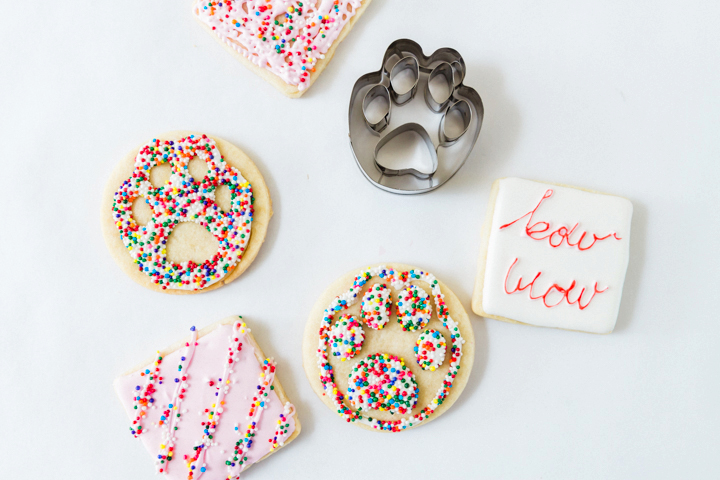 I also cut out squares and paw prints to go with the sausage dog cookies. Add sprinkles or whatever messaging feels right to represent your puppy love.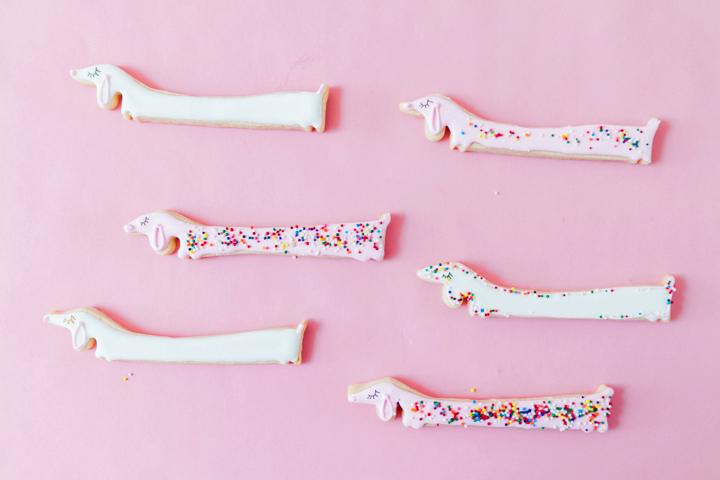 NO BONES ABOUT IT
Bailey walks around all day with some sort of bone or meaty pig ear in his mouth. It's his favorite thing to gnaw and paw at for hours. These bone cookie cutters were so dang cute, and easy to whip up and decorate. Great for the kiddos!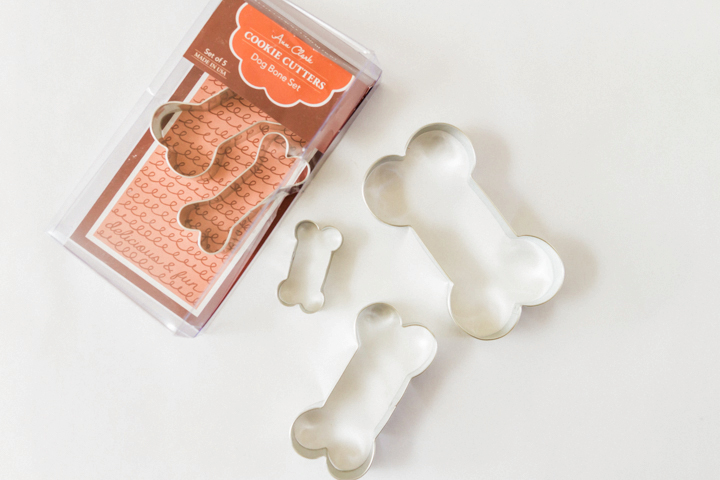 Before baking the sugar cookies, add an egg wash all over the top of the cookie. Bathe the cookies in sprinkles – I used vanilla, pink and rainbow. Bake after adding sprinkles.
This post is dedicated to my one and only – ya, Bailey.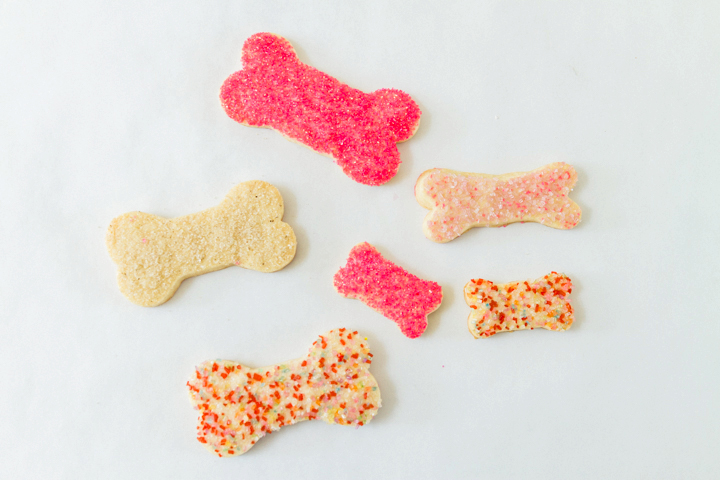 OUR FAVES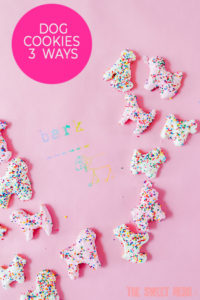 Photos by: Maria Hedrick Photography