Summer in Cali is HOT…
We just moved and I had visions of watching the kids play in the pool, cocktail in hand.  HA!  What was I thinking?  There are boxes and boxes and boxes of stuff. There are pictures to hang, wifi to install, furniture to position. In my humble opinion, the stress of moving is very underrated. But, I am trying my best to keep life normal for the boys amongst the insistent hammering, fumbling for light switches, and the slew of other things.  So for tonight, it is a good ole movie night with Harry Potter's Order of the Phoenix and ice cream sundaes. Hope you love this fresh fruit coulis recipe as much as we do – it definitely makes any ice cream scoop brighter and healthier.  Here we go, let's get down to the business of making fruit coulis.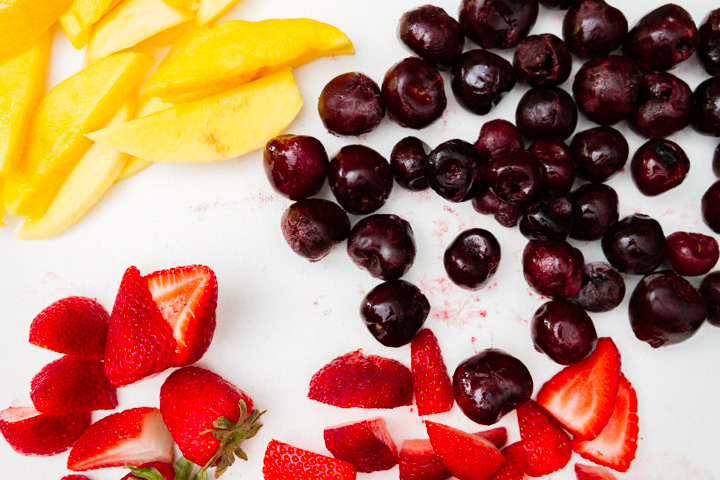 Coulis is a form of thick sauce made from puréed fruits.
Cut Fruit + Water + Lemon Juice + Sugar
Boiled
Blended
Strained
You really can choose just about any fruit from pineapples to kiwis, but my favorites are strawberries, cherries and mango. Chop the fruit and don't worry about how small the chunks are because we're just going to blend these babies anyway.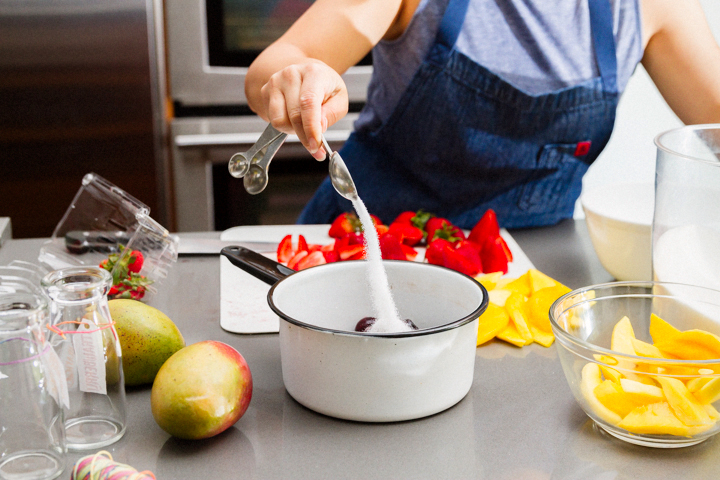 Add in a dash of sugar…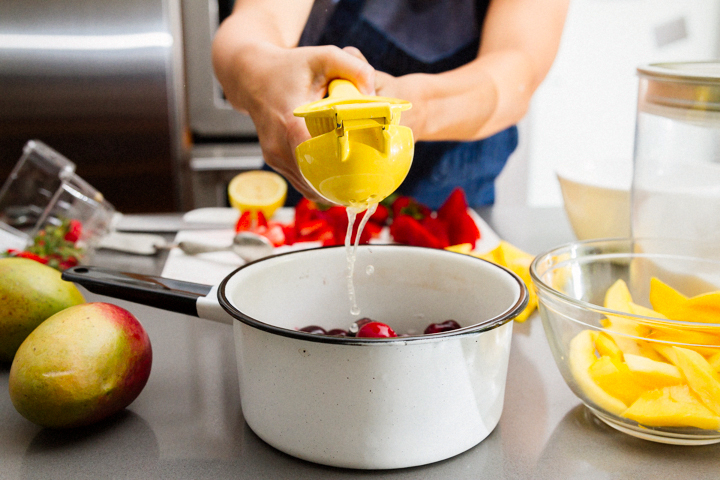 Next some acid, aka lemon juice to the saucepan.  Then, let them boil until they're super soft.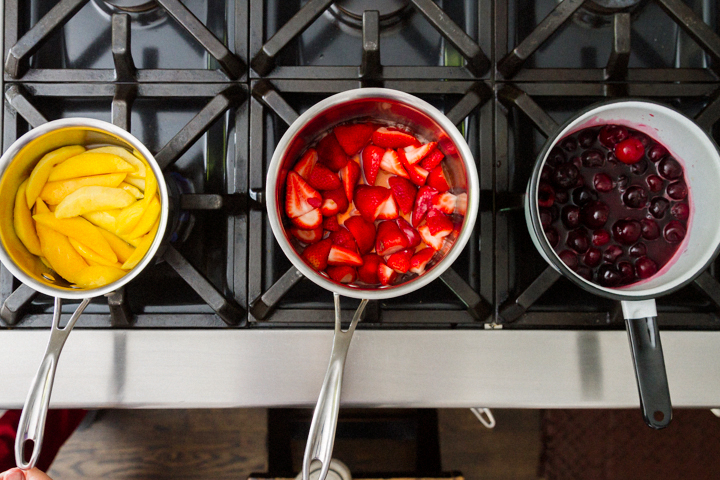 I love how beautiful and bright these coulis can be.  You can add them to ice cream like we do or use them with pancakes, smoothies, or atop parfaits.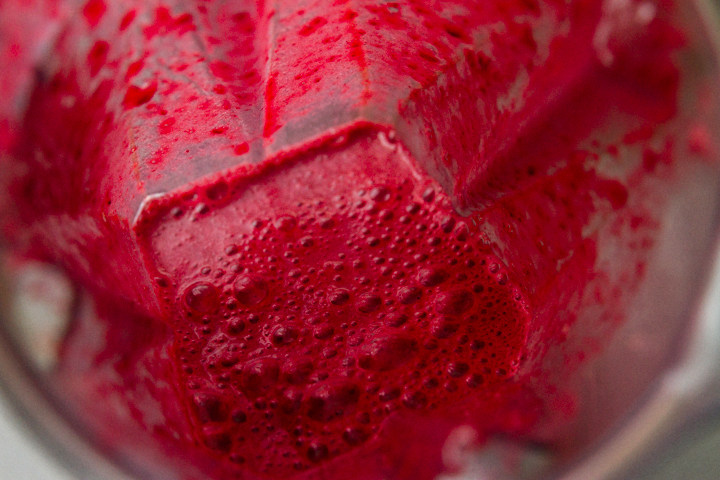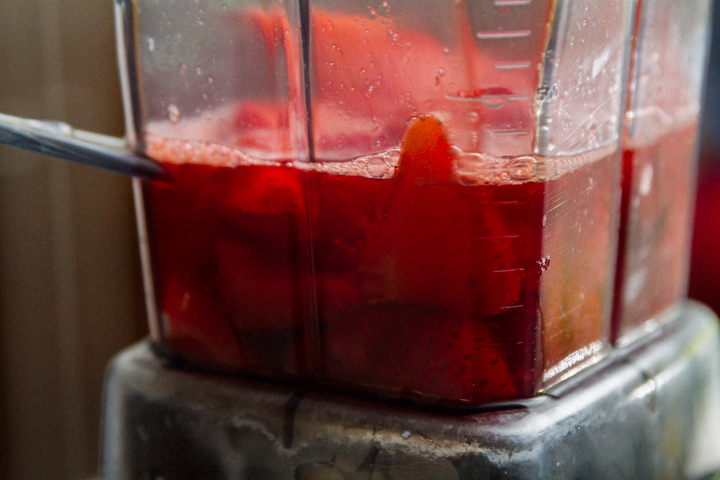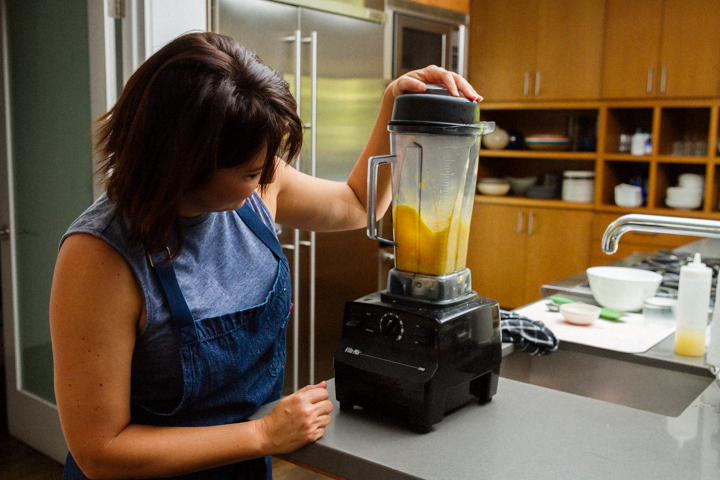 Blend well – the Vita Mix is my fave but a good old blender works just as well with these soft fruits. (to note: this kitchen is my old kitchen, sigh, and admittedly this pic does make me a little nostalgic for the old house…) Moving on.
After blending you could strain with a colander to nab any sneaky chunks. Add your fruit coulis to a cute serving carafe OR simply pour directly on your favorite flavor of ice cream. And if you want to keep in line with our Harry Potter escape, try, "Accio Coulis!"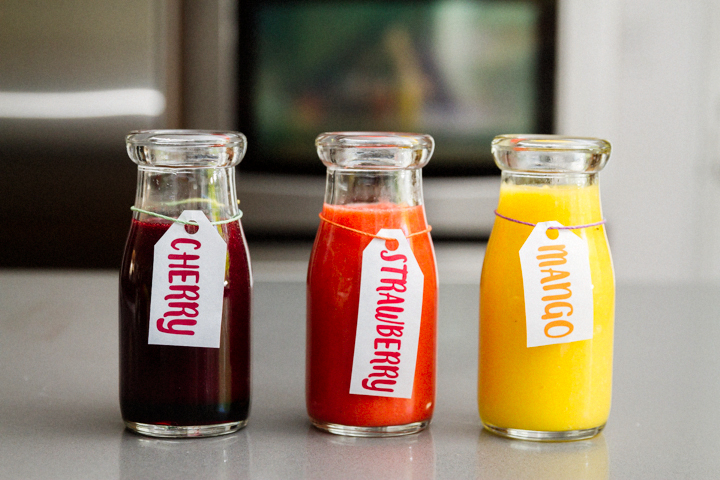 Photos by: Maria Hedrick Photography