Lucky?  Yeah, I feel fortunate on so many fronts.  Ten years ago, on St. Patricks Day, my son Gavin was born. He is such a special cat and has brought 'charm' beyond belief into our lives. Gav, aka – Gavino, loves his cereal. His current fave is Lucky Charms, so in honor of his birthday, I hid some inside these Saint Patrick's Day treats. I'm calling them the Surprise Inside Cupcakes. Happy Birthday Gav!
These cupcakes are moist and delicious. The egg whites give them a light fluffiness and the milk brings a delicate smoothness. Start with your dry ingredients, then add butter to get crumbs, then add the wet ingredients at the end.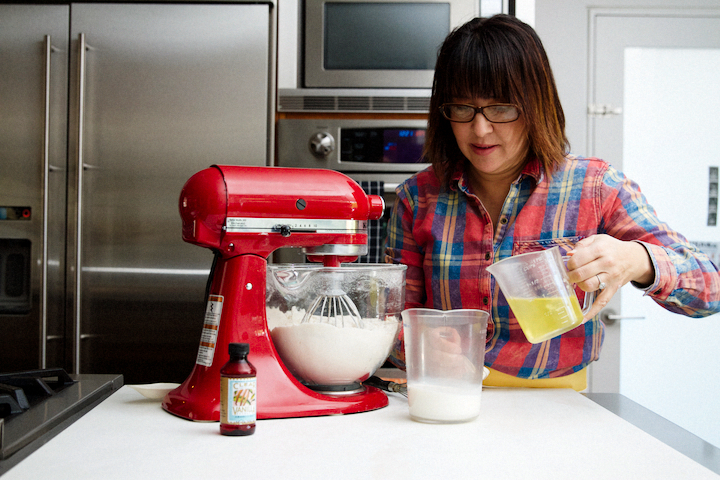 I meant to mix my dries together on mixer speed "1", but accidentally flipped the switch to 5. Everything whipped straight out of the bowl. OOPS!  Ah well, you've just got to laugh it off, clean it up, and get going again!
While you're baking these delights, (and btw your kitchen will smell amazing!), get your basic buttercream frosting and Lucky Charm preparation going!
Once the cupcakes are cool, scoop out some of the middle and drop in the cereal and marshmallows. Then, to make sure your Surprise Inside Cupcakes are really a surprise, top 'em off with a fat swirl of frosting to hide the cereal.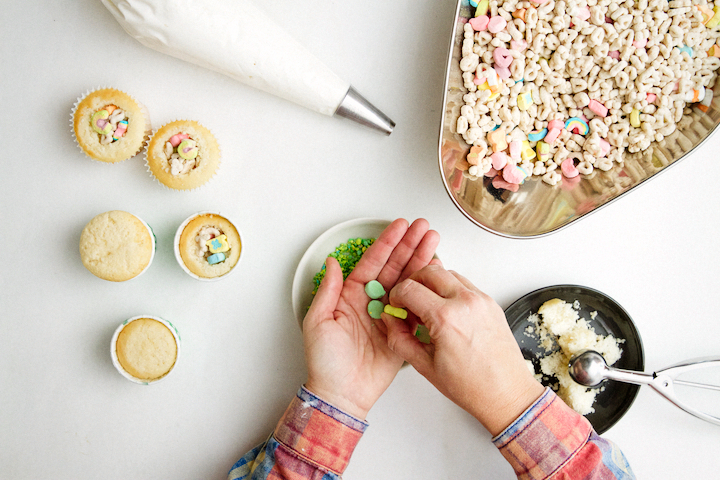 Crumble your favorite marshmallows and 'charm' the top of your cupcake with those sweet crumbles!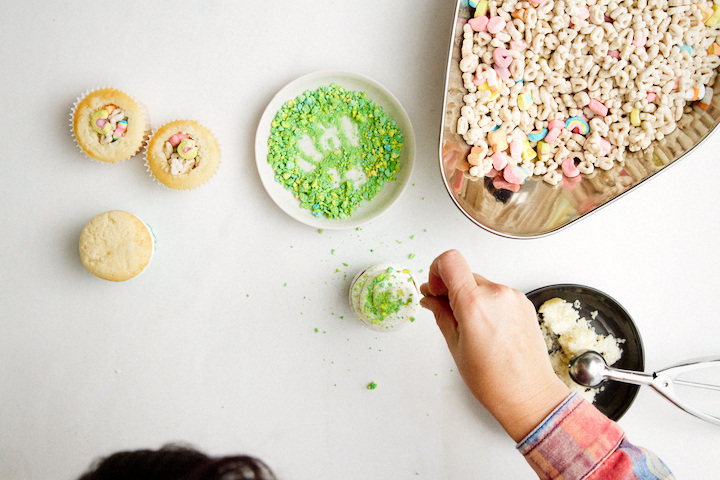 I made some fun toppers!  Skip this if you're short on time as it does take awhile to create.
You will need:
Print-out of themed banners, cut and ready to go
Skewers cut to about 3″ in. size
Glue and scissors
Thread
Steps for Assembly:
Cut and tie the string to the toothpick
Glue banners
Place in cupcake
"Pinch me," I say, as life is good!  We have our normal woes, but Gavino keeps us smiling with his quirky ties, rapping tunes, and most of all his lovely soul.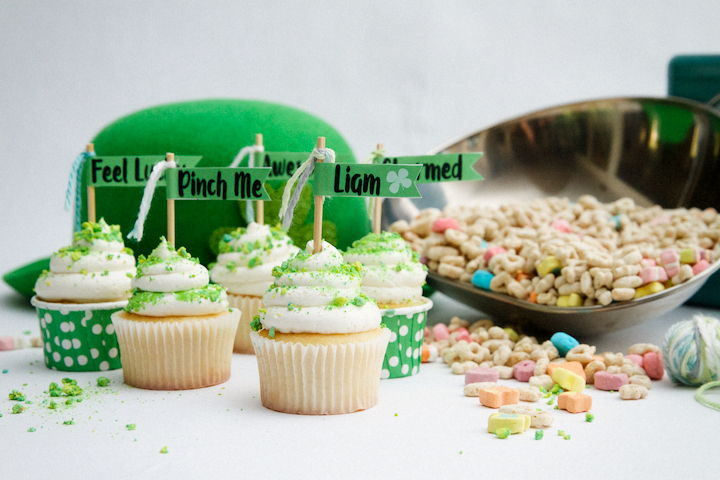 Photos by: Maria Hedrick Photography