Peanut Butter and Banana Cupcakes were a fun way to finish off Liam and his friend Miss A.'s month of baking cupcakes. These two pals scissored, scooped, and sizzled their way through the kitchen one fall afternoon. The result? Cupcakes with fresh bananas topped with peanut butter frosting and a brulee'd banana topper.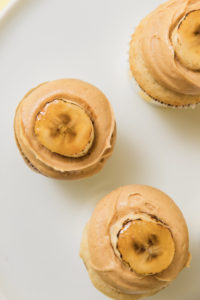 CUPCAKE BASE
Fresh bananas in cake batter go a long way. The kiddos mixed in mashed bananas which added a natural sweetness and kept the cupcake moist. Have PB&J fans? Add a dollop of jelly inside each cupcake.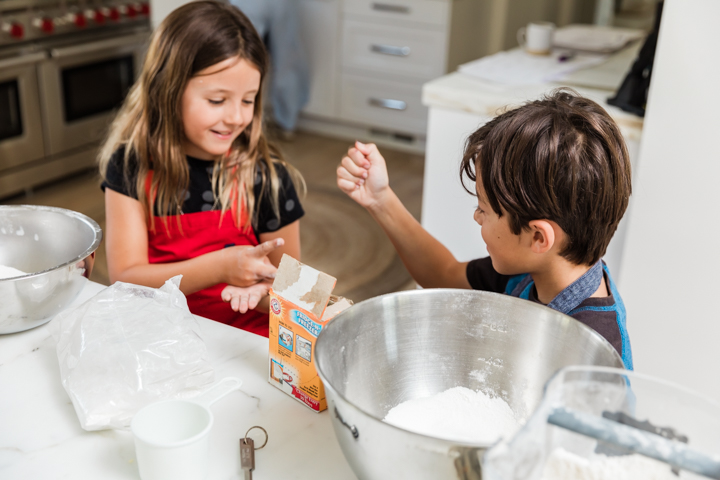 Rock-paper-baking powder anyone? My two favorite chefs are also little negotiators. Here they're rock-paper-scissoring it out to figure out who did what. Love it.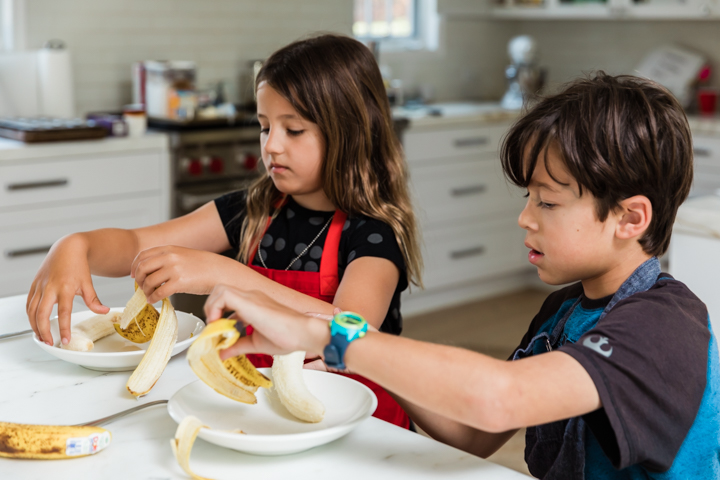 Thanks to a few of my favorite bloggers out there for inspiring this lovely combo. I am addicted to Craftsy for all things DIY.  I think it is in my DNA to want to convert every beautiful theme or visual into a cookie or a cake. Craftsy introduced one of my favorite cupcake gals, Jennifer Shea. I utilized her delicious banana cupcake recipe and combined it with Sally's Baking Addiction creamiest peanut butter frosting for inspiring this recipe.
PEANUT BUTTER FROSTING
The frosting is that awesome, simple combo of peanut butter, butter, and powdered sugar.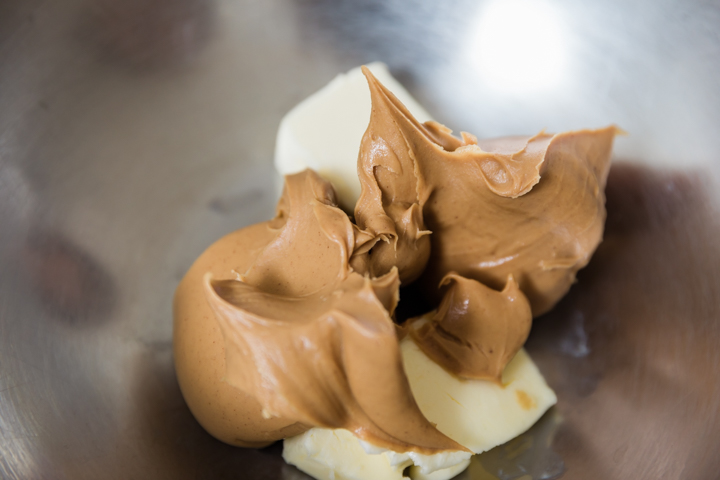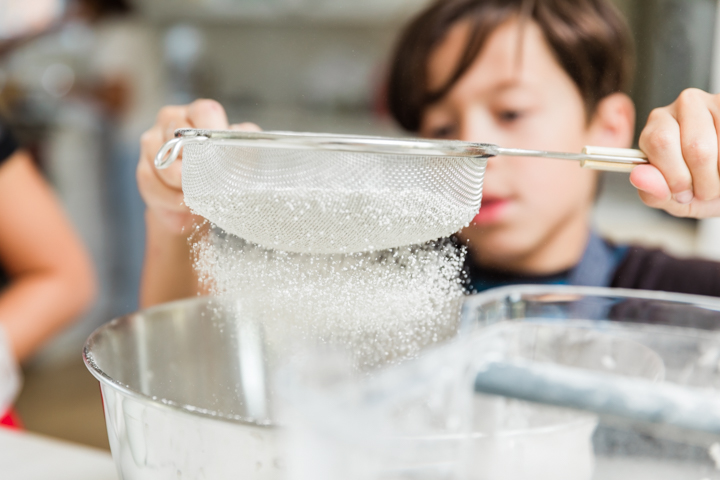 Don't fret if the frosting isn't looking the right consistency while you whisk. Add up to 1/4 cup more powdered sugar if the frosting looks too thin, and conversely another tablespoon of heavy cream if the frosting is too thick.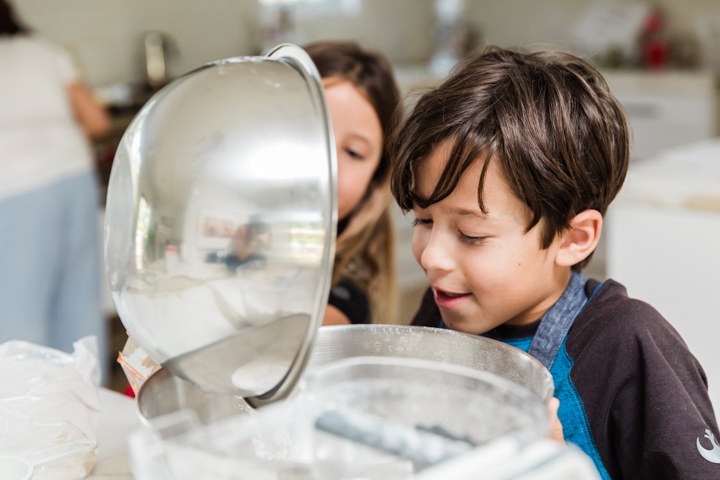 BANANA TORCHIN'
No decorating skills needed for this one! Scoop the frosting and torch.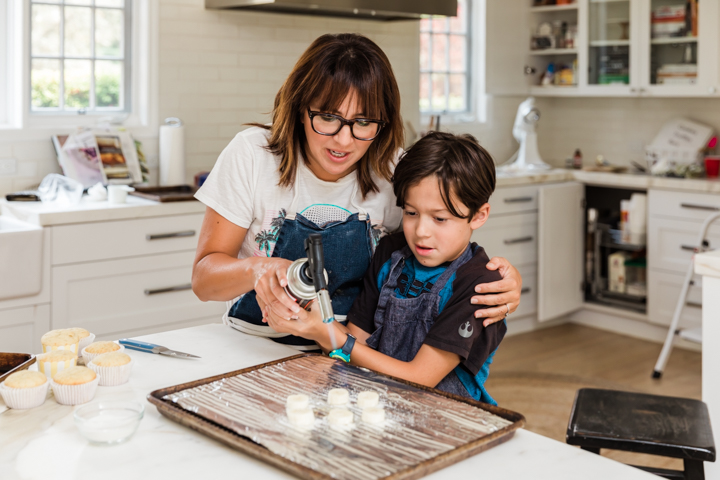 Yes, you can have your child help with the blow torch. It can be a two-person job for the novice, but honestly it's a blast (couldn't help the pun) to use this tool. Place banana slices on foil and sprinkle with granulated sugar.
Here's Liam scooping on the frosting (using an ice cream scooper) and adding a banana slice on top. Once the bananas are torched, serve right away. Slip the peanut butter and banana cupcakes into fancy baking cups and they're ready to be eaten up!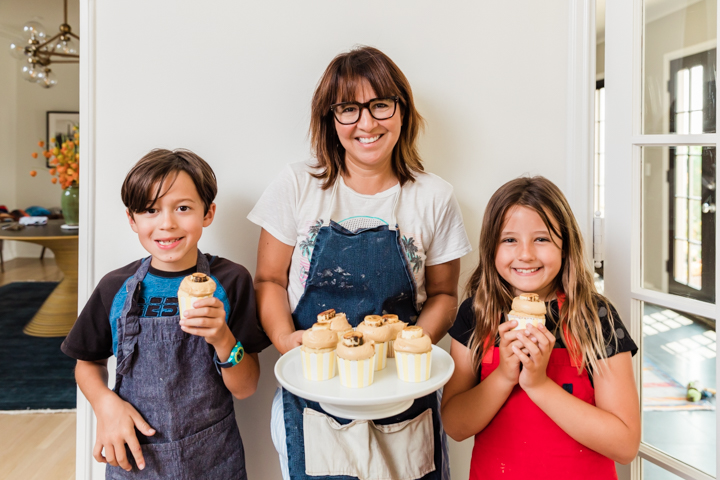 There you have it for our September month of cupcakes. We started with chocolate dipped marshmallow Hi Hat Cupcakes, then pepperminty Mint Chocolate Chip Cupcakes, and finally these PB&B Cupcakes. Stay tuned, I may have more cupcakes up my sleeve this fall…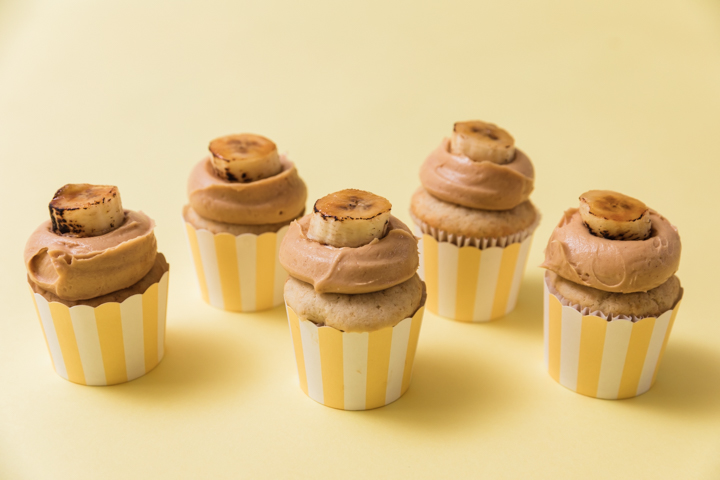 OUR FAVES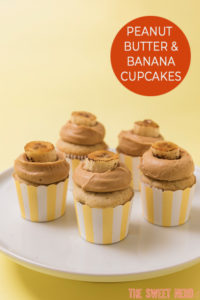 Photos by: Maria Hedrick Photography