September was deemed cupcake month…by me! Cupcakes are just so fun and relatively easy, plus I needed something to ease the boys back into school. For the next three posts, Liam and his longtime friend (we'll call her Miss A.), helped me make and decorate cupcakes from scratch. These chocolate dipped marshmallow cupcakes made all three of us giggle uncontrollably. Why? The challenge was to dip the marshmallow frosting into the melted chocolate, and sometimes it just failed and turned into a slouchy version of itself. But we got the hang of it, and so can you!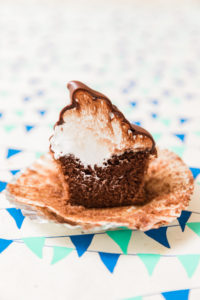 THE CHOCOLATE CUPCAKES
Pick your favorite chocolate cupcake recipe for this puppy. Or, if you want to involve the kids and simply keep the afternoon to decorating, you can make the cupcakes ahead of time, and freeze up to two weeks. Mind you, the marshmallow frosting and the chocolate dip do need to be made on the day of decoration.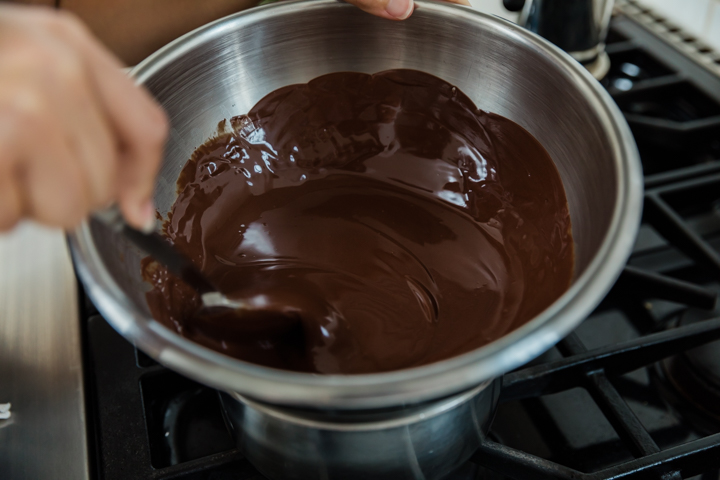 CHOCOLATE CHIP DIP
For the chocolate dip, which is what you dip the marshmallow topper in, I used bittersweet chocolate chips. Chocolate chip dip? Add a smidgen of oil like canola because it liquifies the chocolate and makes it dipable (I think I just invented a word.)
MARSHMALLOW FROSTING
For the marshmallow topping, use a bain marie, or simply heat up a pot of water to a simmer on the stovetop. Add the egg whites and sugar into a heatproof bowl, then set over the heated water and mix with a whisk.  You'll know it's thoroughly mixed by using the super high tech test I call the two-finger test. Touch the mixture with two fingers, and if you cannot feel any granules of sugar, bingo. That's when you know it's ready to pop the bowl onto the Kitchen Aid and mix until it's marshmallowy stiff. You really want it to stand up on its own without slumping, tilting, or melting into itself. I had fun holding the bowl of marshmallow over Liam and Miss A.'s heads – that's another stiff test that might result in a bath if you don't get it right.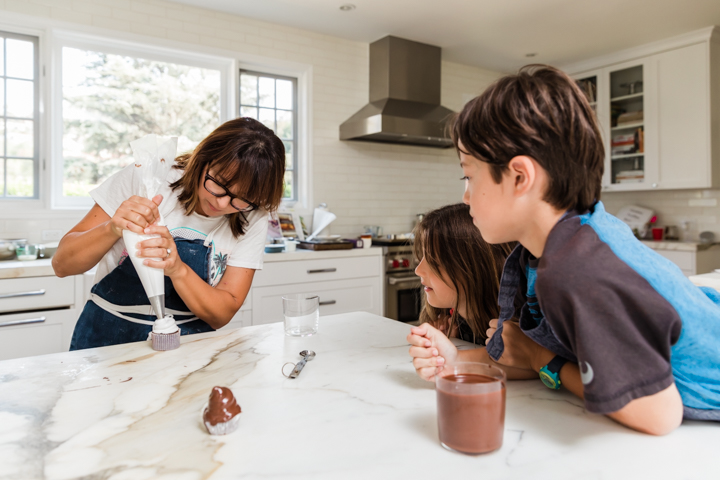 I showed these kiddos once how to swirl on the marshmallow frosting and they got it! The dipping part can be a little harder (case in point: Liam's first attempt in the photo above).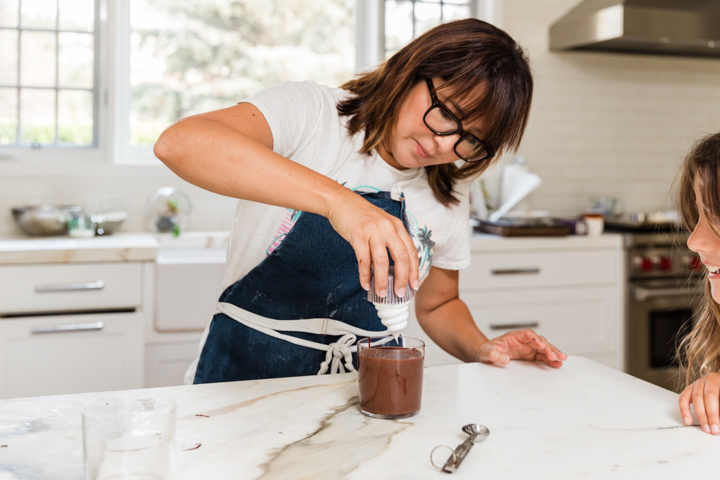 Chocolate dipped marshmallow…nom. Dip the cupcake in just to the base of the frosting.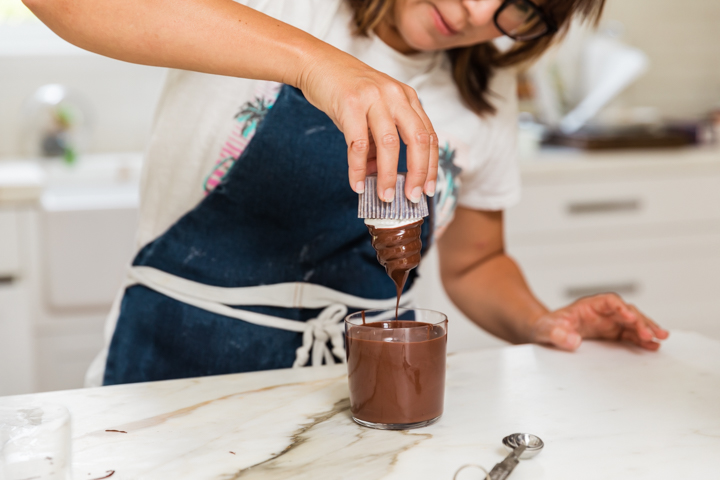 My little chefs hard at work.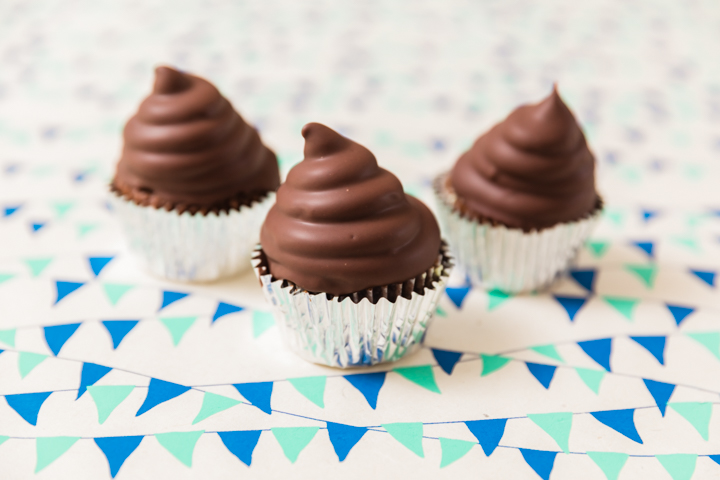 These foil cupcake liners can be slipped on after all the baking and decorating is done.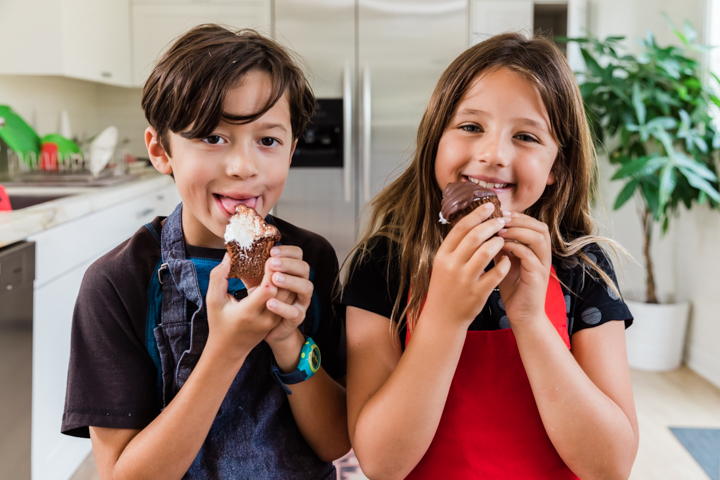 A happy Liam and Miss A…and disappearing chocolate dipped marshmallow Hi Hat Cupcakes!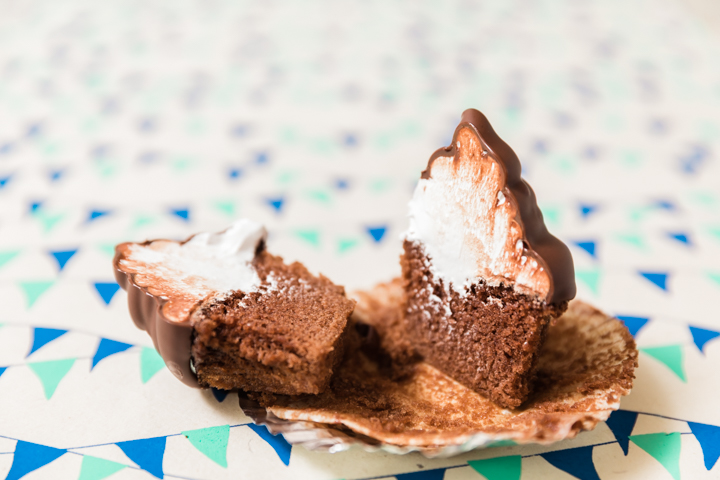 OUR FAVES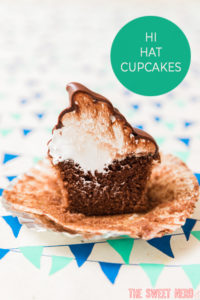 Photos by: Maria Hedrick Photography