Last summer we took the boys to Nanaimo, a picturesque harbor city on Vancouver Island in British Colombia. We discovered the most delicious ice cream bars and in true Sweet Nerd-style knew I needed to remake this perfect salty sweet combination. Man, these Canadians got it right, eh?!?
Typically, Nanaimo ice cream bars are served with a custard-flavored butter icing as the center, but I wanted to try it with ice cream.  My kids loved the pretzels in the cookie bar, and I was dying over the velvety chocolate layer on top. (And everyone loved the ice cream in the middle!).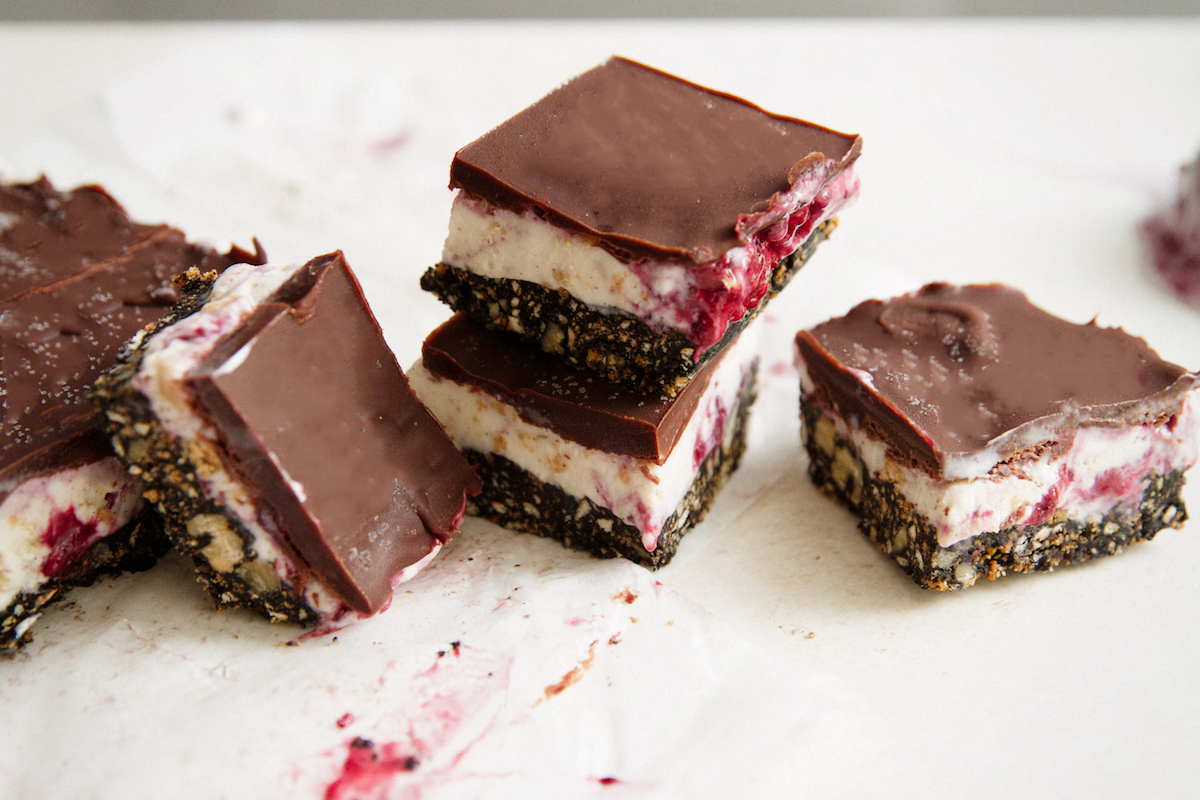 These Nanaimo ice cream bars are a cinch to make. Just load them up with berry ice cream and chocolate goodness and you're done.  There is no baking, just light toasting and a little action on the stovetop.  You will love the results!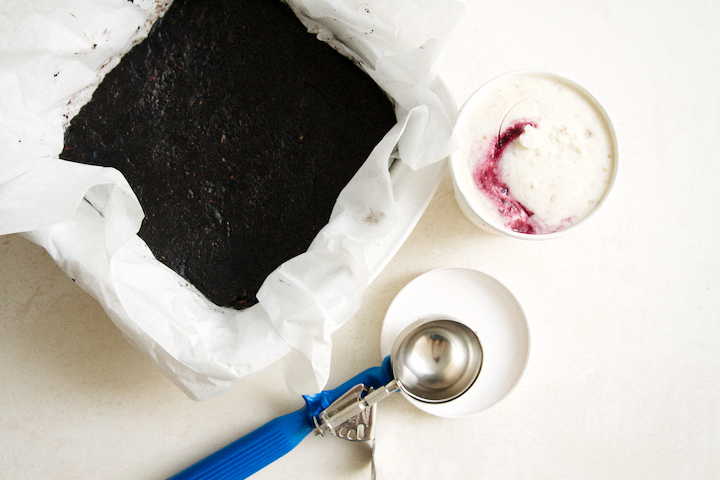 Yes, I did say, No-Bake!  We love that term, especially in the summertime. So, let's get going with making the chocolate layer first.  To get that perfect balance of salty and sweet, you'll want to start off by toasting half a cup of walnuts for five minutes. For the sweetness, I chose amaretti cookies and pretzels for an added crunch and saltiness.  I used Lazzaroni Amaretti Cookie Snaps (Italian) that have an intense sweet almond flavor. If you are not a fan of the Amaretti flavor, just grab your favorite cookie and make cookie crumbs out of it. Put it all together in a large saucepan and refrigerate for 30 minutes before you load in your favorite ice cream.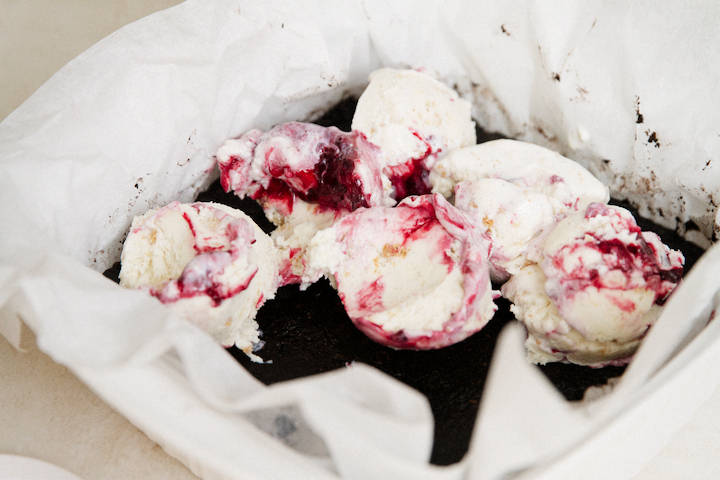 I  any kind of ice cream, but especially Jeni's Brambleberry.  It is a heavenly blend of blackberry, black raspberry jam and oat streusel mixed in with honey vanilla ice cream.  There are no limitations here. Just choose your favorite ice cream and go for it!  Pop it in the freezer and prep the last step.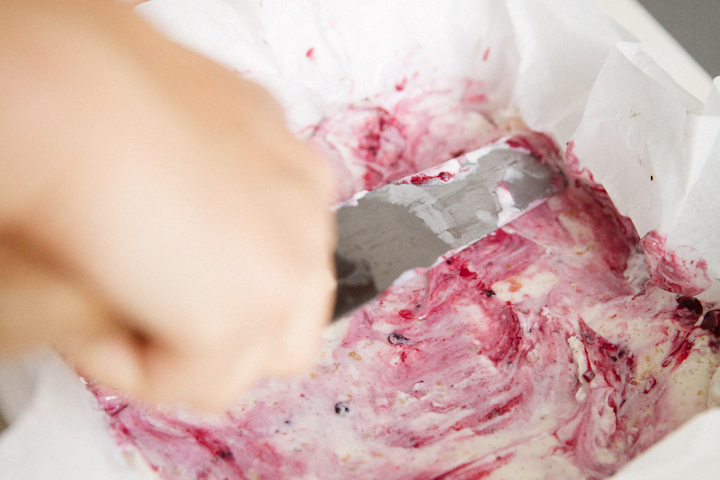 Did somebody say…chocolate ganache topic? Yes, please!
I swear to you, this topping is so quick and easy it will blow your mind. It literally takes five minutes and is made on the stovetop. Tip: use a bain marie, (ban mah-REE) which is the fancy term for a hot water bath.  I use a saucepan filled with about an inch of water and pop it on to a low flame.  Once it starts to simmer, I place a metal or heatproof bowl on top (note: it should not touch the water) and add in the chocolate, heavy cream, corn syrup, and remaining two tablespoons of butter.  Gently stir until the ganache is smooth and all the chocolate has melted.  Set it aside and let it cool.  Once it's at room temperature, spread that chocolate goodness over the ice cream layer. Pop it in the freezer and you're almost done!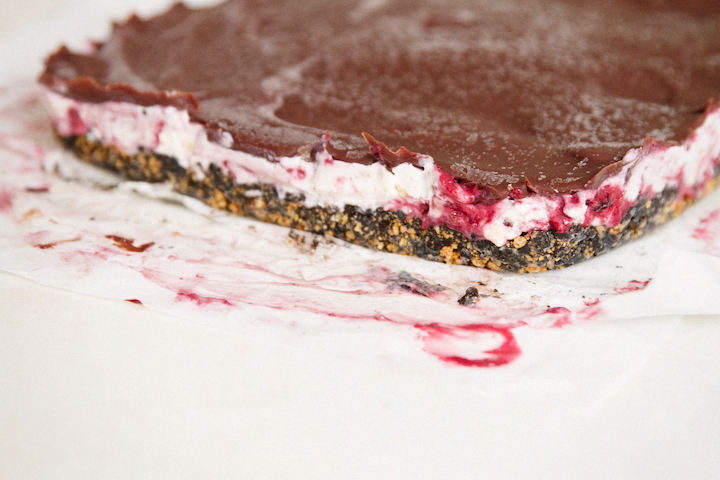 Look at that chocolate bottom.  Isn't it divine? I'm already dying over all that chewy chocolate, salty sweetness ready to be devoured!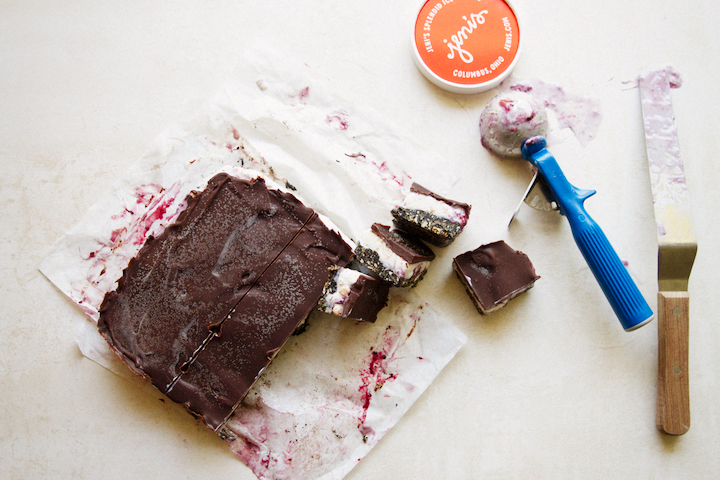 Your mission is complete! Remove your Nanaimo ice cream bars from the freezer and enjoy some frozen chocolate bliss!
Credits: Adapted from Food & Wine Nanaimo Bars
Photos by: Maria Hedrick Photography