Czech and Kolachkes go together like Bees + Honey!  And speaking of bees, this Kolachkes recipe, which I found in my fave cookie cookbook, Cookie Love, upped the ante by adding in Honeycomb.  It's sinfully good and how could it not be with its crunchiness, crisp texture, buttery sweet and fruity taste.  (Seriously, the scary bit is that I could keep going on and on about how amazing it is!)
My husband and I once visited the Czech Republic and ourselves in a blissful state of travel – meaning we didn't care about weather, jet-lag, layovers, any of those standard travel nuisances.  We suffered from serious wanderlust and found ourselves celebrating in Prague at the Old Town Christmas Market for New Years.  It was freaking cold. But still...we were in the Czech Republic and it was a heavenly food scene by my Sweet Nerd standards!  We drank some hot honey wine to thaw us out a bit and munched on kolachkes (aka kolace or kolacky in slavic).  
These Kolachkes have the all the right touches of being homemade and imperfectly beautiful.  (Yes, even I'm okay with something being imperfect.) The crunch from the honeycomb seals this envelope pastry of fresh fruit and jam.
Making these Kolachkes requires some fast moves in the kitchen, but prep the layers separately and you'll be ready to go.  It's Dough, Honeycomb, then Filling (plus a light wash and bake).  Try to do your dough ahead of time and then all the other steps flow better!  I'm not gonna lie, this isn't your chocolate chip, grocery-bought cookie dough recipe.  It takes a bit more time, but I'm telling you, the results are lovely.  If you are in a pinch for time, skip the Honeycomb, and relax knowing that it'll still be ridiculously delicious.
Let's get layering!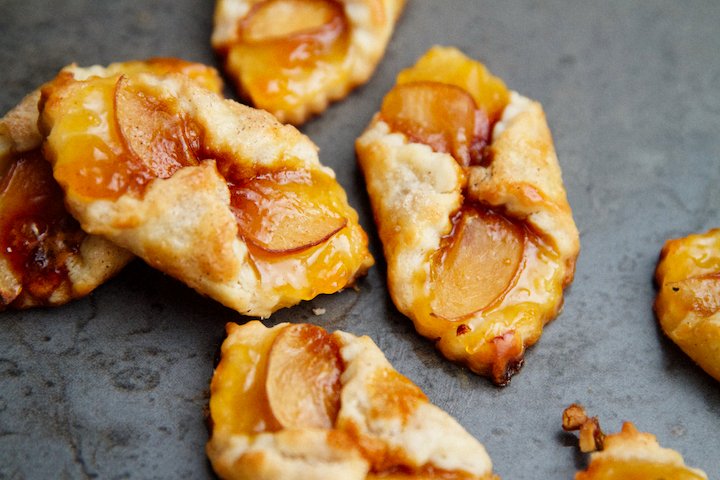 The first step is easy-peasie.  Whip up that luscious show stopper ingredient, cream cheese, to a nice fluffy state. Once the cheese is prepped, cover with plastic wrap and pop it into fridge. Now it's time to work on your other layers.  Roll out the dough and cut into squares.  I used a 2.5″ cutter, but feel free to change the shape and size.
This smells sooooooo amazing when it's boiling.  As the honey essence fills your kitchen with intoxicating sweetness, it kind of sings to you like, "Take me, I am yours!"  But don't give in just yet. You've got work to do. If you have everything prepped, it should work out swimmingly.  The key is timing and working FAST.  Get a high quality mitt and keep your eye on the clock. This part can be accomplished without a candy thermometer.
Find your favorite jam, slice a few fresh peaches, and you're nearly there!  I chose a peach jam from Sqirl LA by Jessica Koslow.  (Did you know she's releasing a book called Everything I Want To Eat on Oct. 4th? I can't wait!!)  Tip: the peaches may need a bit more trimming depending on the size of dough you cut out.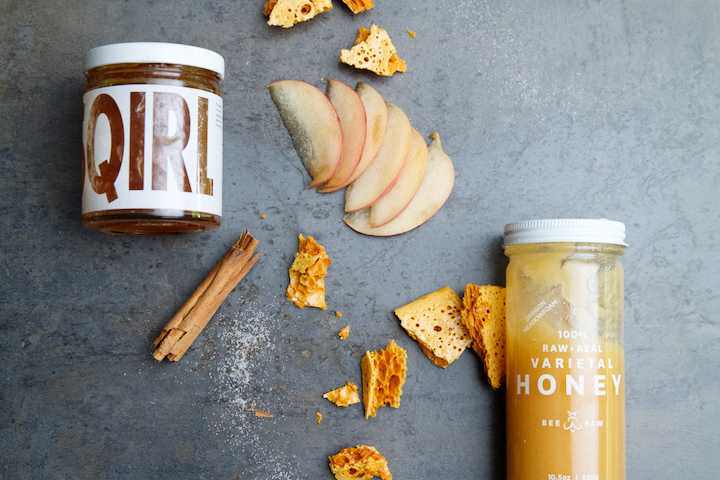 Break your honeycomb into small pieces for the last step of the assembly.  Crack an egg, add a tablespoon of water, whisk, and set aside (with a brush).  If you want, you can also sprinkle cinnamon sugar atop these glorious kolachkes as a final step before baking.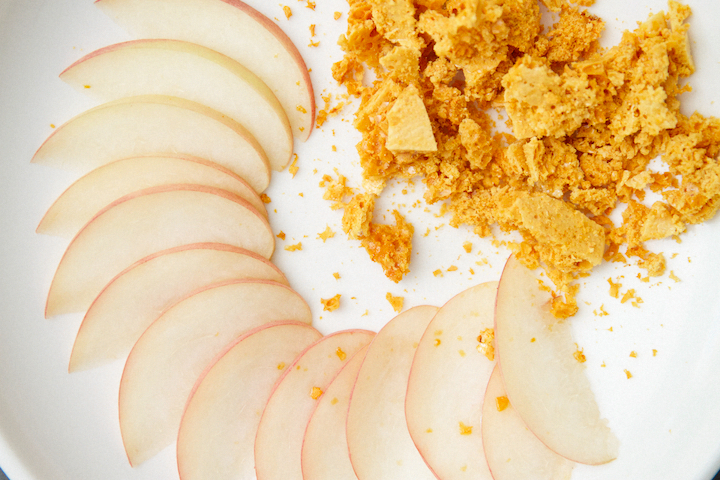 So here it goes.  Final assembly (drum roll-please).
Dough Cut-Outs (square 2.5″)
Jam – I used Peach
Fruit – sliced to fit!
Honeycomb – because it adds that ridiculous something
Fold-n-Pinch.  Don't be shy.  Really pinch these babies together because otherwise it will open its wingspan like a honeybird!
Brush with Egg Wash
Sprinkle with Cinnamon Sugar
Bake
Once they're out of the oven, remove them immediately from the parchment paper or they will stick!
Remove the kolachkes quickly once they're baked.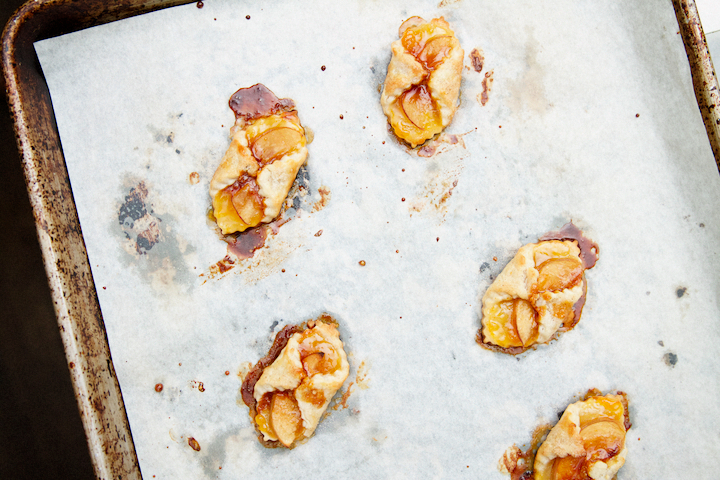 Seriously, this is one of those keeper recipes. It's a whopper of a breakfast bite.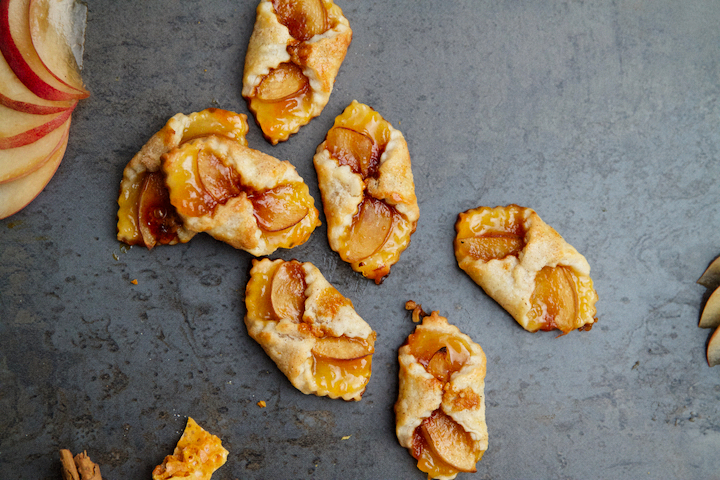 Credits: Mindy Segal, Cookie Love
Photos by: Maria Hedrick Photography