Haven't you ever wanted just a tiny bit of pecan pie? Not a whole slice, but just a cookie-sized piece you can pop in your mouth? Well, here it is: Pecan Pie Cookies. So easy and fun to make – and you can get everyone involved!  This one is a perfect community cookie-pie experience.  With a glorious combo of cookie + pecan pie sauce, this will make any southern gal smile.  So grab the gang to help prepare these beauties and make sure you don't have any slackers in the kitchen. Let them pour that glorious pie-like filling all over these pecan pie cookies and make them work for their dessert.  YUM!
How to…
Dough Master – The dough preparation is simple.  The tricky part is shaping it into a roll.  Not to worry, though, as the dough can be easily manipulated by the warmth of your hand to form the dough into the shape of a block. Pop it into the fridge to firm it up a bit.  Then once the dough is chilled, give it an easy roll back-and-forth to round out the edges.  If the dough warmed up too much, then pop it back in fridge before you cut it.
Nut Massage – Give it a good massage back and forth in some nuts.  I know, I know, I know, how can you not giggle at the sound of that.
Karate Chop – Now slice those lovely rounded medallions as if you're playing a game of Fruit Ninja. Make sure the cookies look nice and round like a pie.
Pecan Topping – Top that baked pie-shaped round cookie with the pecan sauce.  Smother it!  It is messy, but so worth it.
I was inspired by Mindy Segal's pecan thumbprint. I added a bit more butter and gave it a different look to Sweet Nerd it out.  If you prefer something more contained, the thumbprint is less messy and just as delicious.  These pecan pie cookies get all the credit, from that crumbling-in-your-mouth goodness to the sweet addiction of the pecan, buttery, brown sugar topping.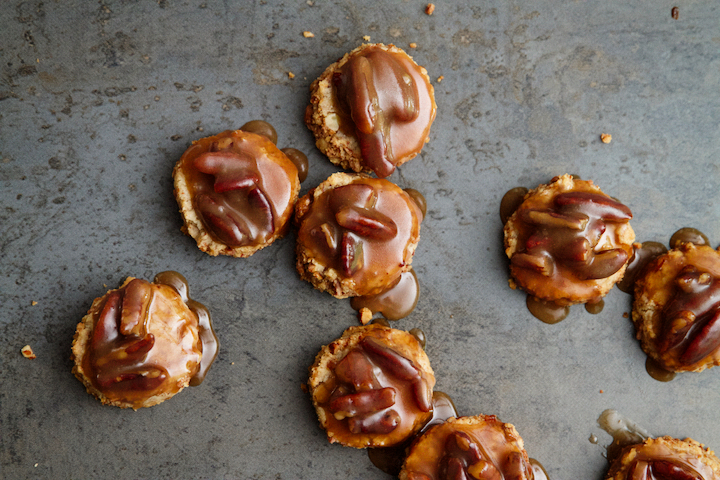 The gooey, sticky, wonderful praline pie topping is an easy one-pot sauce. This is a perfect recipe for us busy moms and can be executed in less than 15 minutes if you have all your pieces pre-made.
For all of you 'nerdy planners' out there…you will this recipe.  I make the dough, cut it, and freeze it into the medallion shapes (just ziploc it and freeze it – so easy!).  Next, I make the sauce and keep it in the refrigerator. (Don't worry if it solidifies, that's normal when it chills).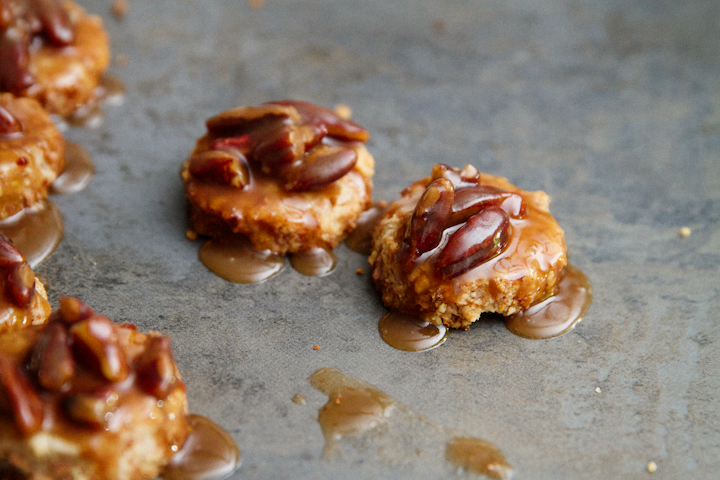 It's showtime!  Bake your medallions (and yes, they can go directly from the freezer to the oven). While they're baking, warm up the sauce in a saucepan over a low temperature, and get it to a smooth consistency again.  If you are really short on time, microwave it in 15 second intervals until it is pourable.  If you get the sauce too hot, it will be runny, and in that case, just let it solidify at room temperature a bit more and then pour.  Don't worry, it tastes all the same, and you can eyeball the thickness of the sauce to your liking.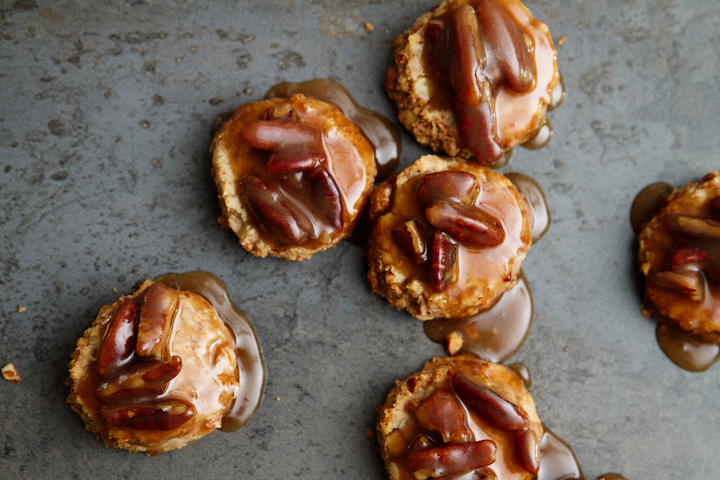 I served these pecan pie cookies to my siblings when we were all together on our last trip, and let's just say that the "crack and smack" proved true!  Lots of thankful kisses and some serious addiction.
Recipe Credits: Mindy Segal, Cookie Love
Photos by: Maria Hedrick Photography