Feeling lucky? These Saint Patrick's Day Ice Cream Cookie Sandwiches carry fun little messages on them, just glistening as if you spotted them in a pot of gold at the end of a rainbow. You can make them in secret and surprise your little leprechauns or have them help out with the decorating. Especially for the wee ones who are just starting to string letters together into words – this makes for a super fun learning experience for them.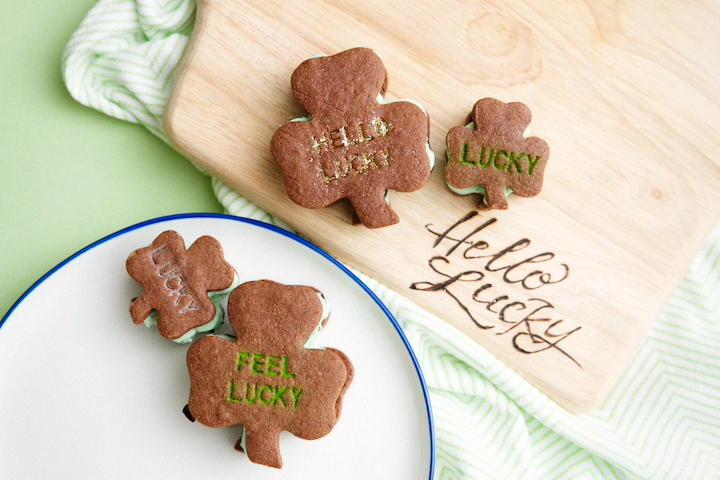 These sweet shamrock treasures were inspired by my littlest guy who loves ice cream, but hates the cones. To make a treat that had all of the yum and none of the yuck, I went with this amazingly soft and chewy cookie recipe.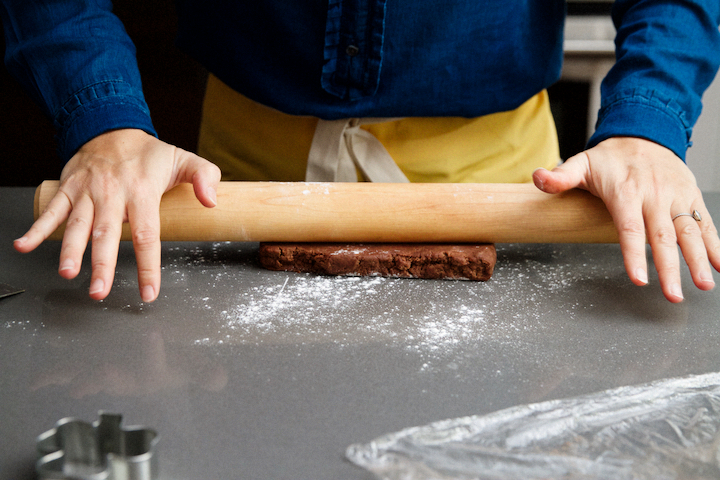 They're so tender that they almost resemble brownies. For the best ice cream cookie sandwich tasting experience, you need to have a soft cookie so that the ice cream doesn't squish out the sides when you take a bite.
While cutting out the cookie shapes, it helps to keep your dough nice and cold. I liked the variation of having two different sized shamrock cookie cutters – one big and one small. Just make sure you cut an even amount of cookie sizes so that you have enough to assemble the cookie sandwiches after they've been baked.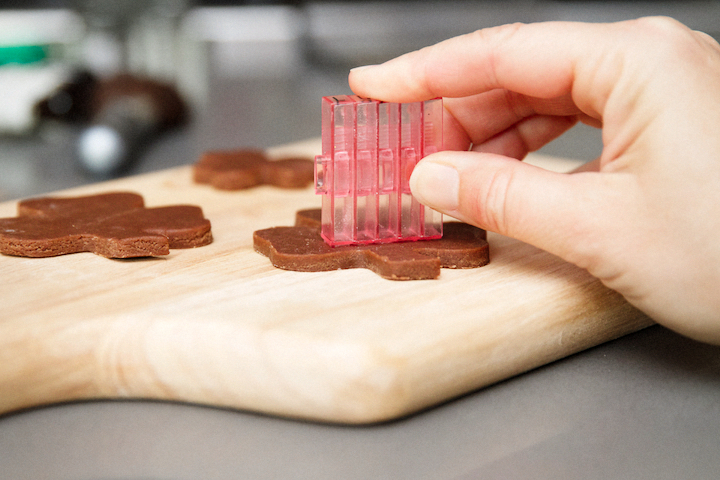 If you don't own a set of cookie stamps, it might be time. They're so fun! And seriously, I use them all the time. These particular ones, by Sweet Elite Tools, are nice because they snap together. That way you can easily create a tidy word, or use the letters separately for a more artsy look.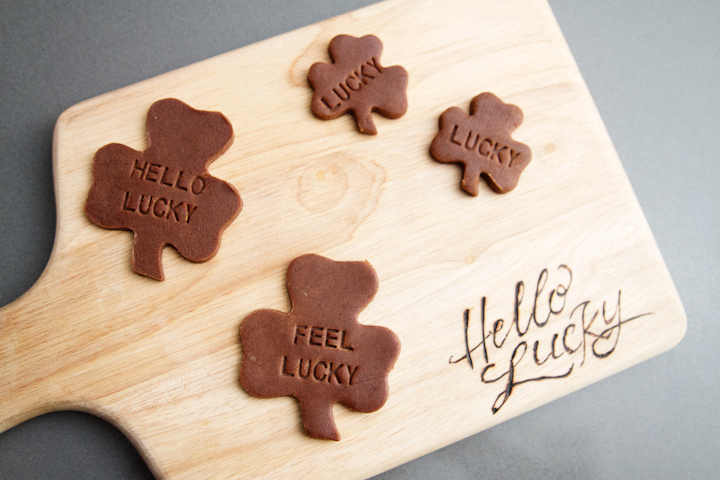 Once they're baked and cooled, it's time for the glitter!
This takes a steady, more patient hand. Start by using a toothpick to lay a bit of edible glue into the letter creases created by the stamps, then tap some of the glitter over the cookie. Brush away the excess glitter. Pro Tip: brush the leftover glitter into a bowl. It makes clean-up time a whole lot easier, and the dry, clean glitter can always be sprinkled onto another cookie later.
As you know, if you have more than one kid, they can be pretty particular. But in my house, there is one thing that we can all agree on and that is – we love McConnell's ice cream! With that knowledge, I made sure I fully stocked up on it. I mixed up my cookie sandwiches by making a few with mint chip to get that fun green color, and made a couple of others with vanilla ice cream. Stack 'em high and mix and match. You can't go wrong with these Irish cuties!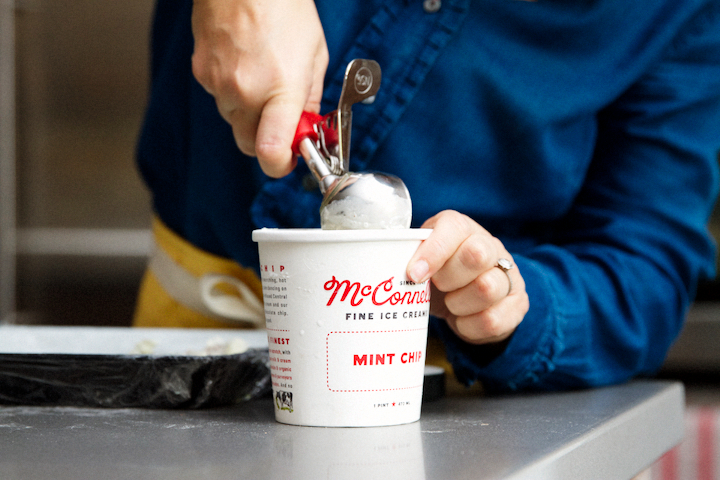 To get that shamrock shape, scoop the ice cream into a lined cookie sheet. Then, refreeze the ice cream to make sure it doesn't melt when you're trying to cut them with the cookie cutters. Be sure to use the exact same size of cookie cutters that you used on the dough so that your ice cream cut-outs all match up in shape and size.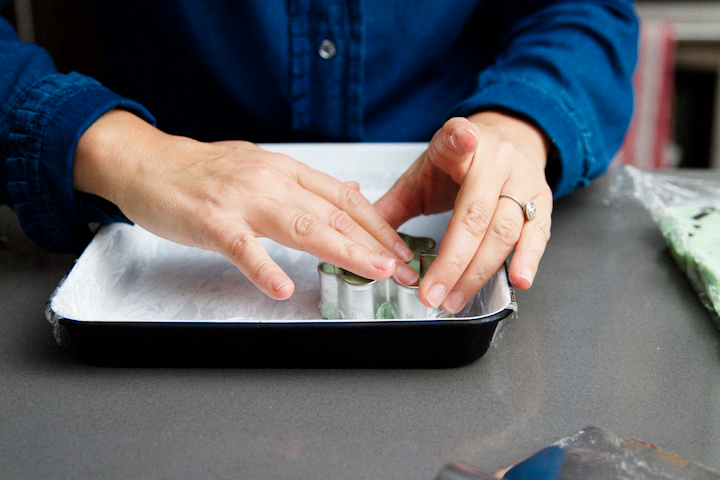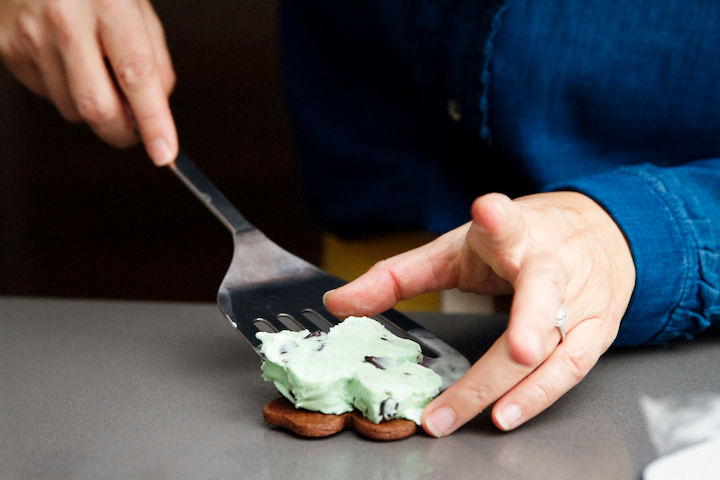 Almost there…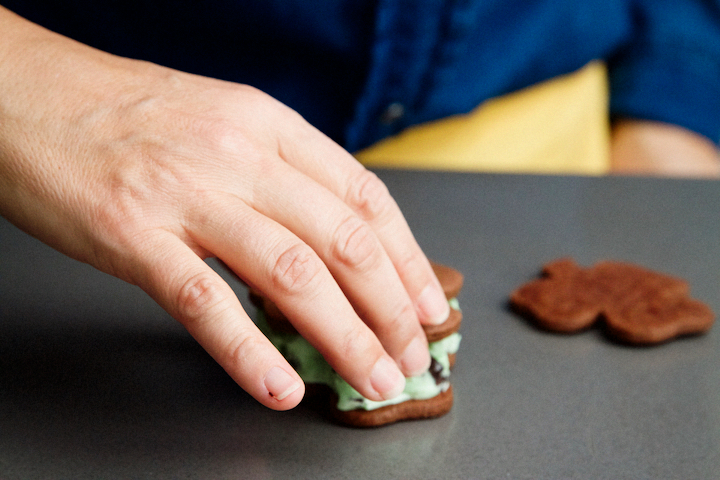 And…tah-dah! These Saint Patrick's Day Ice Cream Cookie Sandwiches are good to go! There's nothing like spreading a little sweet luck o' the Irish, right? Yum!
Photos by: Maria Hedrick Photography