We've met our new neighbors in the house behind us, and it turns out it's a family whose kids attend my boys' school. Well, we've started carpooling, and grilling out together, and I honestly couldn't be happier to have such a cool family on the other side of the fence. A bonus is the fact that one of the kids living there is a 9th grade girl. Yes – a girl! Now you know how much I love my boys, but it's so fun to have the girl energy around! I'm thinking she just may be my inspiration for this Halloween spread, where the vibe is a little girly glam, a dash sophisticated, and a smattering of city vibes. I imagine this DIY spread in my neighbor's dining room with a few young teenage girls who have suddenly become too old to trick or treat.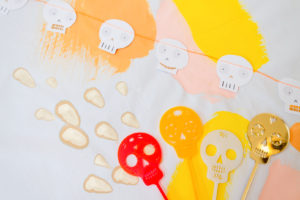 THE COLOR PALETTE
For this Halloween spread I was inspired by these cake toppers and garland from Meri Meri. The orange/red/yellow shades with a dab of gold spoke to me, and set my colors for this spread.
For the paints, I ended up using a bright yellow, mixing red and white to make a soft peach, and flecks of gold.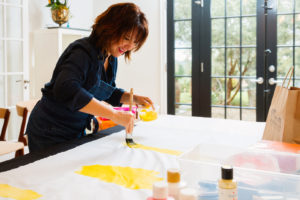 THE URBAN HALLOWEEN RUNNER
I picked up a simple sheet of fabric from Joann's for my runner. As for my design, I seriously just went with it. There was no premeditated plan with my art here – I chose the brightest color and applied it in fat strips all along the runner. Next I applied my peach color in smaller swatches. As I painted, I realized the white space between the colors was just as important as the color itself. Lastly, I splattered the gold here and there, and dabbed some smaller patterns to accent the yellow and peach.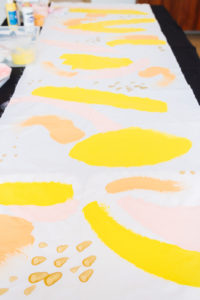 For me, Street Art is this beautiful dichotomy of being free flowing yet contained. What I mean by free flowing is there's no set pattern, yet it's contained within your chosen canvas. You really can't do this wrong, go with what speaks to you.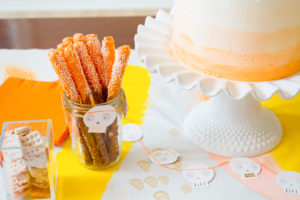 ADD THE OMBRE HALLOWEEN CAKE
So by now you know that I hate the taste of candy corn from my last post, however I was inspired by the colors of the candy corn and turned them into a stunning ombre cake. The colors of this cake complement the colors of my runner.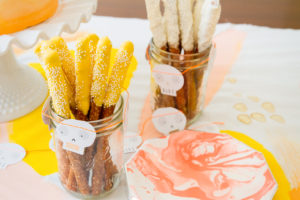 GET YOUR SALTY IN THERE, TOO
My Ombre Salty Pretzels, which come with orange, yellow and white tips, add to the table top. Now you have your sweet and your salty (you get to add drink of choice!) These marbled paper plates I found at Bonjour Fete evoke a modern art vibe for me, and fit the spread perfectly.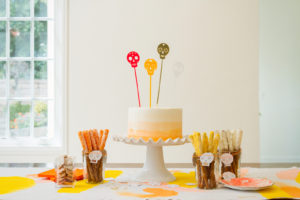 THE HALLOWEEN SPREAD
Thank you, young neighbor, for inspiring me to step away from the traditional orange and black this Halloween and instead adding a little girly glam!
Photos by: Maria Hedrick Photography