With the stress of transporting everyone from school activities to soccer games, then to prepping dinner and helping with homework, my afternoons can get a little bonkers. But these mealtime muffins make everything easier. I like to pre-make them in the morning before the boys leave for school, so that they're ready and waiting when we get home starving for dinner.
On evenings when we roll in from soccer around 6pm-ish, these easy-to-make delicious muffins immediately get picked off the kitchen island.  I have to say, it makes me feel right with the world again when I know my kiddos' tummies are getting filled with lovin' goodness.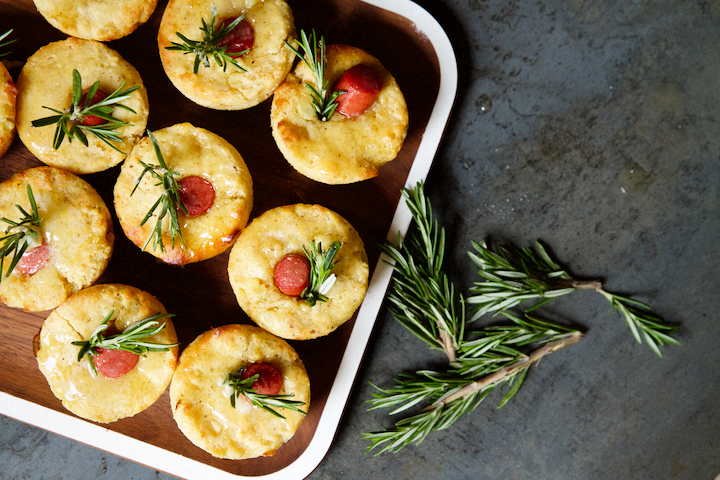 So, let's talk mealtime muffins.  I  preparing these small individual-sized treats that I can share with Liam and Gavin. It's so entertaining when I serve them up hot and they make a big deal about which ones they're going to select.
Now, don't get me wrong, the rosemary is frowned upon by my kids (they pick it right off), but, hey, you can't win all the battles.  I'm still hopeful that some day I'll hear them whisper, "I just love fresh herbs, mom."  I am dreamer…!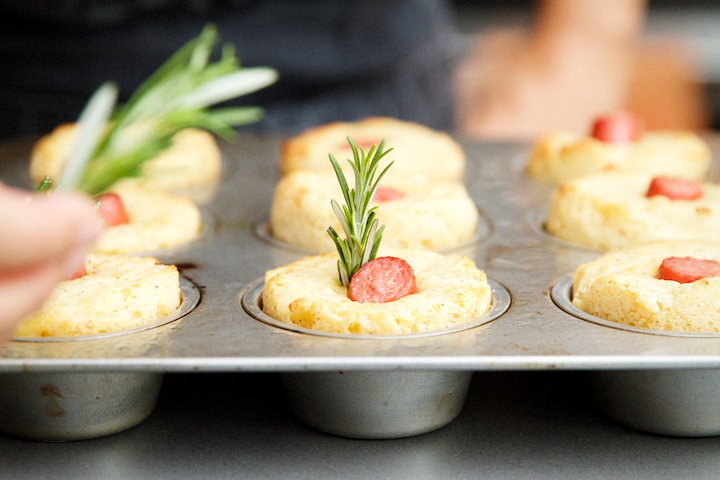 Speaking of dreams, I have to take a moment to gush about these star ingredients!
The showstopper in this easy recipe is the butter. Better butter just makes the difference between a good bite and a delicious bite. I used Plugra, a european style unsalted butter.  When the butter gets browned, all that wonderful fat gets soaked into the muffin.  Literally, the batter gets a Plugra-bath.  (Yea, it's scary how excited I get by the idea of bathing in butter).  So, the secret of this recipe is make sure you invest in great butter.  When the muffins are ready to serve, I like to add a dollop of extra honey butter on top!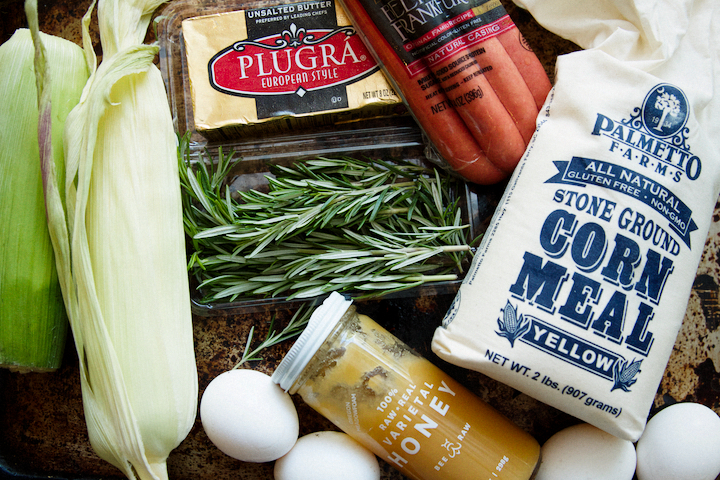 A couple of more ingredients I recommend are: a high quality cornmeal and great tasting honey.   This will give you the baseline for an amazing delicious and moist recipe.  Now, let's get on to some ideas for creating 5 different mealtime muffins.
5 Ways to Make Mealtime Muffins (by Replacing The Wiener Dog):
Meat: Chorizo / Batter: add in green ortega chiles
Meat: Spicy Italian Sausage / Batter: add in sundried tomatoes and basil
Meat: Morning Sausage / Batter: add in hard boiled eggs
Meat: Kielbasa / Batter:  add in small diced potatoes
Meat: Lamb sausage / Batter: add in diced red peppers (grill them first!)
This recipe calls for fresh corn, but don't fret if it's frigid outside and there's no corn to be found anywhere. Just head to the frozen aisle of your favorite grocery store. Trust me, it's okay! The flavor 'pop' will really come from the brown butter that the corn gets immersed in. It will be delicious, I promise!
Just like I'm a master at watching the clock when we go from soccer to dinner, I make sure my eyes are glued to watching the skillet, as well. I hate wasting food, and I have to admit, I have burned the butter more than a few times in the past.  You will know it's ready when little brown bits start to appear.  Remove the skillet off the stove. Fold the corn into the batter.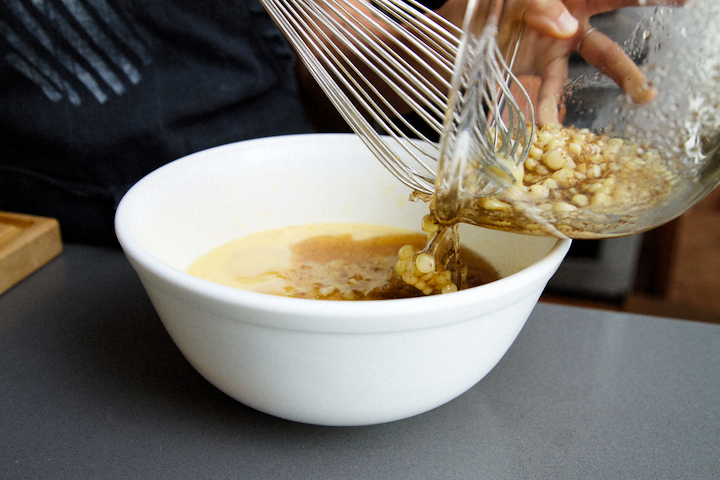 I love pouring the corn mixture into the creamy yellow batter.  Instantly, the batter composition changes into corn muffin magic.  The brown butter bits speckle against the cornmeal. The batter texture is just perfect!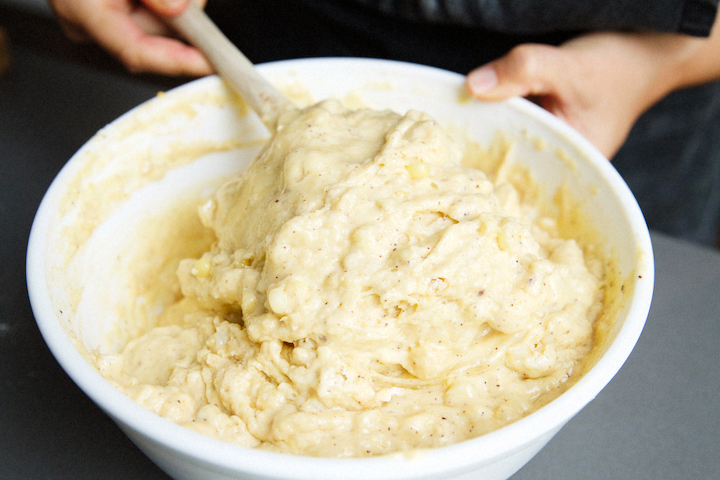 See what I mean?  Perfect brown butter bits. EVERYWHERE.  Sigh.  I am in love.  Next up, is getting that batter into the oven, but before you get too anxious, you will need to give it a butter bath.
Take a dollop of butter and drop it into each muffin tin.  Next, plop it into the oven to get that 'oven version' of brown butter.  Once browned, add in a scoop of the batter.
The last touches are adding in the sausage or in this case, I added an all-beef wiener dog.  I'm salivating already.  I realize it looks a bit odd, but make sure the dog is about an inch above your muffin tin as to allow the dog to still be showing when the batter rises.  You may need to gauge this one while it's baking!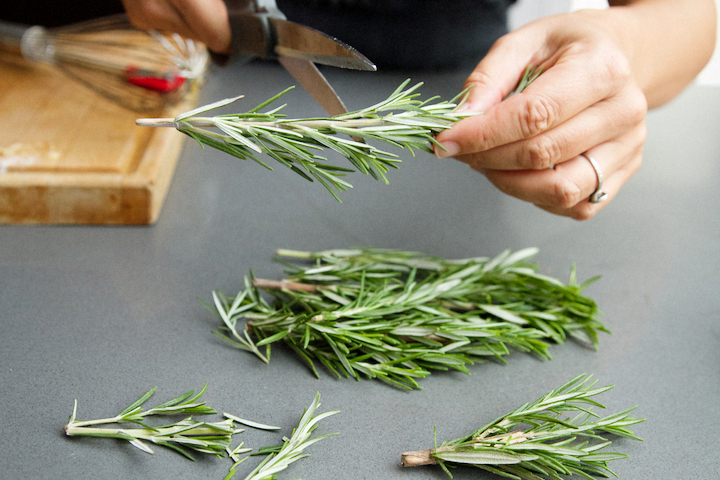 While your mealtime muffins are baking, whip up some honey butter.
Once baked, plop in the rosemary. It really is just for looks so if this step is going to deter those sweet kids of yours, just skip it.  I seem to think that the more I expose them to rosemary and herbs, the more they will become accustomed to it, so eventually they will just submit to loving this herb.  Again, it's a mother's dream.
Lastly, douse the muffins with your honey butter and you are ready to serve.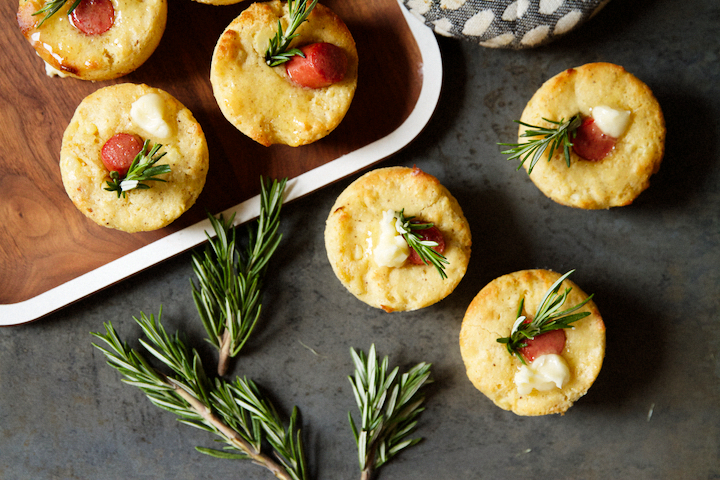 Recipe Credits: Bon Appetit
Photos by: Maria Hedrick Photography