Ingredients
Donut
2 2/3 cups unbleached all-purpose flour
1/4 cup unsalted butter , melted
3/4 cup + 2 Tbsp granulated sugar
Glaze
3 Tbsp unsalted butter , melted
Decoration
Orange chocolate covered sunflower seeds
Directions
Donut
1Preheat oven to 425 degrees. Butter 14 holes of three doughnut tins and set aside. In a mixing bowl, whisk together flour, baking powder, baking soda and salt for 30 seconds, set aside. In a separate mixing bowl, using an electric hand mixer, blend together melted butter, vegetable oil, sugar and vanilla bean seeds until smooth, about 1 minute.
2Blend in eggs one at a time then mix in vanilla extract. Working in three separate batches, beginning and ending with flour mixture, add 1/3 of the flour mixture alternating with half of the milk and mix just until combined after each addition.
3Spoon batter into buttered doughnut wells, filling them about 1/4-inch from the rim.
4Bake in preheated oven 7 - 8 minutes, or until toothpick inserted into doughnut comes out clean.
5Transfer to a wire rack to cool until lukewarm then dip in glaze and return to wire rack.
Glaze
1In a flat bottomed bowl, whisk together powdered sugar, melted butter, vanilla and salt then stir in 2 Tbsp of milk, adding additional milk 1 tsp at a time to reach desired consistency and whisk until smooth.
2Tint with food coloring if desired. Warm in microwave in 6 - 10 second intervals on HIGH power to warm as it begins to set while dipping doughnuts, as needed, whisking after heating.
Decorating
1Push straw into bottom of donut.
2Using melted white chocolate, attach nose, eyes and mouth for snowman face. Then using melted white chocolate, attach the top hat on top of the donut.
3Tear apart some blue yarn and attach to straw for scarf.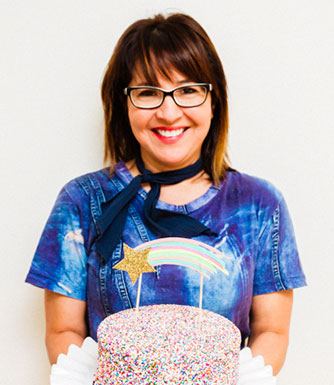 LET'S BAKE TOGETHER!
Don't Miss A Recipe