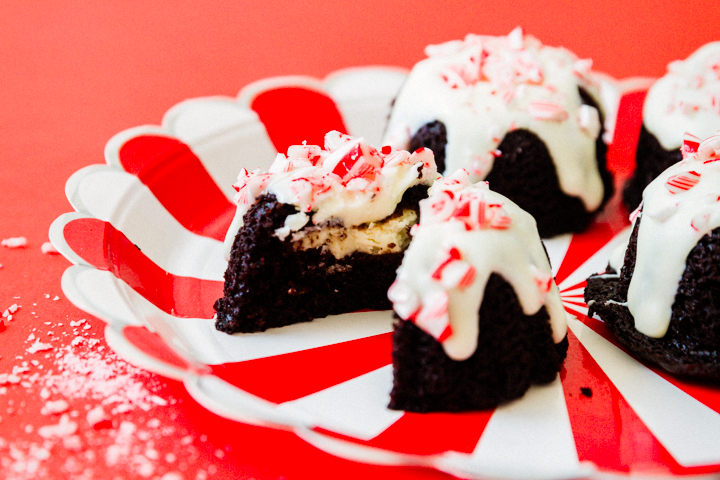 Ingredients
Bundts
3/4 cup unsweetened natural cocoa powder
optional: 2 teaspoons espresso powder
2 large eggs, at room temperature
3/4 cup full fat sour cream, at room temperature
1/2 cup buttermilk, at room temperature
1 teaspoon of peppermint extract
Cream Cheese Filling
12 ounces full-fat block cream cheese, softened to room temperature
1/2 teaspoon pure vanilla extract
Ganache
8 ounces dark chocolate or white chocolate candy melts.
Directions
Bundts
1Preheat oven to 350°F and grease mini bundt pan.
2Whisk the flour, cocoa powder, sugar, baking soda, baking powder, salt, and espresso powder (if using) together in a large bowl. Set aside.
3Using a handheld or stand mixer fitted with a whisk attachment (or you can use a whisk) mix the oil, eggs, sour cream, buttermilk, and vanilla together until combined.
4Pour the wet ingredients into the dry ingredients, add the hot water, and whisk or beat it all until the batter is completely combined. Set aside to prepare the cream cheese filling.
5Pour half of the chocolate batter evenly into the prepared bundt pan. Spread all of the cream cheese filling evenly on top.
6The cream cheese batter is thick, so you'll have to spoon it on top and try not to spread it around-- avoid touching the sides of the pan.
7Pour the remaining chocolate batter evenly on top.
8Bake at 350 degrees for 25 minutes or until a toothpick inserted into the cake comes out clean with just a couple lightly moist crumbs. If you are using a traditional bundt pan, then bake for 50-60 minutes.
9Once done, remove from the oven. Once the pan is cool enough to handle (but still warm), then pop out the mini bundts onto a cooling rack. Once completely cool, then decorate.
10Pour ganache on top and sprinkle on crush peppermint bits.
Cream Cheese Filling
1Using a handheld or stand mixer fitted with a paddle or whisk attachment, beat the cream cheese on high speed until no lumps remain. Beat in the remaining ingredients on medium-high speed until combined.
Ganache
1Place melting chocolate into a microwavable bowl and microwave in 20 second intervals until smooth.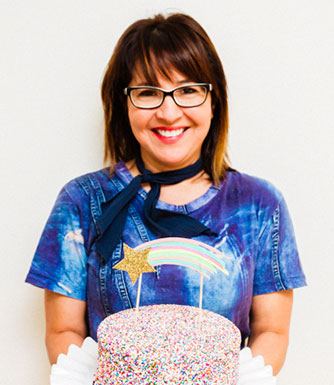 LET'S BAKE TOGETHER!
Don't Miss A Recipe