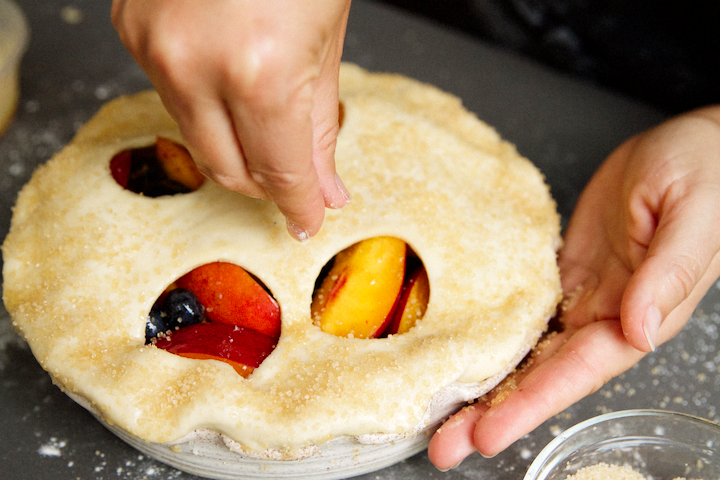 Ingredients
Filling
1 pound nectarines (about 3 cups), sliced more if needed
2 cups blueberries, more if needed
2 Tablespoons fresh lemon juice
1/8 cup light brown sugar (more if nectarines are tart)
1 1/2 Tablespoons ground arrowroot
egg wash (1 large egg with 1 teaspoon water and pinch salt)
Pie
½ pound cold unsalted butter, cut into ½ pieces
Directions
1Filling: Combine the fruit, lemon zest and juice, allspice, salt and bitters in a large bowl and stir gently. Pour the filling into the pie shell.
2Crust: Stir the flour, salt, and sugar together in a large bowl. Add the cut chilled butter pieces and coat with the flour mixture using a bench scraper or spatula. With a pastry cutter, cut the butter into the flour mixture, working quickly until mostly pea size pieces of butter remain (a few larger pieces are okay; be careful not to overblend). Combine the water, cider vinegar, and ice in a large measuring cup or small bowl. Sprinkle the 2 tablespoons of the ice water mixture over the flour mixture and mix and cut it in with a bench scraper or spatula until it is well incorporated. Add more of the water mixture, 1 to 2 tablespoons at a time using the bench scraper or your hands (or both) to mix until the dough comes together in a ball, with some dry bits remaining. Squeeze and pinch with your fingertips to bring all the dough together, sprinkling dry bits with more small drops of the ice water mixture, if necessary to combine. Shape the dough into 2 flat discs, wrap in plastic and refrigerate for at least 1 hour, preferably overnight, to give the crust time to mellow.
3Shape: For a single crusted pie, use one disc, roll out, and place gently in your pie dish. Trim and leave about 1" overhang of dough. Tuck this dough under and pinch to seal. Add filling. For a double crust with peek-a-boo top crust, use one disc for bottom layer where you roll out and place gently in your pie dish. Cut to 1" overhang. Add filling. Roll and cut out shapes on 2nd pie disc. Gently lay on top of fruit layer. Trim and leave about a 1" over hang of dough. Pinch both top and bottom layers together and tuck and fold along rim.
4Chill the pies in the refrigerator for 10-15 minutes (or up to one hour) to set the pastry. Preheat oven to 425F.
5Wash: Brush the pastry with the egg wash to coat; be careful not to drip the fruit onto the dough or it will burn! Sprinkle with the desired amount of demerara sugar.
6Bake: Place the pie on the rimmed baking sheet on the lowest rack of the oven. Bake for 20-25 minutes or until the pastry is set and beginning to brown. Lower the oven temperature to 375F, and move the pie to the center oven rack, and continue to bake until the pastry dough is a deep golden brown and all the juices are bubbling throughout, 30-35 minutes longer.
7Cool: Allow to completely cool on wire rack, 2-3 hours. Serve slightly warm or at room temperature. The pie will keep refrigerated for 3 days or at room temperature.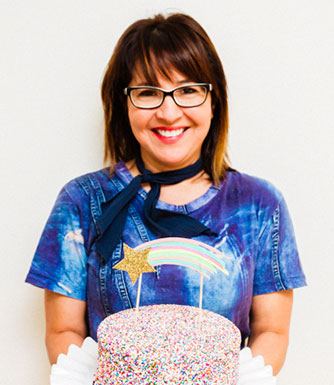 LET'S BAKE TOGETHER!
Don't Miss A Recipe