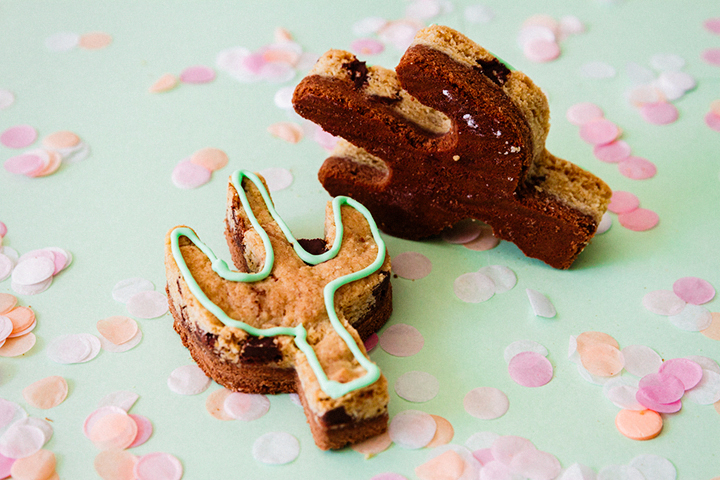 Ingredients
Brownie Layer
1 cup semisweet chocolate chips
1/4 cup unsalted butter, cubed
2 large eggs, at room temperature
Cookie Layer
1/2 cup unsalted butter, at room temperature
A handful of chocolate chunks to sprinkle on the top layer
Royal Icing
Americolor electric green and leaf green dye
Directions
Brownie Layer
1Preheat oven to 350°F and line an 8-inch square baking pan with parchment paper. For the brownie layer, combine chocolate chips and butter in a microwave-safe bowl and heat together in 30 second intervals, stirring after each interval until smooth and glossy. Let cool slightly.
2Combine eggs, sugar, salt, and vanilla in a medium mixing bowl. Whisk together until light and fluffy, about 1 minute. Whisk in melted chocolate. Fold in flour just until incorporated. Pour batter into prepared pan and smooth with an offset spatula.
Cookie Layer
1For the cookie layer, whisk together flour, baking soda, and salt in a small bowl. Beat butter and sugars in a large mixer bowl at medium speed until creamy. Beat in egg and vanilla until combined. Reduce speed to low and gradually add flour mixture; beat just until incorporated. Fold in chocolate chunks.
2Drop spoonfuls of cookie dough evenly over brownie batter (don't worry about a completely even layer of dough). Gently smooth cookie dough with an offset spatula and sprinkle dough with chocolate chips, pressing gently to adhere. Sprinkle chocolate chunks atop the dough.
3Bake for about 38 to 40 minutes, until top and edges are golden and set (tent with foil after 25 minutes of baking time to prevent over-browning). Cool completely in baking pan on a wire rack. Lift parchment to remove bars from pan and place on a cutting board; let cool and use a cacti cookie cutter. If you would like to omit this step, you could cut into traditional bars with a sharp knife.
Royal Icing
1Add vanilla flavoring into 1/2 cup water and set aside until step 3.
2In the mixer (paddle attachment), gently mix confectioners sugar and meringue powder on low.
3Add 1/2 cup flavored water and mix on low until it is thick and lumpy. Add green dye until preferred color.
4Now drizzle the remaining water as needed until it becomes a thick like honey consistency.
5At this point, turn mixer on medium speed for 3 minutes or so until icing is thick and fluffy. Stop when it forms a soft peak.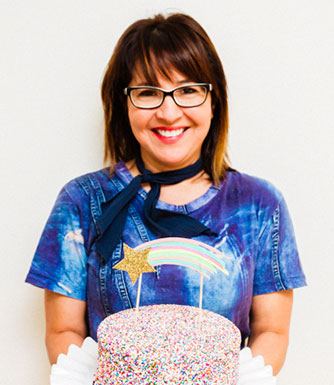 LET'S BAKE TOGETHER!
Don't Miss A Recipe