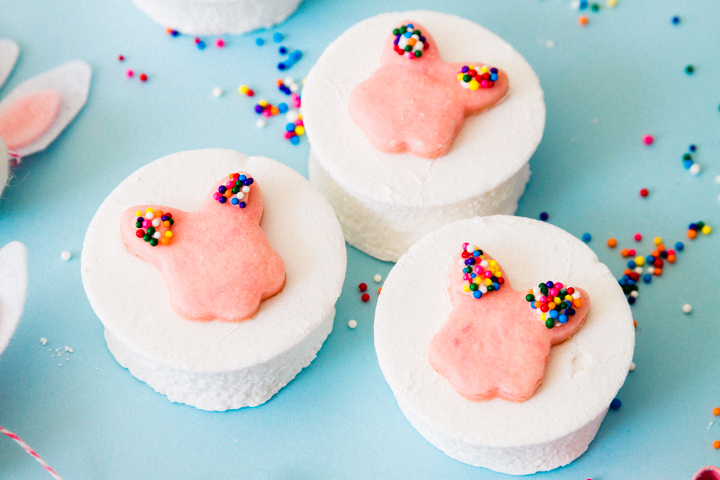 Ingredients
Marshmallows
2 tablespoons + 1/2 teaspoon + pinch gelatin
1 1/2 cups water (split into two 3/4 cups)
3" round cookie cutter to make marshmallow shapes
Sugar Cookies
1/2 cup unsalted butter, softened
Store bought royal icing, frosting, or piping gel to adhere the bunny ear sprinles. If you want to make your own homemade icing, the recipe follows!
Royal Icing
2 1/2 Tablespoons meringue powder
1 1/2 teaspoons vanilla extract
Directions
Marshmallows
1Prep Pan or Molds: Generously spray parchment lined 12x9 pan or mold.
2Kitchen Aid (whisk attachment): Sprinkle gelatin over 3/4 cup water, whisk it for even distribution, and let it sit.
3Stovetop: Combine remaining water, sugar, and corn syrup in a saucepan. Cook over medium heat until sugar dissolves. Then, put on high and cook to 240F.
4Combine in Kitchen Aid: Once stovetop mixture is ready (at 240F), then add hot syrup into the gelatin mixture and continue beating on high for 8-10 minutes until mixture triples in volume and becomes rather thick (but not too thick that it is not pourable). Test the readiness by turning off the kitchen aid and lifting the whisk to see if it falls easily and forms ribbons while dripping from the whisk. Beat in fresh vanilla seed (or other addends).
512x9 Pan: Line your pan with parchment paper and prep it with nonstick spray. Pour marshmallow mixture immediately sprinkle exposed side lightly with powdered sugar. Let sit for a few hours (6-8) until it pulls away from the side of the mold. Next, dust a cutting board with powdered sugar and coax the marshmallow out of the mold using your fingers or offset spatula if necessary and set it on the sugar coated board. I used a 3" round cookie cutter to make the round shapes. Roll it in powdered sugar so that all sides are covered. Then dust off powdered sugar so there is only a light coat remains.
Sugar Cookies
1Dries: Whisk flour and salt in a bowl. Set aside.
2Base: In a mixer, cream together butter and sugar. Next, add eggs, vanilla and pink Americolor dye.
3Gradually, add dries to base just until incorporated. Chill in refrigerator up to one hour. Roll on lightly floured surface. Cut shapes. When you cut into a shape, chill in freezer to set. Then, transfer directly to hot oven.
4Bake at 350F for 6-8 minutes or until edges are slightly browned. (If you go with a larger cutter, you may want to bake it for 8-10 minutes).
Royal Icing
1Add vanilla flavoring into 1/2 cup water and set aside until step 3.
2In the mixer (paddle attachment), gently mix confectioners sugar and meringue powder on low.
3Add 1/4 to 1/2 cup flavored water and mix on low until it is thick and lumpy.
4Now drizzle the remaining water as needed until it becomes a thick like honey consistency.
5At this point, turn mixer on medium speed for 3 minutes or so until icing is thick and fluffy. Stop when it forms a soft peak.
Assembly
1Using royal icing, attach sprinkles to ears of cooled bunny cookies. Use another dollop of royal icing to attach sugar cookie to marshmallow. You can omit the royal icing and used store bought icing, melted chocolate, or frosting. All of these will work!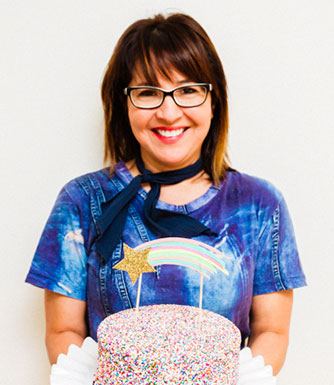 LET'S BAKE TOGETHER!
Don't Miss A Recipe