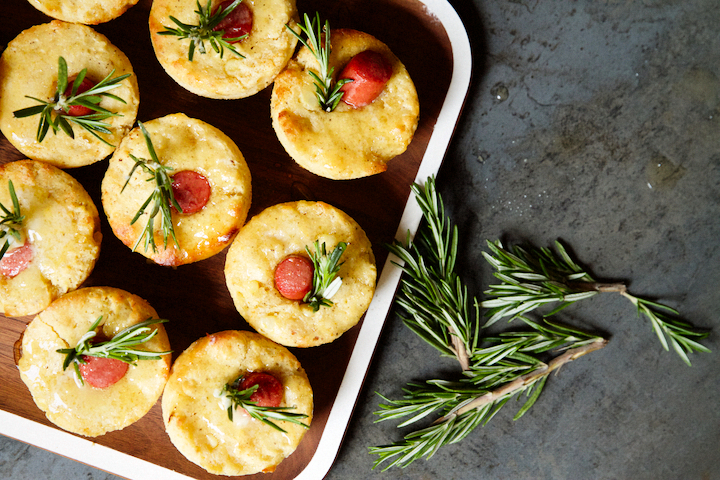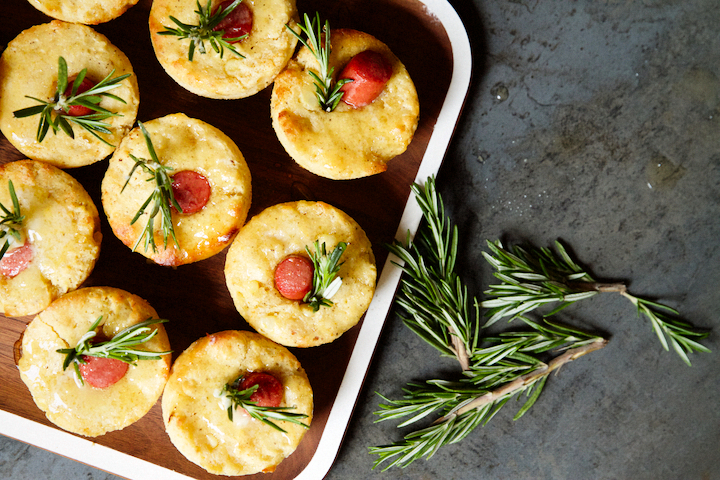 Brown Butter Cornbread Muffins
By TheSweetNerd Breads & Bundts, Breakfast & Brunch
September 21, 2016
Modified from Bon Appetit
Prep: 30 mins
Cook: 25 mins
Ingredients
Muffins
1 cup plus 2 tablespoons unsalted butter
1 cup fresh summer corn kernels (or thawed frozen)
rosemary sprigs, cut individually for decoration
Honey Butter Glaze
3 tablespoons honey or more to your taste
Directions
Muffins
1Preheat the oven to 400 degrees. Cut 6 tablespoons of butter into 12 (½ tablespoon) pats. Place 1 pat of butter in each cup of a 12-cup muffin pan.
2In a medium bowl, whisk together the flour, cornmeal, baking powder, baking soda, and salt.
3Cut the remaining 1 ½ sticks of butter into chunks and melt in a medium, light-colored saucepan over medium heat. Continue to cook the butter, swirling the pan, until it turns golden brown and smells nutty, for about 5 to 7 minutes. The butter will foam while it's browning. Remove from the heat, add the corn, and stir to coat the kernels in butter. Let cool slightly.
4In a large bowl, whisk together the buttermilk, honey, and eggs. Add the warm (not hot) corn mixture and whisk to incorporate. Add the flour mixture and gently fold until just combined.
5Place the muffin pan in the oven and heat until the butter is melted, foaming, and starting to brown, 3 to 4 minutes. Carefully remove the hot pan from the oven. Spoon about 1/3 cup of batter into each muffin cup.
6They will be very full. Add in the hot dogs. Return the pan to the oven and bake until a toothpick inserted in the center of the muffins comes out clean, 18 to 20 minutes. Add in rosemary sprigs. Let cool for a few minutes in the pan then transfer the muffins to a wire rack set over a rimmed baking sheet.
Honey Butter
1In a kitchen aid, whip the butter, then add the honey and a dash of vanilla.
2Add a dollop over the muffins and enjoy warm or at room temperature—before they're all gone!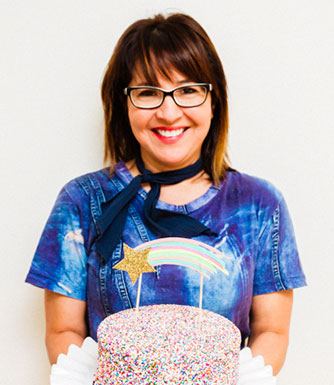 LET'S BAKE TOGETHER!
Don't Miss A Recipe