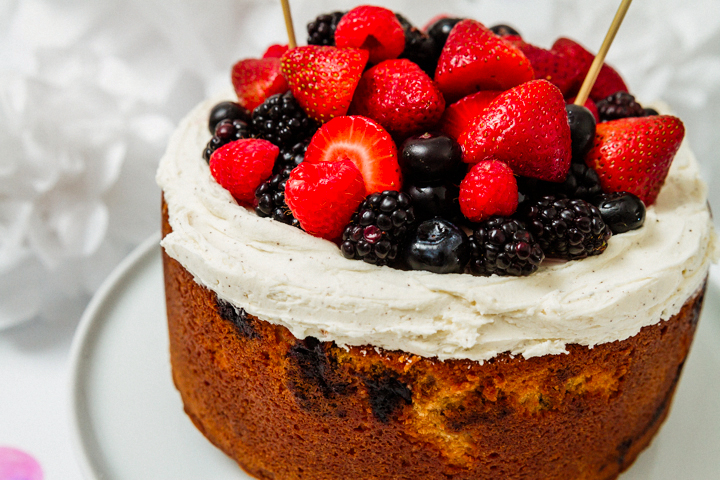 Ingredients
Cake
1 cup unsalted butter, softened and room temperature
1 teaspoon of pure vanilla bean paste
1 cup berries for cake (combination of blueberries and blackberries)
Brown Butter Frosting
1/2 cup butter, room temperature
2-3 tablespoon heavy whipping cream
2 teaspoon vanilla extract or paste
Fruit Garnish
3 cups blueberries, strawberries, blackberries, and raspberries
Directions
Cake
1Cream butter until light and fluffy. Add sugar and aerate until light and fluffy. Add eggs (one at a time until each is incorporated) and vanilla.
2Sift flour, baking powder, and salt.
3Add 1/2 cup buttermilk and mix, then add 1/2 dry mixture (step 2) and mix. Then add last 1/2 cup of each alternatively.
4Add 1 cup blackberries and blueberries inside of mix.
5Prepare a round cake pan (8" or 9") with parchment and then spray. (Spray generously on parchment and sides of pan). Lastly, add a few more berries on top of the cake batter for garnishing.
Brown Butter Frosting
1Melt butter in a small saucepan over medium heat. Stir and swirl so it cooks evenly. The butter will foam and transform from lemon yellow to golden yellow to a light brown. When the butter is done it will have a nutty aroma. Remove the butter from the heat and transfer to a heat safe bowl. Allow the butter to solidify in the refrigerator. Once solid bring to room temperature on the counter.
2In a large bowl cream together the softened brown butter, vanilla and heavy whipping cream. Once combined slowly mix in sifted powdered sugar. Mix until frosting is light and fluffy.
Fruit Garnish
1On the stovetop, bring to a boil 1/4 cup sugar and 1/4 cup water until it is clear. Let cool.
2Give the fruit a bath in the simple syrup, and place atop cake. This allows for a shimmery look. Be sure to place them on a paper towel first to remove any excess water drops. If you want to skip this step, feel free and just mix your berries and pile atop the cake. Voila!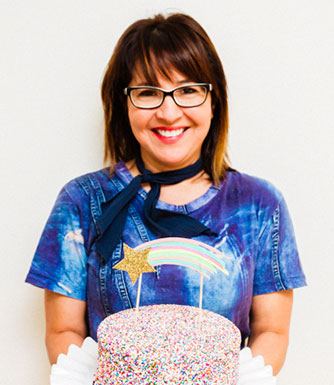 LET'S BAKE TOGETHER!
Don't Miss A Recipe