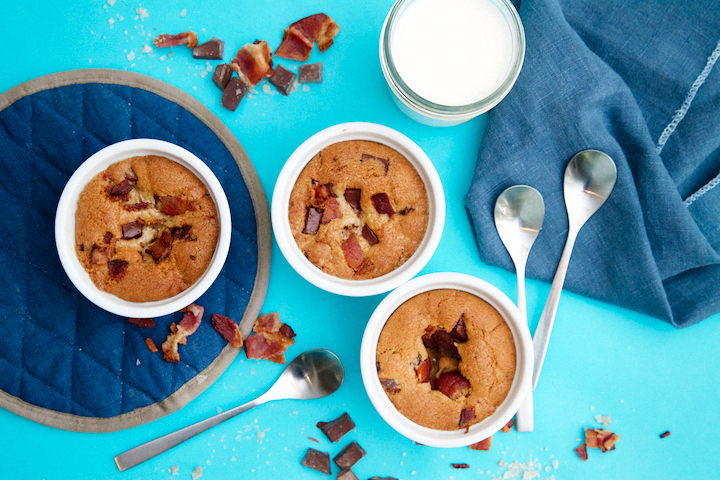 Ingredients
6 ounces slab bacon, cut into 1/4-inch cubes
3/4 cup (6 ounces) unsalted butter, at room temperature
1 cup firmly packed light muscovado sugar or dark brown sugar
2 extra-large eggs at room temperature
2 teaspoons pure vanilla extract
2 1/2 cups unbleached all-purpose flour
1/2 teaspoon smoked sea salt flakes
1 cup (4 ounces) chocolate discs or chunks
3 ounces bacon-chocolate candy bar, broken into pieces with your hands
Directions
1In a saucepan over low heat, cook the bacon until the meat is caramelized and most of the fat is rendered, approximately 15 minutes. Strain the bacon and all the fat from the pan through a fine-mesh strainer, reserving the fat and bacon separately. Refrigerate the fat until solidified. It is ready when it turns solid like shortening.
2Weigh the bacon fat. You need 2 ounces for this recipe. If the fat is less than 2 ounces, add enough unsalted butter to make up the difference.
3In the bowl of a stand mixer fitted with the paddle attachment, mix the bacon fat and the 3/4 cup butter briefly on medium speed for 10 to 20 seconds to combine. Add the sugars and beat until the butter mixture is aerated and pale in color, approximately 4 minutes. Scrape the sides and bottom of the bowl with a rubber spatula to bring the batter together.
4Crack the eggs into a small cup or bowl and add the vanilla.
5In a bowl, whisk together the flour, salts, baking powder, and baking soda.
6On medium speed, add the eggs and vanilla, one egg at a time, mixing the first briefly before adding the second, until the batter resembles cottage cheese, approximately 5 seconds for each egg. Scrape the sides and bottom of the bowl with a rubber spatula to bring the batter together. Mix on medium speed for 20 to 30 seconds to make nearly homogeneous.
7Add the dry ingredients all at once and mix on low speed until the dough just comes together but still looks shaggy, approximately 30 seconds. Do not overmix. Remove the bowl from the stand mixer. With a plastic bench scraper, bring the dough completely together by hand and fold in the bacon, chocolate and candy bar pieces.
8Spray an 8-inch square baking pan with nonstick cooking spray and line with plastic wrap, leaving a 4-inch overhang on all sides. Transfer the dough to the pan and pat down into the pan to make it even. Cover the dough with the overhanging plastic wrap. Refrigerate overnight.
9Heat the oven to 350 degree Fahrenheit and lightly coat a couple of half sheet pans with cooking spray. Remove the set dough from the pan and place on a cutting board. Cut the dough into 1 1/2 inch strips. Then cut each strip into 1/2 inch pieces of dough.
10Evenly space 12 pieces of dough on a prepared sheet pan. Bake for 8 minutes. Rotate the pan and bake until the shape of the pieces has relaxed and the tops look set, approximately 5 to 7 minutes more. Let the cookies cool on the pan for 1 to 2 minutes. Using a metal spatula, transfer the cookies to a wire rack to cool completely. Repeat with the remaining dough.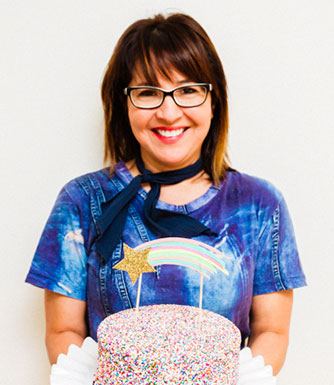 LET'S BAKE TOGETHER!
Don't Miss A Recipe