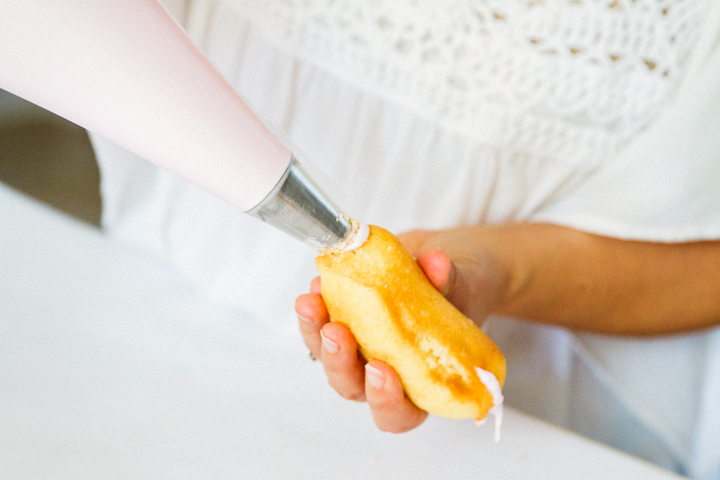 Ingredients
Twinkie (adapted from Pure Vanilla Cookbook)
1 tablespoon (15 g) baking powder
6 tablespoons (90 g) unsalted butter, at room temperature
1 tablespoon (15 ml) pure vanilla extract
2 cups (400 g) granulated sugar
1/2 cup (118 ml) vegetable oil
3 large eggs plus 4 large egg yolks, at room temperature
1 cup (237 ml) buttermilk, at room temperature
Marshmallow Creme
2 tablespoons + 1/2 teaspoon + pinch gelatin
1 1/2 cups water (split into two 3/4 cups)
Directions
Twinkie
1Sift together the flour, baking powder, and salt into a large bowl.
2In the bowl of a stand mixer fitted with the paddle attachment, beat butter and vanilla extract on medium speed until smooth and creamy. Add sugar and beat until evenly mixed, about 1 minute. Slowly pour in oil. Beat until light and fluffy, about 2 minutes. Add eggs and egg yolks, 1 at a time, beating thoroughly after each addition.
3Reduce mixer speed to low. Stir in flour mixture and buttermilk in three alternating additions, ending with the buttermilk, and continue to mix on low speed until the batter is smooth and no lumps remain. Turn off mixer and fold batter several times by hand to ensure everything is well incorporated, and then pour into prepared pan.
4Bake for 25-30 minutes, until the cake is golden, the top springs back when lightly pressed, and a cake tester inserted into the center comes out clean. Place pan on a wire rack and let cool completely.
Marshmallow Creme (or buy storebought marshmallow creme to save time and pipe into twinkie)
1Kitchen Aid (whisk attachment): Sprinkle gelatin over 3/4 cup water, whisk it for even distribution, and let it sit.
2Stovetop: Combine remaining water, sugar, and corn syrup in a saucepan. Cook over medium heat until sugar dissolves. Then, put on high and cook to 240F.
3Combine in Kitchen Aid: Once stovetop mixture is ready (at 240F), then add hot syrup into the gelatin mixture and continue beating on high for 8-10 minutes until mixture triples in volume and becomes rather thick (but not too thick that it is not pourable). Test the readiness by turning off the kitchen aid and lifting the whisk to see if it falls easily and forms ribbons while dripping from the whisk. Beat in fresh bean seeds, extract, or paste (or other addends) and desired food coloring.
4Transfer to a pastry bag fitted with a large round tip.
5Using a straw, push out a hole into each individual Twinkie.
6Insert the tip of the pastry bag into each hold and squeeze in filling, tilting pastry bag back and forth as you work to encourage filling.
7Use extra filling to spread onto Twinkie and drizzle fancy sprinkles on top.
Modified from Pure Vanilla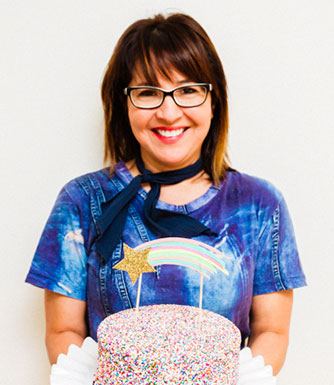 LET'S BAKE TOGETHER!
Don't Miss A Recipe