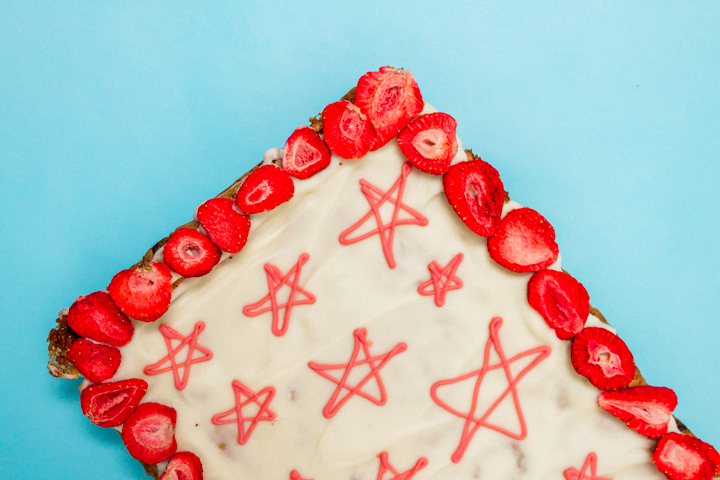 Ingredients
Strawberry Cornflake Cookie Bar (adapted from Milk Bar)
1 c. (2 sticks) butter, at room temperature
3 c. cornflake crunch (see below)
Decorating
1 package white chocolate melts
2-3 drops Americolor red candy coloring or use nerdy nummies, oh my berry strawberries (20 discs or so)
1 c. dried strawberries for garnishing border of bar
Directions
Strawberry Cornflake Cookie Bar (adapted from Milk Bar)
1Combine brown and white sugar with butter in the bowl of a stand mixer with a paddle attachment.
2Cream sugars and butter together on medium-high for 2-3 minutes.
3Scrape down the sides of the bowl.
4With the mixer on low, add your egg and vanilla.
5Beat for another 7-8 minutes on medium-high. The 7-8 minutes is totally worth it and important. The batter will be so light and fluffy. Almost like frosting!
6While your sugar and butter is beating, combine your flour with baking powder, baking soda and salt in a small bowl.
7Reduce mixer speed to low and add your flour mixture. Mix until just combined. Do not over mix. You shouldn't mix for more than 1 minute.
8Add in dried strawberries.
9Next add in 3 cups of Cornflake Crunch. Mix again until just incorporated. Do not over mix.
10Finally, mix in your mini marshmallows until just incorporated.
11Cover bowl with saran wrap and refrigerate for at least 1 hour and up to 1 week. Do NOT bake your cookies from room temperature. They will not hold their shape and bake into a puddle of crispy nothing.
12Cut dough in half as this batch makes two 9x12 pans.
13Place a piece of parchment paper in your pan and then press the dough down evenly using your palms.
14Bake in a 375 degree fahrenheit oven for anywhere between 12-15 minutes, until the cookie bar edges become golden brown and it begins to brown toward the centre. You NEED to keep an eye on these cookie bars. It's very easy to over-bake these bars, so keep an eye on them in the oven.
15Cool bar completely on the sheet pants before transferring to an air tight container.
Decorating (Work fast with melted chocolate by having everything else prepped)
1Prep: Piping bag,
2Microwave white chocolate melts according to the instructions on the bag. Reserve 1/4th of the melted white chocolate for the red stars. Add 2-3 drops of red candy food coloring.* (Or, if you can use Nerdy Nummy Oh My Berry Strawberry Discs). Mix and then pour into 1 piping or ziploc bag for star decorating. Slit the corner of the bag so you can have a skinny stream of chocolate to use for the star-decorating. Set aside for one minute until you are ready to decorate the stars. Work quickly now!
3Pour the rest of the white melted chocolate (I like Ghiradeli white chocolate melts) atop the bar and spread across evenly all the way to the ends. Place decorative dried strawberry border, and then finish decorating with star shapes atop the white chocolate layer.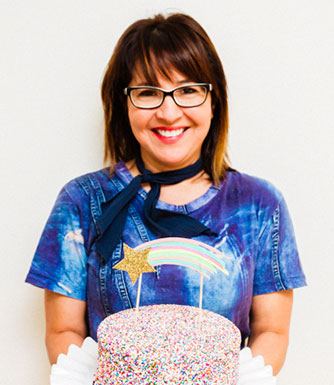 LET'S BAKE TOGETHER!
Don't Miss A Recipe