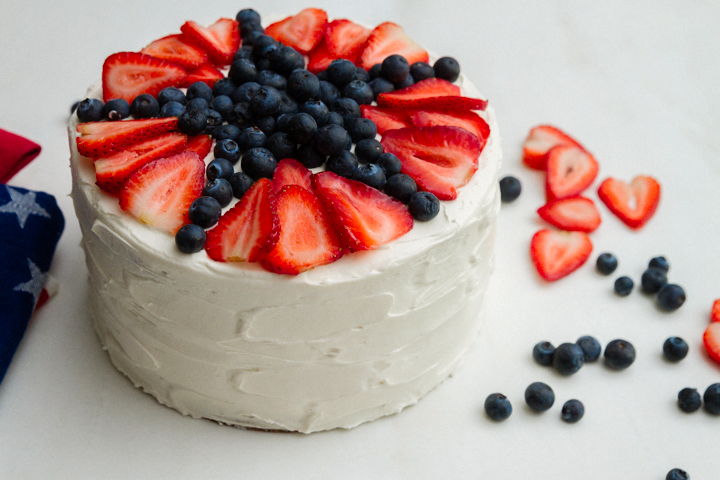 Ingredients
Cake
1 (3-ounce) package strawberry-flavored gelatin
1/2 cup whole strawberries, pureed
Filling
1 1/2 cups heavy cream, well chilled
1 1/2 cups halved strawberries
Frosting
1 (8-ounce) package cream cheese, softened
Decorating
1 1/2 cups thinly sliced strawberries
Directions
Cake
1Position racks in upper and lower thirds of oven and preheat oven to 350 degrees Fahrenheit. Grease and flour three 8-inch round pans.
2Whisk together flour and baking powder in a small bowl. Beat together sugar, gelatin and butter with an electric mixer in a large bowl until fluffy. Add eggs 1 at a time, beating well after each addition. Beat in flour mixture and milk in a few alternating batches until well combined. Fold in pureed berries and vanilla. Divide equally among prepared pans.
3Bake with 2 pans on upper rack and 1 pan on lower rack, until a toothpick inserted into center of cakes comes out clean, 20 to 25. Cool 10 minutes in pans, then turn out cakes and cool completely (45 minutes) on a wire rack.
Filling
1Beat cream in a bowl with an electric mixer on high until frothy. Add sugar and beat until firm peaks form. Fold in 1/2 teaspoon vanilla.
2Fill with halved strawberries and blueberries.
Frosting
1Beat cream cheese, butter, powdered sugar, and remaining 2 teaspoons vanilla in another bowl with an electric mixer until creamy.
Assembly
1Set 1 cake layer on a serving plate. Spread with one half of filling and scatter with 3/4 cup sliced berries. Top with second cake layer, spread with the rest of the filling, and scatter with remaining 3/4 cup sliced berries. Top with third cake layer and crumbcoat with frosting. Put in refrigerator for 20 minutes. Remove and frost top and sides of cake, then decorate star berries on top of cake.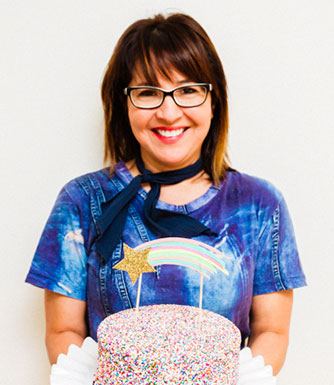 LET'S BAKE TOGETHER!
Don't Miss A Recipe