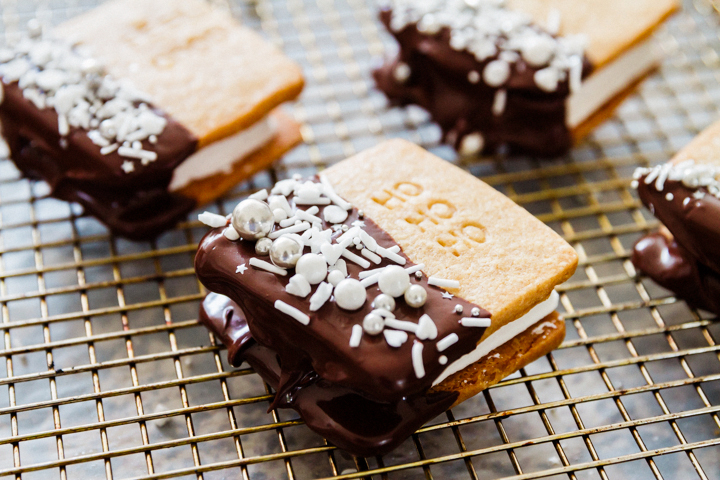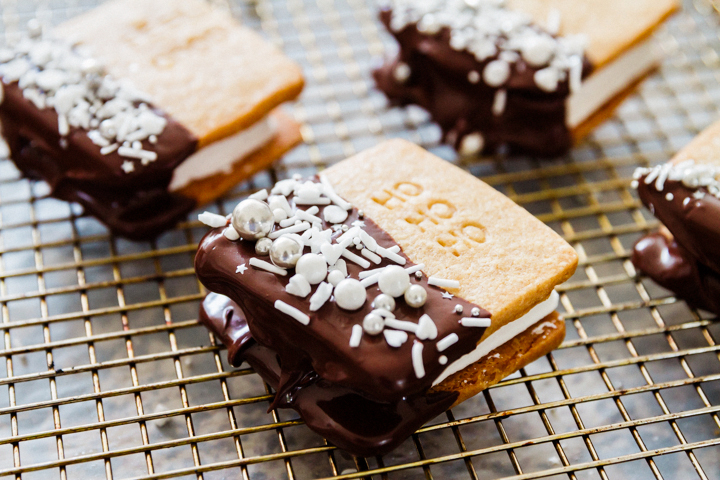 S'mores Cookies
By TheSweetNerd Cookies
December 5, 2017
Miette Graham Cracker Recipe
Ingredients
Marshmallow
2 tablespoons + 1/2 teaspoon + pinch gelatin
1 1/2 cups water (split into two 3/4 cups)
Powdered sugar for coating marshmallows
2" Cookie Cutter (or anywhere from 2-2.25" - it just needs to be slightly smaller than the cookie square cutter)
Graham Cookie
2/3 cup unsalted butter, at room temperature
1/2 cup firmly packed light brown sugar
Assembly
1 cup high quality chocolate melts, like Chocoley dark chocolate
Sprinkles, I used Fancy Sprinkles
Directions
Marshmallow
1Prep Pan or Molds: Generously spray parchment lined 12x9 pan or mold.
2Stand Mixer (whisk attachment): Sprinkle gelatin over 3/4 cup water, whisk it for even distribution, and let it sit.
3Stovetop: Combine remaining water, sugar, and corn syrup in a saucepan. Cook over medium heat until sugar dissolves. Then, put on high and cook to 240 F.
4Combine in Kitchen Aid: Once stovetop mixture is ready (at 240 F), then add hot syrup into the gelatin mixture and continue beating on high for 8-10 minutes until mixture triples in volume and becomes rather thick (but not too thick that it is not pourable). Test the readiness by turning off the mixer and lifting the whisk to see if it falls easily and forms ribbons while dripping from the whisk. Beat in fresh vanilla seed (or other addends).
5Pour into prepped pan and immediately sprinkle the top with sifted powdered sugar. Let sit for a few hours until it pulls away from the side of the pan. Next, dust a cutting board with powdered sugar and coax the marshmallow out of the pan using your fingers or offset spatula if necessary and set it on the sugar coated board. Cut into squares and dip each cut edge into powdered sugar then dust off so only a light coat remains.
Graham Cookie
1Sift together both flours, the salt and cinnamon into a bowl. Set aside.
2In the bowl of a stand mixer fitted with the paddle attachment, combine the butter, brown sugar, and honey and beat until fluffy, about 5 minutes.
3Add the dry ingredients to the butter mixture in three additions, beat until combined after each addition. Wrap the dough tightly in plastic wrap and refrigerate for at least 30 minutes before rolling, or for up to 2 days.
4Preheat the oven to 350 F. Line a large baking sheet with parchment paper.
5Unwrap the dough and place between two sheets of waxed paper. On a clean work surface, roll out to a thickness of about 1/4 inch. Using a square cutter, cut out the graham crackers.
6Give each cookie a cute slogan like "Ho Ho Ho" or "Made in LA" using embossing letters.
7Arrange on the prepared baking sheet, placing the cookies about 1/2 inch apart. Bake until golden brown, 10 to 12 minutes. Transfer to a wire rack and let cool completely. They should snap crisply when cooled.
8Gather up dough scrap, re-roll, and cut out to make more cookies. Bake as directed and let cool.
9Yields one dozen.
Assembly
1In the microwave, melt chocolate.
2Take two baked cookies and place one marshmallow square inside to form sandwich.
3Dip the whole S'more into melted chocolate to the halfway point.
4Sprinkle with fancy sprinkles. Let dry and enjoy!
Graham Cracker Modified Recipe from Miette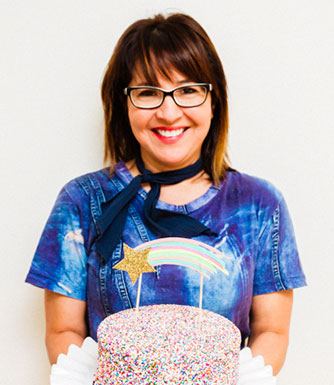 LET'S BAKE TOGETHER!
Don't Miss A Recipe