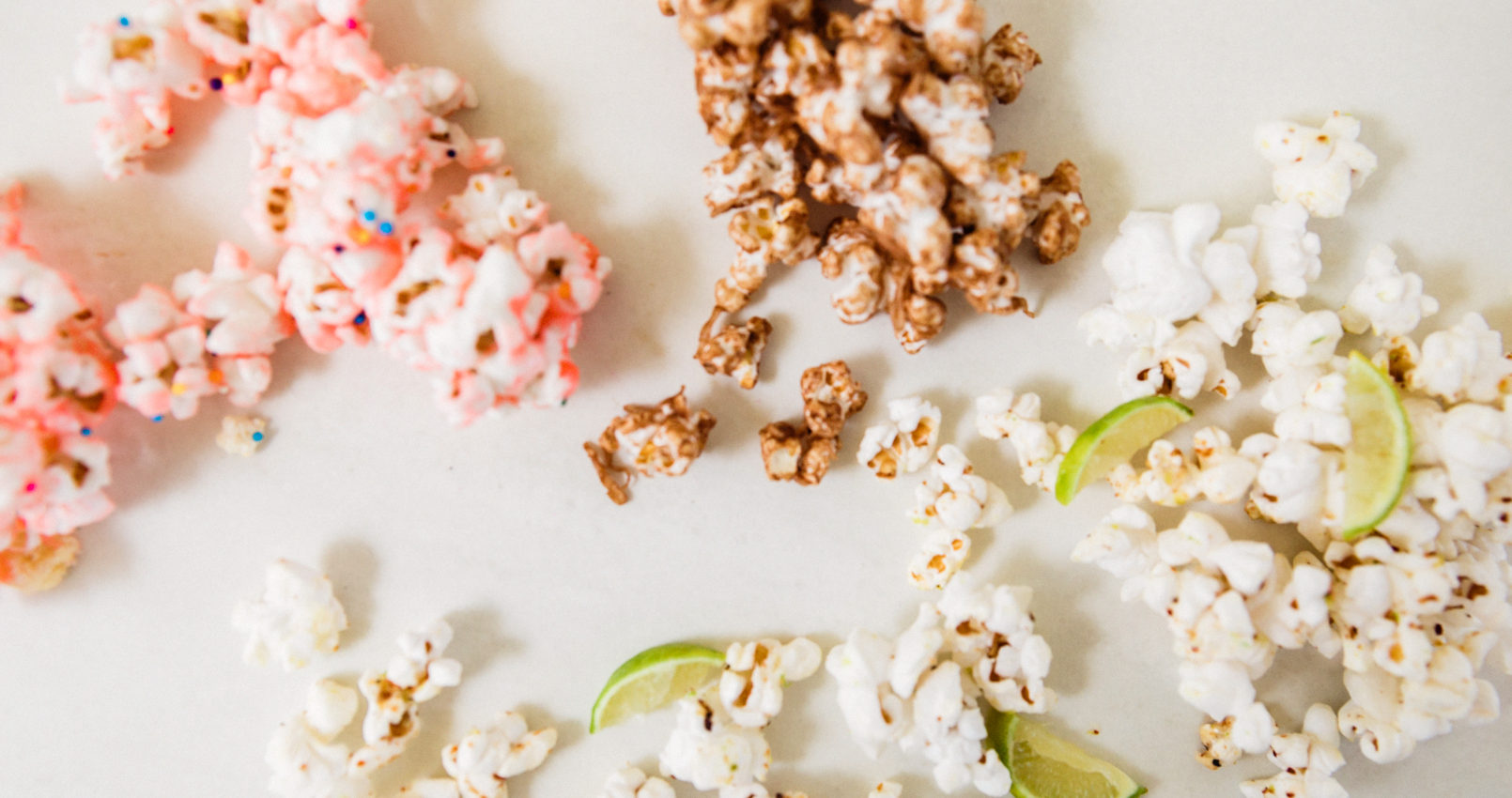 Ingredients
Chocolate Popcorn
1½ tablespoons sifted raw cacao or cocoa powder
Funfetti Crumble for Pink Popcorn
1 1/2 tablespoons light brown sugar
2 tablespoons rainbow sprinkles
1 tablespoon clear vanilla extract
Pink Funfetti Popcorn
few drops of red food coloring
Lime Popcorn
1 1/4 teaspoons chili powder (Tajin)
1 tablespoon finely grated lime zest
Directions
Chocolate Popcorn
1Place maple syrup, sifted raw cacao or cocoa powder and shredded coconut in a small bowl and mix to combine.
2To make the popcorn, place 2 tablespoons of kernels into 1 of the paper bags. Fold the top of the bag over three times, then fold in the corners to secure. Repeat for other bags.
3Place the popcorn bags, 1 at a time, in the microwave on high for 2 minutes each or until you hear (with sharp ears) that the popping has slowed to around 1 pop every 3 seconds.
4Use a tea towel to carefully take each bag from the microwave, allow to cool a little.
5Divide the choc-coconut mixture between the warm popcorn bags, fold the tops of the bags over and give them a big shake to coat.
Funfetti Crumble for Pink Popcorn
1Preheat the oven to 300 degrees F. Line a rimmed sheet pan with parchment paper or Silpat.
2Combine the sugars, flour, baking powder, salt and sprinkles in the bowl of a mixer fitted with a paddle attachment. Mix on low speed until well combined. Add the oil and vanilla and mix on low speed until small clusters form.
3Spread the clusters on the prepared sheet pan. Bake for 20 minutes, breaking up the clusters once or twice during baking. The crumbs should be slightly moist to the touch; they will dry and harden as they cool. Allow the crumbs to cool completely on the pan before using. The birthday cake crumbs can be stored in an airtight container at room temperature for 1 week, or in the refrigerator or freezer for up to 1 month.
Pink Funfetti Popcorn
1Over low heat melt the butter and marshmallows together. Add the food coloring. Stir in the popcorn, mix until well coated.
2Add crumble on top.
Lime Popcorn
1Heat 1 tablespoon oil with 3 popcorn kernels in a large, heavy saucepan over medium heat. When kernels pop, add remaining 1/2 cup kernels. Cook, covered, shaking pan occasionally, until popping slows, 6 to 7 minutes. Remove pan from heat; let stand, covered, 1 minute.
2Stir together spices, salt, and zest in a small bowl. Toss hot popcorn with remaining tablespoon oil in a large bowl; sprinkle with spice mixture. Squeeze lime wedge over popcorn. Toss to coat.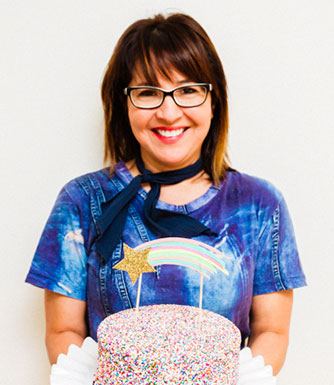 LET'S BAKE TOGETHER!
Don't Miss A Recipe