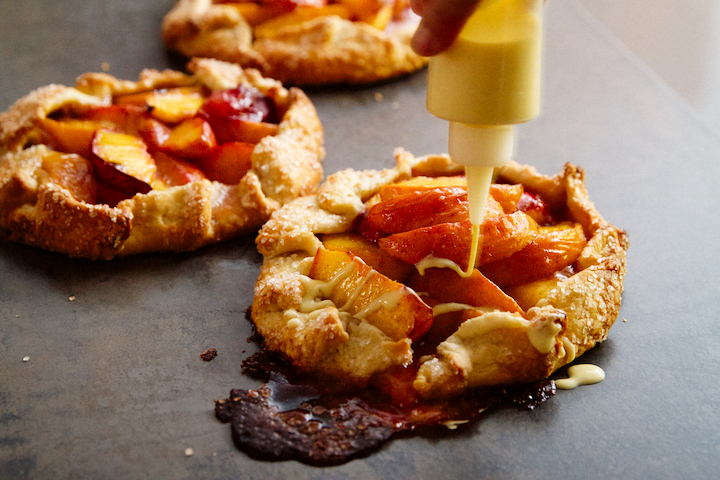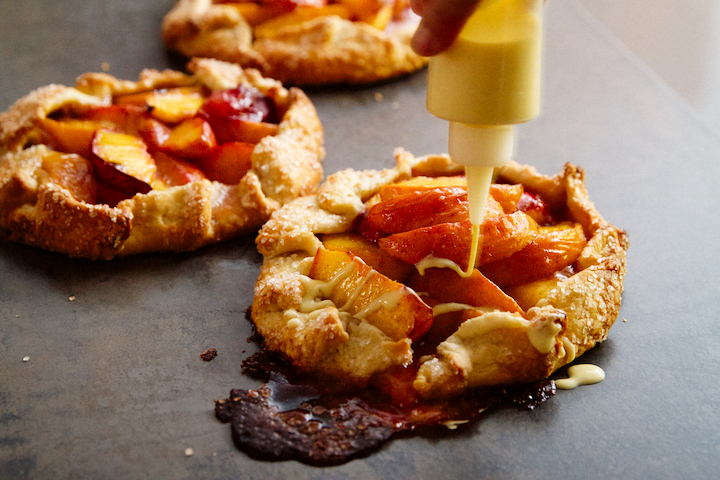 Peach Rum Galettes With Warm Vanilla Sauce
By TheSweetNerd
August 3, 2016
Prep: 45 mins
Cook: 45 mins

45 mins

45 mins

1 hr 30 mins
Ingredients
Peach Filling
1 tablespoon fresh lemon juice (for fruit)
1 ½ pounds peaches, quartered and stones removed (about 4-5 cups)
1/8 cup packed light brown sugar
2 dashes of Angostura or Old Fashioned Bitters
Egg wash (1 large egg whisked with 1 tablespoon water and a pinch of salt)
*Optional - Brush 1 tablespoon apricot jam (watered down with 1 teaspoon water)
Vanilla Rum Pouring Cream, yields 2 ½ cups
1 vanilla bean split and beans removed
1 tablespoon Dark Rum (optional)
Dough, yields 3 mini galettes
6 ounces (1½ sticks cold unsalted butter, cut into small pieces)
Directions
Filling
1Sprinkle the lemon juice over the prepared peaches to prevent browning. In a separate bowl, whisk together the granulated and brown sugars, cinnamon, salt, and arrowroot (or cornstarch substitution). Toss the sugar mixture with the peaches and dash of bitters.
Warm Vanilla Rum Pouring Cream
1Scald the milk and cream with the vanilla beans in a heavy potted saucepan over low heat. In a separate bowl, combine the sugar and egg yolks. Temper the milk into the egg mixture (pour hot milk in a slow steady stream into the egg mixture and whisk vigourously), then pour back into the saucepan and cook over low heat stirring constantly until thick. Strain. Then, add dark rum (optional). Let cool slightly and cover top of cream (to prevent a skin on cream) with plastic wrap until you are ready to serve. Serve warm over peach galettes.
Dough
1Mix the flour, salt, and sugar together in a bowl. Cut in the butter by hand or with two knives or forks until the mixture resembles coarse meal.
2Sprinkle the ice water over the top by the tablespoon and toss it with the flour mixture until you bring the dough together into a ball. Press into a disk and refrigerate 15 minutes or up to overnight.
Assembly
1Lay out dough, then fold in fruit. Put in refrigerator to 'set' shape. Next, brush on egg wash and sprinkle with sanding sugar. Bake at 350F for 45 minutes or until golden brown.
2Brush exposed fruit with apricot jam immediately to give your fruit that 'glazed' look. Drizzle with warm vanilla sauce.