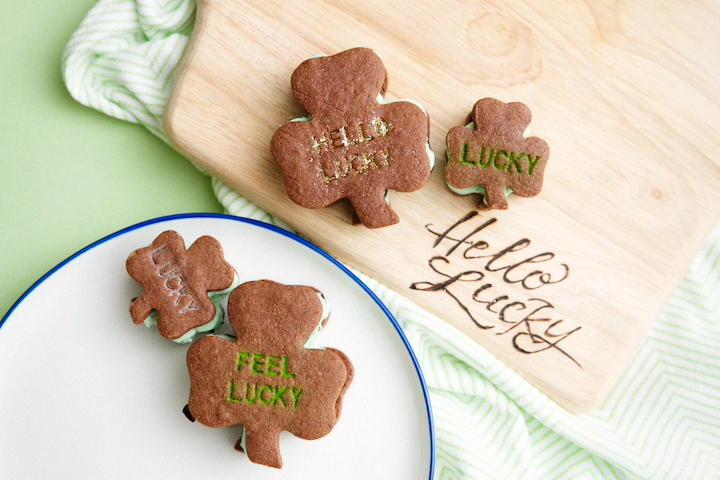 Ingredients
Cookie
1 cup unsalted butter, softened
Ice Cream
McConnell's Mint Chip Ice Cream
Decorating
Alphabet embossers, I used Sweet Elite Tools
Directions
1Dries: Whisk flour, salt, and baking powder in a bowl. Set aside.
2Base: In a mixer, beat butter (aerate). Next, add sugar and aerate until light color. Next, add eggs, vanilla, and cocoa.
3Gradually, add flour mixture to base just until incorporated. Chill in refrigerator for at least one hour. Roll (lightly floured surface) and cut.
4Bake at 350F for 10 minutes or until edges are firm and centers are slight soft and puffed.
5Note: When you cut into a shape, chill in freezer to set. Then, transfer directly to a hot oven.
Assembly
1Decorating: Emboss letters into dough. Brush with edible glue and sprinkle edible gold dust. Then brush away excess. This step is optional and if you are feeling crafty. Otherwise, skip and get right to cutting out your ice cream shapes.
2Scoop ice cream into cookie sheet to flatten. Put in freezer to set ice cream. Take out ice cream and use same cookie cutter for the ice cream.
3Take both sides of cookie and place cookie cutter shaped ice cream in-between each side.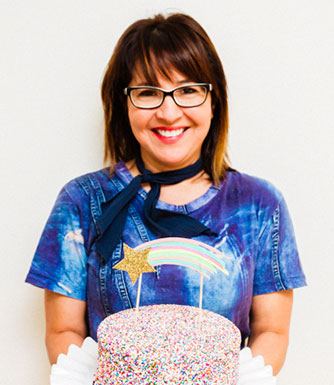 LET'S BAKE TOGETHER!
Don't Miss A Recipe